Features that help your business grow
Fluent Support's unparalleled feature list will change your outlook on support plugins. Tap into the best WordPress has to offer for smoother, faster and reliable ticketing.
Automatic Agent Assignment
Fluent Support makes work distribution across your support staff a breeze. Instead of piling on the same agent, Fluent Support automatically assigns new tickets to agents who have the least workload. Less stress for your agents, less waiting time for your customers.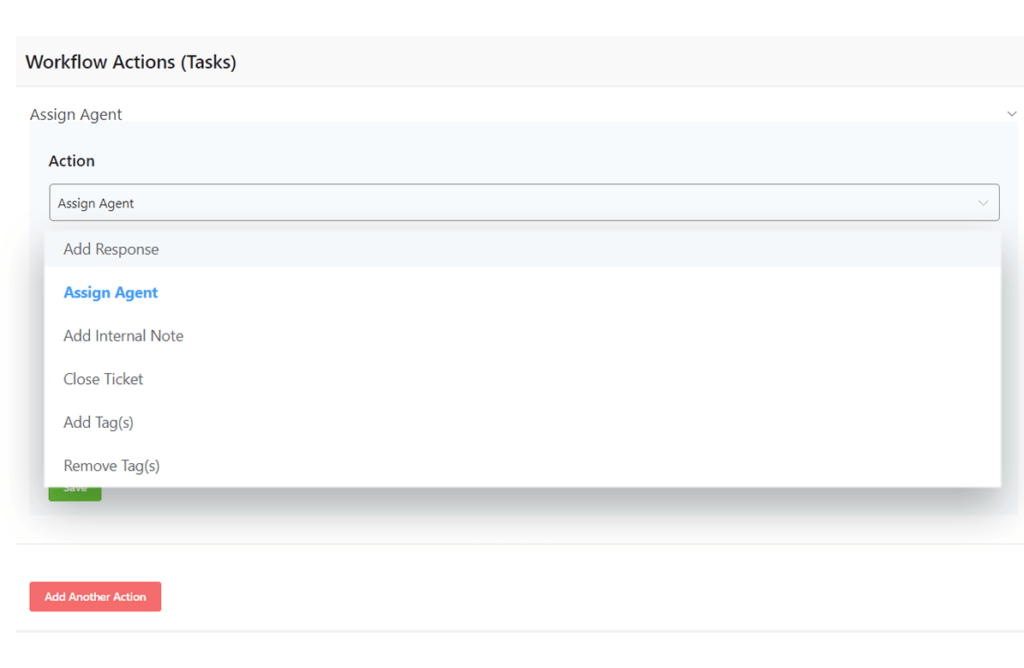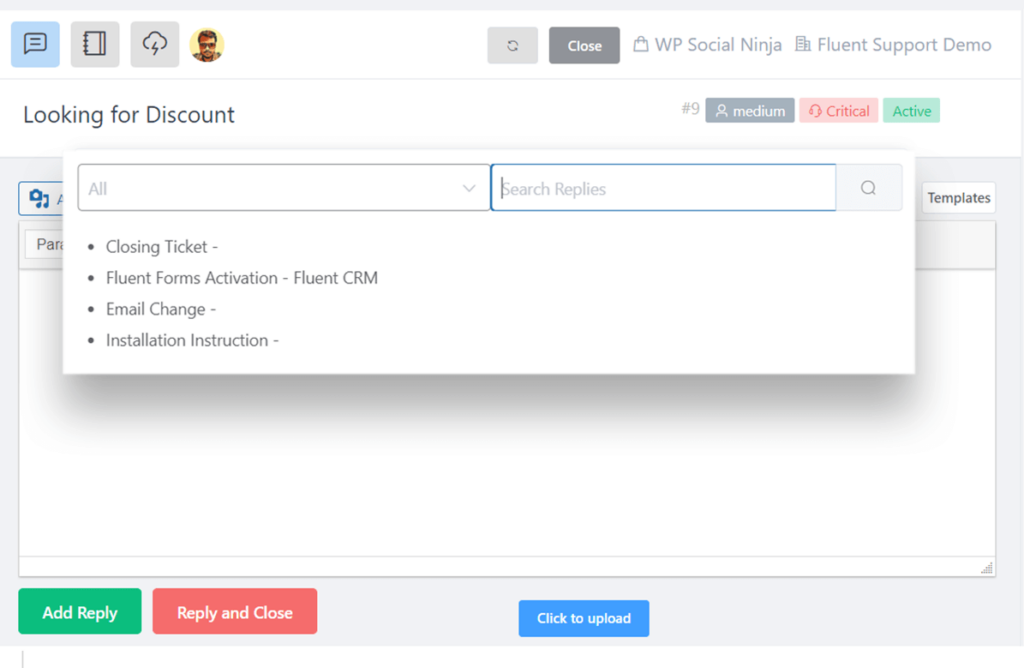 Saved Replies
No more typing out "Thank You's" or wasting time on writing similar replies. Fluent Support allows unlimited saved replies so your support agents can spend more time solving the real issues. On the plus side, your customers can find what they need with minimum delay.
Collision Detection
Say goodbye to redundant messages and awkward interactions with your customers. Fluent Support offers collision detection for individual tickets. Get real-time notification when multiple agents open the same ticket, so there is no confusion about who should be working where.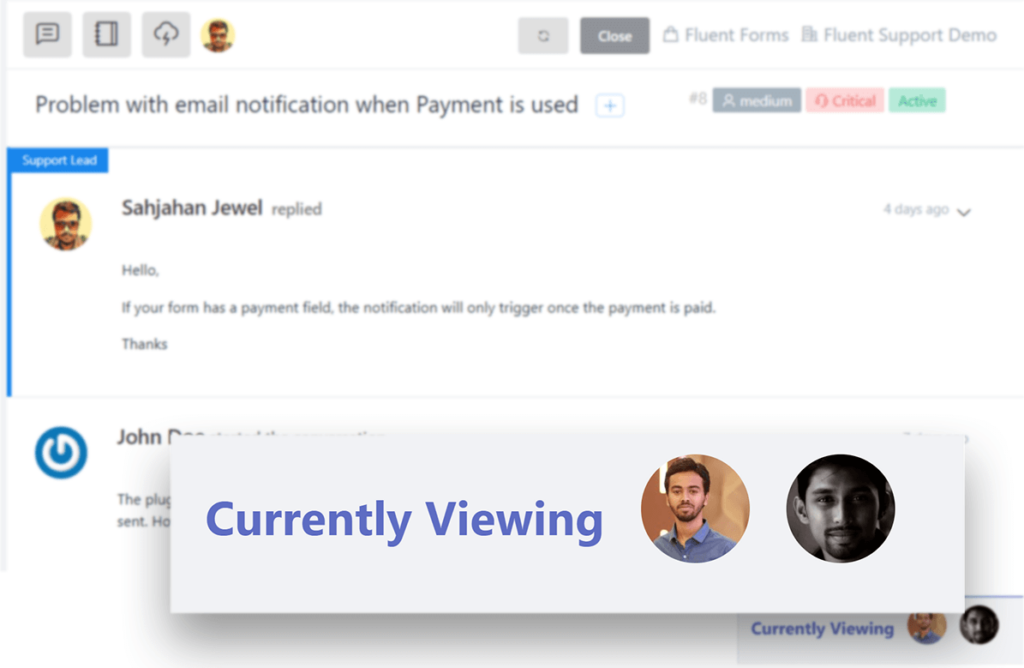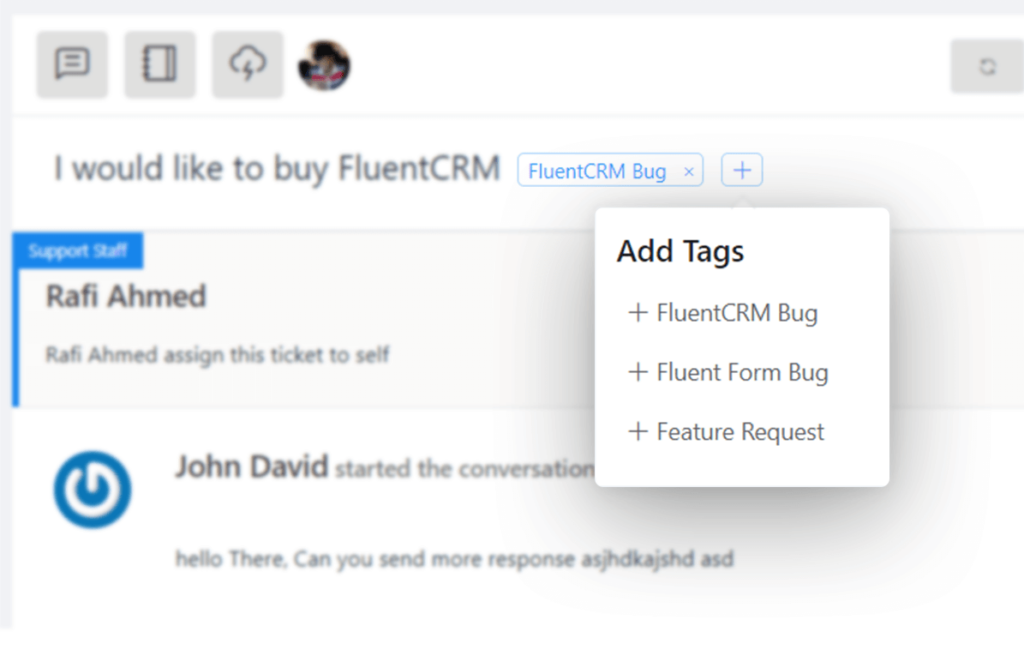 Tagging
Fluent Support comes with custom tagging for your tickets. Create and set unlimited tags to make support tickets easy to identify. Use as many tags you need to filter support tickets, categorize queries and a lot more.
Support can't be confined to a dashboard
That's why Fluent Support offers email piping. Customers can create tickets, receive responses and submit replies, all through emails. Tickets are created automatically whenever you receive an email in your support email address, so no need to manually transfer email queries.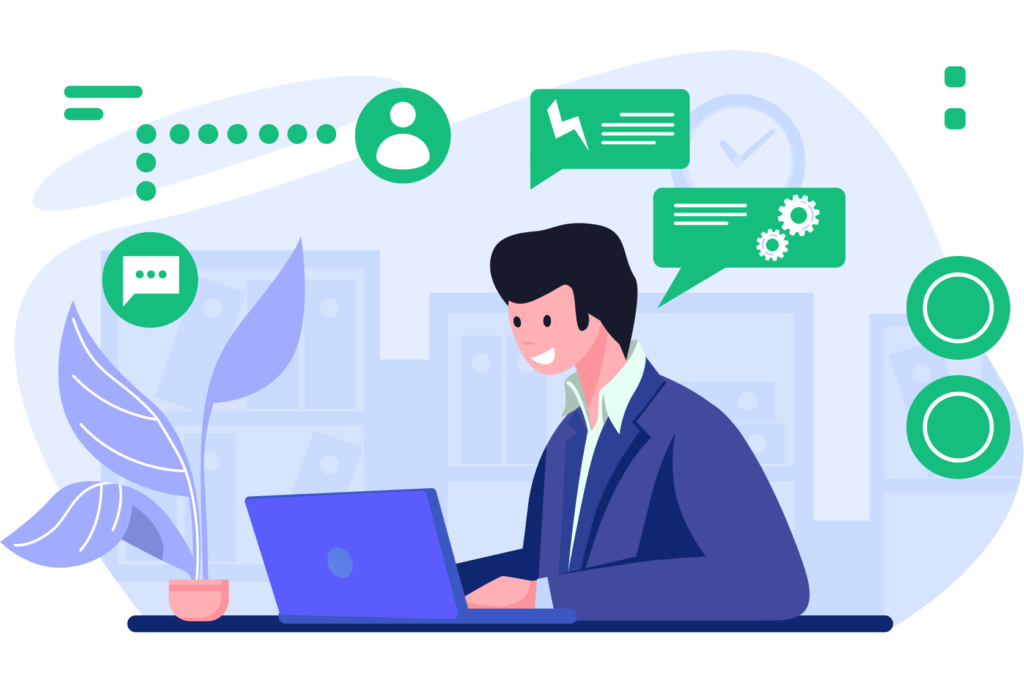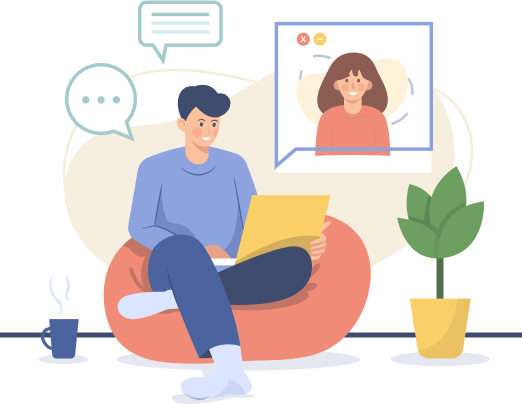 A bird's eye view
You can get an overview of all your tickets on a single screen.
Filter and Sort
Effective ticket list sorting based on last customer response, ticket ID and more.
Advanced search
Find exactly what you need with search operators and advanced filters
Detailed user overview
Enable every agent with all the information on a user, in one page.
Admin Dashboard
Oversight is important for any support team. Fluent Support comes with a dedicated administrator dashboard to give complete control. Manage agent privileges, view individual reports, edit customer info, all from your neat dashboard.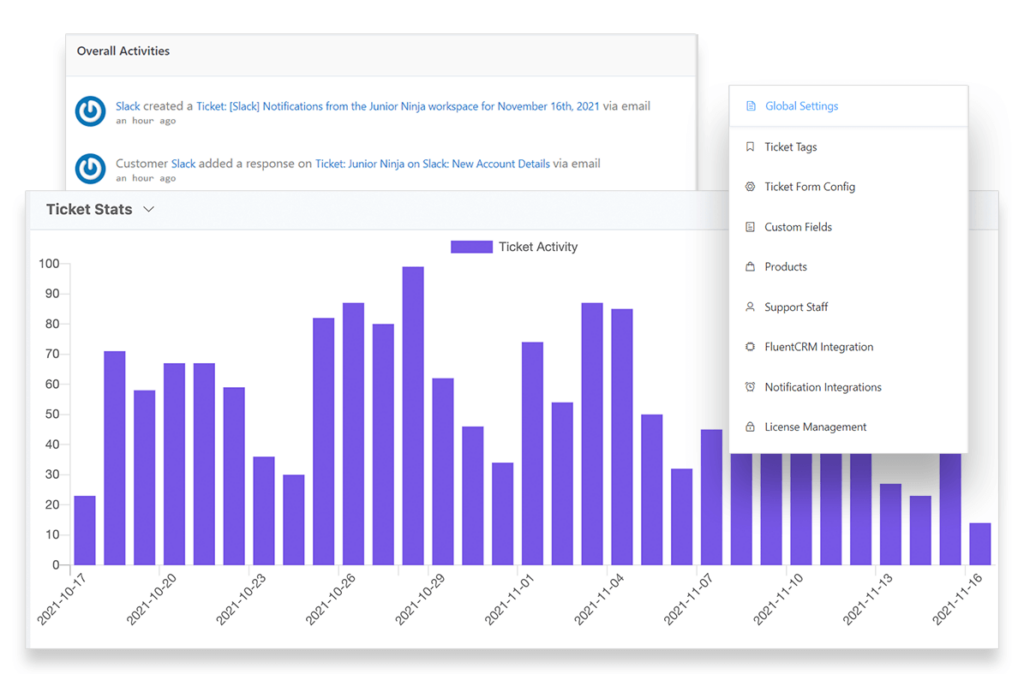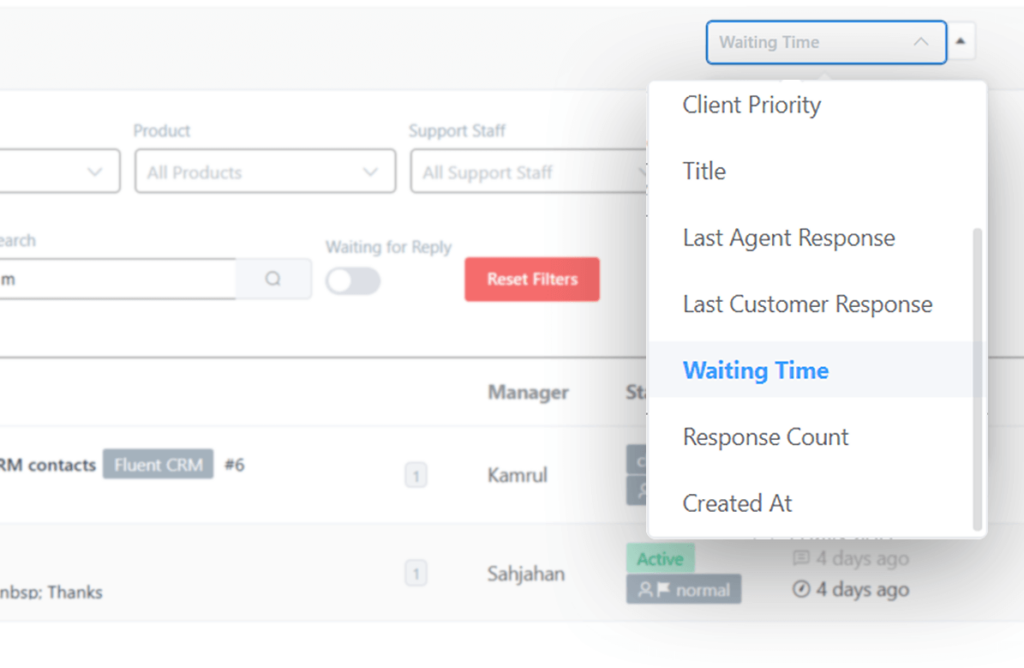 Response Delay Tracking
Fluent Support tracks response delay for every ticket, so you know who's waiting the longest. Sort and find tickets based on highest response delay with just one click. Every agent knows the waiting time for all their tickets, so they can prioritize accordingly.
Bulk Actions
Carry out all ticket actions in bulk from the tickets page. Fluent Support allows multiple tickets selection for replying, closing, deleting and agent assignment. No need to manage tickets one-by-one. Select tickets on your dashboard and assign away.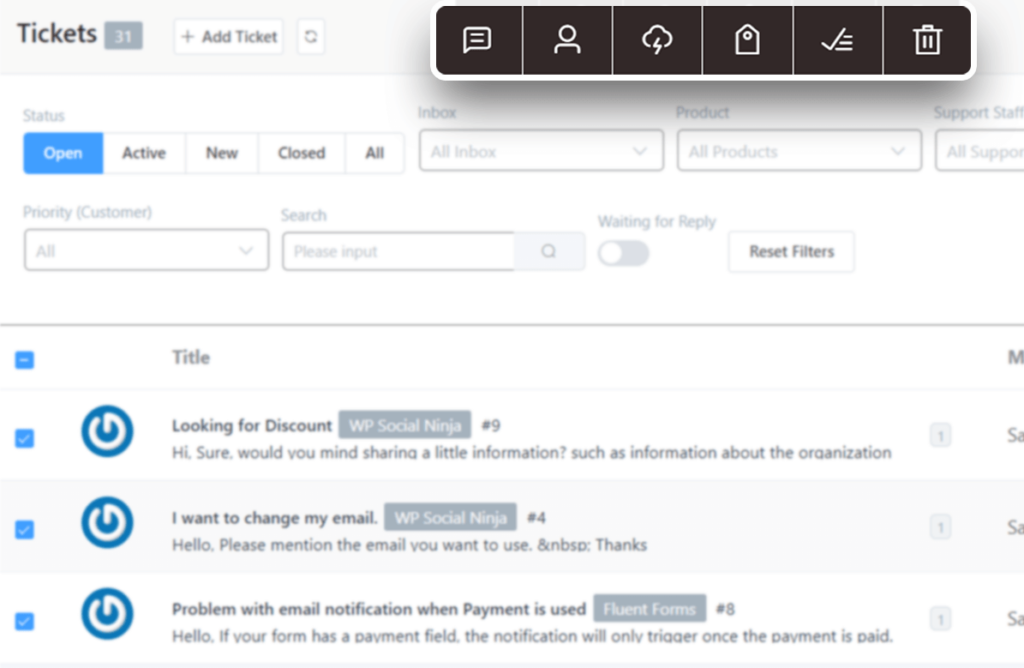 Custom Management
Users and agents can create tickets with tags, products and priority
File sharing
Users and agents can attach various file types

Custom email notifications
Automatic emails at pre-specified events with customized information
Team performance
Visual reports on tickets, resolve and response statistics
Individual reports
Detailed performance stats for every agent in your team
Tracking Response delay
Track tickets with the highest waiting time to deliver solutions ASAP.
Agent Management
Provide agents more flexibility and more control for admins
Agent Assignment
Directly assign agents to specific tickets or products
Custom priorities
Easily assign custom priorities to support tickets
Agent Dashboard
Allows agents to use custom dashboard with selected privileges
Internal Notes
Leave notes or suggestions for other agents in ticket threads.
Mobile Responsive
Access ticket threads or support dashboards from mobile browsers
Short Codes
Use shortcodes to apply on any webpage of your website for a support portal
Premium Support
24/7 Priority support. No additional fees. For life.
User Privileges
Users can open unlimited tickets with custom priorities and product tags.
Get started with Fluent Support
Fluent Support is the most affordable WordPress support ticketing system for small businesses. Get started with the plugin now and take your helpdesk to another level.