Up until 2022, there were 4.26 billion email users, and it will be 4.73 billion by 2026. And email is so heavily used in the workplace that 82% of workers check email even after work hours. So, we need to know the email management best practices at work.
We are all there when our inbox is flooded with hundreds of emails. Mondays are the worst. We lose track of emails and even miss important ones.
But there are a few tricks you can implement to make your life easier. These six email productivity tips will ease up your work flow and make you more professional and productive.
So, let's dive in.
6 email management best practices at work
We know there are a lot of tricks to managing your inbox. But these six inbox management tricks will reduce the time you spend on emails. These will also boost your productivity and work-life balance.
1. Use labels and folders to organize your emails.
In simple words, folders are similar to drawers in a file cabinet. You can stack up as many files or emails as you want inside a folder. But on the other hand, a label is similar to the label written on a paper file.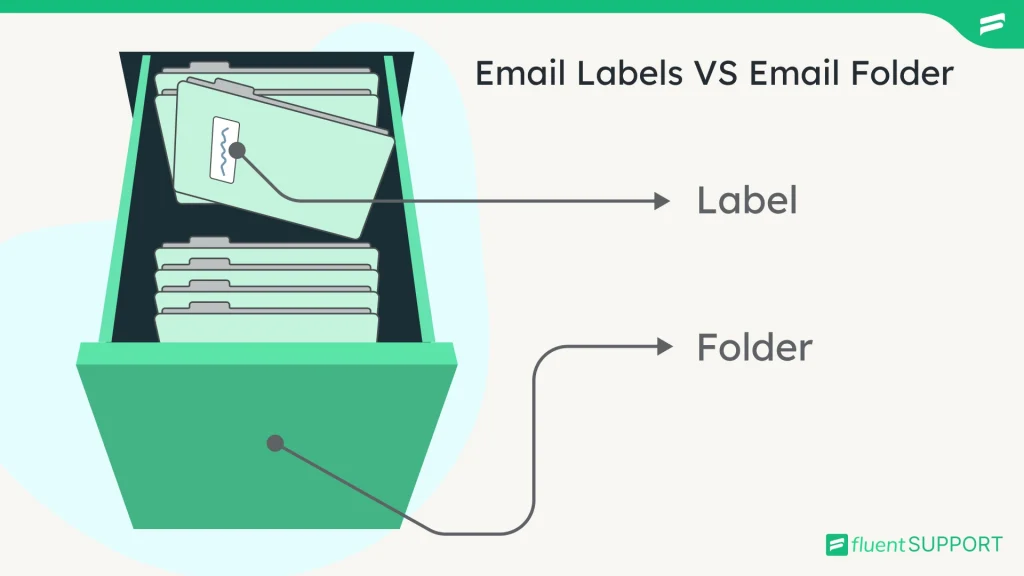 Outlook email clients use folders, but Gmail uses labels. You can organize your inbox by using either of these two.
2. Set up rules and filters to automatically sort your emails
You can set up automated rules or a filter function to organize your emails. Let's say you have created folders or labels for your inbox. Now you set rules for particular emails to go directly to that folder or be marked with that label.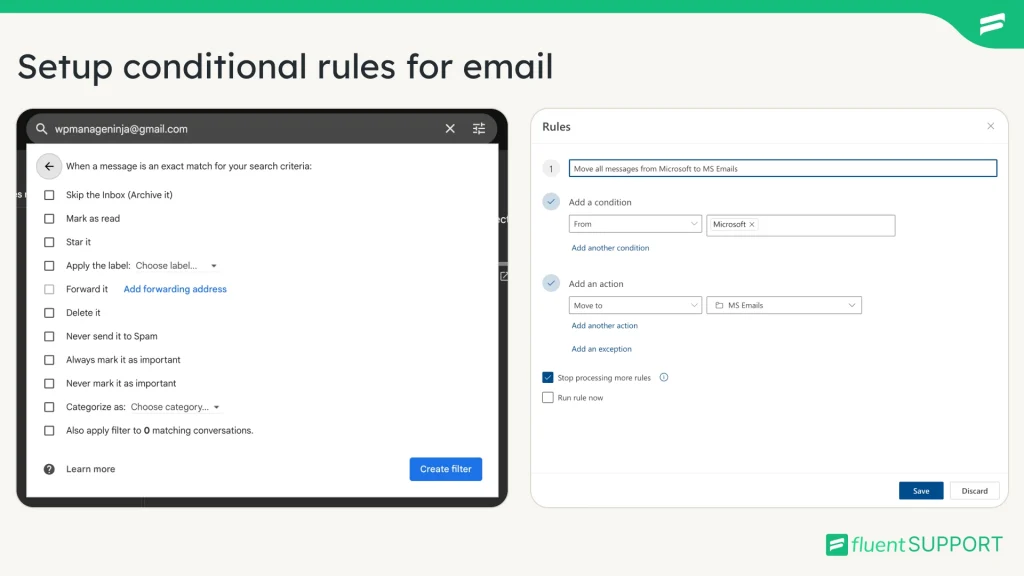 Here is a basic difference between a folder and a label: Folders usually skip the main inbox and go directly to the folder. And labels do not skip the inbox. But in Gmail, you do that too.
3. Create templates for common emails.
Even the simplest email can take up valuable time. When you are swamped with multiple tasks, writing an email feels like a lot. But you cannot ignore that email.
If you save a few common responses for every regular email that you get on a daily basis, it can save a lot of your time.
How to Create Email Templates in Gmail
You can create your own template in Gmail very easily. All you have to do is go to Settings. Click on "See all settings". Then go to the "Advanced" tab. Then enable the "Templates" feature.
After you save it, you will find a "Templates" option in the new message compose field. Type a template as per your preference and click "Save draft as template". Next time, you will find all of your templates in the same place.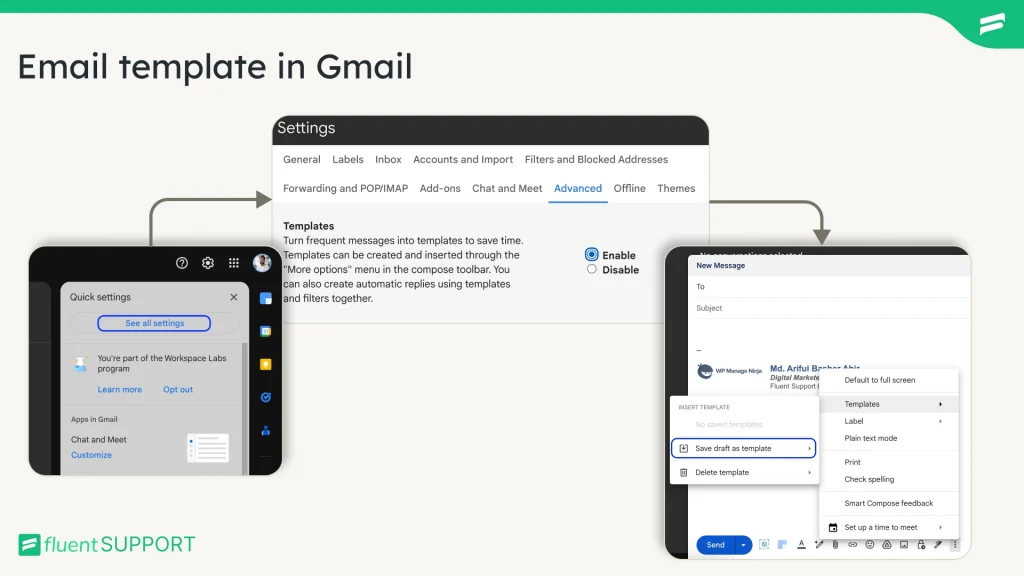 Be where your customers are!
Hear your customers wherever they need you.
4. Use email auto-responder
Let's say you receive a few emails that are so common from some particular person that you can send a single template without an edit. Or maybe you want to inform everyone that you are out of the office.
In these cases, you can create an automated reply in your email. Either you can set up a common reply for all, or you can set up a specific email for a specific sender.
How to create a Gmail auto-reply
The process is very simple. Again, go to the settings and click on the "Filters and Blocked Addresses" tab. Then click on "Create a new filter". In the "To" input box, put your desired email address. Then click on "Create filter".
You have to create a template in advance. Now check "Send template" and select a pre-built email template. That's it. Now, if any of those people send you an email, the automated reply will trigger.
You can also set it for a specific word or subject line. It will trigger the automated reply if any mail contains or does not contain those words.
You can also enable "Vacation Responder" under the "General" tab in the settings. It will reply to all emails that enter your inbox.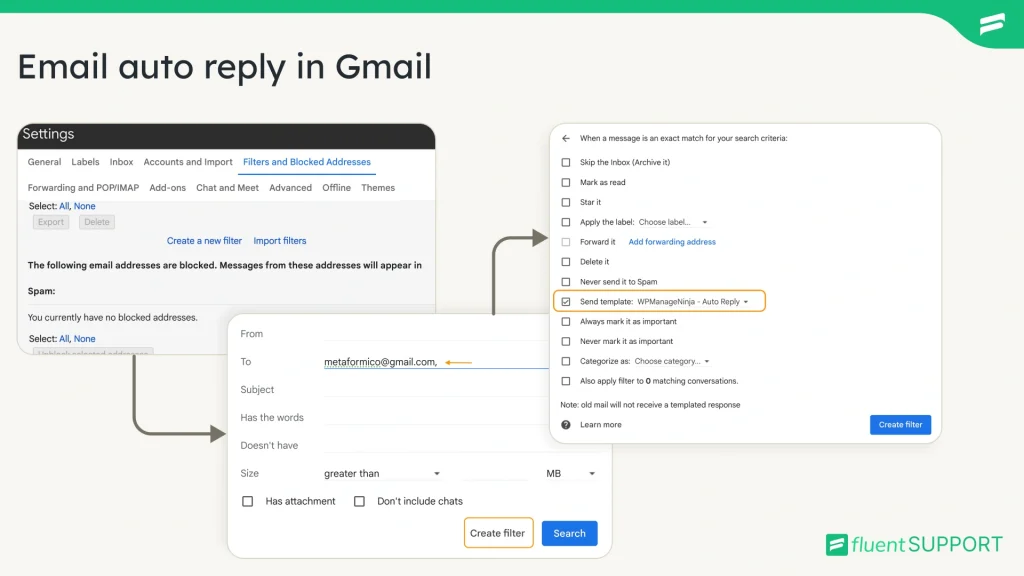 5. Delete emails regularly.
Most of the time, we receive a lot of random emails. These are not relevant to your work or something you don't need at all. So, usually, we just see the email and leave it. That's just wrong.
If you find that email irrelevant, hit the delete button immediately. You might ask why. Why does it matter? Well, after a year, you will find your inbox filled with a lot of random, unnecessary emails.
But if you take the effort to delete the email, your inbox will be clean and clutter-free. This will ease your communication.
6. Unsubscribe from unwanted emails.
Newsletter subscriptions are useful. But sometimes it can be a hassle. You might not want to receive your grocery store discount in your work inbox.
So, take some time to unsubscribe from the Unnecessary newsletter. It keeps your inbox clean. And you can create automated filtering and label all newsletters in one place to be more organized.
Why do you need email management?
So far, we've learned some good email efficiency tips. But why do you need this for your email inbox? Let's start with the obvious.
Stay organized. Your inbox will be clean, labeled, and clutter-free. And when your official communication tool is email, then it's a must to boost your communication game.
It will save time: You can find any important email easily in an organized inbox. Templates will help you reply fast, and even an automated reply will save a lot of time without bothering you.
Improve productivity: A well-organized email inbox will boost your work flow. Communication will be flawless, and response times will be fast because of the labeling. And every time, your communication will be professional and well-informed because of the templates.
Save storage: If email best practices are maintained, your inbox is not flooded with unnecessary emails. Because of a clutter-free inbox, you will have more free space.
Reduce Stress: Because of foldering and automation, a lot of time will be saved. And you can focus on some other work without any worry.
Email management tools
Hundreds of businesses all over the world run on email communication. So, when it comes to business, it can be a bit tricky. Email management should be even more fluent than in normal cases.
So, you can get help from email management software for that. Here are a few suggestions for running your business smoothly using email:
1. Fluent Support
If you are providing support via email, then let me tell you. You are not going to provide smooth support using a generic email inbox. You need something that is specialized for this purpose.
Fluent Support helps you organize your support request in a better way. You will have a far better filtering system for your issues. Your customer can create a support ticket, and following through via this is very simple.
You will get a report, automated agent assignment, ticket priority set, automated work flow, knowledge base, and a lot more. In addition, you will get multiple system integrations to make your job even easier.
2. FluentCRM
You cannot imagine email marketing without a proper tool. Technically, you can do it in your generic Emai inbox, but it's not worth the effort.
FluentCRM is the perfect tool to conduct email marketing campaigns. It will turn your email into a magic wand for lead generation.
You will get a lot of extra power with this tool. To begin with, you will get an automated email campaigning system. You can set smart conditional email sequencing. You can centrally manage all the contacts and generate an in-depth report.
Besides that, it has a lot of integration options. It will make your email marketing even more powerful.
3. LiveAgent
We all know a prompt response is a must. Because customers do not like to wait. And that's why live chat works like a charm. A back-and-forth chat is not just easy for the customer but also increases the chances of conversion.
You can link your email with LiveAgent and create a dynamic live chat environment for your client.
4. Microsoft Outlook
This is an email client system. You can link your business email, which is a custom email address, with this.
Outlook has a lot of customization options. You can create filters, auto-reply, auto-workflow, auto-email foldering, and so on. Normally, it comes with the Microsoft Office suite, but you can download it for free from the app store.
5. Zoho Mail
This is another email client system, but on steroids. Zoho Mail will make your email communication much more neutral, like slack communication. But it's your email inbox.
You can tag someone, mention them in an email, or, like social media you can react in an email with an emoji. All you have to do is add your business email address to Zoho.
6. Gmail
You might think that Gmail is a generic inbox and not a tool. Trust me, it is. It has more potential than you think. I have shown a few examples above in this article.
Under the Google Workspace ecosystem, Gmail is a very powerful tool to manage your email. And features like AI-powered email writing, automation features, and so on truly make it special.
Final thoughts
Even though there are a lot of messaging systems out there, email is not going anywhere soon. Almost all businesses still depend on email communication.
So, in the end, if you fail to maintain email management best practices at work, it reduces performance. And not just that, it can hamper your business as well.
Your own Support Portal in 5 minutes!
Start off with a powerful ticketing system that delivers smooth collaboration with unlimited room for your customers.