Simplicity and user-friendliness are the top reasons WooCommerce stores are popular. Not to mention it's free and open-source! But to increase WooCommerce sales, you need some tricks up your sleeves.
No matter how easy it looks, growing a WooCommerce website or getting WooCommerce revenue doesn't come the easy way. For more revenue, you need more sales. And for more sales, you need an attractive store layout.
The default grid format of the WooCommerce plugin presents product details in a box and leaves out most of the information a customer might need. For example, reviews, videos, sellers' contact number, dates, categories, product filters, etc.
That's why you need table plugins for WooCommerce product display.
Why use WooCommerce product tables
As we've mentioned earlier, the default WooCommerce layout isn't always ideal for product sales.
Here's how it looks.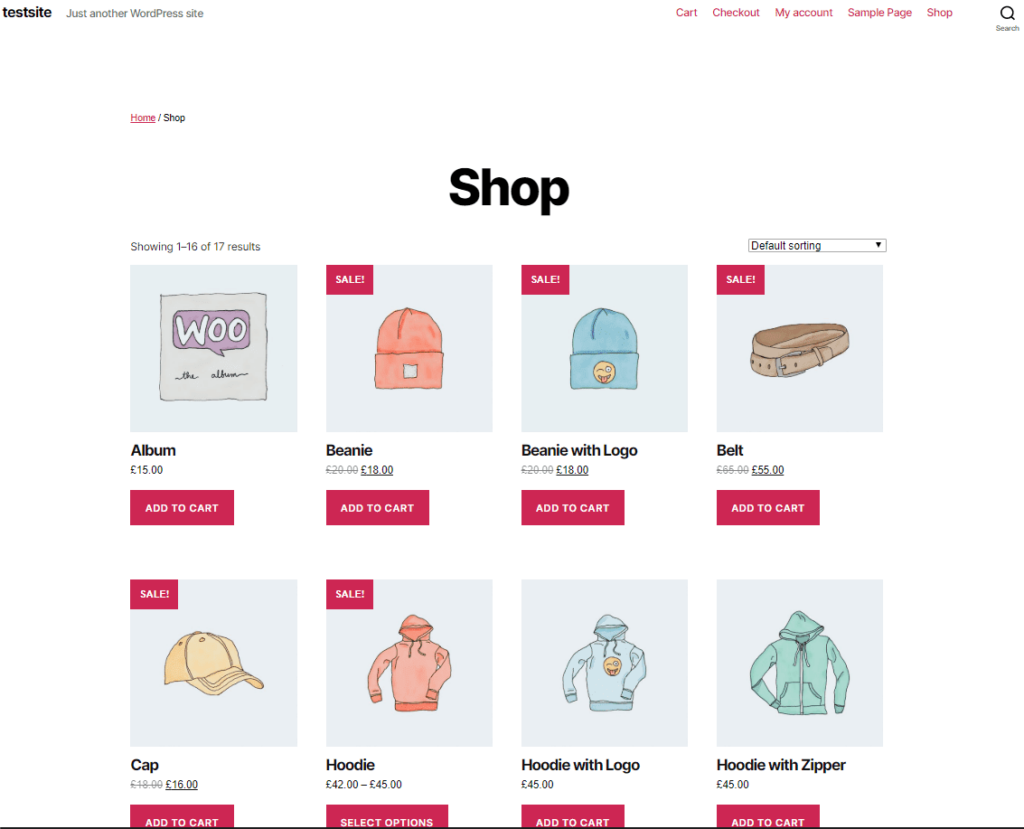 On the other hand, product table format displays every single detail a customer should know about a product. And all of those stay organized in designated product rows.
Here's an example of a WooCommerce product table.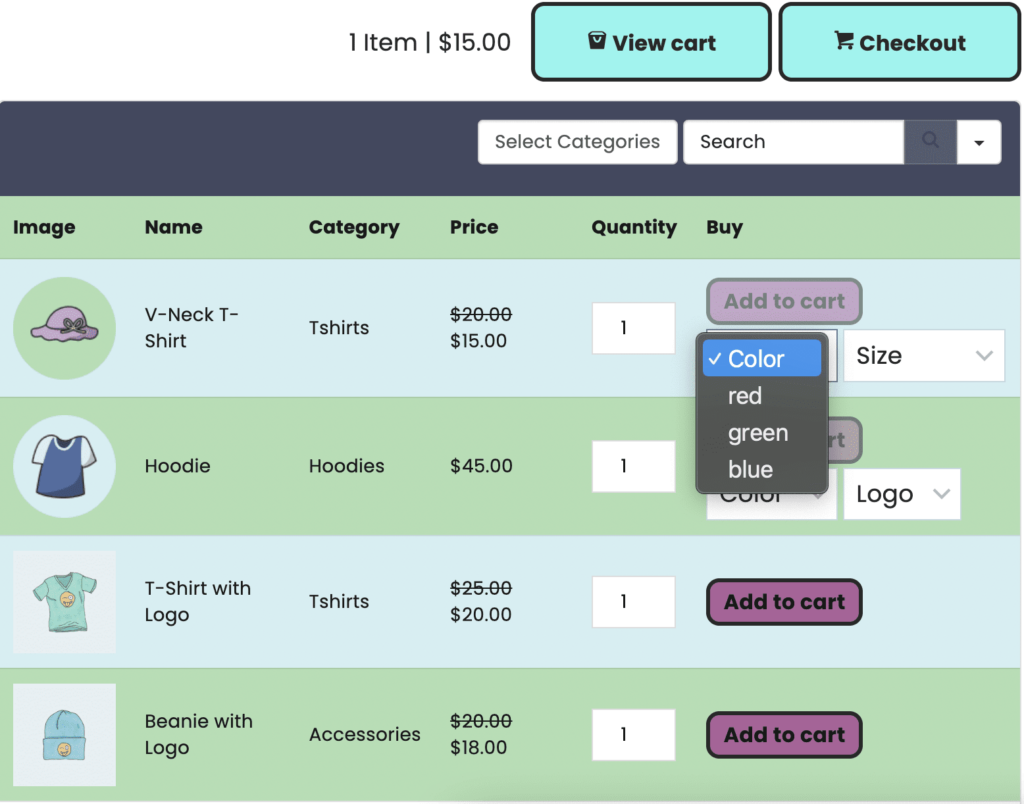 You can show your WooCommerce products in tabular format, if you're using a table plugin.
And if it's a top quality table plugin, the product display will be even better! You can customize the tables however and whenever you want.
An organized display of products will attract more customers and eventually lead to more awareness, sales, and revenue.
How to increase WooCommerce sales with product tables
Suppose you run a WooCommerce store but can't get the sales up. If you are confident with your product quality, the only things pulling down the sales are either product presentation or your marketing techniques.
We're gonna leave the marketing upto you and only talk about the product presentation in your WooCommerce store.
Here's how you can increase WooCommerce sales with product tables-
Organize product details
Custom filter & search
Color customization
Easy checkout & view cart
Image lightbox
Multimedia
Add to cart with variation
Import-export
Product reviews
Add more columns
Custom CSS
How to increase product sales in WooCommerce? Let's note down.
Organize product details
A tabular format can show all types of product details. For instance, name, description, multimedia, buttons, links, price, quantity, reviews, and more.
Product tables in WooCommerce can display all of those in organized rows, columns, and table cells.
A customer can find what they're looking for from a product table, add it to cart, and face an easy checkout process without any hassle.
Custom filter & search
Filterable and searchable product data tables are much easier for customers. Use a table plugin for WooCommerce products and let your customers find what they want.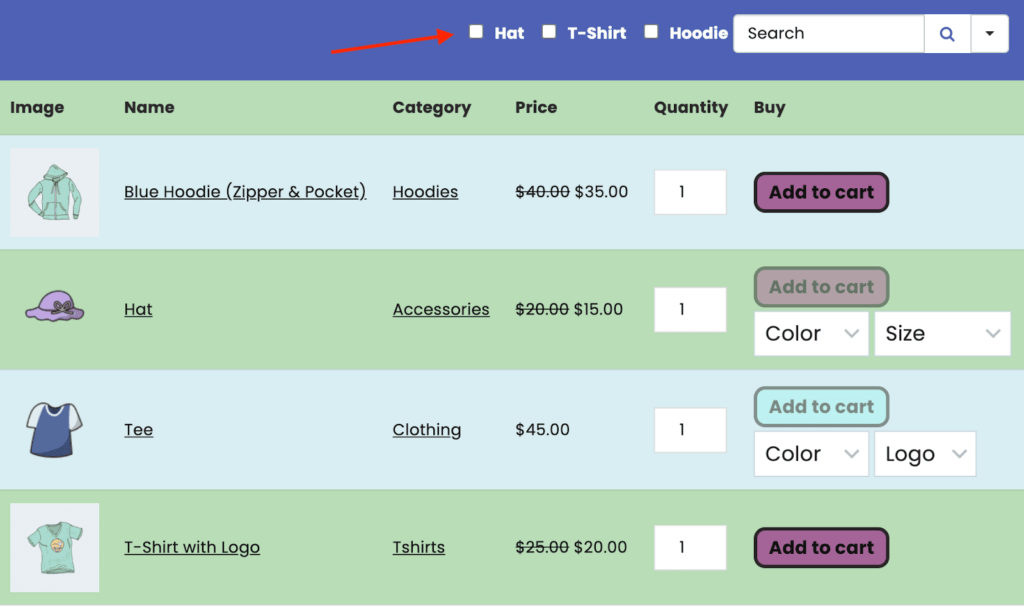 Color customization
Since smart product presentation is the goal of WooCommerce product tables, color customizing and designing the tables matter a lot.
You can customize table background, row, column, header, hover, text, cell, and more with bright colors that pop. Design a product table for different occasions with relevant colors like red-pink for Valentine's day or pastels for Easter.
For example, here's a product table for Christmas.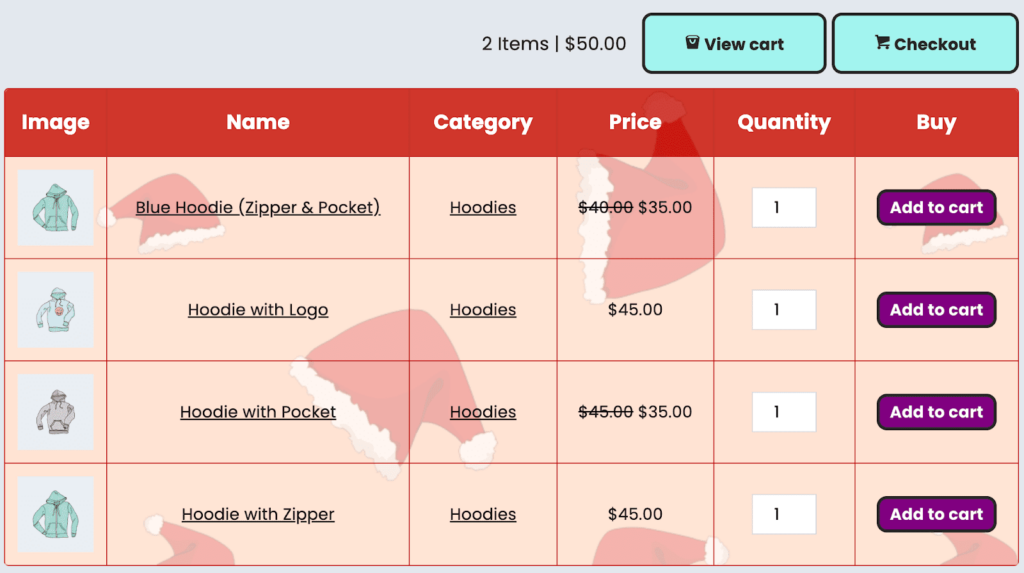 Easy checkout & view cart
Having the checkout button with the product table means customers can choose their products and hit checkout when they'e done. It's fast and easy.
With table plugins, the view cart and checkout buttons are placed with the table and customers can add as much products they want to their cart. They can view the cart to see if there's any mistake in quantity and checkout right away.
Image lightbox
This feature of product tables might not seem that important to you but your customers will want to see a clear and better image of the products they're buying.
When "image lightbox" is enabled for product pictures, customers can click on the image and it will pop up with black or shaded background. It's a way of "magnifying" images for a better view.
Multimedia
Not just images, product tables can show columns with videos related to products. A YouTube link of an unboxing video or a how-to tutorial can help customers understand what they're buying.
Same goes for non-physical product tables with data like music. Add a playlist or a teaser music in a column so customers can pick what to get.
Add to cart with variation
The "Add to cart" buttons in product tables can show different attributes of products like color or size. Customers can choose what color or size they want and add it to the cart.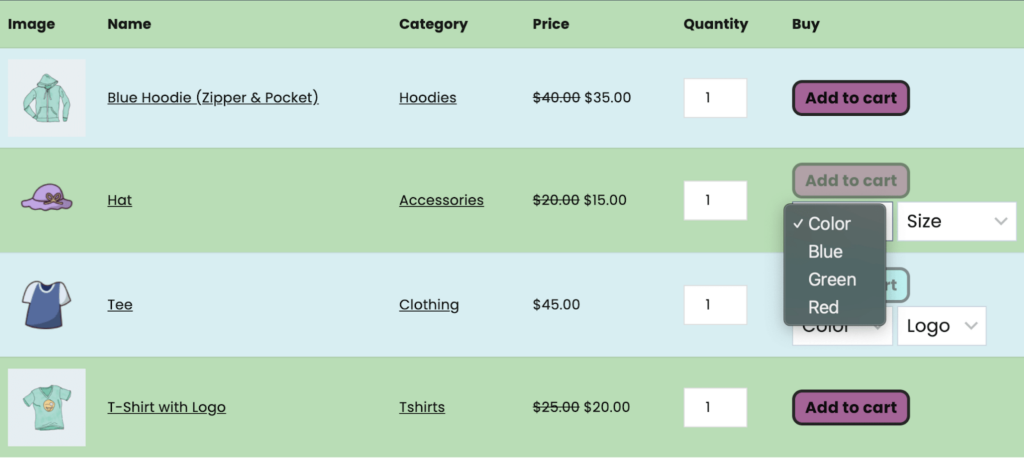 Import-export
If you already have an existing WooCommerce table, just export the CSV/JSON file and import it into a table plugin that supports WooCommerce.
Product reviews
If your product table shows reviews from real customers, a potential customer will notice the products more.
The reviews can be in any form- star rating, text testimonial, number rating, or thumbs up-down. Customize table columns with review option so customers can see real reviews before they buy.
Add more columns
A good table plugin with WooCommerce integration lets you add as much column, row, or cells your product table needs.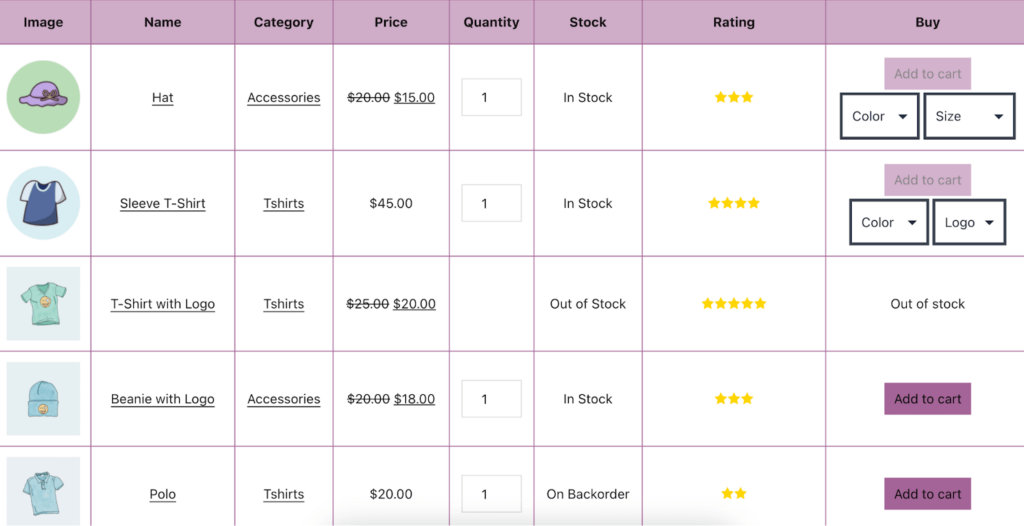 Custom CSS
Every design, style, and layout is customizable if you use CSS to override. A responsive and intuitive table plugin will let you tweak the product tables with custom CSS.
Best WooCommerce product table plugin: Ninja Tables
So far, we've talked about how product tables can make your WooCommerce store look smarter and more engaging. But how do you choose a table plugin that actually works?
Don't worry. Ninja Tables has got your back!
Ninja Tables is always in the top 3 WordPress table plugins that have multiple data table options, huge list of features, and unlimited customizations. But WooCommerce integration sets it apart from every other table plugin!
[Note: WooCommerce integration is only available in Ninja Tables Pro]
You can customize Ninja Tables WooCommerce product table with colors, unlimited data, design, and make the table responsive for all devices.
Most of these happen without a single line of coding, but if you know CSS, why not tweak more?
Features of Ninja Tables
If there's ever a table plugin contest, Ninja Tables is gonna win for sure!
Note some of its awesome features.
| Dynamic Data Sources | Table Creation Options | Customizable Features |
| --- | --- | --- |
| WooCommerce product tables | Drag & drop builder | Table color |
| Google Sheets auto-sync | Prebuilt Tables | Multimedia |
| Fluent Forms integration | Export-Import | Conditional formatting |
| Chart | Dynamic data types | Value transformation |
| WP Posts table | | Circle Rating, Star rating, Ribbon |
| | | Merge/split cells |
| | | Custom CSS |
| | | Custom filters |
| | | Stackable table |
| | | Frontend editing |
Ninja Tables, WooCommerce, and Fluent Support
Even though these 3 plugins have different functions, Ninja Tables and Fluent Support both have integrations with WooCommerce.
While Ninja Tables ensures a beautiful tabular display for WooCommerce products, Fluent Support shows the customer purchase history from the plugin dashboard. Also, auto-syncs customers' WooCommerce data and makes ticket submission easier.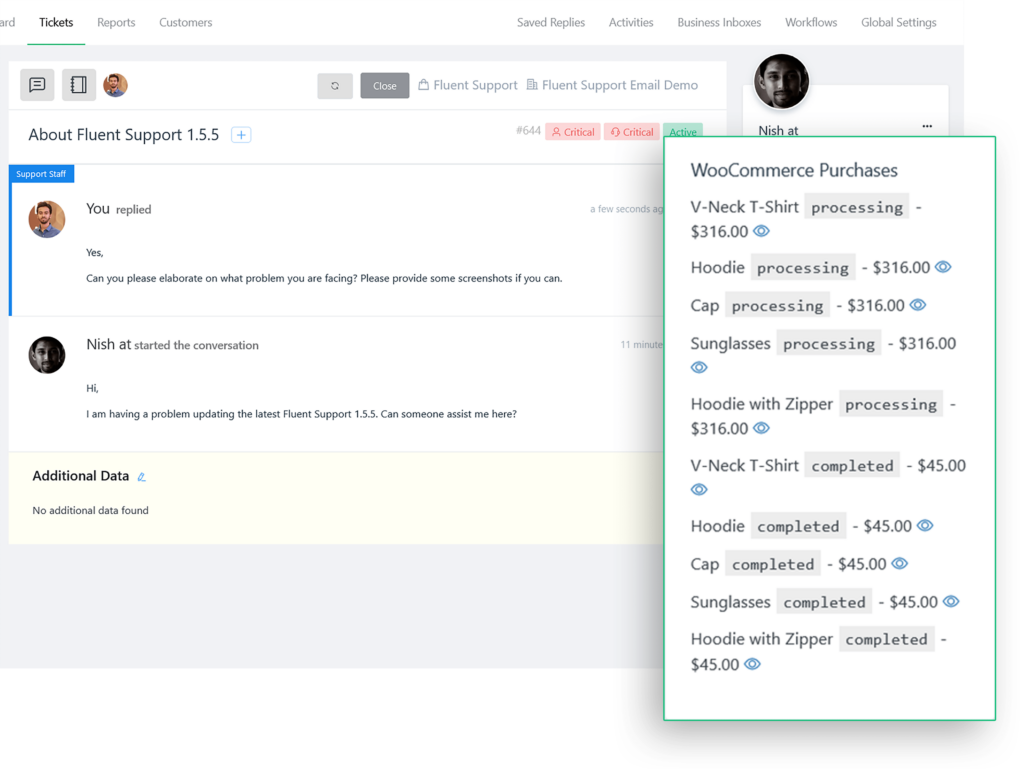 If anything, your WooCommerce business will only benefit from Ninja Tables and Fluent Support. Install and activate them and boost your WooCommerce store growth.
Final words
Running a WooCommerce store might look easy, but keeping customers engaged and entertained is the real head-scratcher!
If your goal is to increase WooCommerce sales, adapting WooCommerce product tables is the best way.
Use Ninja Tables to organize all the product details in customized rows and columns, or design the table however you need. It's quite literally the only plugin you need for all your data table solutions!
So, you wanna give it a try?