Canned responses are one of the key factors of modern customer service. Now keep in mind that canned responses are not your average auto-response email. What sets them apart from regular auto-response emails is the degree of personalization and creativity that goes into them.
For most businesses, the truth is they aren't using canned responses properly. Good news for you because you can implement stellar canned responses to set yourself apart from your competition. Customer service teams that put into canned responses get distinct benefits that we'll look at in the following section.
What are canned responses?
Customer service canned responses, aka saved replies, are stored text responses that you can use to quickly answer frequent questions on your support desk. Canned responses are useful when you're looking to save time and provide instant answers to customers.
Ideally, your help desk system should be able to store canned responses to allow easy access for your agents.
The benefits of customer service canned responses
Canned responses simplify many aspects of the customer service process. Mainly by giving service agents breathing room. Other benefits include,
Reduces response times
Canned responses, mean you have designated messages ready for specific scenarios. Having appropriate responses already prepared saves the time it takes to type out a generic acknowledge message. Allowing you to reduce the time for the first response.
Improves response rates
Faster responses move along the process so that you can respond to more queries. Not only that it also saves time for you to focus on solving and figuring the issue out.
Smoothens service conditions
Faster responses mean calmer customers. That's a fact. A simple canned response can alleviate a lot of stress for both the customer and agents. Sending out responses as soon as you get a ticket, tells the customer you're already on the task. While forgiving agents the stress of typing out a response on the fly.
Improves retention rates
Improving these metrics has a visible impact on customer retention. The faster customers get responses from you the more they are willing to rely on you. This reliance drives retention and reduces your churn rate for the better.
How to create effective canned responses?
Before we just hand you the best-canned responses we found for us, let's see what you need to write killer customer service responses on your own. Follow these tips to create your own customer service responses, catered to your customers.
Admit your shortfalls and empathize; Don't hesitate to apologize and communicate with empathy.
Avoid bland jargon; Keep the message clear and concise. Avoid highly technical terminology.
Personalized, not personal; Personalize the message for the customer, but don't use terms that are personal.
Set clear expectations; Clearly state what you can and can't do.
Don't can it when a person is needed; When an active reply is needed don't use canned responses.
Personalizing has never been this simple
Know who your customers are and what they need in one dashboard!
5 best-canned response examples
Here we focus on 5 of the most common customer service responses that any business can use. Closing tickets is a daily phenomenon as is collecting customer feedback. Refund requests and self-help options are rarer but are received frequently enough for canned customer service responses to be useful. So let's get to it,
Thanks for the product/feature recommendation
Customers can come in with all sorts of requests and suggestions for your business. Some might be useful and some may not. Either way, you have to acknowledge their effort. A canned response is the best to handle these situations.
However, it's important to remember your limitations as a business. Make sure you clearly communicate whether their suggestion is something you can act on. If not, clearly say so. Leading a customer into believing their idea will be implemented is not something you want to do.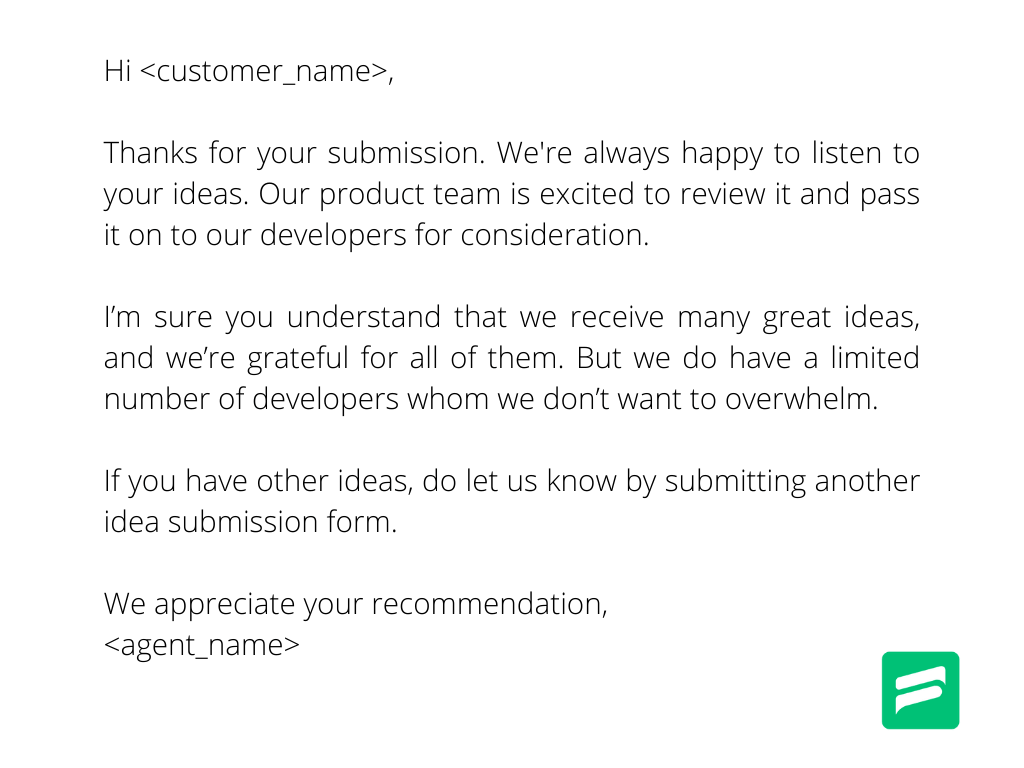 We're closing this ticket now
When a customer states their problem is solved, it's good to celebrate. But before that, you need to thank them for being patient. Before closing the ticket, you should always follow up if the solution is what they wanted. In most cases, this response acts as a notification before you actually close the ticket.
The point is to give the customer a last chance if they have something to add to the issue. Closing tickets without this confirmation sets a bad precedent.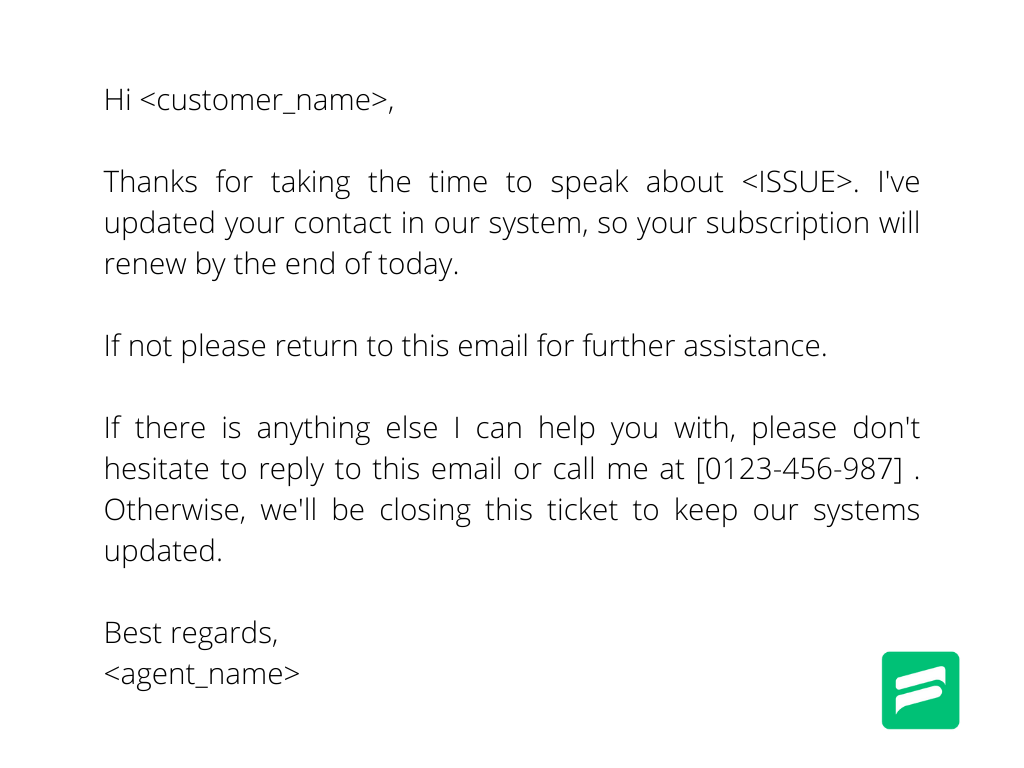 About your request for a refund
Refund requests are common for most businesses. Customers return products for a number of reasons. As soon as you receive such a ticket, you need to inform the customer about your refund policies. If you have multiple options for product return you should forward them too.
The best course of this response is to add all the options available and ask the customer to choose which applies in their case.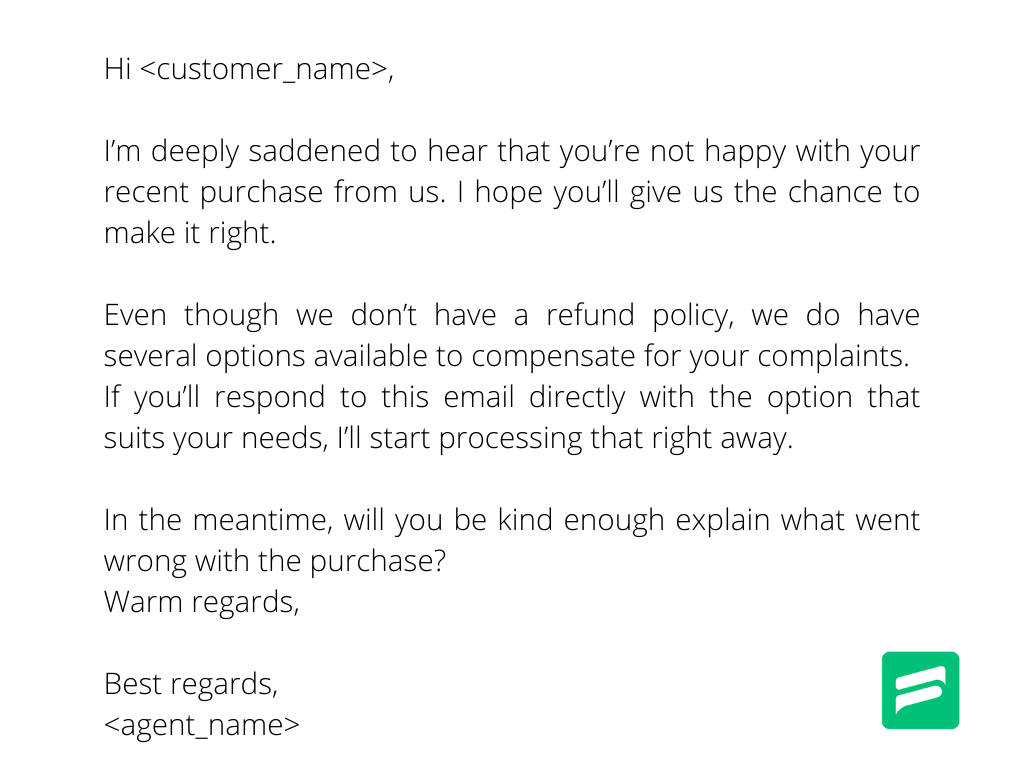 Were you satisfied with our customer support?
Getting feedback is absolutely crucial after closing an issue. This response needs to be straight to the point and neutral in tone. You don't want to lead your customers to a positive response or put words in their mouths.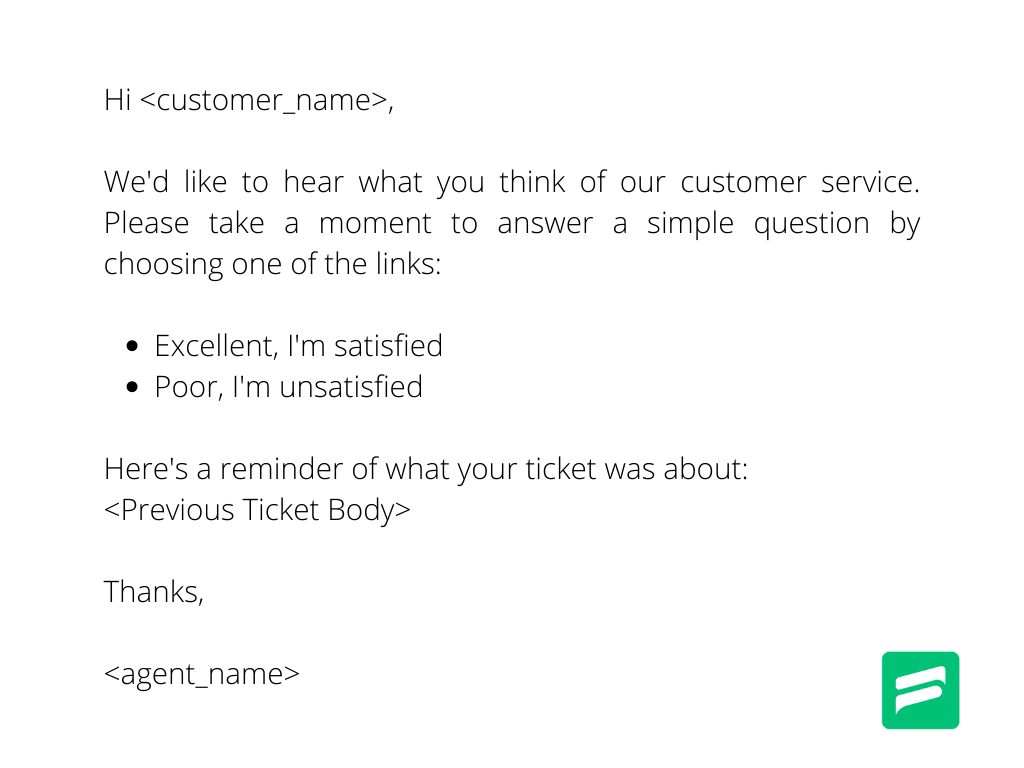 Here's how to do it yourself
Customers love fixing stuff and figuring things out. While it might seem like a hassle, people actually enjoy the euphoria of overcoming a roadblock on their own. As a business, you shouldn't hesitate to give your customers this feeling. An important thing to remember is you need to have standard resources and walk-throughs for this canned response to work effectively.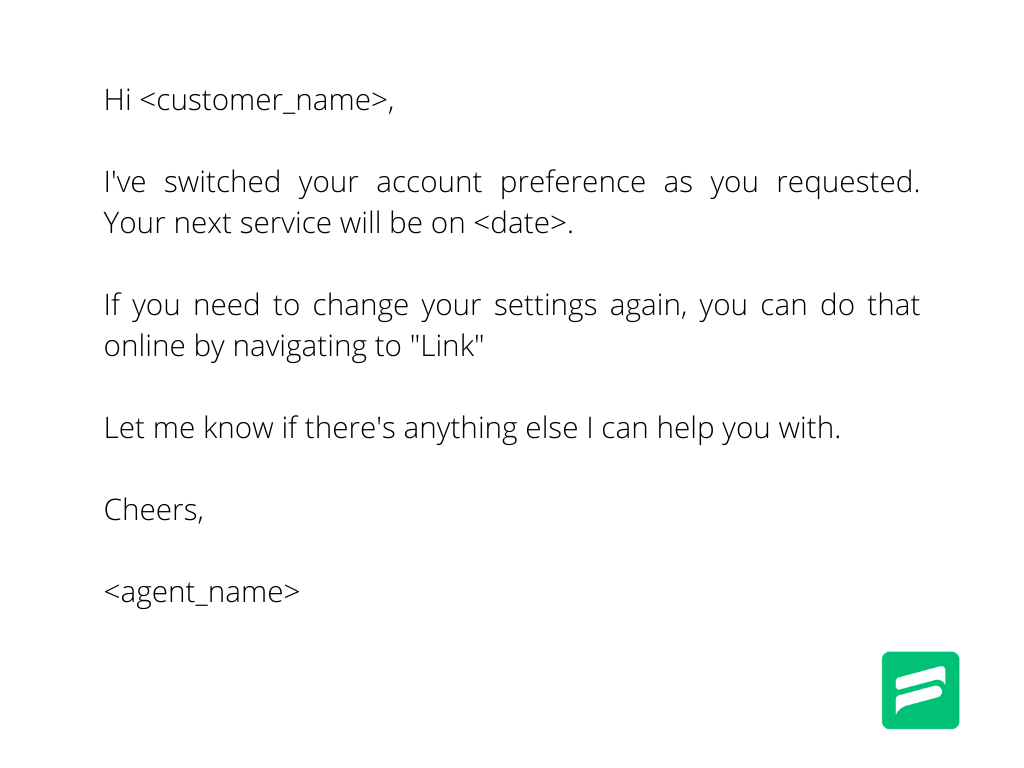 Wrapping Up
Properly written and planned canned responses can offer stunning results for your service team. The golden rule is to keep them easy to read, and not mechanical. Saved customer service responses should be as engaging as though you're typing them out yourself.
Make sure your help desk allows you to store custom replies. A lot of the platforms limit the number of responses you can store. If your service team is small this limitation can cause problems. Try out plugins like Fluent Support that offer unlimited saved replies, no matter what you're paying.
Canned responses save a lot of time, only if you use them correctly.
Until next time, happy serving!
Your own Support Portal in 5 minutes!
Start off with a powerful ticketing system that delivers smooth team collaboration and powerful integrations.