Email is the oldest digital communication tool used today.
There are 4 billion daily email users, expected to increase to 4.6 billion by 2025.
306 billion emails are sent per day around the world every day. Now you can imagine how big email is. People still use emails for professional communication in this social media era of TikTok, Snapchat & Instagram.
During the pandemic, email usage increased massively when everything was shut down and people had to work from home. Emails are a crucial tool for communication.
Although we use email every day, many professionals still lack email etiquette due to the lack of knowledge about email etiquette. Business email etiquettes are essential when you have to email your co-workers and others for professional work regularly.
You can't speak to your vendors as you speak to your friends! Professional tone & language is necessary to close the deals here. But how to do it more professionally and effectively. In this blog post, we will cover business email etiquette rules and tips you can follow in your professional life.
What is Email Etiquette?
Formal manners and rules are necessary in the professional world. Without it, you can't influence people for better deals.
That is also real in email communication. You should follow the formal tone and email etiquette rules while sending emails. The guideline includes important points about:
Appropriate language
Professional tone
Standard fonts
Spelling
Grammar
Brand tone
It always depends on whom you are emailing.
Why is Following Email Etiquetes important?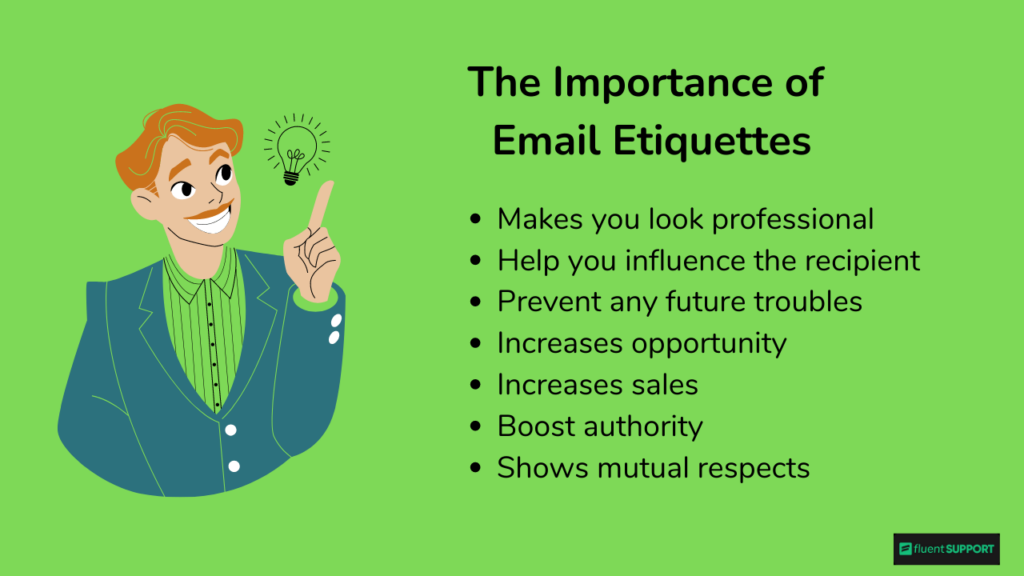 It is already established email is the only professional communication tool for business. People prefer to email rather than phone calls these days.
How well you crafted your emails are essential to influencing potential client, co-workers, and customers. Proper email etiquette will help you be seen as a professional and gain respect from the other side.
Professionalism is necessary to represent your employer or business. It will also keep the communication efficient and prevent you fall into any future trouble.
Business Email Etiquetes Rules & Tips
The volume of emails we send every day, it's destined to make errors. But we can't prevent these mistakes by following some simple rules.
Here are 17 business email etiquette rules and tips to improve email communication:
1. Use a clear subject line
It is the first thing people see in their email inbox. Most times, people click emails based on subject lines.
If you are using email for direct marketing purposes, you should invest enough time brainstorming subject lines before sending emails for each campaign.
If you communicate with businesses or colleagues, use a clear subject line addressing the issue or topic. It will help your email get noticed quickly and not be lost in their email inbox.
2. Use simple & professional greetings
Do not start your email with "Hey buddy" or "Hi there"! That's the worst way to start a work email. Be careful using casual words; you must use formal words to address the sender. You do not want to offend your potential client, do you?
Make sure you know your senders and always use professional salutations.
3. Careful with humor
We all need humor in our life, but not in a work email. Email is all about words without facial expressions and if it is not aligned with your brand's tone, your humor in email can be lost in translations.
Not everyone will receive your humor the same as you. You may find something funny, but the receiver may find it rude, insulting, and embarrassing. Leave out the humor in your emails if you don't know the sender personally.
4. Don't overuse exclamation points
Do you shout every time you talk to colleagues face to face when you are excited?
No, you don't!
Then why overuse exclamation points in every sentence? It will only make you look childish and immature. Do not overuse it in your emails; keep it simple. Only use exclamation where it is needed.
5. Use standard fonts
Use simple and well-sized fonts for business communications to make your email look more professional.
Every font and design has its place. Use standard fonts like sans serif in your emails, such as Arial, Times new roman, Calibri, and Helvetica. Keep the font size 11-12 points, and use black color. Keep it as simple as possible.
You can use text highlighting to highlight important parts of your email, but keep bolding, italics, and underlining at a minimum. Overusing these can make your email feel more chaotic. We want to make email easier to read for others.
6. Use a formal tone
Hearing the same word face to face over reading it in an email can be different based on who's reading it. Your tone of voice can be misinterpreted in emails. While you may think you are straightforward with your words, others could find it very insulting.
Always read out your emails aloud before sending them. You will immediately know the difference. Edit it accordingly, and use positive words like 'Thank You' or 'Please' where necessary.
7. Consider Cultural Difference
Email marketing is the cheapest way to reach millions of people. You can start an email list using easy-to-use email marketing tools (like FluentCRM), make a landing page in a minute, and start signing up visitors.
But getting a vast amount of email subscribers could raise a new problem. Different country has different cultures. If you write emails for everyone, it can cause problems due to cultural differences. Your words can be misinterpreted by others, especially when people can't see your body language or facial movement. Customize your email by targeting different cultures. You can use tags and lists to segment recipients as your need. Different timezone is also an important factor here; consider this while creating an email campaign.
Segmentation will make your life easier. You can send tailored emails targeting different ages, gender, country, or even language. Choose your email marketing tool wisely; go for a tool with a wide range of segmentation features.
8. Proofread before sending
Proofread your emails before hitting the send button. Do not depend on autocorrect and spell checker. Read one or two times, and check for typos, and sentence order.
Occasional typos are okay, but repeated mistakes will make you look unprofessional.
9. Add the recipient's address later and always double-check
Accidentally sent an email before finished writing?
Yeah, we all are guilty of that!
Avoid that; add the recipient's email address after finishing the email and proofreading. It will save you from embarrassment.
Always double-check it before clicking send. You don't want to send unwanted emails or confidential information to the wrong person.
Pro Tip: Use the BCC and CC to add your co-worker or employee if you believe it's essential to notify them about it in the future.
10. Use 'Reply All' when necessary
Nobody likes unimportant emails sitting in their inbox. Use the "reply-all" button only when necessary. Not every other department needs to know what you and your team members discuss.
Pro Tip: Also, use the forward option wisely. Use it when you need to mass email everyone about company-wide news & information.
11. Avoid your inbox when emotional
Humans can be unpredictable when emotional. There will be many incidents of angry customers, clients, or vendors' emails which will make us furious. It is part of the job. You will be triggered sometimes to reply instantly. Emotions can do that, and it's okay. But you should retain from responding or sending an email when emotional.
Once you hit send, you can't take back your words. And every action has consequences. That could be a viral news story becoming a PR disaster! Always try to write a reply formally without emotional attachment. Take a break, go outside and free your mind. Then come back and write. It always works!
12. Don't use emojis
Don't get me wrong. Emojis for casula talk. You can use it in the company slack channel but not in a professional email. Emojis will make you look immature, and others will not take you seriously.
Don't use emojis ever!
Pro Tip: Also, use shorthand in specific uses only. For general uses, always write in detail.
13. Remember to set out-of-office email
Are you going on leave? Or out of network?
Always leave an out-of-office email for your network. These emails are short and on point. You can schedule this type of email to let everyone know you'll be unavailable and how they can reach your colleagues.
Here's an example:
"Dear X,
I hope you are doing well.
I am going on leave [date/day].
I will be unavailable for that period, but you can send emergency inquiries to my colleague [email protected].
Merry Christmas!
Best regards,
Y"
Pro Tip: do not send emails on weekends. Weekends for meant to be fun!
14. Be careful with attachments
Always be careful with attachments. Scan your files before sending them. Do not attach large files to emails. It will eat up spaces in people's inboxes. Use google drive or dropbox for large files and then share them in the emails. Make sure you mention the attachment at the end of your email.
Pro Tip: Always compress files and send them in zip format. It saves inbox space.
15. Use a professional signature
Give your email readers more information about you and your business using a professional signature. You can use your signature as a high-end CTA, and collect leads and potential customers using it appropriately.
Do not overuse it with everything. It will look messy. Keep it simple and the same as the rest of the email.
16. Reply to all email
It is not mandatory to reply to all emails in your inbox. It is hard to reply all at a time. Prioritize your inbox using filtering options. You can use different categories and tags to label them to your preference.
Some emails will need your immediate attention. Give other emails a 24 hours break, then reply. Always reply to your colleagues and clients as soon as possible.
17. Use a professional email address
Want to look more credible in others' inboxes? Want high open rates?
Use a branded email address.
If you work for a company, always use a company-branded email address. Use your domain-branded email to contact your customers if you run a business online.
Branded email example – [email protected].
Professional email also improves email delivery rates. If you are a freelance, you should use a good handle that represents you professionally, not [email protected].
Conclusion
Companies may use different channels to communicate with customers, but email is used widely for customer support and business communications. Emails have remained a highly effective tool for a meaningful contact point.
Email etiquette rules & tips are essential for everyone to make them more professional at work. Use the above rules and tips and apply them in your daily life to become a more efficient communicator.
How are you using email for your daily communication? What tools are you using?
Share your thoughts with us, and leave a comment.
Your Support Portal in 5 minutes!
Start with a robust ticketing system that delivers smooth collaboration with powerful integrations.