It's finally time. We're ready with a fresh new Fluent Support with some big features for you guys. A lot of the features we're requested by our kind users, and we can't thank you enough for them. Along with the requested features, we've got some new ones that are bound to be a surprise. Other than that we've got some fixes to minor bugs as well.
New Features in v 1.6.6
Without further ado, let's get into the new features and fixes you'll get. This version is a feature-rich one with some minor bug fixes.
Activity Log Filters
Many users, especially support managers were expecting an Activity log filter. Well, now it's very much possible with Fluent Support. It allows you to filter logs based on individual agents and specific periods. This feature is definitely a huge improvement for support teams and managers as a whole.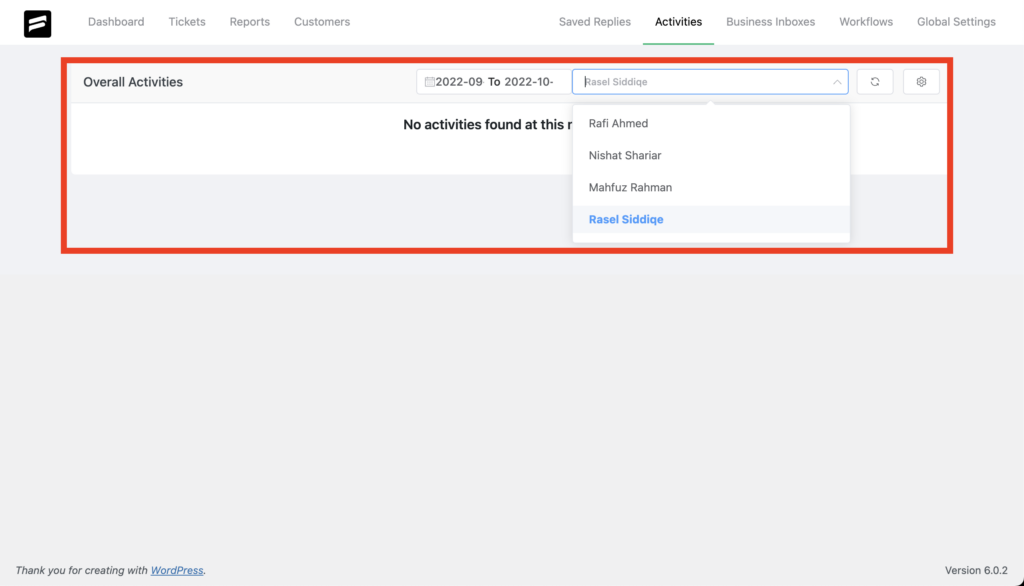 Active Tickets for Products
Another much-awaited feature is Active tickets sorted by-products. You can now add this widget to the WordPress dashboard widget added in v 1.6.0. Now you'll be able to see exactly which product is getting the most tickets and manage agents according to that.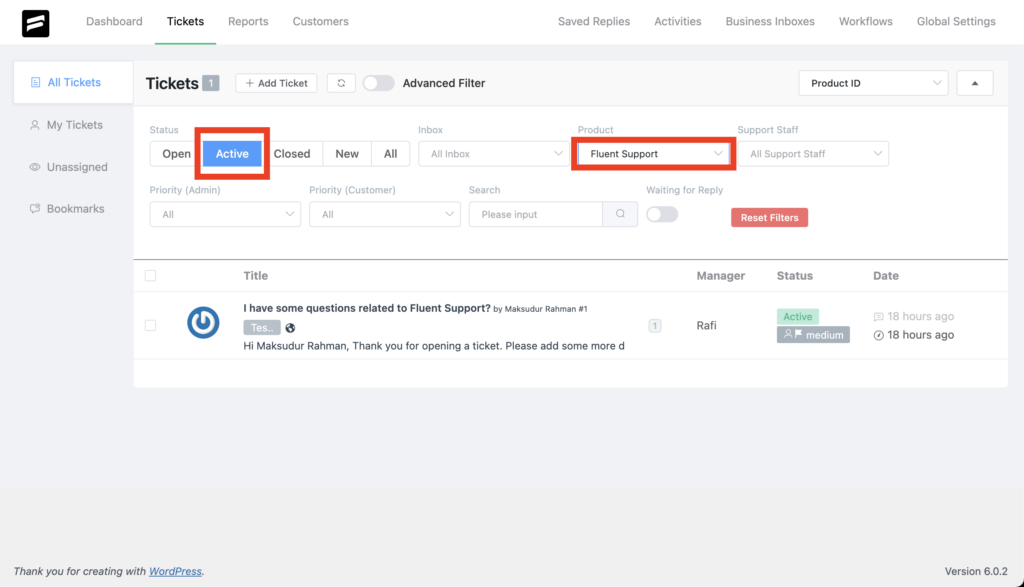 Waiting Tickets
We've also included a 'Waiting Tickets' widget that you can also put on the dashboard widget. This widget will refresh automatically to tell you exactly how many tickets are waiting for a response from your support desk.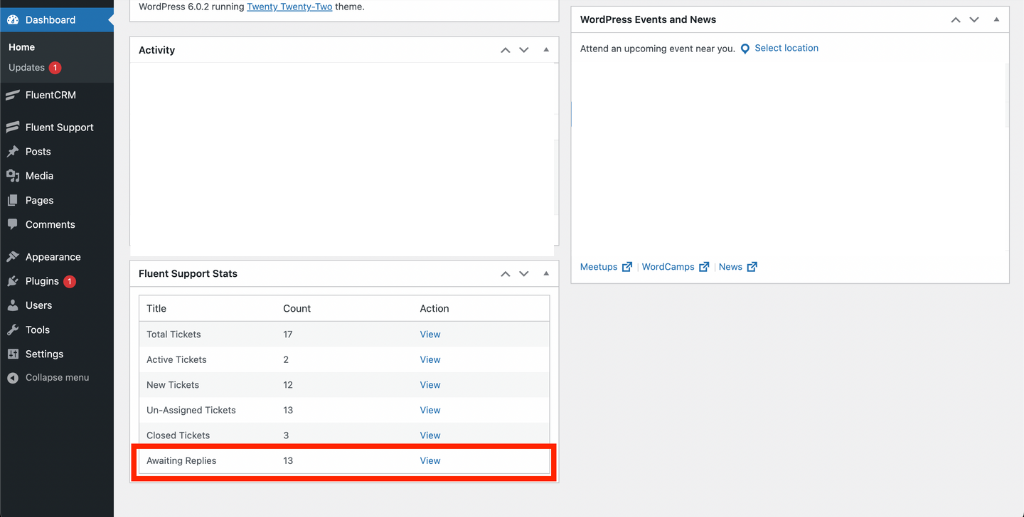 Hourly Reports
Under the reports section, we've added a new filter to view Hourly reports for your support team. This includes all the metrics like average waiting time, response rates, etc. but on an hourly basis. Pretty effective when you're trying to manage loads of tickets every day.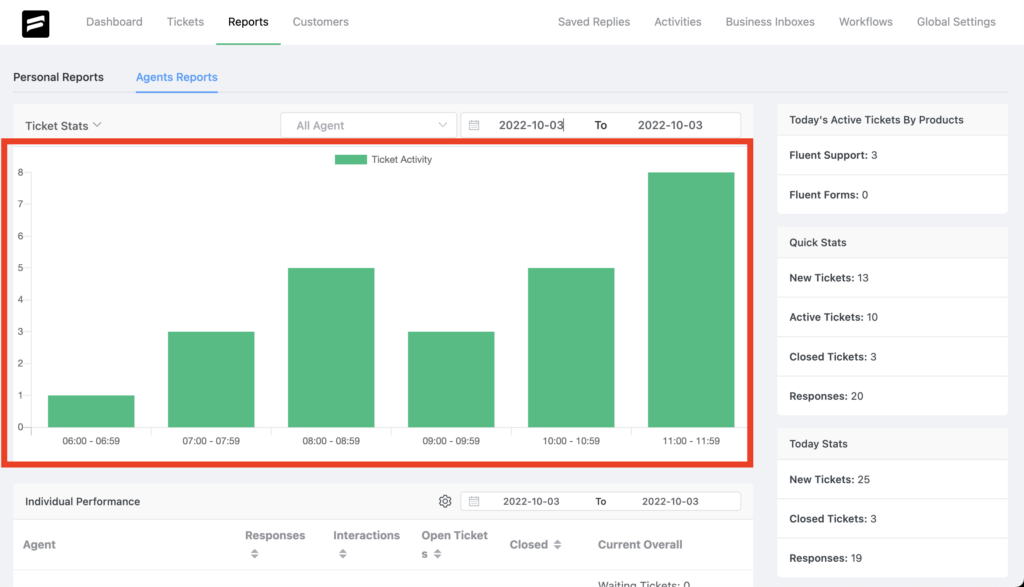 New Trigger – Ticket Closed
The Ticket Closed trigger was something we ourselves needed as did our users. Well, it's finally here. Now you can run Workflows using this trigger. This trigger is exceptionally good to be used with FluentCRM's tagging and list features added in v1.5.5. Overall this trigger increased a lot of functionality for WorkFlows. You can now start workflows when tickets are closed which was previously not possible.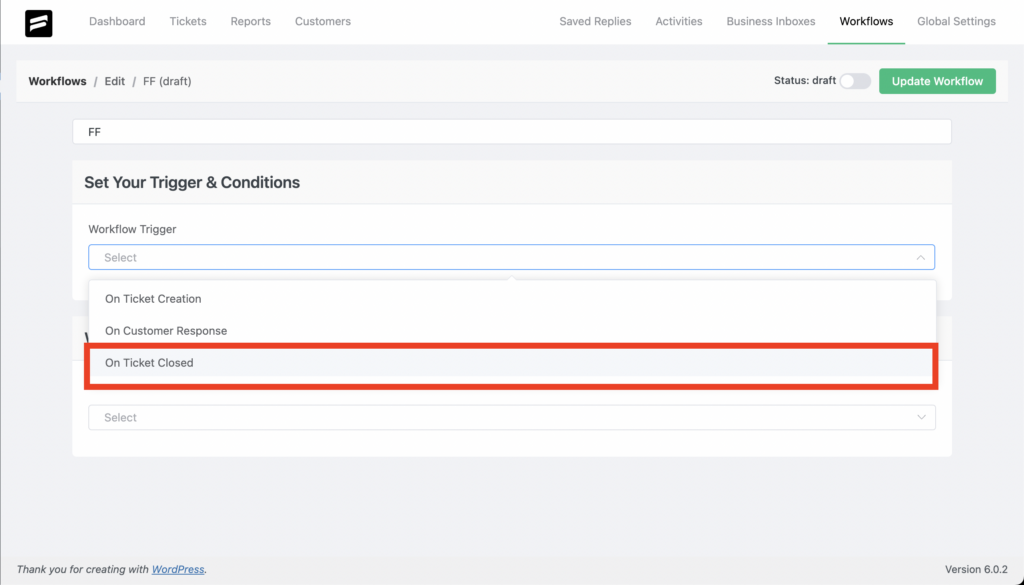 Updated Ticket Status
Ticket status is the newest feature from our developers. You can add new statuses to the dashboard using Fluent Support's Webhook feature. Having custom ticket status is crucial for most support teams. You can sort tickets based on custom status and that makes prioritizing a lot easier.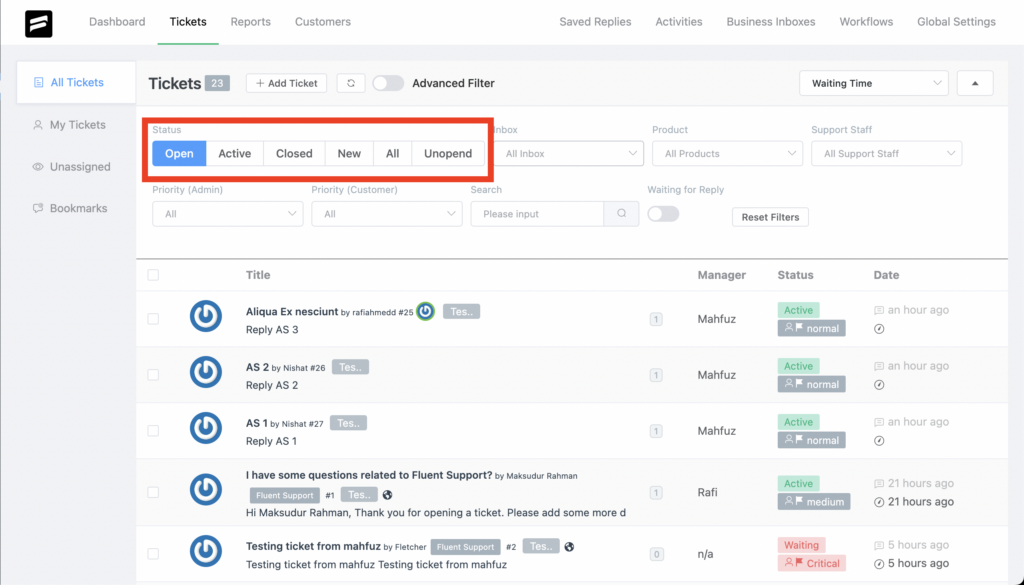 Close Ticket Silently
Fluent Support has a native ticket-closing feature. Although many users use this every day, some wanted to close customers' tickets silently without notifying them by email.
The native features send an email every time you or users close a ticket. Now, you and your agents have the option to close tickets without sending email notifications using the new 'Close Ticket Silently' feature. You will find this under the merge ticket option.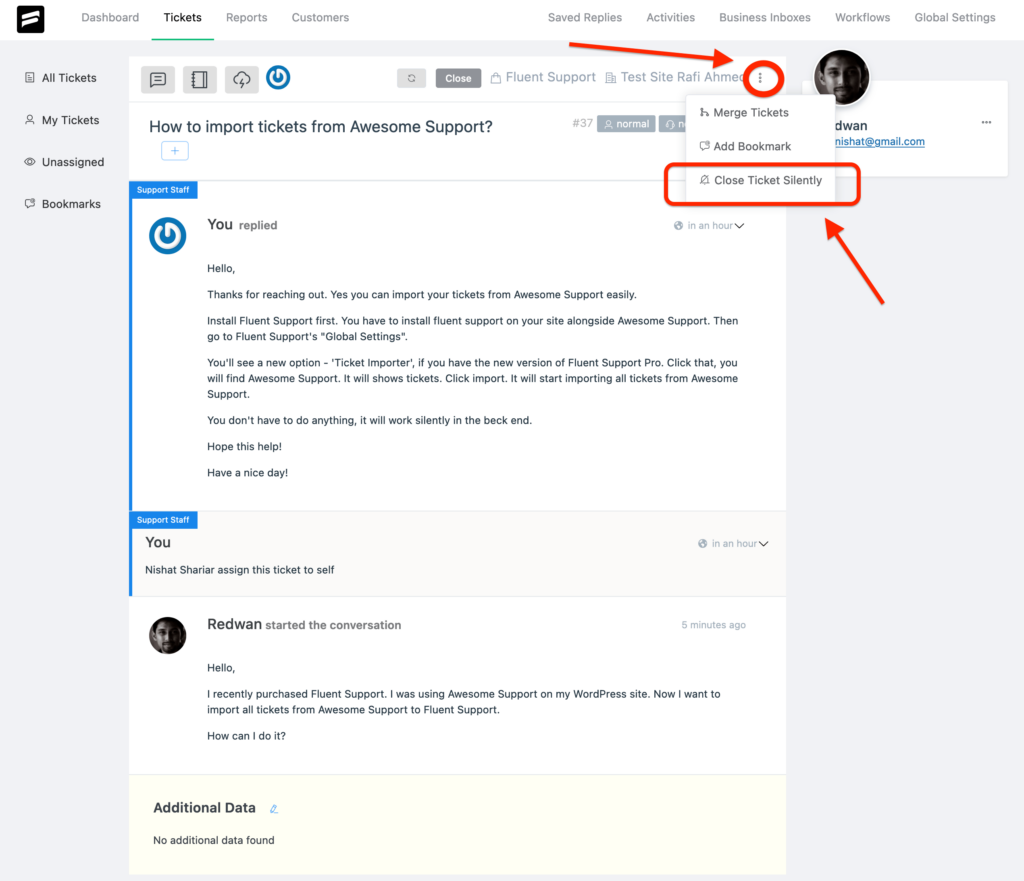 Import Tickets from Awesome Support & SupportCandy
We saved the best for last though. A lot of you told us about the hassle of keeping all your tickets stored on your previous help desk. Well, Awesome Support & Support Candy users can now import their whole ticket database in Fluent Support with just a few clicks.
All it takes is to install Fluent Support while Awesome Support or SupportCandy is still installed on your system. Fluent Support automatically finds the database and copies it into Fluent Support tickets. The days of manually moving tickets from one help desk to another.
If you're planning to switch from Awesome Support & SupportCandy, there has never been a better time for that.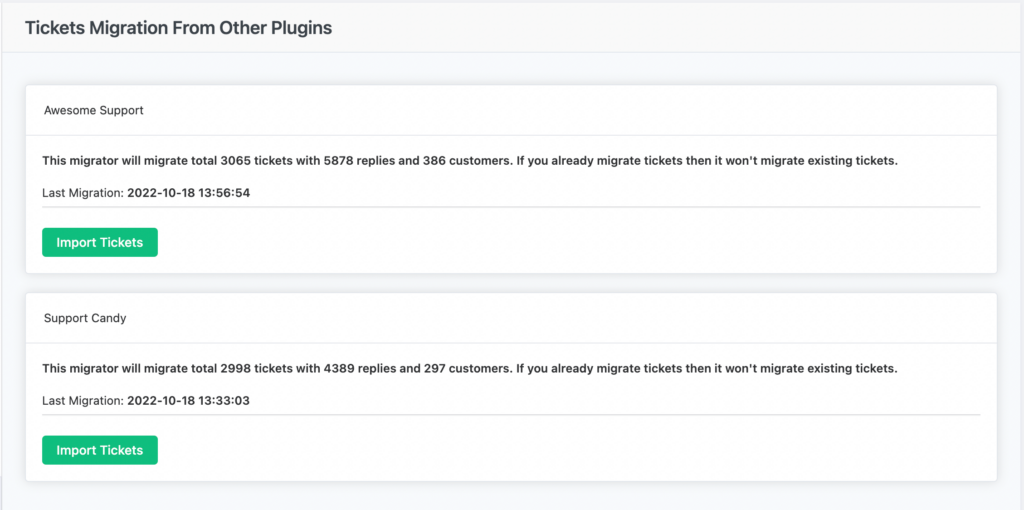 Bugs Fixes
As with most of our usual updates, this one also has some crucial fixes for existing features. If you're one of the people to point out these bugs, thanks a lot. We hope that'll get you rolling with Fluent Support in no time.
Custom Fields Checkbox issue
A few users complained about the Checkboxes in Custom Fields. As it was, adding a checkbox field to the ticket form was breaking the ticket on both customer and support agents' ends. This update has a dedicated fix for this issue.
Ticket priority not working via webhook
One other pressing problem reported by users was, ticket priority not working via webhook. We've updated the webhooks so it should solve the ticket priority issue.
Wrapping Up
Always update your plugins people. It's the only way we can keep delivering awesome features and keep your websites secure. Out-of-date plugins are a risk factor for any site. Please update regularly to have the best possible experience with our products.
If you find any problem with this update, let us know! Have some awesome feature suggestions in your mind? Don't hold back. Share it in our Fluent Support community; let's see how many of you want that. We definitely hear our users.
Until then, see you later!