There are tons of payment forms available on WordPress. But a plugin that can handle both payments and donations together? That's harder to find, which brings us to the product we want to review for this article.
Payment/Donation forms are the lifeblood of online businesses. It's your business's checkout stand and billing team wrapped in one. If your payment form is complex or horribly designed you'll be leaking anywhere from 15-50% of your revenue. The reason is obvious too.
Making people buy things is hard enough, make it hard to pay for it and you'll lose a lot of money before you even know it.

Siddiqe
So what's the best way to prevent this from happening? Get a payment gateway form plugin that makes your life easy and makes payments simple.
We're looking at Paymattic from WPManageNinja as the solution to all things payment and donations.
So let's get started.
Overview
Paymattic is the latest and arguably one of the most compact payment plugins for WordPress. It's also a great donation management plugin for virtually any purpose. If you're running a registered charity or need crowdfunding for your first motorbike, Paymattic is the solution. Along with the basic features of any typical payment form, it's got advanced features that can make accepting and managing payments/donations simple.
The best part about this plugin is that it's designed by and for people who love WordPress. It's got a clean and efficient dashboard taking after the iconic WordPress layout. This means if you're familiar with WordPress there's virtually no learning curve to start using Paymattic. But that can't be it.
In the following sections we're going to look at the best features we found for Paymattic. Along with that, we'll look at some minor features that we thought were mention worthy.
Best Features
When talking about Paymattics best features we had to focus on the donations and campaign features first. But apart from that we included the integrations and supported gateways too. This way you can take this review at face value about how the product functions in real-life situations.
Unlimited campaigns
Paymattics' pricing plan is designed to include all features in every plan. But that's not even the best part. The plugin allows you to create unlimited campaigns to accept donations and payments. Many plugins on the market don't allow unlimited campaigns.
Paymattic on the other hand has no caps on this. You can create as many forms as you need. No need to expand or upgrade to a higher package. However, it won't be available in the free version. If you're just in for the payment form the free version is quite enough otherwise you have to go PRO.
The plugin includes loads of features that make payment and donations easier to manage and you wouldn't want to miss out on that.
Gateways
When it comes to payment plugins a big part of it depends on how many gateways it supports. The creators of Paymattic took this very seriously. Paymattic connects with every leading payment gateway, including Stripe, PayPal, SSLCOMMERZ, and Razorpay.
Aside from these, they've also included less common gateways like Paystack and Square. So you don't really have to worry about your preferred payment method. If it's a good payment system, it's probably supported by Paymattic. If not, it'll be included soon enough.
The best feature about Paymattics gateways is that it lets you connect bank transfers and cash payments. Not many products offer this, which makes Paymattic quite unique.
Donations & Payments
Now for the crucial part. Paymattic offers some remarkable features when it comes to payment and donations management. Right off the bat, you can see setting up a payment form is super fast and simple. You can choose to create your own custom form or use one of the 70 templates they provide. Aside from the basic transaction form, you can also create,
The plugin also takes away the hassle by giving you a clean Simple Payment system. The system handles dynamic billing for all your products so you don't have to configure them individually. Which kind of makes it a simple Payment system.
The part we loved most about Paymattic is their inclusion of 130+ currencies. You can virtually be in any country and receive payments from anywhere across the world. No need to convert values or look up conversion rates. It's not just convenient for Paymattic users, rather it simplifies payments for users too. No matter where they are.
Another cool bit is that Paymattic handles payment forms and donation forms separately. So you can create multiple forms and use them on different pages of your site for different purposes. The forms will not conflict or confuse users.
As for Donations, it's the same as payments. All you need to do is create a donation form and set up the gateway. You can customize the donations page to be the most effective with custom images and form designs. It also lets you give your donors the option to customize their donations.
If your donors want flexibility in the donation intervals and amount, you should let them. Paymattic ensures that you can do that. Additional donation features include,
Recurring donations
Guest Donations
Progress bar
Integrations
Paymattic offers 9 integrations for the time being. These integrations make Paymattic an even more effective plugin. They've primarily focused on marketing automation, email marketing tools, and communication platform for their integrations. They include integrations with popular LMS plugins like LearnDash, LifteLMS, and TutorLMS too! So subscriptions from learners get very easy to manage.
Activating integrations is pretty simple. You have to head to the Integrations page and enable them. For now, their options are limited but I've talked with the developers, and they've ensured new integrations will be added on a regular basis. This makes the plugin quite reliable.
For the purpose of this review, we'd like to expand on one of the most efficient integrations we've tried out.
Integrate with FluentCRM
FluentCRM is an effective email marketing automation plugin for WordPress. Paymattic allows you to connect with FluentCRM to provide better customer/donor management. FluentCRM has a very powerful contact management system and an exceptionally good email automation system.
Integrating FluentCRM with Paymattic lets you,
Sync customer/donor transactions in real-time.
Connect form field submissions to Contact fields.
Deploy email automation and segment contacts based on form submissions.
To enable the integration you have to go to the Integration page inside the Paymattic dashboard. From there you can enable the integration with FluentCRM. You can integrate even in the free version which is honestly something I loved very much.
Customer Profiles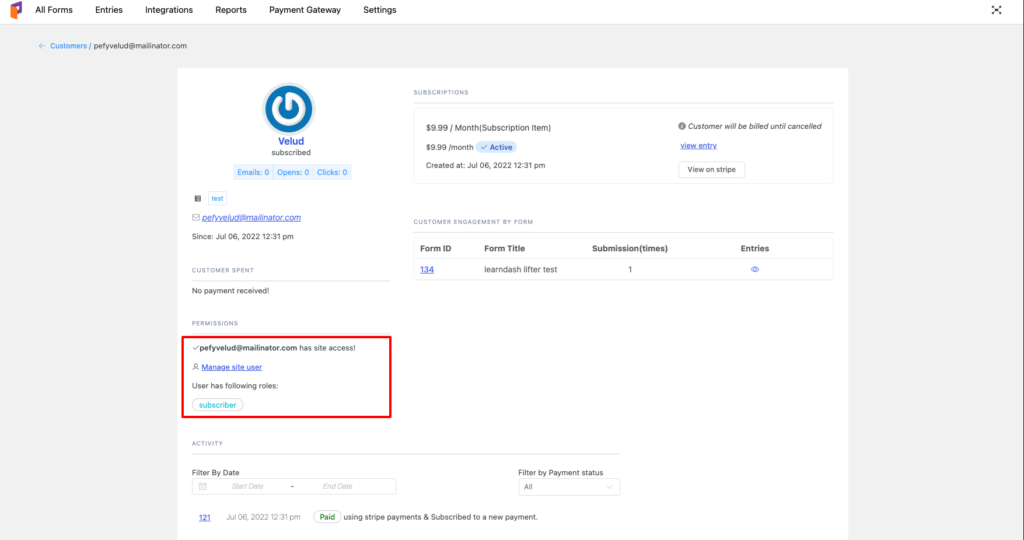 If you want to keep customer information inside Paymattic that's possible too. It offers a customer profiles database and sync as form submissions are made. The database includes individual subscription data, the amount spent, customer engagement data, customer activity data, etc. Along with that, you can check site permissions for individual users and that really comes in handy to monitor activities and privileges.
Security
You must discuss security when talking about a payment plugin. So here goes.
Paymattic offers the standard security you'd expect from a payment form plugin. The first security option is reCAPTCHA by Google. It makes your forms less prone to spam submissions and ensures that only real users are allowed.
Next, you've got the Honeypot method to protect from bots and scrapers accessing the back end of your form. This is a crucial feature nowadays and Paymattic has done well by adding this to their protection.
Besides making your forms secure you can also comply with user privacy with your own T&C on the forms page. Declaring this information right before a user commits to your form is a standard practice every business or charity should use. With Paymattic it's just a few clicks to set it up.
Reports
The Reports are by far the best thing we've found about Paymattic. They're visually pleasing and provide all the necessary information in one place. Besides showing the Total revenue and Revenue in a specific period, you can measure customers' reports and newly acquired customers too.
But the best reports are definitely the Revenue Breakdown Report and Form performance report. These reports allowed us to see which payment gateways were bringing what part of the revenue, along with the forms that are converting most effectively. I am still to come across a more detailed analytics report than this.
This gave us some cool ideas about form placement and design because we ran our little A/B test by just using these reports. Overall, the Reports might be the highlight feature for this plugin from a strictly managerial perspective.
Pricing
You can get Paymattic at an unbelievably simple pricing plan, made to suit anyone wanting to start their business or charity. The plugin has 3 plans for users both Annual and Lifetime. If you like the free plugin I'd recommend getting the lifetime deal as soon as you can. Usually, these deals are a one-time thing, so you shouldn't wait around.
The best part about Paymattic is that they give you all features at every pricing point. I loved the fact that they aren't trying to coax users to upgrade to a higher plan by limiting features in the basic plans. All features are available. The only thing they limit is the number of sites you can use the plugin on which is honestly understandable.
How to get started
Set up is very simple. Simply go to the WordPress repository and download the free installer file. Head to the Plugins page on your dashboard and add a new plugin from the file.
The .zip file will be extracted and installed automatically.
After installation just creates a form and add your payment gateways and you're done. We were ready to receive donations in as little as 10 minutes. I doubt any other plugin offers this much ease of use from the get-go.
Your own Support Portal in 5 minutes!
Start off with a powerful ticketing system that delivers smooth collaboration with unlimited room for your customers.
Wrapping Up
After using the plugin it's obvious they are trying to make payments and donations as easy and elegant as possible. Without any hesitation, we'll recommend it to those of you just starting to monetize their sites or stores.
The plugins offerings are great for,
SMBs (small-medium-businesses); that need flexibility and varied payment options.
Learning and membership sites; that need recurring payments and easy onboarding
Non-profits; looking to expand their reach and accept donations from varied sources.
Other than these you can also use it as an alternative to Buy me a Coffee for your blog or podcast too. Since you can allow custom donation amounts, no need to charge 5 dollars for coffee. No better way to maximize your revenue, than letting your customers pay what seems worth it to them. In my experience, people never pay less when they pay on their own accord.
So don't waste any more time fiddling with complex forms and whatnot. Try out the Paymattic free version. You'll thank us later!