Great news guys! Fluent Support 1.5.6 is finally out. Join us as we dive into new features and fixes you've been waiting for. Like the last update, this one is also a lot of what our users were asking for.
Alongside the basic features, we've added urgent bug fixes to make the plugin more reliable. So without wasting any more time, let's get started with v1.5.6.
What's new in Fluent Support: Features
Fluent Support 1.5.6 contains 4 primary feature updates. Along with them, we've got designated bug fixes to make the plugin reliable.
FluentCRM actions in Workflows
Good news for FluentCRM users. We just included dedicated FluentCRM actions in our WorkFlow automation. Now you can add and remove both FluentCRM tags and lists from your contacts. This makes it easy to support
E-Commerce customers
Online learners
Subscribers
You can choose to add customers to specific lists based on their ticket queries and other information such as related products, time and date, and even ticket priorities. It's now possible to apply conditions based on FluentCRM tags/lists. This undoubtedly makes Fluent Support the most capable support system to accompany any CRM.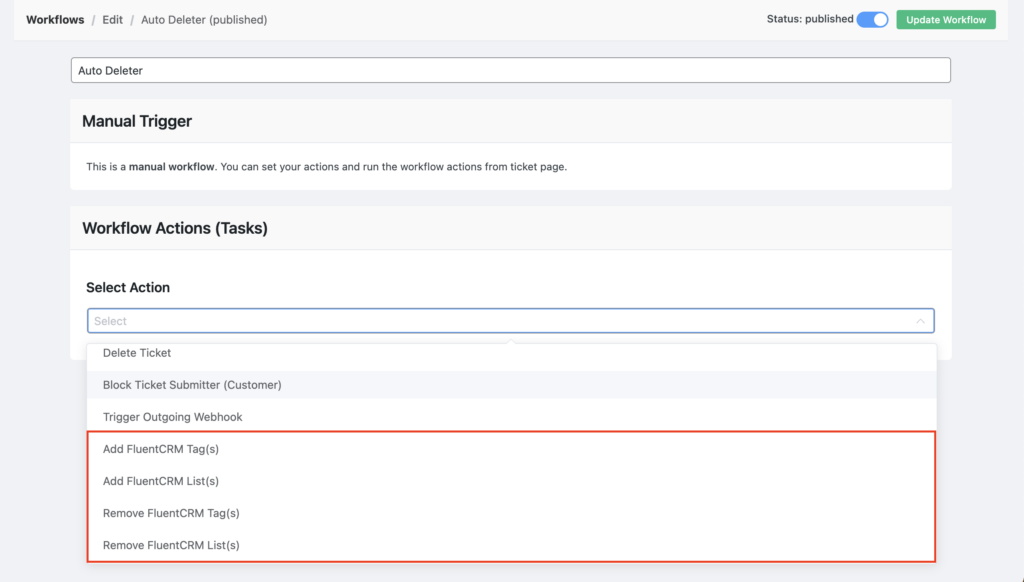 Merge Tickets
Now you can merge tickets from the same customers in your support dashboard. Loads of our users requested this, and here it is. Customers opening multiple tickets with no resolutions is quite normal. However, it tends to get complicated fast when these tickets pile up.
Now you can simply merge tickets from the same user under one ticket with all customer responses and agent responses too.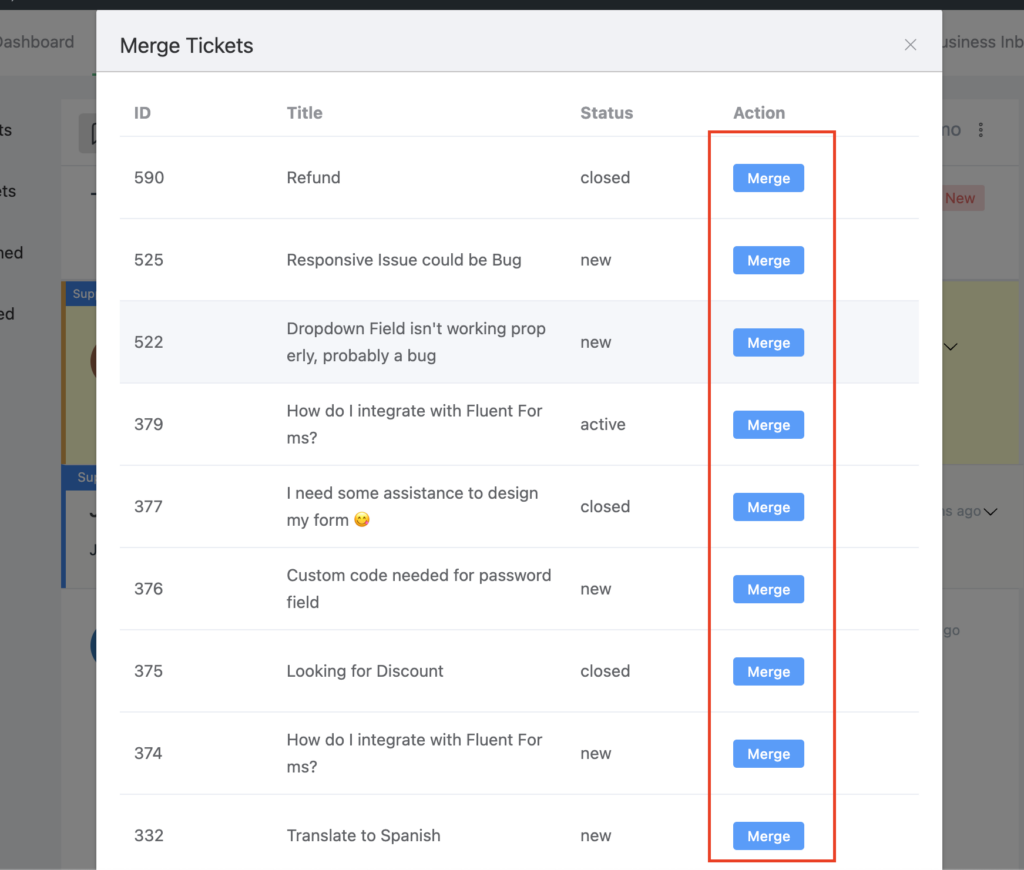 Added Mailbox condition in WorkFlows
WorkFlows were becoming hard to manage for users that employ multiple mailboxes. That's not going to be an issue anymore, because we've added a mailbox checker condition in WorkFlows.

So if you want to have specific automations for each mailbox, it's easily possible. Check out this video for tutorials and more.
Bookmarks
Lastly, we present a completely new feature to Fluent Support. Bookmark for agents. We've felt it necessary because we believe support is a team effort. Whether you need to find your own tickets easily on the dashboard or get another agent to look at a ticket, all you have to do is hit Bookmark on a ticket.

That's not all! This is just the first launch of this feature. We plan to expand on this very soon! So stick around.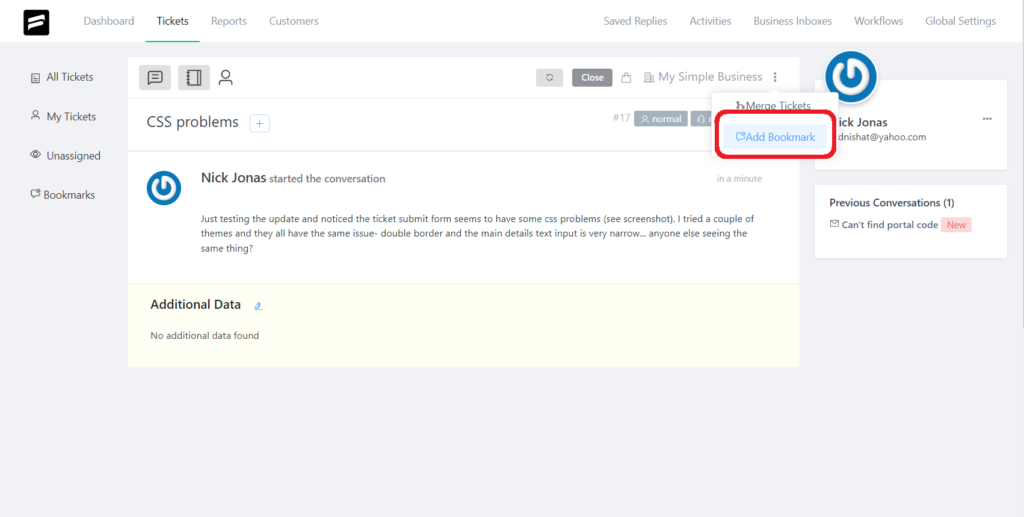 Bug Fixes
Element-plus modal pop-up editor not working
The popup editor compatibility has been improved to solve this issue.
Image alignment doesn't work in email template
The overall email template has been improved to better handle CSS. Issues with image alignment were included in this fix.
Avatar not showing in the customer profile
Some users complained of customer avatars not showing. The issue is fixed and should comply with any browser now.
WooCommerce multi-currency issue
You can now feature common currencies i.e, Pound Sterling (£) and Euro (€), besides USD ($).
WooCommerce product custom field renders the draft products
Custome fields for WooCommerce products were not handling product entries properly. The issue has been fixed in this release.
Support profile doesn't update with WordPress user account
Updating the information in the WordPress user account was unable to forward changes to the same related support profile. The issue is resolved and now both support and WordPress profiles should sync automatically.
What's Next?
As with all products from WPManageNinja we're always working on improving and trying to make something stable and effective. We've got a couple more killer features in the pipeline and in development. Let's just say this is going to be an epic year. Make sure to stay in touch for more Fluent Support update news and feel free to let us know what else you'd need in your support system. For any issues, contact our support.
Previous Release: v1.5.5