Here we are back again with a new release! This 1.7.4 update is packed with exciting new features. The features that can give you a more dynamic way to manage your support tickets.
We, the Fluent Support team, always listen to our customers. And always try to make the helpdesk more user-friendly with much more useful features. That's the reason now 6,000+ businesses trust us for their customer support team.
So, without further ado, let's dive into the 1.7.4 version's new feature list.
New Features in Fluent Support Version 1.7.4
In this release, we've added a variety of customization options along with better admin control for agents. Now, ticket management will be more brand-friendly, with even more control.
Let's begin with the big one.
Customizable Block Editor for Customer Portal
This is the most anticipated and exciting feature of this version. With this new update, we are now officially adding Gutenberg blocks for the ticket submission portal.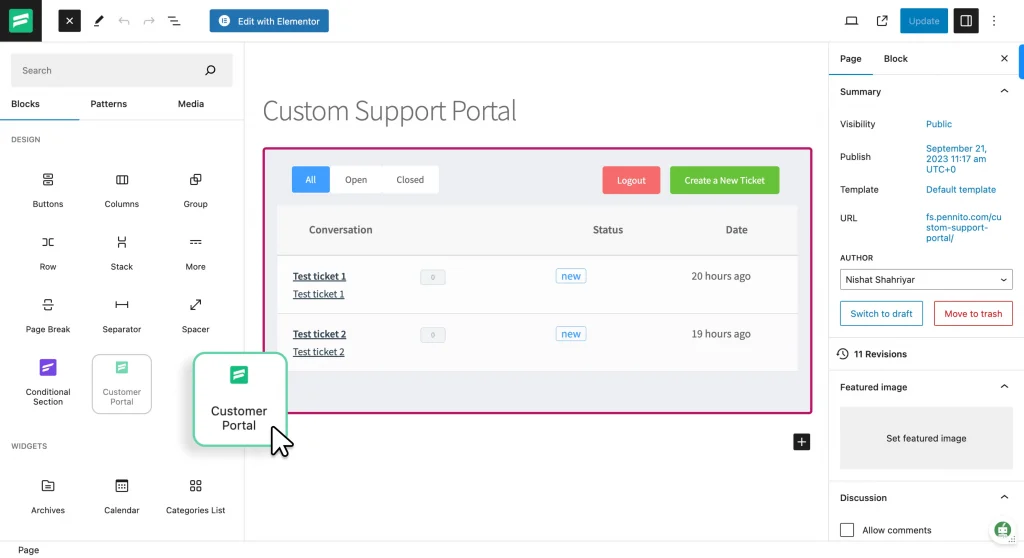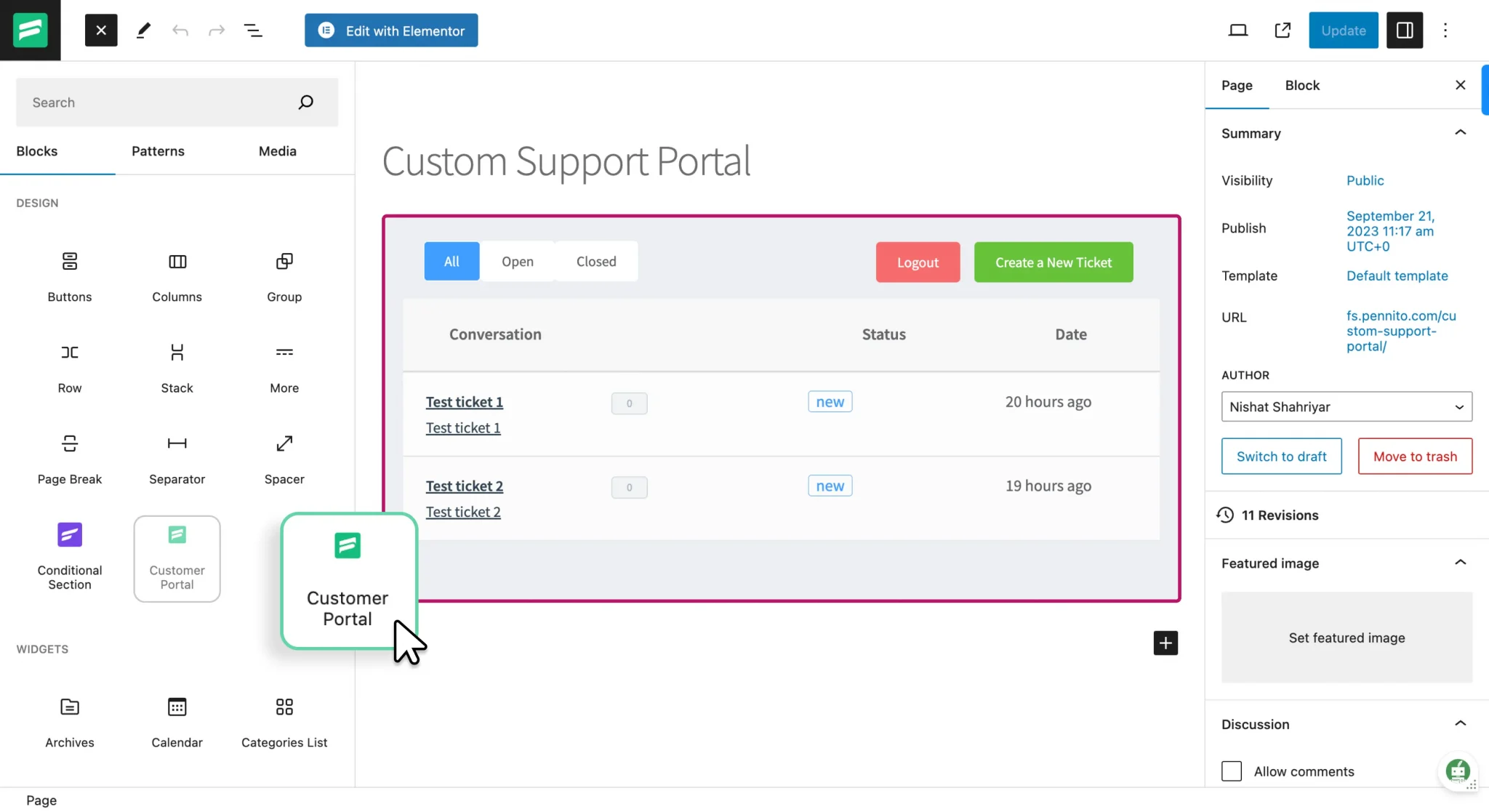 You can add a block to any page that you have created and start receiving ticket requests from your customers. But wait, that's not it.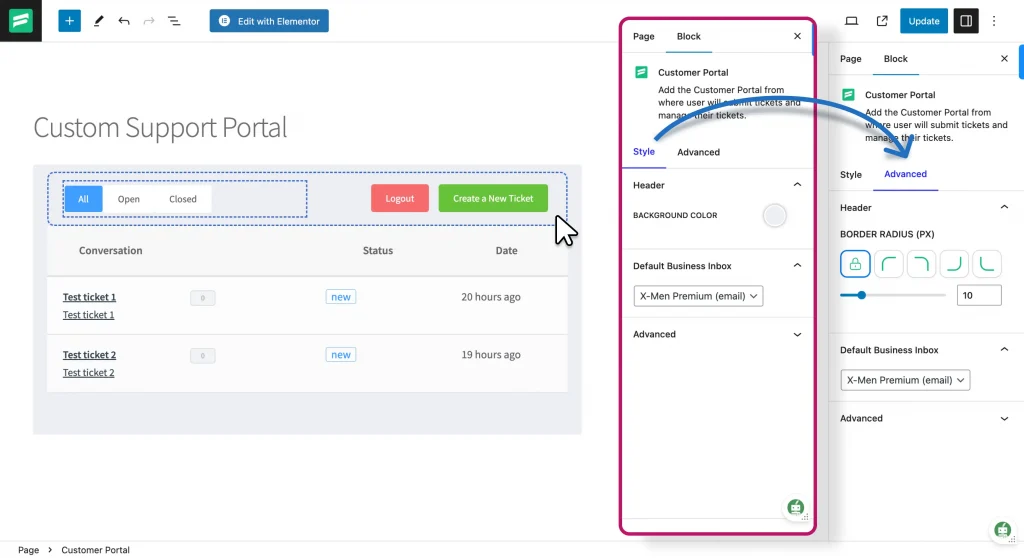 Now you can customize this block to match your brand. And this is not just limited to a few color changes. It has advanced options to fully match your brand persona.
From border color to border thickness to border radius, you can change it all. And if you want even more, you can always add an additional CSS class for that.
The ticket submission portal has three different pages to help you submit and organize your tickets: a ticket listing page, a submission page, and a single ticket conversion page. You can customize all aspects of these pages, from the buttons to the background.
Additional sign-up fields
Data is everything. The more you can get from customers, the more customized support you can provide them. Let's say if you have the location information of the customer, you can provide the service in that local language.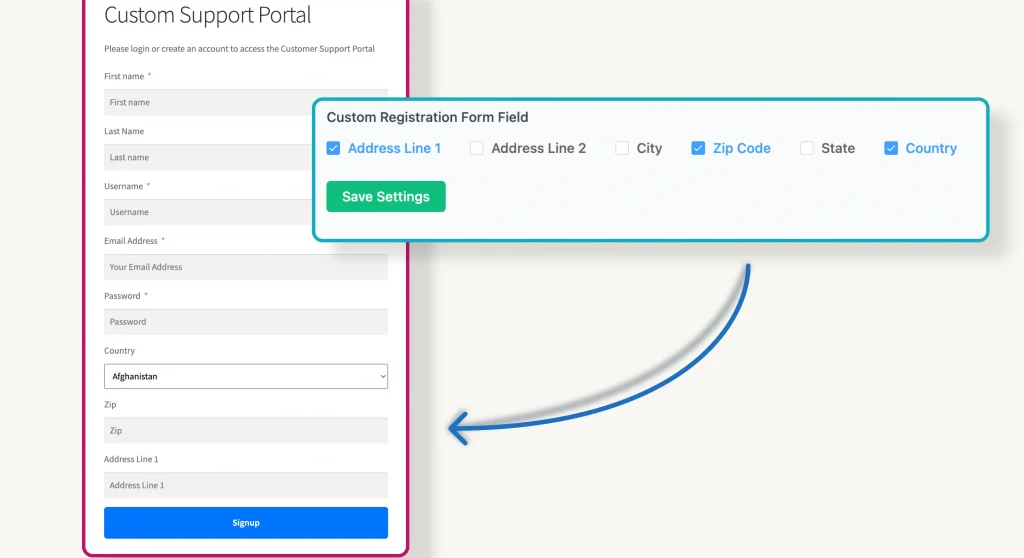 With that in mind, we are introducing more custom fields for the account creation form. Now you can add address, city, ZIP, state, and country fields along with the default input fields.
Assign agent permission
Let's picture a scenario where you are the head of the support team and you have two team-leads under you. Each team-lead has five support agents.
Now you want to give access to handover a ticket only to the team leads. With this version update, you can restrict permission for each agent to assign tickets to other agents.
It will give you more control over your agents and customers' tickets.
Improvement
Our team is constantly working to make the system better for you. So, in this continuation, we added a couple improvements to Fluent Support.
The "404 Not Found" message issue for a wrong ticket ID
This wasn't really that big of an issue. But hey, we are making the best helpdesk system for your business. So, we took care of this little issue in the version.
Professionals sometimes put the ticket ID directly in the URL to find it. If they accidentally entered the wrong ID, it would show a default error page. But now it's a well-designed "404 Not Found" page with a better user experience.
Ticket ordering in the customer portal
In this update, if you create a ticket or even reply to a ticket, it will come up to the top. so you'll never have to search for where you replied again. Neat!
A few bug fixes
In this version, we have also found a few bugs. Our experts fixed them already, and here is a brief on those.
Translation issue for the customer portal
There are specific words that were not translated on the customer portal when the global language was changed. For example, the word "new" could not be translated. This has been fixed in this update.
Users can now translate the customer portal using any plugin. And, when the global language is changed to that language, the translated language will be shown.
The "not contain" condition issue in the workflow
Fluent Supoort has a state-of-the-art workflow automation setup. And you can setup a lot of multi-conditional logic to design workflows.
In those conditions, the "not contain" showed a minor trigger issue. With this version update, we have fixed this minor issue. You can set as many workflows as you want using all of the conditions.
The ticket delete button issue
In our last update, we introduced the delete button directly on the single ticket view page. Because of some technical error, it was only visible in the Pro version of Fluent Support.
With this update, we have fixed that issue. Now, the free user can delete the ticket directly from the ticket view page. No more going back and forth just to delete a ticket.
Freshdesk migration issue fixing
Migrating to Flunet Support is very easy. And it has covered a lot of applications. From those, there was an issue with Freshdesk when importing data to Fluent Support. But now it's fixed, and migration has become smoother with that system.
File upload and view issue for 3rd party cloud storage
Finally, from time to time, file uploads from any third-party cloud storage might have shown a few issues in the past. But it's fixed and fully stable now.
Only excellent experience with Fluenet Support
We believe in great experiences. And with Fluent Support, we help you improve your customer experience. And all the features of the 1.7.4 version are just continuing the legacy of that.
We are working to introduce even more exciting new features in our future updates. But till then, happy serving.