Wow! We're already halfway into December. 2021 is almost over. What an eventful year!
As we are only two weeks away from the end of the year, we would like to look back on 2021 and share some thoughts and achievements.
During the year, we have released two awesome WordPress plugins:
The WordPress community embraced both as soon as they were released. Fluent Support was a much-awaited plugin. We put lots of time, energy and effort into this help desk plugin.
I would like to share the story behind the development of Fluent Support, and how it's going to outperform big players in the WordPress Support Ticket plugin category.
In case you don't know what Fluent Support is or what it does, I got it for you in a nutshell.
Fluent Support: Fastest HelpDesk Plugin for WordPress
Fluent Support is a fast and reliable support ticket plugin for WordPress. If you need a one-stop solution for customer support on your WordPress site or for your small business in general, Fluent Support is the right plugin for you.
It lets you deploy a support portal in five minutes from within the WordPress ecosystem! Installing it is just like installing any other WordPress plugin. No coding is required. Watch this quick video to see what Fluent Support can do!
It can do a lot, and sometimes even better than some SaaS tools! More on Fluent Support Features later in the blog!
Behind the Story of Fluent Support
We created Fluent Support out of our own needs at WPManageNinja. The support solution we used was failing us from time to time.
At that time we were using Awesome Support for our customer support, and our support team was thoroughly unhappy with the plugin. It had slow responses, annoying bugs, and the overall experience was a nuisance. Awesome Support was time-consuming and difficult to use. Our support agents were failing to resolve the expected number of tickets a day and were still exhausted!
We desperately needed an alternative. There were a lot of support plugins on the market, but they lacked what we needed. The plugins would usually offer-
Limited features
Overpriced solutions
Slow processing
We strive to provide excellent customer support. So we just had to do something.
That's when we came to the decision. We were going to build our own solution.
We knew what the plugins were missing. We knew what the market really needed. And we definitely know how to build a complete solution from scratch.
We first developed the idea for Fluent Support when we attended WordCamp Asia in Thailand in February 2020. We were a team of six, and we were there for 17 days. During our free time, we wanted to work on a solution to the problem our support staff faces every day. We set out to create the best support solution for our staff. We brainstormed, coded, and exchanged ideas for hours!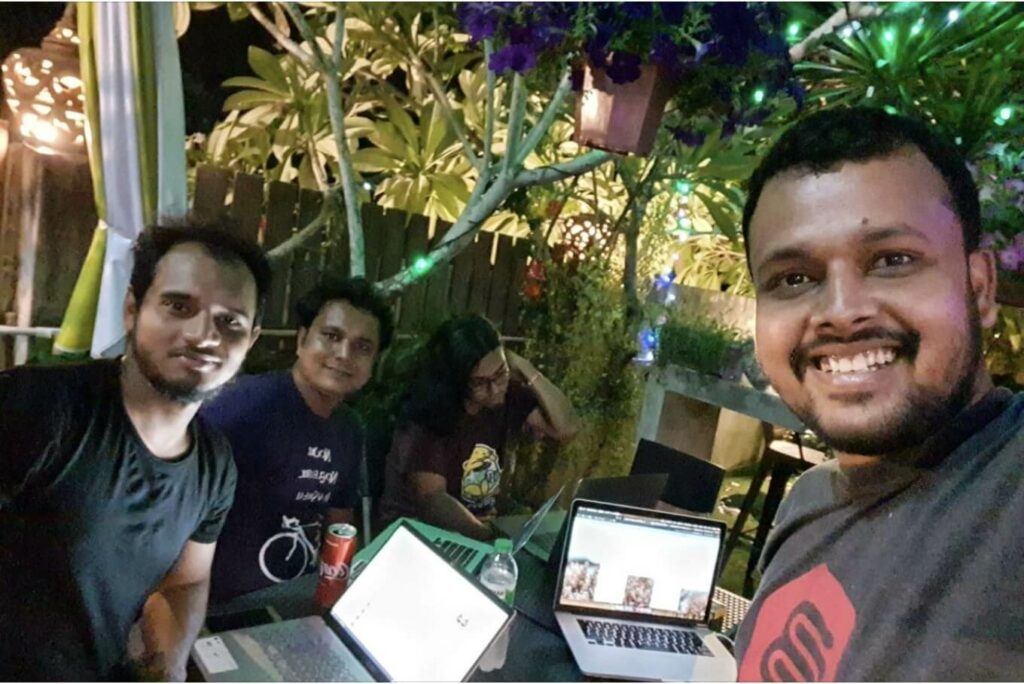 After 10 months, we were actively using this product for our own business and resolving around 20,000 tickets through this product!
The support team was happy, and they were requesting more and more features. Developers were building new features and testing them out with the support team. The development of Fluent Support was running alongside taking care of hundreds of customers at WPManageNinja!
We distributed the early copies of the beta plugin to a few of our handpicked customers who we knew were facing the same problems we were facing. We received valuable suggestions from them about how to improve it. We learned a lot about what the market really wants in a support solution through this.
We had a long-term vision for Fluent Support from the beginning. There are many overpriced SAAS solutions in the market but we wanted to make it more accessible for mass small businesses.
"Our goal is to help small businesses simplify customer support and give them the tools they need to improve the overall customer experience."
What Fluent Support has to Offer
Let's talk about a couple of features that make Fluent Support the best support plugin available.
Super Fast Single-page-application
Built as a Single Page Application with VueJS & REST API, Fluent Support loads fast. Resolving support tickets is now much faster.
Awesome Dashboard
Know what's happening right from your dashboard. Both agent and admin dashboards give you the freedom to access ongoing tickets, activity logs, and reports. Stay up-to-date every time you log in to your support portal.
Advance Reporting and Search
View performance details in charts of individual agents or the full team with one click. You can quickly search, sort and manage tickets or customers with advanced search and filtering. You can add tags, set priorities and add products as needed.
Team Collaboration
Accelerate your support effort by sharing an inbox, detecting agent collisions, and the saved replies option. Use internal notes for better agent collaboration. Quickly tag tickets or assign them to agents.
Workflows
Automatically assign agents to tickets or set up workflows to automate repetitive tasks. You can automate or set up manual workflows to speed up the handling of your daily support tickets. Here's an example – Automatic Agent Assignment with Fluent Support. Watch the video, you'll get the idea!
Email Piping
We must say this is one of the most useful features of Fluent Support! Your customer can open a support ticket by simply sending an email to your support email. The best part is that your support agent can reply to that email directly from the dashboard! Amazing, right?
Effortless Communication
Fluent Support is integrated with Slack, Telegram, and Discord. Your agents can reply to tickets directly from their Slack channel and telegram chat. Get instant notifications on discord and open tickets right from their mobile browsers.
These are only some of the highlights of Fluent Support. We have also released an update right after our launch with features like support for only paid members, improved integrations, and spammer protection.
WordPress Community Loved it!
Fluent Support was one of our most anticipated plugins this year. We had more than a thousand people on the waiting list during the beta phase.
Fluent Support was launched with an LTD offer, and it was a blast! We successfully onboarded 1,000+ customers into Fluent Support!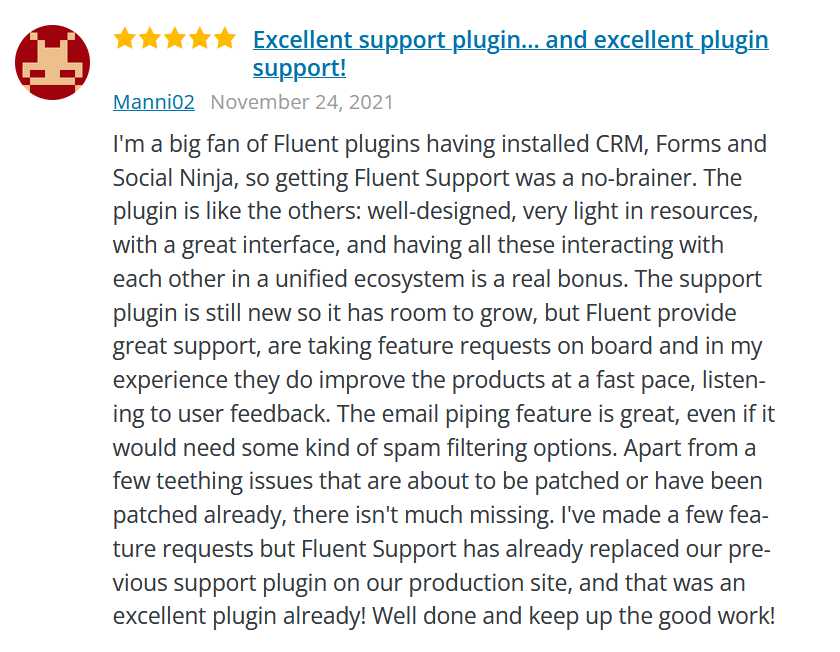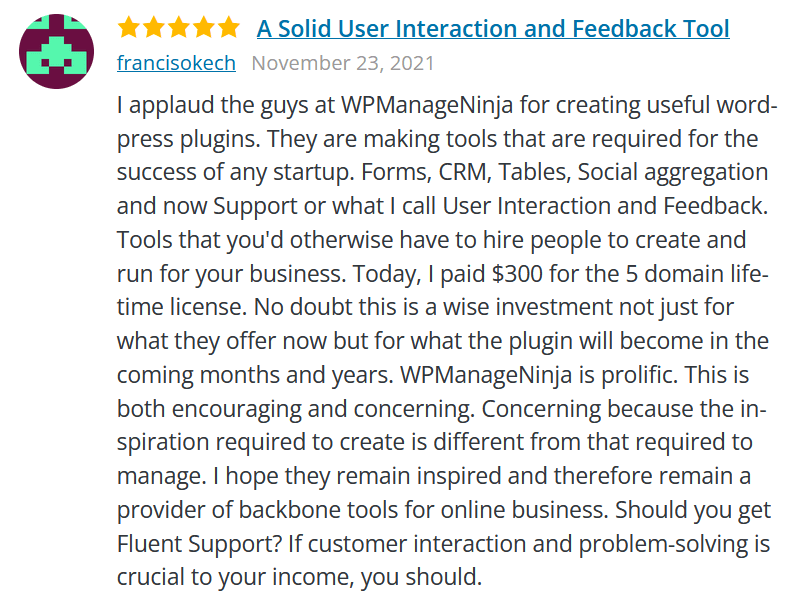 This is a huge number and it far exceeds my expectations. It is the second most successful launch for WPManageNinja so far. I am deeply touched by how the entire WordPress community has appreciated all of our work these past ten months. I could not thank you enough! Thank you all!
What's Next for Fluent Support?
2022 is going to be an exciting year for Fluent Support. Our team is constantly listening to our community and trying to gather as many suggestions as possible. We have an active Facebook group for Fluent Support. Our team is already working on an update. Hopefully, it will be released within the month. Here's a teaser-
Incoming Webhook will be available in the next update. We are getting many requests for alternative form solutions. Right now Fluent Support integrates seamlessly with our in-house form plugin Fluent Forms. It is a super-powerful form plugin with lots of integrations.
After the update, you can create tickets using any form plugin if it supports webhook. Also, our REST API doc will be available soon so you can use this one too.
Filtering will be more advanced. It will get easier for you to search and sort tickets!
We are looking into some cool suggestions from our community right now. We might surprise you in the next Fluent Support update! Stay tuned!
Final Thoughts
2021 has been one of the most successful years for WPManageNinja. The company has shipped two products that we are proud of. Each of them has received great feedback from the WordPress community.
I am very optimistic about Fluent Support's future. Serving small businesses is always our goal. Fluent Support is our small contribution to that goal. I want to thank you again for supporting us from the beginning. My thanks go to the awesome project team and to the beta testers who took the risk, deployed the beta in their server and gave us so many ideas to help improve our product.
Wish us luck. Here's to our next big thing. We wish you all a very prosperous new year!
Merry Christmas!
If you haven't subscribed to our YouTube channel yet, subscribe now and get WordPress tips and tricks. Also, follow us on Twitter and Facebook. You also can join the Fluent Support Community on Facebook.