Are you that person in the family or friend group who solves all the tech-related issues? If yes, you have a good chance of becoming a tech support specialist.
An IT support specialist's job is demanding. And the employment trend is going up every year. In this digital era, it's very unlikely to reduce the demand for an IT support specialist.
But to make a career out of it, you need professional guidance and training. A career in IT has its own perks. But a career as an IT support technician is not all luxury.
Let's get into the details.
What is a tech support specialist?
A technical support specialist, or an IT support specialist, provides technical assistance to users or customers in using computer software or hardware and resolves technical issues.
Technical support specialist job description
Technical support specialists have a lot of duties to do and also need to have a lot of skills by hand. So let's start with the job requirements.
Job requirements for tech support specialists
There are a variety of skills required, depending on the specific IT sector you are going to work in. But these are the most common ones that you must have.
You need to have in-depth knowledge of all the major operating systems.
In-depth knowledge of the hardware is another requirement.
You need to have a detailed understanding of the common software.
And specifically, you need to know everything about the software or hardware you are providing support for.
Must have troubleshooting capabilities.
You should have the capability to solve an issue on a remote desktop setup and also know how to set one up for your customer.
And finally, you must have a very good understanding of everything related to IT. So that you can explain the issues in simple language.
What does a tech support specialist do?
It's not just about solving customer issues. There are a lot of things an IT or computer support specialist has to do.
IT support personnel establishes a solid relationship with customers.
They have to write knowledge-based documentation for clients.
Support specialists have to manage support tickets and maintain proper follow-up if needed.
Need to use helpdesk plugin or software.
You need to lead a support team to organize and maintain a consistent customer experience.
Stay up-to-date on the products.
Approach new features or business scope by analyzing customer demands and requests.
You need to work with different teams, like developers or marketers, to solve customer issues.
Be where your customers are!
Hear your customers wherever they need you.
What do you need to be an IT support specialist?
Before we get to the answer to how to become a computer support specialist, You need to know how to become an IT specialist.
Education needed to be a Support Specialist
Let's start with education. And you have a variety of options here.
University courses
You can get a degree in a technical subject from a university. A degree in computer science is always a plus. Besides that, you can also have any other technical degree in cybersecurity, data science, or electrical engineering.
In-person Bootcamps
Let's say you do not have any of those technical degrees from the university. But you want to pursue a career. For that, you have a few other options. And Bootcamp is one of them.
A good Bootcamp is an ideal place to learn the skill practically. There are a lot of options out there. You just have to do some Google searches to find your nearest available Bootcamp.
Online courses
What if you couldn't find any in-person boot camps near you? No warriors. We have a few good online courses for you. Recruiters highly regard and appreciate these online courses.
| | | | |
| --- | --- | --- | --- |
| Course name | Course by | Hosted on | Link |
| IT-Ready Technical Support | CompTIA | CompTIA Tech Academy | See the course |
| Technical Support Fundamentals | Google | Coursera | See the course |
| Google IT Support Professional Certificate | Google | Coursera | See the course |
| IBM IT Support Professional Certificate. | IBM | Coursera | See the course |
| Help Desk Handbook for End Users: Mobile, Networking, Security, and Troubleshooting | Scott Jernigan | LinkedIn Learning | See the course |
Skills needed to be a Support Specialist
Knowing about computers is not enough to be a computer support specialist. There are more on the list. We can categorize the skills into two main sections.
Soft skill
Communication is number one. When it comes to support, you have to be highly communicative.

You have to establish solid communication with your customer. Your customer should never feel that you are not in touch with them.
Your teammates should also feel you are giving value to their opinions. You have to maintain back-and-forth communication with your team as well.

Writing skills are another must-have. You have to do a lot of writing. And it's not limited to email replies. Knowledge-based documentation, case studies, technical documentation, and step-by-step guidance are just a few to mention.
You must have the ability to manage. Management capability will come in handy in the event of an emergency. And, trust us, in IT, a crisis can happen at any time.
Hard skills
To manage your work properly, you need to have some idea about the helpdesk software system.
If you have a WordPress-based website, you can try WordPress helpdesk plugins like Fluent Support. But if your company is not using WordPress, then you can try the SaaS system.
WordPress plugins have a free version that you can install and try yourself. A few SaaS helpdesk systems might have a limited free version to try. Using these will give you the confidence to manage tickets using any helpdesk software.
Where does a tech support specialist work?
The answer is pretty obvious. In the tech industry. But the tech industry has lots of branches. And the tech industry is not the only place a tech support specialist can work.
Let's see what options you have.
Software and hardware companies are the most common companies where IT support personnel work.
You can work for network service companies as a network support specialist.
Tech consulting firms are another viable option where support specialists play a vital role.
An educational institute is another place where a support specialist can work. One can work as a trainer or provide solutions to students' problems.
A customer care firm is the best place to work as a tech support specialist.
Nowadays, all kinds of companies have IT departments. You can join any other company and provide in-house technical support.
Finally, many companies hire freelance IT support specialists who work hybrid to provide computer support to different companies.
Designation rank of tech support specialist
The IT support specialty career path has a long-lasting and promising pathway. You can climb many steps of the ladder over the course of your career. It is rewarding and satisfying to work with a lot of opportunities such as this.
Every rank needs a certain number of years of experience.
| | |
| --- | --- |
| | |
| | |
| Technical Support Representative | |
| | |
| Customer Support Specialist | |
| | |
| Senior Technical Support Representative | |
| Technical Support Analysts | |
| | |
| | |
| Principal Technical Support Representative | |
| Technical Support Engineer | |
| | |
| | |
| | |
| Chief Systems Administrator | |
| Chief Project Manager, Support | |
Salary of an IT or computer support specialist
A computer support specialist's salary varies from country to country and city to city. And sometimes different companies may have different salary scales for the same position. Here we have listed the different salaries of senior support specialists around the world.
| | |
| --- | --- |
| Countries | Average base salary per year |
| Canada | $70,068 (CAD) |
| India | ₹8,23,927 (INR) |
| Australia | $88,488 (AUD) |
| Saudi Arabia | 126,580 ر.س (SAR) |
| United States | $64,334 (USD) |
| United Kingdom | £39,590 (GBP) |
Source: Salaryexpert
Challenges of a Tech support specialist
Being a support specialist sounds fantastic. It has a good salary structure, flexible work hours, and lots of career growth opportunities. Like any other IT job, you can enjoy a great work-life balance as well.
But support engineers are not always happy with their jobs. It comes with a catch.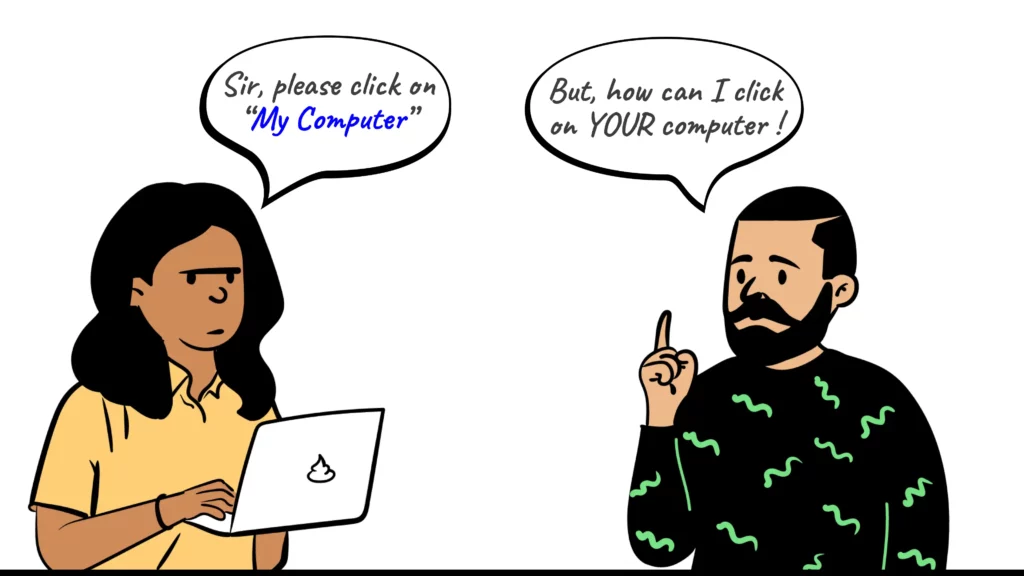 Difficult customers
Customers can be difficult. Because they are frustrated about an issue they cannot solve. So, sometimes they can be angry or even shout at you.
Sometimes, solving some issues may take time. Your customers can be overwhelmed at this time. Usually, they may create pressure to solve the issue as soon as possible.
In this type of situation, you have to be calm and respectful. You have to be empathetic toward your customer. You should know how to appreciate a customer's patience.
Unsolvable requests
From time to time, you might get some requests that are not possible to solve at that time. It could be a feature request or maybe a very flattering discount.
In this situation, you might feel confused about what to do. You have to understand the rationality of the request. And if needed, you need to learn to say no to customers by maintaining empathy.
Odd work time
If you are a support agent, then you can get a ticket to deal with at any time. A customer can face an issue in the middle of the night or in some other time zone.
As per priority, you have to take action as soon as possible. So, you might be working even after work hours. And sifting duty is very common for a support engineer.
High-stress job
This is definitely a high-stress job. You will be swamped with lots of tickets. At some point, you find that all of them are urgent tickets. It's very common for a support specialist to be overwhelmed.
Final thoughts
Undoubtedly, the job is extremely stressful, and the workload can easily overwhelm you. But at the end of the day, helping someone is rewarding. And being a support specialist is even more satisfying. Because you are not just helping a person but a business.
If you are up for the challenge, stay up-to-date and keep adopting new ideas. You can be a successful tech support specialist and help the industry grow.
Your own Support Portal in 5 minutes!
Start off with a powerful ticketing system that delivers smooth collaboration with unlimited room for your customers.