When you use WooCommerce to run an online business, you need a way to keep track of customer issues and figure out how to fix them. In that case, our recommended top-notch WooCommerce customer support plugins would be ideal.
But how could you identify the best of the best?
Many other websites share multiple plugins on their blogs. But that will be more confusing for you to choose. Again, most of the suggested plugins are paid, like advertisements.
There's nothing to worry about. We are here to give you an impartial recommendation. In this blog, we will talk about the top 3 WooCommerce customer support plugins that will surely stellar your customer support.
Fluent Support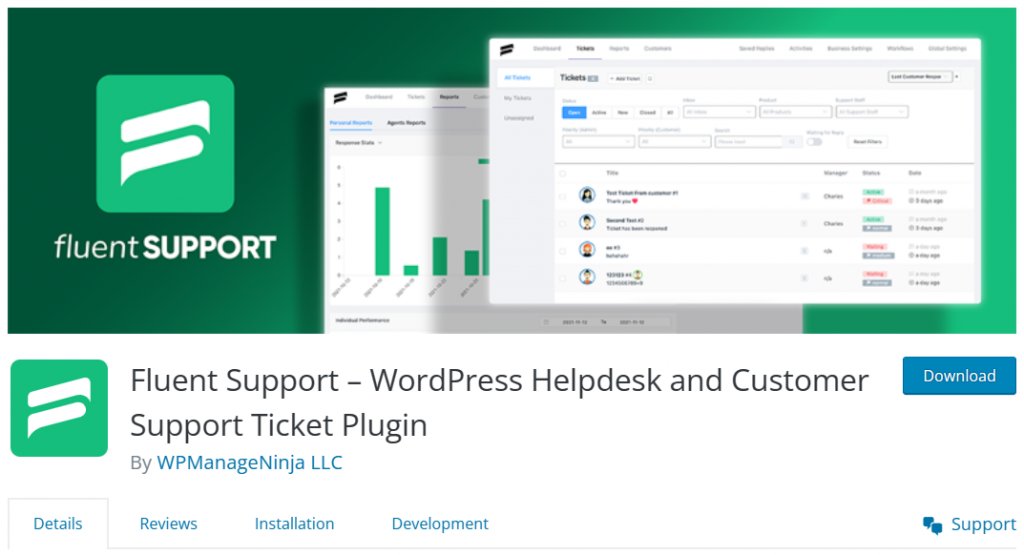 Let's kick off this list with Fluent Support, a strong contender among many other WordPress plugins. Fluent support stays true to its name since it adds value to the support field fluently and builds robust customer support for your support team. It is the most affordable support ticketing system, packed with all the features your support agents need.
Moreover, you will be amazed to know that this WooCommerce helpdesk plugin has had 5,000 active installations in a single year. This will keep your whole support system process organized with its comprehensive feature set and intuitive interface.
Most importantly, in a business's busy schedule, Fluent Support will save you time by managing support staff fluently. Consequently, you can focus on other essential business activities.
What's nice is that Fluent Support has everything you could possibly need inside a helpdesk system for WordPress. So, transform your customer support experience to another level with this powerful WooCommerce customer support plugin.
All notable features of Fluent Support
Be where your customers are!
Hear your customers wherever they need you.

Pricing plan
Fluent Support is often lauded for its reasonable pricing and simplicity in comparison to other helpdesk plugins. You can also test out the free version available in the WordPress repository.
Let's look at their premium version
Single Site License: (1 Domain): $103 annually
Agency License: (5 Domains): $199 annually
50 Sites License: (50 Domains): $319 annually
Awesome Support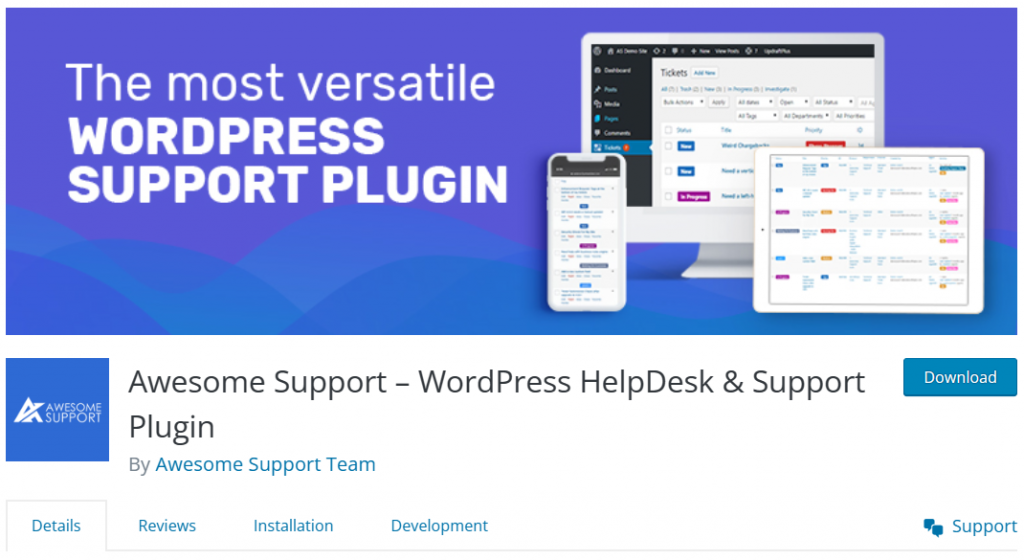 Awesome Support is a well-known customer service and help desk plugin that runs completely on your WordPress website. With over 10,000 active users, this plugin is a true reflection of what WooCommerce customer support plugins should aim to achieve.
When you are in need of a versatile and intuitive interface, Awesome Support is there for you, covering all your bases. Your customers will be able to use it in just five minutes! After installing and activating the plugin, just answer a few pre-set questions in the startup wizard, and your helpdesk will be ready for customers.
All notable features of Awesome Support
Pricing plan
Awesome Support's pricing plan is a little bit more complex and higher than Fluent Support's. This tool has four packages with different prices to help both small and large organizations.
You can purchase the standard plan for $149 per year. Moreover, if you want to unlock all the add-ons for Awesome Support, then you can upgrade to the Agency plan for $409 per year. It also has a free version available on WordPress.org.
JS Help Desk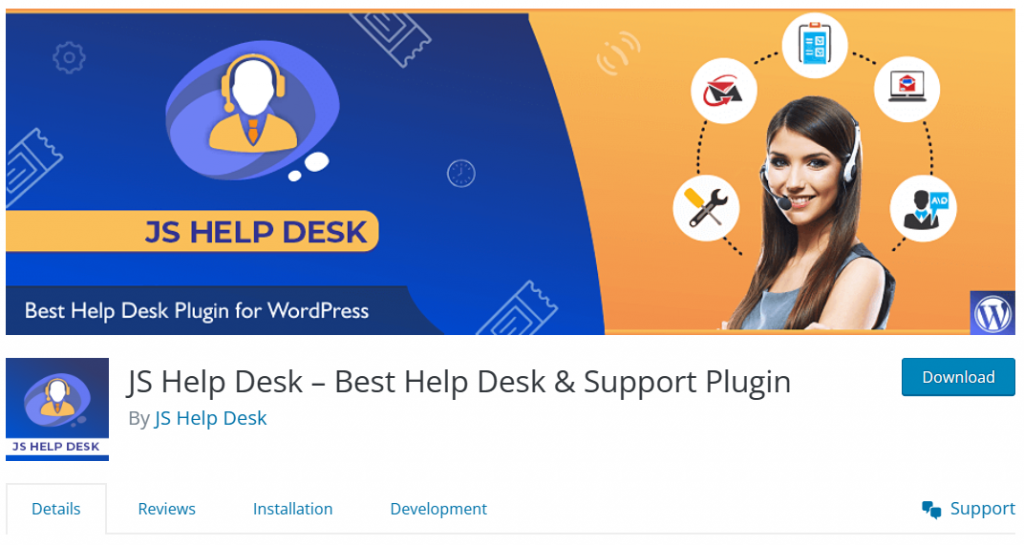 Finally, the third plugin we present in the rundown is JS Help Desk. It has an easy and more powerful functional system for tracking, prioritizing, and providing assistance to customer support tickets. With over 5,000 active installations, its feature set has everything you need in a help desk plugin like Fluent Support.
The satisfying thing is that the JS Help Desk WooCommerce help desk ticketing system guarantees your support system will work fast and be safe.
Additionally, it's fun for developers, as it includes an open-source plugin built with developers in mind. So they can customize the plugin code and also add custom features.
So, make your move for testing it out, considering it as one of the toughest contenders against Fluent Support and Awesome Support.
All notable features of JS Help Desk
Pricing plan
JS Help Desk's free version is available in the WordPress repository with basic features. If you are a power user, you can upgrade to the pro version. Their basic plan starts at $69 per year.
Comparison of these three plugins
In this section, we will discuss the comparison of the above-mentioned plugins. After this, you will have a clear idea of which one to choose. Let's begin.
When talking about basic features in the free version, Fluent Support is one step ahead of two other plugins. On the other hand, when you are about to shift premiums, Fluent Support will offer you a cost-effective pricing plan with an amazing feature set. The other two plugins also provide an extensive feature set, but Fluent Support wins over them.
In customer support, page loading speed is a crucial factor. Here, Awesome Support and JS Help Desk fall far behind Fluent Support. Providing you with its superfast SPA, it loads fast without any clutter.
In a single word, considering all the functionalities and pricing plans, Fluent Support is a smart choice in terms of a WooCommerce customer support plugin rather than Awesome Support and JS Help Desk.
Moreover, one amazing thing about Fluent Support and Awesome Support is that they can fit the feature set of a SAAS solution like Zendesk or Helpscout.
Let's check the comparison with the below-mentioned image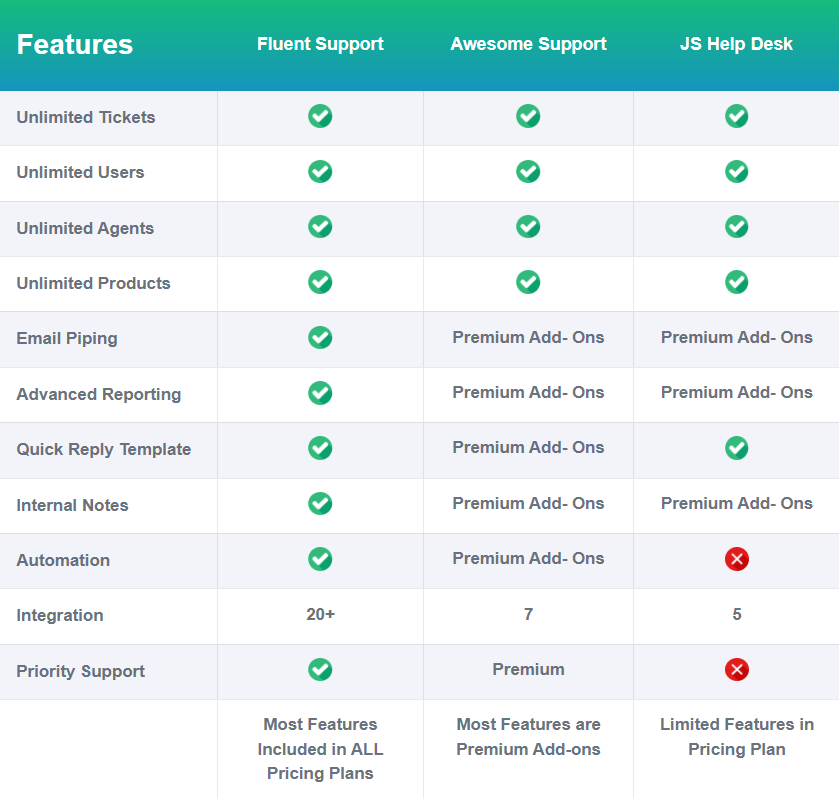 Wrapping up
At the end of the day, whichever plugin you are using doesn't matter; your customer support should be smooth. We have presented our recommendation in front of you. Now it's your turn to pick any of them, considering their usability, pricing, and feature set.
We appreciate you taking the time to read this blog.
Your own Support Portal in 5 minutes!
Start off with a powerful ticketing system that delivers smooth collaboration with unlimited room for your customers.