Customer support has become a staple for any business that wishes to grow and build a reliable customer base. When building a technical support team from scratch, it's important to follow a precise plan. Otherwise, you'll end up backtracking and troubleshooting easily avoidable mistakes. It can become ironic because you won't have a support team to fall back on when things go wrong.
This article will cover what makes a great customer support team, how to build a team from the ground up, and what you need to make it happen. We'll also cover how to determine whether you need a support team in the first place.
So let's get started.
Signs you need a customer support team
A customer support team is a link that connects your marketing promises to the end users. This is a crucial task that needs the utmost care and expertise. That being said, not all support teams are created equal.
The reason to say this is that in some industries, the whole sales (mainly Gross and or, Net sales) and revenue process depends on the effectiveness of their support teams. For instance, IT service providers and technical product manufacturers rely heavily on their support teams to smoothen out customer onboarding and pre/post-sales queries. Due to being highly technical, these industries must invest in customer support to ensure no customer need is unattended.
On the other hand, products and services that rely less on IT or other technologies can go easy on customer support spending. That doesn't mean they can do without a support team completely. In this day and age, that is nearly impossible.
As a general rule of thumb, here are some signs that tell you when it's time to build a dedicated support team.
Stagnant customer base
When your customer base is not on its usual growth trend, it usually indicates some or other shortcomings of your business. Even if your product or service is perfect for the market, you can still face this problem. Similarly, a decline in product or service quality can also cause this.
A dedicated customer support team can solve this issue by making your offerings more accessible. The team also boosts the reliability of your business, even if the product itself isn't up to the mark.
A small number of repeat customers
As the 80-20 rule suggests, 80% of your revenue comes from 20% of your user base. However, if your returning user base is small or is in decline, it indicates you are not caring for your existing customers. A customer support team can significantly impact this.
First off, a support team makes it easier for customers to reach out with problems. Solving these problems makes customers feel valued, which is the prime factor in maintaining repeat sales and acquiring new customers.
Ignored customer queries
Customers can face myriad difficulties while using your product or service. It's obvious that they will seek out help if and when these difficulties arise. If you cannot keep track of and solve these issues as they are submitted, it's time to invest in a dedicated support team.
For example, if your product incurs pre-sales questions or the onboarding process is complex, you're bound to receive a lot of queries. For a small business, this might not be a big hassle. But as your business grows, eventually, you will need to scale your support efforts, and that is where a dedicated customer support team is most needed.
Proactive Support made Simple
Know what your customers need before they do!
What makes a great support team?
Now, if you're facing some or all of these issues, you will likely need a dedicated customer support team for your business. But what makes up for a great support team?
Well, there are some general factors that need to be present for a customer support team to be effective. They are as follows,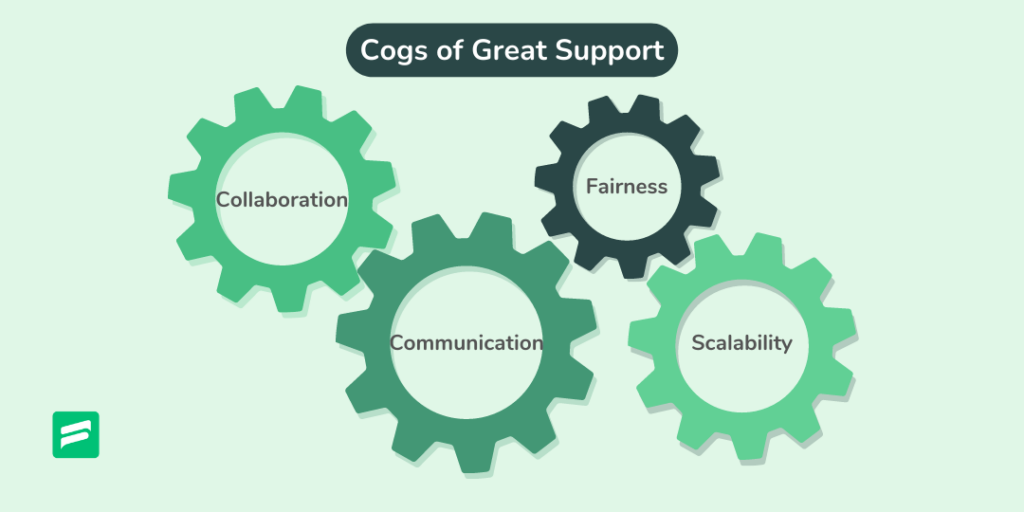 Collaboration
The effectiveness of your support team largely depends on the collaborative abilities of your support agents. The easier it is for your agents to collaborate, the smoother your team will function. Customer support is a team game and being able to collaborate within the team is an essential trait for support agents.
Communication
Customer support is, for the most part, communication. Your support team must understand and communicate with customers with varying issues that will come in each day. The communication skills of your support team can go a long way to set you up for success.
Conversely, poor communication will have a severe negative effect on your customer retention and satisfaction metrics.
Scalability
Your team needs to be versatile enough to handle increased customer queries. This is considered scalability. As a business grows, so do the customer base and related queries. To match the demand, your support team needs to be able to adapt to the increasing number of requests.
However, this is only possible to a certain extent. You'll have to expand the support team or allocate more resources at one point or another. To keep the process reliable, it's a good idea to keep expansion plans ready as soon as necessary.
Fair contribution
Lastly, an effective support team is built with fair and equal contributions from all its members. That is to say, each and every support agent must give their best to ensure the highest quality experience. Teams that work on mutually respectful work ethics tend to perform way better than those that are riddled with stragglers. Fair contribution from each member is crucial to maintaining a highly productive team.
Take it for a spin!
Offer the best support with ZERO costs. Installation is easy and setup is a breeze. Try it NOW!
Building a technical support team from the ground up
Starting a customer support team from scratch is not easy. You have to consider many factors and plan ahead for efficiency. Not to mention taking into account the unique needs that are specific to your business and your customers.
Define the goals
The first and foremost step to building a technical support team is to define clear goals for the whole team. Only when every agent is working with the same goal will your team deliver quality support on a large scale.
For instance, your team's definition of goals should reflect the core values of your business. Take WPManageNinja, for example. They boast of their 24/7 hands-on support to deliver the exact solution a customer is expecting. This applies even more so when managing holiday sales rush. So to define a clear goal, their support team believes no problem is too big or too small. If a customer needs help, they will get it.
Speaking of expectations, a support team must always keep the customer's needs at the top. This includes following up on customers regularly. Customer support is meant to offer a streamlined experience for every user, no matter how easy or complicated their problem is. This reinforces the idea of valuing your customers.
Similarly, it's important to study the overall customer expectations in your industry. Some industries reward fast solutions, while others value attention to detail. As a business, it's essential you figure out what these expectations are to develop the most effective goals to aim for.
The last crucial part of the support team's goals should be to adhere to any legal requirements that apply to your industry. For support teams, this usually means service level agreements that can vary between countries and their respective industries.
Choose proper channels
For small businesses starting off with customer support, it's tempting to say, "We're available wherever and whenever". Reality is not that simple. For a small support team or one that's just getting started, this is actually one of the biggest challenges.
When picking the best channels, you need to keep in mind two important factors,
Channels your customers are using: The platforms your customers prefer should be the first place you begin offering support. If your business is using the Facebook business suite, it's obvious that you need to be available on Facebook to answer customer questions. Selling products on Facebook and telling people to email you for support is a fast way to lose most customers.
The standard practice: As a basic rule, technical topics are best handled over emails as they can contain files and large exchanges. Emails are a good option to address highly technical issues.
On the other hand, questions about retail products or purchasing options are small back-and-forth conversations with minimum technicality involved. Live chat with an expert is much more effective than sales calls or emails in this regard.
Support is in your Inbox!
Provide customer solutions through emails right from your tickets dashboard.
Hire accordingly
Your team starts with its agents. You can't expect a highly effective technical support team from the ground up without hiring the proper people. Things to consider when hiring for your new support team are,
Ideal support agent personality; While this might be a broad category, it's important to maintain uniformity in your agent personalities. The ideal agents usually have well-developed customer service skills, i.e., communication abilities, empathy, and meticulousness toward details.
Technical proficiency; Depending on your industry, your support agents might need specific skills to handle customer queries. For instance, agents in a software firm need to understand and master the software products to solve issues in them. In addition, they'll need to be familiar with the tools you provide your support team to function efficiently.
Smooth onboarding; When hiring, it's important to evaluate not only the skills they bring but also the time required to bring them up to speed. New hires need to be able to learn fast and cope with the changing demands. This is especially difficult for a support team built from the ground up because there aren't many peers that can guide this process.
Measure proper metrics
Even before you hire and start building your technical support team, it's crucial to pick the right metrics to evaluate their performance. While these metrics shouldn't be the only goal your team needs to achieve, it is definitely the driving hand that will guide most decisions. These metrics or KPIs are crucial to evaluate the team's performance properly. To determine these metrics, you need to consider the following,
Why these metrics; The most common metrics measured for support teams are CSAT and NPS. When tracking these, it's important to understand what these metrics signify in the first place. CSAT tells you the level of satisfaction your customer support team is generating. Similarly, tracking average handling time will tell you how proficient your agents are.
Who sees the reports; From a business standpoint, every team has an ROI. However, not every department is concerned about ROI. It's crucial to remember who is evaluating the metrics when choosing the metrics in the first place.
Provide the right tool
Lastly, you must consider the tools you want to use to maintain your support system. An effective tool has a huge potential to streamline the whole support process. Conversely, a slow and complex tool will waste time and effort of your support team. Things to consider when choosing your customer support system include,
Functionality; This includes looking at the essential features a support team needs. Most notably, automatic agent assigning, canned responses, agent activity tracking, waiting-time tracker, and detailed admin reports.
Scalability; When building a technical support team, it's crucial to consider the tool's scalability. If your business is growing fast, a tool that charges by the agent or the number of tickets is not a good option. You should go for options that don't apply a growth tax to your team.
Speed; Customer support is time sensitive, so speed should be one of the top priorities when considering tools. In general, self-hosted help desk solutions are way faster and safer than SaaS solutions.
Ease of use; Last but not least, the tool should be easy to learn with a mild learning curve at most. The more complex the tool, the harder it is to train agents and even harder to gain peak proficiency. Ideally, your tool should be simple to use and learn.
Wrapping Up
So we've covered when you might need to build up your own support team and what you'll need to plan for it accordingly. That being said, each business is different, and so are the customers. It's crucial to fit this plan to your business and what your customers expect to get the best results.
While it might not be as simple as hiring some agents and setting up a ticketing system, it's not much more complex either. A well-informed plan and an attitude to give your best are sometimes all it takes to run and maintain an excellent support team.
Hope this answers all your questions about building a technical support team. Until next time, happy serving!
Your Support Portal in 5 minutes!
Start with a robust ticketing system that delivers smooth collaboration with powerful integrations.