What is Average Handling Time in Customer Support?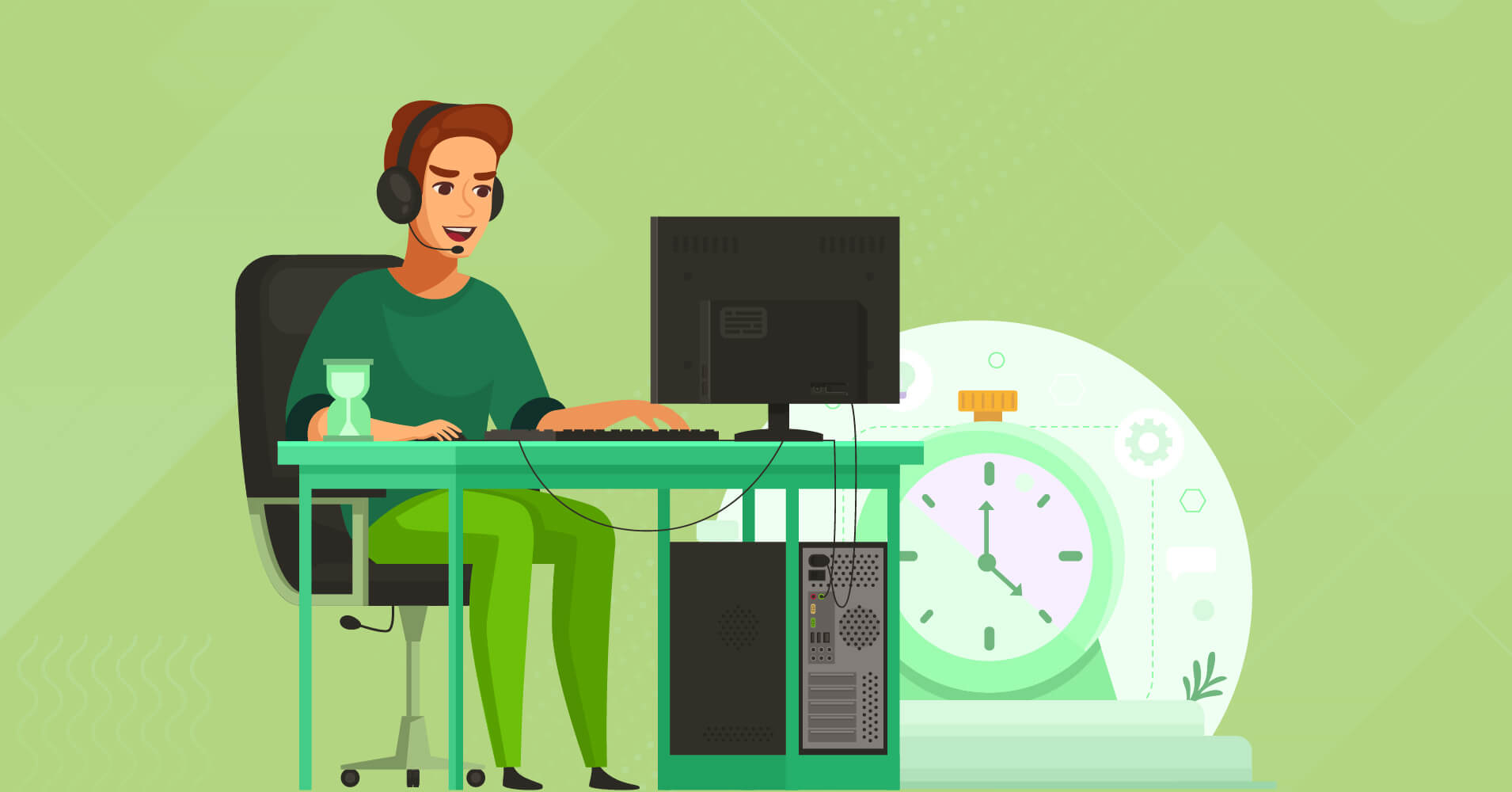 Managers across businesses rely on a variety of metrics to evaluate how the business is doing. Usually, every team has its own key performance indicator they have to track. For support teams, one such metric is average handling time. Tracking it can tell you how efficient your support team is or where it's lagging behind.
Companies that insist on being customer focused have to track average handling times for the simple purpose of evaluating the support team's efforts. In this article, we're going to look at what average handling time is, why it's important and how you can measure it to improve your customer support strategies.
What average handling time means
Average handle time or AHT is basically the time it takes to resolve a customer support interaction from start to finish. This includes the time to submit the first response, time on hold, and the time it takes to follow up and close the conversation.
This measure can vary significantly depending on the channel you're using. Emails have a lesser average handling time compared to calls. We'll elaborate on the ideal wait times for each channel later on.
Why it's important to measure AHT
Measuring average handling time is important because it is easily quantifiable, as in you can measure and evaluate it with reliable accuracy to compare aspects such as,
Speed
Speed is an essential part of providing excellent customer support. Measuring average handling time means you can effectively evaluate how fast your customers are getting responses from your support team. In customer support reducing waiting times is essential for customer satisfaction. Average handling time gives a quantifiable measure of how fast your support team is.
Productivity
Average handling time also measures the productivity of your whole team. While fast responses are good, you still need to make sure your team is functioning at optimum capacity to handle your customer queries. The more productive your team is, the less handling time is needed.
Proficiency
To balance out speed and productivity at a sustainable level, your support agents need to be proficient at their job. A support agent can respond and resolve support tickets only when they can solve the issue. This largely depends on the difficulty of the customer's requests and the capability of the agent. Usually, low average handle times mean a highly productive team with good proficiency in their tasks.
Take it for a spin!
Offer the best support with ZERO costs. Installation is easy and setup is a breeze. Try it NOW!
How to measure average handling time
As we've mentioned, average handling time includes the time to submit the first response, processing time, holding time, and following-up. While it's true, not every channel has the same figures for these times. So, we'll show you how to calculate the average handling time for the most common channels customers use.
Calls
Calls are the most elaborate among customer support channels and have the highest expected average handling times. That's mostly because only calls involve more moving parts than other channels. To calculate your average handling time for calls, the equation is,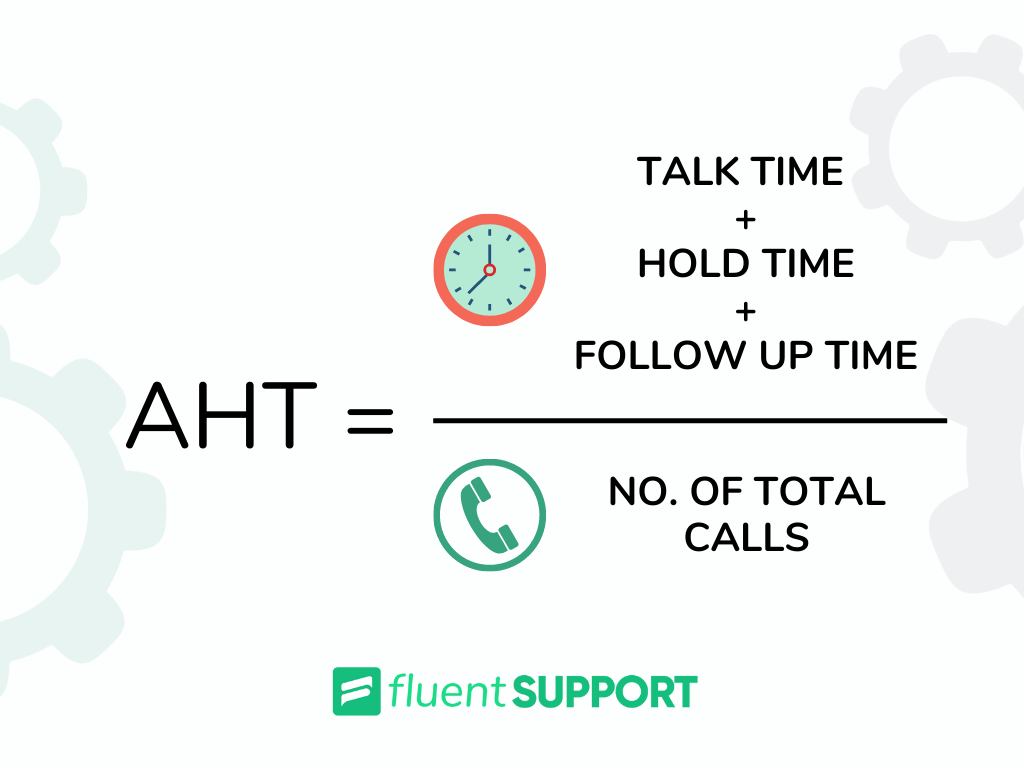 So if you're team spent 1000 min on the first response, 300 min hold time, and 700 min following up on 1500 calls you're average handling time will be,
AHT = (1000+300+7000)/1500 = 5.53 min/call
Tickets and Emails
Unlike calls, the average handling time for tickets and emails is easier to calculate. Mainly because emails and tickets do not entail holding times. To calculate all you need is the total time it took to resolve an email or ticket. So the equation for calculating AHT for emails is,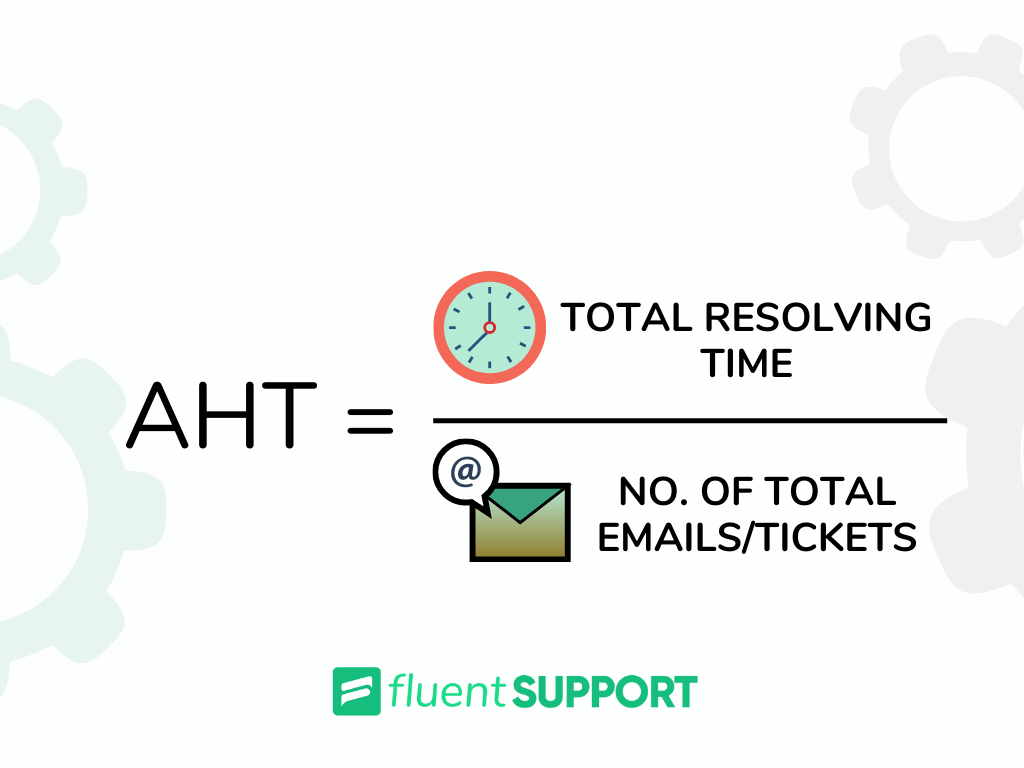 So if your support team resolves 500 emails or 600 tickets within 100 hours, your average handling time will be,
AHT = 100*60/500 = 12 min/email
Or,
AHT = 100*60/600 = 10 min/ticket
Chat
Similar to emails and tickets, the average handling time for chat-based support interactions is easy. You just have to take into account the time to resolve a chat interaction. So the equation is,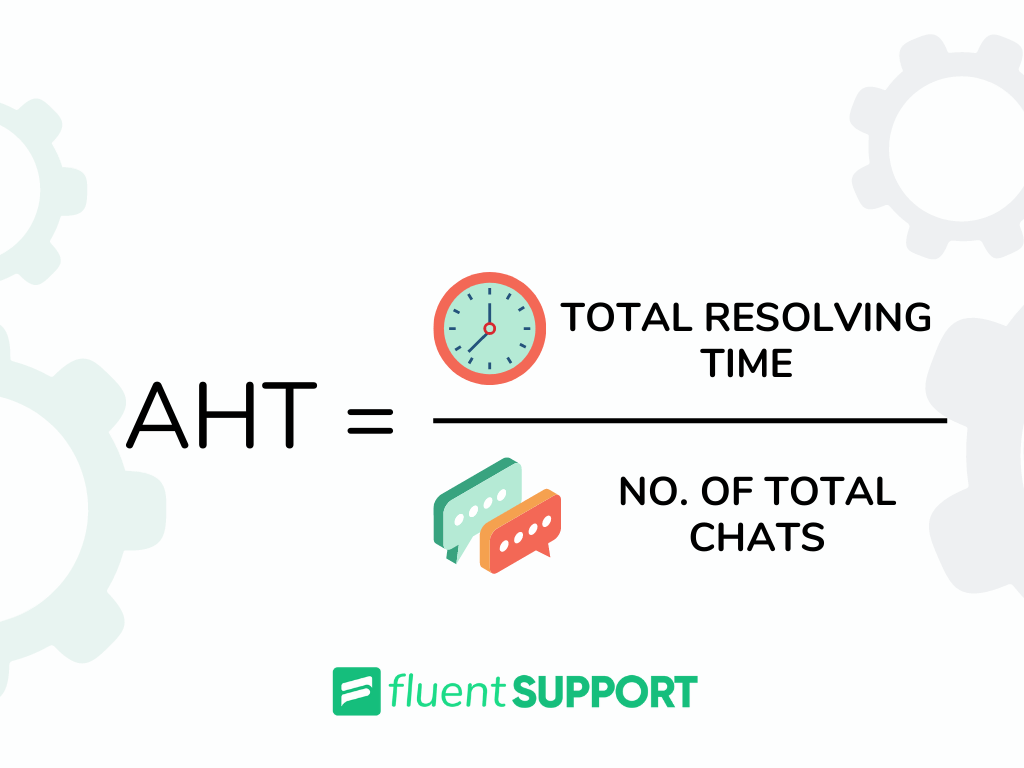 So, if your team has spent 72 hours resolving 1200 chat requests, your team's average handling time will be,
AHT = 72*60/1200 = 3.3 min/chat
Ideal average handling times
In light of what we've covered so far, it's obvious that every industry will not have similar average handling times. This is due to a number of factors such as,
Complexity of issues; Technical and digital products usually entail more complex issues and require more time to effectively solve.
Type of requests; Handling time also depends on the requests customers make. A simple pre-sale question will not take as much time to resolve as a refund request will.
Proficiency; Whether handling complex or simple requests, AHT by large part depends on the company's philosophy towards customer support in general. Your company's policies for customer-facing jobs have a huge impact on AHT and similar metrics.
From TalkDesks 2021 KPI Benchmark we can see that standard average handling times for
Retail and consumer goods companies are at 3:29 min, for the manufacturing sector that time is 4:13min whereas in other sectors this average is around 1:30min.
3 tips to reduce average handling time
As promised, now we can take a look at how you can reduce this average handling time for your support team. The following strategies can significantly reduce average handling times,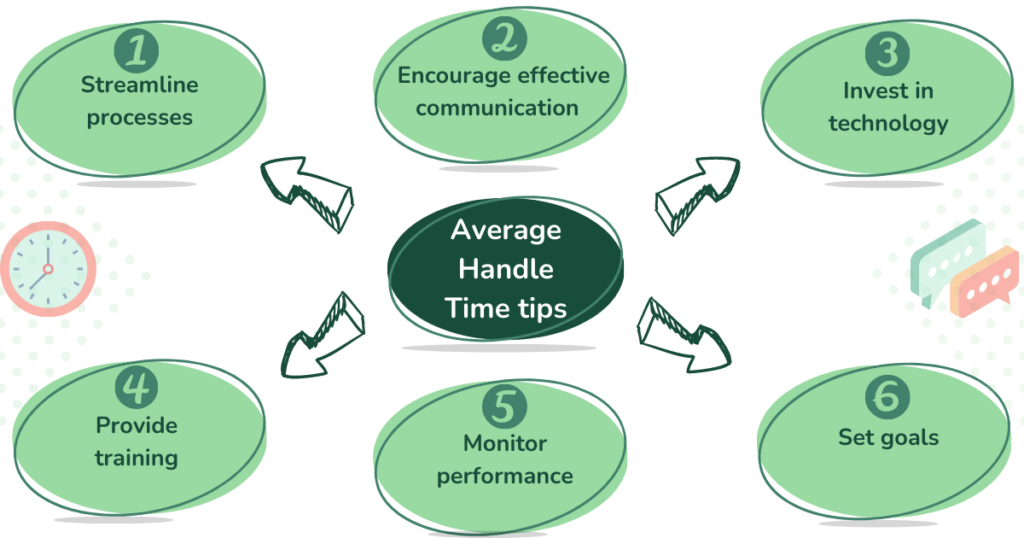 Proactive support
Proactive customer support is a strategy to anticipate your customer's needs before they ask for a solution. This strategy can not only improve your average handling time but also contributes to customer retention and reduces churn rate.
Proactive support also saves time for the customer support agents because they are always prepared for the customer's expectations.
One important aspect of proactive support is that it reduces the overall number of queries that are submitted to your support team. This reduces the net total time your team had to spend on resolving customer complaints.
Resources and Knowledge base
Similar to the proactive strategy, having well-organized resources and a knowledge base can also reduce average handling times. It reduces the number of tickets that are submitted to your customer support team on average.
Customers expect companies to have resources properly arranged so they can get ahead of issues without having to wait for an agent. Alongside reducing waiting times for trivial troubleshooting questions it can reduce the hassle for your agents too. Being able to find the solution on the fly can significantly reduce the time needed to resolve a customer request.
Efficient helpdesk
A key part of your support agents' speed depends on the customer support help desk you provide them with. Fast refresh rates and easy-to-navigate dashboards are important to keep the process simple and flowing. Page load times can contribute to holding times that ultimately increase your average handling time.
An effective help desk plugin can reduce these losses and increase your team's overall efficiency. When choosing the best help desk for your business you should evaluate the redundancies in user experience for smoother handling.
Factors for a good support ticketing system are,
Fast loading times
Integrated dashboard
Agent activity tracking
Automation, etc.
Your own Support Portal in 5 minutes!
Start off with a powerful ticketing system that delivers smooth collaboration with unlimited room for your customers.
Wrapping Up
Average handling time is a very crucial metric to measure your customer support team. It's one of the most important KPIs for support managers. Companies that track average handling time and optimize to reduce it are way more likely to succeed. This is in part due to higher satisfaction rates that improve retention and reduces churn.
To improve your support team's AHT it is not enough to just focus on the agent. It's also crucial to focus on the resources and tools you provide for them to use. Because more often than not an agent's response can only be as fast as your system allows it to be. Hope you can implement average handling times in your quarterly evaluation.
Until next time, happy serving!