Holding & nurturing existing customers is easier than acquiring new ones. Customer retention is the cheapest way to increase business revenue. You can increase your customer retention rate by following strategies that work and walking the path of other companies' examples.
Businesses invest a lot to attract customers through various marketing strategies. But retaining customers and keeping them coming back results in the greatest ROI. Customer retention improves when customer experience improves. You can increase your customers lifetime value by building long-lasting relationships with them.
In this blog, you'll learn the definition of customer retention, why it is important for your revenue, how to measure it, and how to increase your retention rate through various customer retention strategies and examples.
Let's dive in.
What is customer retention?
Customer retention is the seamless process of providing a great customer experience to your new or existing customers and turning them into repeat buyers. You increase your customer's lifetime value and make your customers so happy with you that they tell others about your business and influence them to become your customer.
Customers like businesses who value them, are aware of their choices, and have clear business values. People want to connect with these kinds of brands. They treat brands as they treat friends nowadays. Building personal relationships with customers should be a brand's number one priority if they want to become a customer-centric company.
Customer retention strategies can help you build deeper buyer relationships with your existing customers and increase customer loyalty. It is far more important than any business strategy because it will help you stop burning cash to acquire new customers for sustainability.
Deliver super fast Support!
Provide customer solutions through one-to-one communications right from your help desk software.
Why is customer retention important?
The importance of customer retention is ironically described in its definition. Customer retention is building relationships with your existing customers and making them repeat buyers. Repeat buyers equal more sales, low cost of acquiring new customers, and more profit.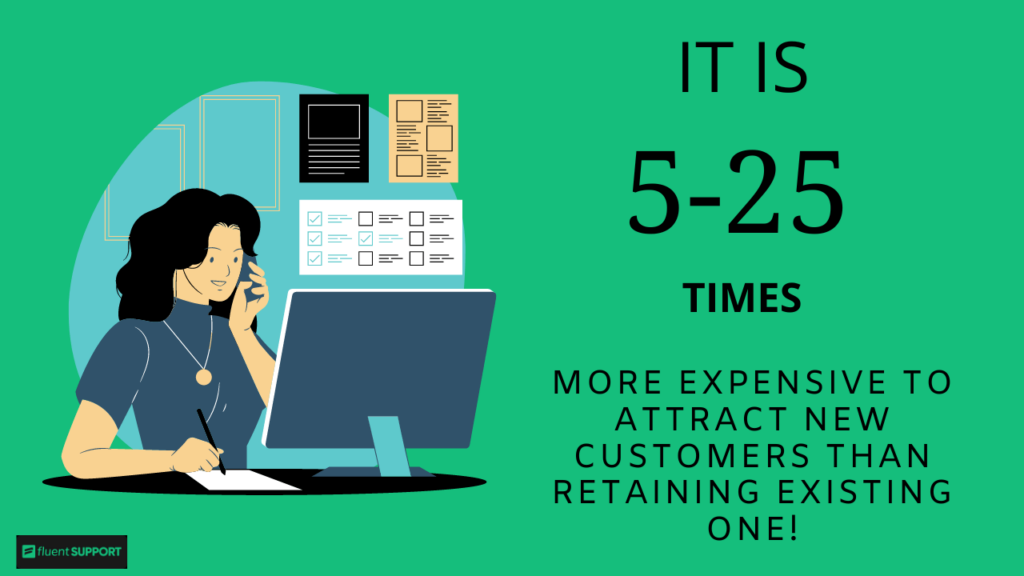 Harvard Business Review says it is 5 to 25 times more expensive to attract new customers than to retain an existing one. You do the math. Acquiring new customers is so expensive because in this digital era, customers attention is fragile. You have to go extra mile to catch their attention.
Every business needs a customer retention strategy. Not convinced yet? Read these bullet points:
Retaining existing customers saves you money. You don't have to put lots of money into advertisements; you must retarget your existing customers carefully.
Nurturing existing customers helps you build meaningful relations with them. When they feel valued, customers often reward the business with their loyalty. And customer loyalty is super important for brand recognition.
Your sales will increase from repeat buyers. Do I need to say more?
How to calculate customer retention rate?
Before making solid customer retention strategies, you should figure out your business's present retention rate. But how can you calculate your customer retention rate? Simple, find out how many customers you gain in a specific quarter and how many customers are stayed with you after the quarter.
Here is an example- let's say that you started Q1 with 3000 customers. Around 1200 of your existing customers return to buy from you. And you gained 500 new customers in this period. Here you have to keep 3 things in mind:
Number of customers at the start of Q1
Number of customers at the end of Q1
Number of new customers gained in the Q1 period
These 3 numbers will help you calculate your retention rate from Q1.
Customer retention formula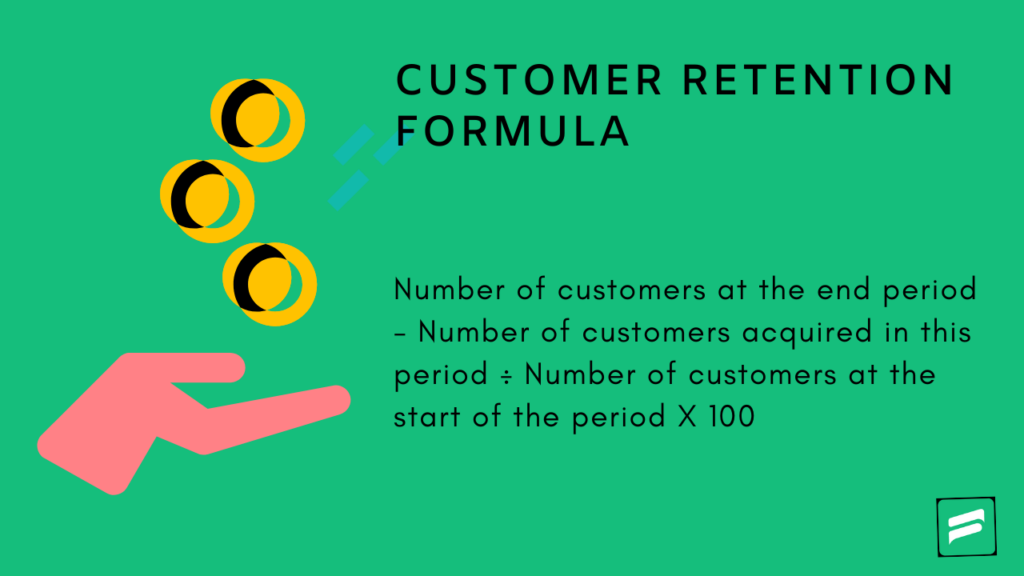 Here is the formula we will use to calculate the customer retention rate-
Number of customers at the end period – Number of customers acquired in this period ÷ Number of customers at the start of the period X 100
Let's use this formula in our previous numbers.
1700 – 1200 ÷ 3000 X 100 = 53.33%
53.33% is our expected customer retention rate. You can use this simple formula to calculate your business's customer retention rate.
How to increase customer retention?
Customer retention strategies help you identify your business lackings, customer service problems and provide solutions for better customer support. The main goal of implementing these strategies is to increase your customer retention rate.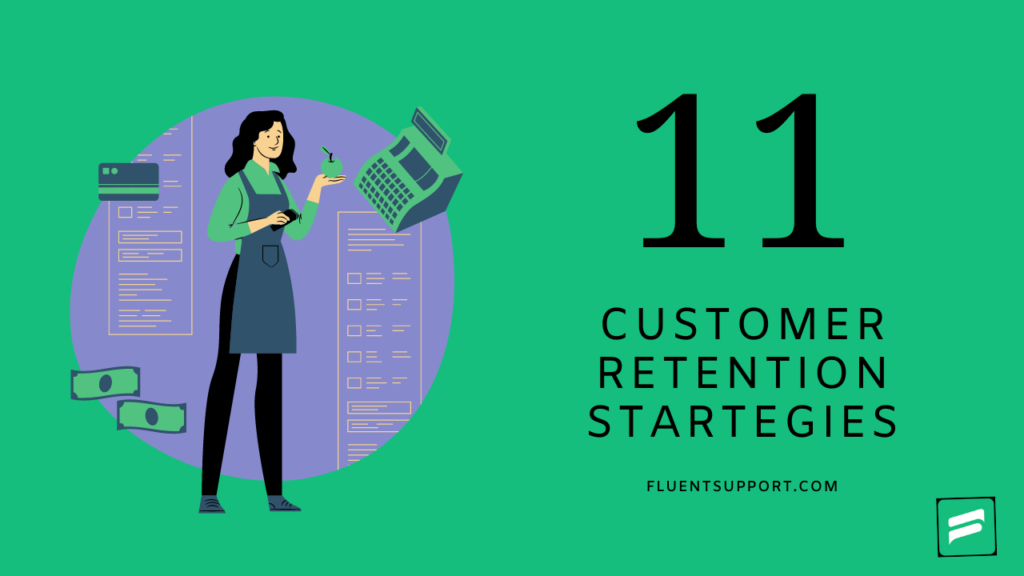 Customer retention depends on customer experience. You should focus on customer experience from day one of your company. Because-
77 percent of customers stay loyal to companies that offer a great customer experience when they face a problem.
77 percent spend more with a company with a good customer experience.
50 percent of customers admitted they prefer a positive customer experience more than ever.
Here are 11 customer retention strategies and techniques you should follow to increase your customer retention rate.
1. Provide fast but quality customer support
People will always want fast customer support. But now they want quality customer support fast. Fast customer support can satisfy customers for a short time. For long-term retention, quality always wins.
Speed matters when it comes to a fully functional support ticket system. Your helpdesk should quickly reply to support tickets and take customers to load anytime. Choose a helpdesk that can help you automate repetitive tasks (like Fluent Support), assign agents to tickets automatically, and offers numerous useful integrations.
A good helpdesk should have the features to reply to messages using other customer service channels. Customers prefer to get support using their preferred service channels. Fluent support has seamless integration with Slack, WhatsApp, Telegram & Discord. You can get instant notifications about new tickets using any service channels, and your agents can reply to support tickets using Slack, Telegram & WhatsApp chat without the need to login to your support portal.
2. Offer personalized support
People see brands as their friends nowadays. They want you to know more about them, their interests, and their priorities. The more you can develop a personal connection with your customers, the more they gravitate towards your company.
Customers do not like to repeat information over and over. Drop your contact point, and create a system where a customer can get in touch with an actual person who can solve their problem. High customer frustration increases customer churn rates.
Give your support agents all the information they need while talking to a client or replying to a support ticket. Agents should easily pull all information at once, no matter what team has it. A good customer support solution should have the feature of delivering customers information within their support tickets.
Fluent support shows customer information like name, email, photos on their tickets. Agents can also see customers previous purchases from WooCommerce, EDD, Learndash, LifterLMS, TutorLMS & other integrations. It helps support agents to provide exact solutions using the right context. They can tag and remove customers from email lists using FluentCRM without leaving the tickets.
3. Make customer service simple
Hard-to-reach customer service does not help in your customer experience. Even if your customer support is available 24/7, but the process of submitting a simple ticket is complex, customers will turn away after a few tries.
Create a seamless customer service system. Make it easy for customers to reach exactly the department or person they are trying to reach for help. Simplify your customer service operation. It will help your agents and customers, save time and frustration!
Helpdesks like Fluent Support offer custom fields in ticket forms, the ability to add priorities, and you can put the support forms anywhere on your website using shortcode. You can use automatic workflows to add unlimited custom tags to incoming tags based on ticket tiles & message content, and assign specific agents for those tags. Without lifting any fingers, automatically! Set up and run the workflow, then forget! It will do its work in the background!
4. Offer omnichannel support
Customers are now accustomed to using social media and messaging apps every day. The number is big; in 2020 alone, over 3.6 billion people are using social media, which is projected to grow to 4.41 billion in 2025!
Brands are offering customer support where the customers are hanging out. Customers are now sharing their frustrations over business through social media. If you are not listening to your customers, you are missing a big chance to improve your brand image.
Offer omnichannel support, listen to your customers, and reply immediately with solutions. Do not waste time on company policy; focus on how to make a frustrating customer into a satisfied one. When you decrease customers effort to contact support by themselves, a great customer experience happens, and customer retention rates increase. Positive public interactions often attract new users if it is done right.
5. Collect customer feedback and analyze them
The best way to retain a customer is – ask them what they want!
Yes, it is that easy. Collect feedback from your customers after every interaction possible. Implement small surveys into the customers onboarding process and gather as much data as possible. Use these data to improve your onboarding process. Make it as seamless as possible.
When you ask customers for feedback and implement their suggestions, give them credit. It will make them feel valued and become loyal to your brand. Share customer support data with your teams and inform them how customers are receiving their interaction. It will help them strategize their customer needs and offer more personalized support.
Customer feedback is one of the most valuable tools to increase customer retention. Often companies ignore customers feedback, leaving them frustrated. As a result, customers don't come back.
6. Run customer loyalty program
Loyal customers are the backbone of any business. The more loyal your customers are, the more they will be repeat buyers. The more repeat buyers you have, the higher your customer retention rate is.
Customer loyalty programs can be a useful way to cultivate loyalty among existing customers. Appreciate your repeat buyers, and give them more reason to be with you. It could be one-day delivery, surprise discounts, or a handwritten gesture. Everything creates a great customer experience.
Collect customer data and analyze them to get the most out of it. You can offer a more personalized loyalty program for customers if you have more customer purchase data available in your hand. Users with great experience with your brand are most likely to share it with their friends or on social media. Perfect customer loyalty program can retain customers and increase brand awareness too.
7. Use proactive support
Analyze customer support data like daily support tickets, reviews, and your business name mentions on social media. Keep finding out your lackings, where you come short, and how you can improve both products, services, or customer service. Offer proactive support before customers realize there are problems and contact you for solutions. Apologize first when you make a mistake.
8. Empower our customers
Sometimes customers prefer self-service rather than wasting time in a call for hours or days on a support ticket. People want instant solutions to their problems. Often, self-service tools like knowledge base, proper documentation, and detailed video tutorials through youtube channels could play huge roles in satisfying existing customers. You don't have to put work on these resources every day rather than creating them once and updating them when necessary.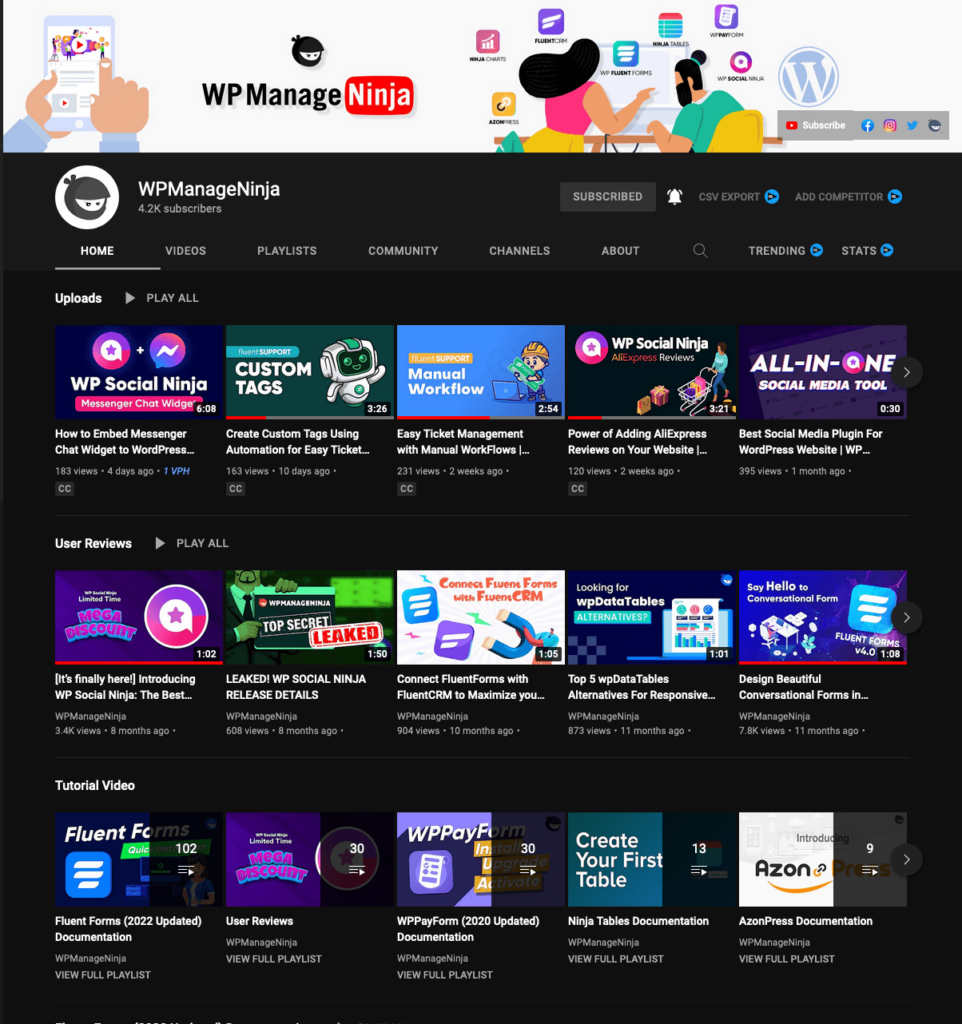 Put power in your customers hands and watch how dramatically it boosts your customer retention rate.
9. Offer incentives
Offer incentives to your customers when they decide to leave your business. You can't make everyone like your business, but you can try your best to retain your longtime customers. Customers can walk away for different reasons.
Some might no longer need your service, or some might be unhappy with the price and looking for cheap options. Offer them an incentive to stay, tell them what updates are coming and which features might be helpful for them. Offer them a free 1-2 months subscription or trial period.
Offer them a reason to stay with you so you can have time to prove your value to them. You can also offer referral programs for your existing customers. When they refer your business to their friends and family, give an incentive to your most active customer.
10. Form a community
Build a community around your products or services. Invite our loyal customers to hang out with others. A community can be a real asset for brands because it will make customers feel they are also part of your business.
Empower your customers through the community forum, use the community to collect customer feedback, run competitions and organize meetups. These are excellent ways to retain customers and use them for organic marketing.
11. Always A/B test
Put your theories into work. Find out what is not working and what provides the best value. Always do A/B test everything you do customer retention related.
Want to connect with existing customers through a weekly email newsletter? A/B test with different lists and email campaigns. See what copy is working and what is bringing the most open rates. Learn from mistakes and implement them on a wider customer base.
Not all customer retention strategies are solid for every industry. Every business has different kinds of customers. You must lean on customer behavior, collect enough data and practically implement it. A/B testing is crucial if you don't want to mess up. It can help you refine your strategies before fully doing it.
Customer retention examples
1. Zappos
We talked about Zappos various times in our blogs. But it is not enough. It is the only company that showed making customer support the main goal can provide great value for both business and customers!
Zappos goes the extra mile to deliver excellent customer service. Often they focus so much on customer support that their customer representative would talk to customers for hours because the customers felt like talking to them!
Here is a true customer story about a little girl whose father constantly ordered the wrong ballerina shoes for her show. Zappos exchanged the shoes numerous times without any charges before she settled with her favorite ones.
Zappos is also great at surprising existing customers by offering one-day delivery and handwritten thank you notes. Their customer support is famous for taking calls unrelated to their services and still providing solutions! Tell me, which company will go this far for their customers?
Are you willing to go this far for your customers? You don't have to do everything Zappos does, but by focusing more on customer satisfaction, you can gain the trust of your existing customers and increase customer retention.
2. Amazon
Amazon is the king of ecommerce. You can learn a lot from their customer onboarding process. Have you ever bought anything from Amazon? You are more likely to experience the most seamless customer onboarding process. They even have a one-click buy button to make the process super fast.
The result? More sales, repeat customers, and more product sales from single customers!
Think, how can you make your customer onboarding process seamless like amazon? Or how can you make your transaction process more hassle-free?
Decrease steps in your customer onboarding process. Remove frictions and make it simple. Make it easy for your customers to reach human support from your cart and offer related f.a.q right on the page below.
3. Fluent Support
Because, why not?
As a customer-centric company, WPManageNinja always listens to our customers. Before launching our public version, we started a Facebook community for our beta testers. We invited some of our existing customers to test the product.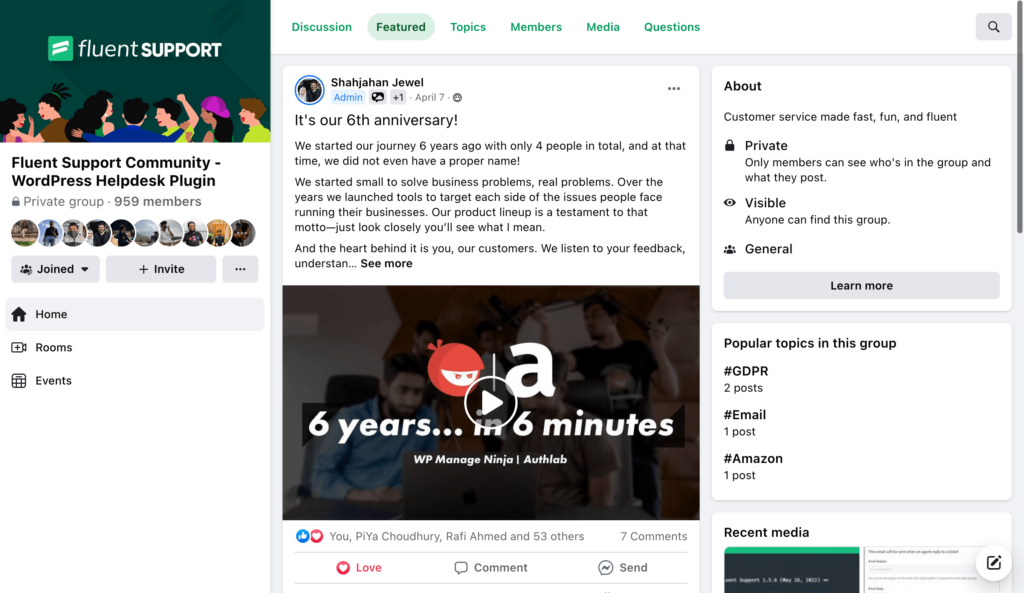 They provided us feedback, and we listened to their suggestions. We built features customers wanted. We built features that competitors lacked. We listened to the beta testers community and built a market-ready product.
And when we launched our WordPress helpdesk plugin last November 2021, it was an instant hit. The limited lifetime deal was on fire! We provided great value, and customers rewarded us with their overwhelmed support.
We are actively listening to our customers, collecting feature requests, and implementing them monthly! (Check out our latest release note!)
The lesson here: Listen to your customers, collect feedback and implement them to provide them a great experience!
Conclusion
You can't improve customer retention in a day. You have to collect customer support data and analyze it rigorously. Then implementing a solid strategy and using techniques relevant to your industry can surely impact your retention rate.
It takes time to earn your customer's trust. Work on customer experience, know your customers, and provide great value. Your customers will become your brand ambassadors. Make it your mission to make your customer's lives easier, and they will come to you over and over.
Your Support Portal in 5 minutes!
Start with a robust ticketing system that delivers smooth collaboration with powerful integrations.