4 Reasons to use Omnichannel Communication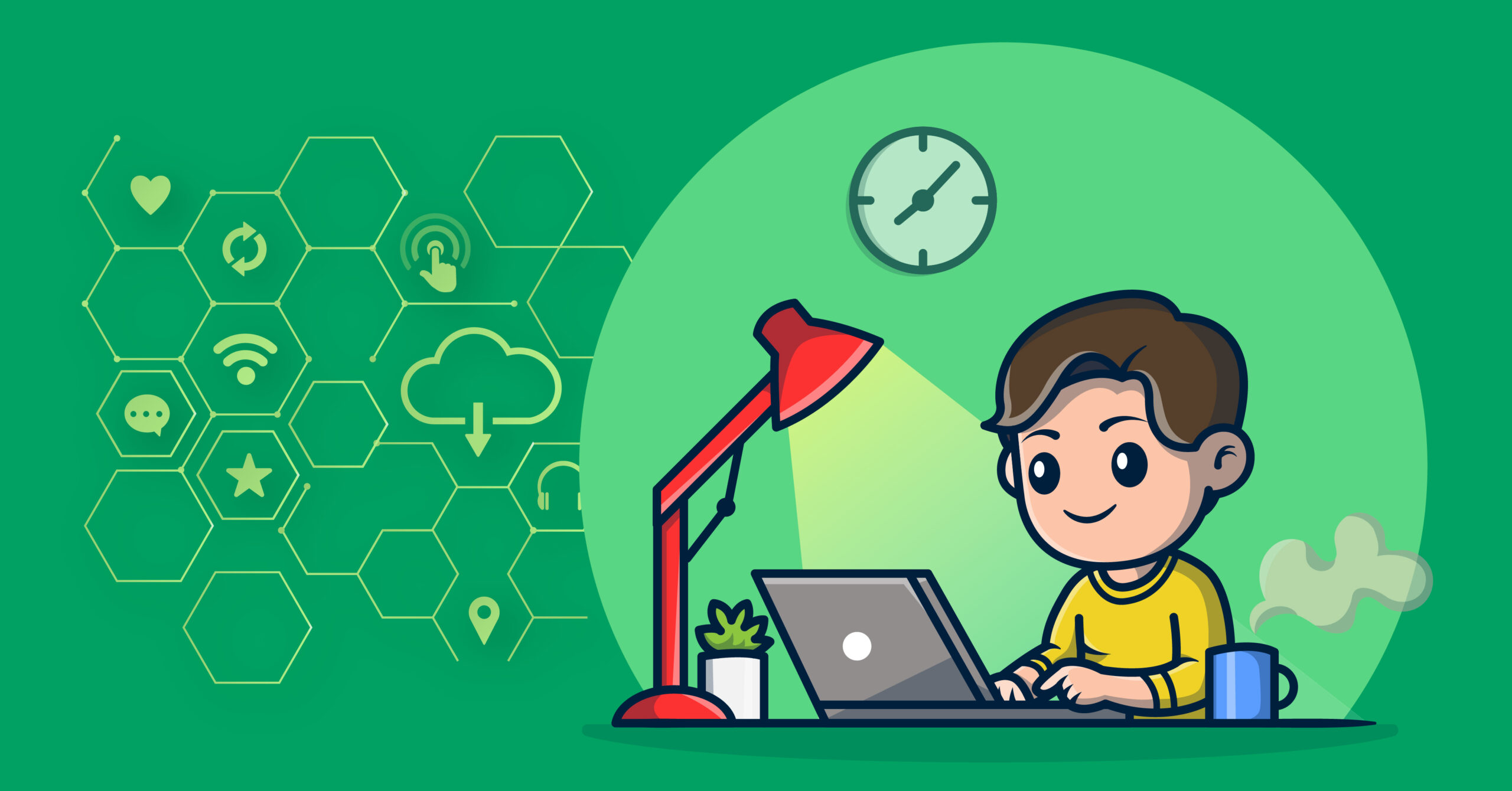 Omnichannel is the hyped-up method for offering customer support on multiple fronts. Apart from being insanely efficient, it has some huge influences on how your customers perceive your business. In this blog, we'll be looking at what Omnichannel customer support is, why you need it and how you can execute it. Moreover, we're going to look at how you can implement these strategies without investing a whole lot. So let's get started.
What is omnichannel communication?
Omnichannel communication is a casual term nowadays. It's mainly used to describe a consistent effort to connect all the channels a customer might use to reach a business. This can include email, support portals, chatbots, third-party communication, etc. 
Let's clear up one thing. It's not just about having the means to use various channels. It's actually more about interconnecting these channels in such a way that it feels like talking to the same entity (in this case your business) regardless of where that is.
A super easy example would be if a customer reaches out to you on social media with an issue. It could be just that the solution requires a follow-up. Why not just forward this into an email?
That's what Omnichannel customer support makes possible. It's essentially a system that lets customers reach out to you in any way possible (or, convenient for the customer). However, that's not all. It also ensures that you can communicate with the customer using the best possible channel. Along with that, it integrates all the information from different channels and makes it accessible.
Benefits of Omnichannel Customer Support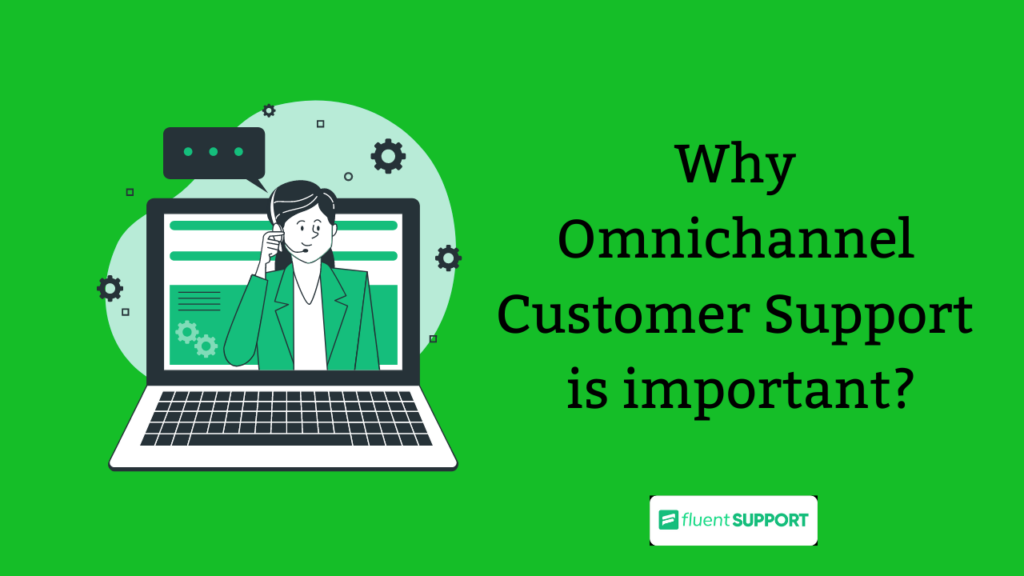 Before we get to how you can create omnichannel support you have to know why it's important. So here goes,
1. Improve customer satisfaction
Omnichannel is a great way to increase customer satisfaction rates. How?
Well, firstly it makes reaching you easier. If it's easy for a customer to reach you in distress, that's already a satisfaction requirement met. Executing omnichannel means the initial interaction is documented. If you're offering 24-hour support that only adds to customer satisfaction.
So when the customer is forwarded to another channel, their complaint carries over too. They will not have to repeat their query or explain anything. This smoothness is by far the most effective front to gain customer satisfaction without actively doing anything. Moreover, it can be the driving factor in increasing customer retention for your business.
2. Engage more varied groups of customers
It's highly unlikely that all your customers are on the same platform or even the one you prefer for your business. Omnichannel makes sure no customer feels left out. If a customer doesn't want to sign up for a support portal, you should consider not forcing it.
Rather let them reach you via email or social groups. The idea is, that wherever your customers are talking you are always there to listen.
3. Gain additional context
Providing support to customers is hard enough. Taking into account poorly explained queries that support agents deal with, having some context can be a life saver. Omnichannel customer support is a great solution because it lets you categorize and document previous queries/common problems and deal with them with some proficiency.
Most importantly, it makes sure your support agents enter a conversation with all the available information. This not only makes your agent's job easier but also contributes to customer satisfaction too as we mentioned earlier.
4. Get better data
Similar to how omnichannel generates customer satisfaction and engages more varied customers, it adds more ways to accumulate data too. The more places are available for your customers to reach you the more data you can accumulate.
Having this data not only enables your support team. It also enables you to make better business decisions, such as budget allocation, product development, post-purchase service strategies, etc. All of this is enabled by additional data that Omnichannel customer support brings that you could never gather from one channel alone.
Tips for Omnichannel communication for customer service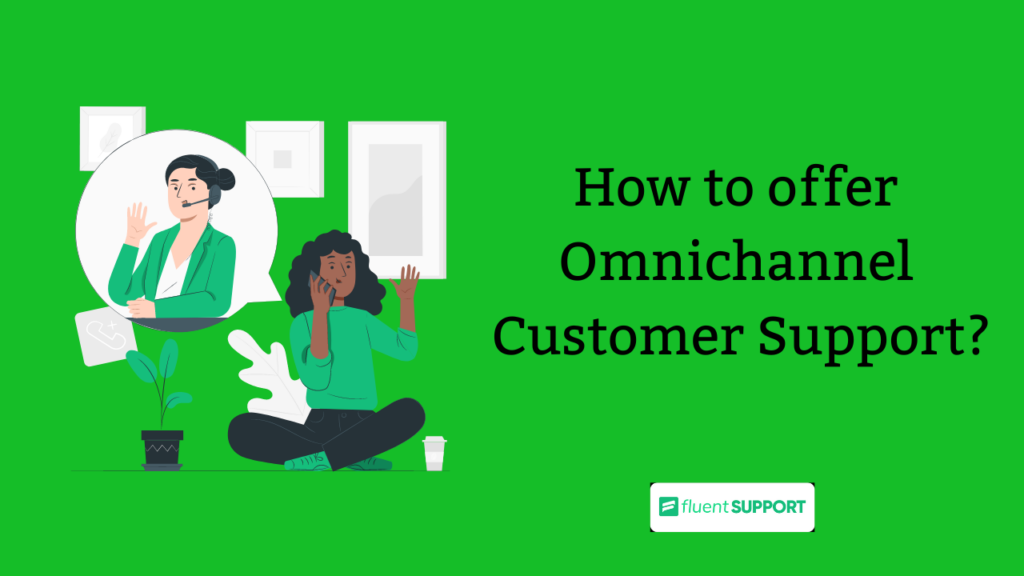 Now let's get to how you can execute omnichannel customer support. While the term might be associated largely with software-based help desk solutions that enable omnichannel customer support with various features. It's still doable without them with some effort. For the sake of this article, we'll explain how you can execute these tips with Fluent Support for better omnichannel customer support.
1. Create a centralized place for your data
The main feature that you must mention for omnichannel is that it's all interconnected. That is, it's a system that accumulates data from multiple channels and stores them for later use.
It's absolutely crucial to have a centralized place for business data to collect every bit of available information from the various areas of your business.
For instance, conversations with your sales/support team or comments they've left on your blog.
Not only does it improve outreach for the marketing team, but it also helps support teams stay aware of context whenever your customers reach out. Some might even apply this data to automate proactive outreach strategies.
Fluent Support solves this by bringing all tickets you get under one clean dashboard. You can connect Forms and CRM plugins as integrations to get site-wide customer data. This is especially handy to track which pages are compelling customers to reach out to. This is just one example.
You can also store detailed customer profiles using FluentCRM. This lets you manage and track thousands of customer profiles. The best part is these profiles are automatically updated. So no new information gets overlooked.
2. Keep things convenient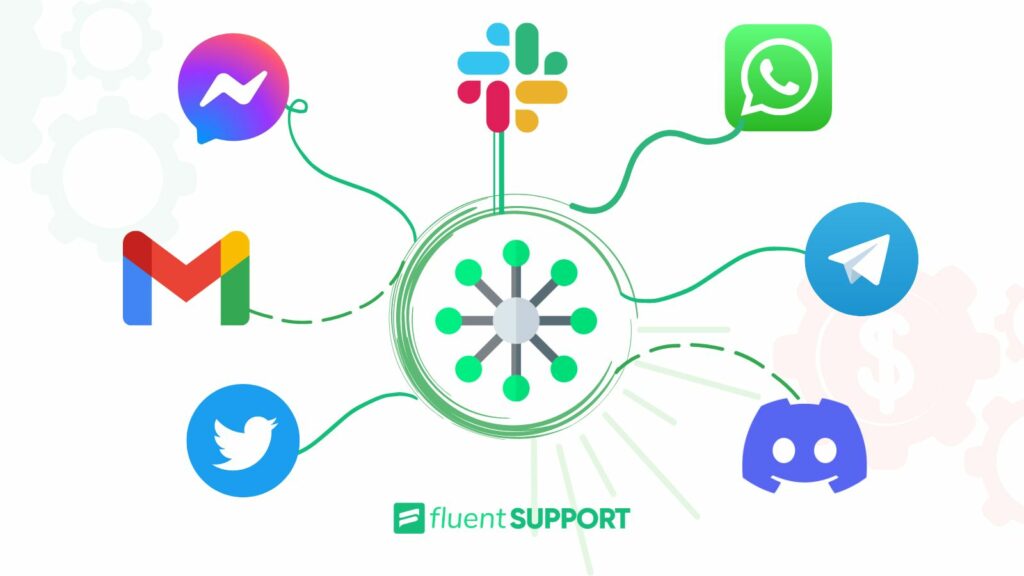 Making things complex or frustrating for your customers is the saddest way to lose the delight and goodwill your whole business strives to offer. Keeping things simple is the best way to keep customers off the edge.
Whenever you consider altering your omnichannel strategy, first ask yourself if it makes things easier or not. If the answer is "it doesn't" just do yourself (and your customers) a favor and not implement it.
The main point of omnichannel customer support is to bring convenience and ease for the customer as well as your team.
With Fluent Support's notification integrations and email piping, it's pretty straightforward. If your business is running on Slack, Telegram, or other communications platforms it can be difficult to get this in sync with your support tools. Unless you have Fluent Support of course.
Fluent Support integrates with Slack, Telegram, Discord, and WhatsApp. This enables you to receive notifications from your support dashboard directly in a chat box on any of these platforms.
Cross-channel Support Mastery
Connect the most popular Communication platforms for your business with your help desk.
We hope you can see this is a game-changer for your support teams. Because they won't have to jump between the support dashboard and communication apps. Just receive queries in your company communication platform and support away. Not to mention your customers can always reach your agents, no matter where they are.
Another awesome feature is email piping. This lets you bring in emails as support tickets automatically. If your customer doesn't want to sign in to your support portal it's not a problem anymore. They can always send emails to your support email and the queries will be added to Fluent Supports tickets automatically.
3. Be consistent
Consistency is downright essential for your omnichannel customer service strategy to work. After all, it is one of the primary drivers for customers preferring omnichannel over other forms of customer support.
A great way to create this consistency is Fluent Support's internal notes and custom agent priorities. Agents can add custom Internal notes to every ticket enabling seamless follow-up. Knowing what ticked off a customer beforehand not only makes support work easy but also makes it easy to not repeat it in the future. These notes are viewable only to agents and administrators.
Along with that agents can add custom priorities to tickets so they can be handled accordingly. This enables consistency not only among your agents but also among your customers.
The point of consistency is giving the feeling of talking to the same entity. If your agents need to be brought up to speed with a recurring customer, it'll look like talking to someone new every time. That's not something you want your customers to feel.
On the other hand, when your customers feel welcomed and known by all your agents it not only makes the customer feel valued, it showcases how well-knit your company is. That's a win-win however you look at it.
Your own Support Portal in 5 minutes!
Start off with a powerful ticketing system that delivers smooth collaboration with unlimited room for your customers.
Wrapping Up
Omnichannel support is an easily executable strategy that should've become standard practice by now. The issue is it's difficult (or expensive) to find support plugins/software that can handle it. Or, businesses simply do not understand the value.
Some might offer partial omnichannel while others might block features for premium add-ons. It's really important for you to consider the prospects of omnichannel support when choosing the tools. Without cross-channel capabilities, a support platform can become a hindrance rather than an enabler.
Hope this article addresses both the issues you might face while trying to execute omnichannel support for your business. Until next time, happy serving.