WordPress is a magical place where you'll find solutions for however big or small your business is. Along with that, you get free versions for most products to try out and get a feel for the plugin. Sometimes if the fit is right, a free help desk software can solve your problems without investing much
Selecting any products for your team, whether it be a help desk or social media tool, is tough. A lot of factors, including your growth rate and the number of customers you expect, play a significant role.
Before we get to the best plugins, let's check out what benefits you can expect and what to know.
Using Open Source Help Desks: Benefits
Some of the new options support ticket systems offer, for instance, the capability to assign tickets to agents, detailed team performance reports, and an overall improved user experience, might not seem like too big a deal. While seeming minute, these features still enable you to offer an exceptional experience for your customers.
Open source ticketing systems for small businesses can bring huge benefits by streamlining support processes and protocols. Without incurring any costs, you can upgrade to a system that offers extensive benefits instead of just features compared to a contact form, and a shared email could ever achieve.
Free support ticket plugins also give you the option to test out a new system over the long term without reaching your company budget. You get to play around with its capabilities and test its effectiveness in helping your agents. A tool is right for your business only when it makes helping easier for your agents — and easier for your customers to seek help.
Support for WordPress Redefined
Integrated ticketing for your WordPresss website. Serve without limits.
Using Free Helpdesk Plugins: The disadvantages
Now for the unpleasant bit. When you're considering any free service, it's good to research why it's free in the first place. Free plugins may not always live up to the expectations of users or customers.
Companies usually implement a set of limitations of various kinds to keep support costs down for the free version of their product. In the case of support plugins, this might lead to no workflows, a single mailbox, or a limited number of saved replies. Others might cap the number of agents or customers you can add to the system.
The other drawback to free services is the limitation in availing customer support. Most companies enforce priority support for their paying customers. If you find yourself in an urgent call and your help desk isn't functioning, getting help can be difficult.
The best course here is to research the details before you commit to any tool. If you don't, you may soon find yourself back to square one.
How to choose the best free help desk
If you're facing difficulties in deciding which customer support system is right for you, you can narrow things down with these considerations.
Experiment with open source help desks
If you're managing a small workforce as a customer support team, a free help desk software might do more than you expect. By trying out free support plugins, you can let your team become comfortable with the tool's capabilities without committing any significant resources.
When choosing a free product, make sure to plan ahead. Ask yourself if you're locking your team into a paid tool that isn't as good of a fit for your company as opposed to other available options.
To offer lasting customer service, your first decision for the long haul pertains to the tools you provide to your team. If it doesn't stand tall in front of your expectations, you'll have to shift to a new solution and go through the onboarding process all over again. Hence we put together this list of free customer support systems so you can try them out for the best fit.
1. Fluent Support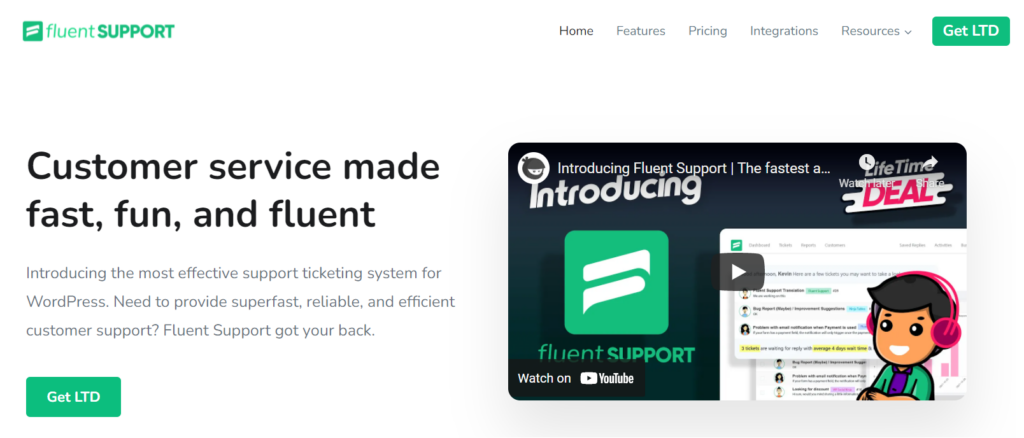 Fluent Support is self-hosted customer support and helpdesk plugin. While the Pro version is packed full of features, the free version is something to consider seriously too!
To get started, Fluent Support's free version supports 2 web-based inboxes for receiving support tickets. There are no limits to how many customers and support staff you can add. More importantly, there's no cap for ticket storage. Since Fluent Support is a self-hosted help desk plugin, storage is only limited by the server space you have available. Not to mention it offers CRM with ticketing by integrating with the in-house FluentCRM, an email marketing automation plugin.
Along with basic support features the free version provides administrative benefits as well. Managing staff permissions is simple and well organized into a neat dashboard. It also makes evaluating your support efforts possible with preliminary reports. Overall it's a great place to start your trials for a suitable WordPress support plugin.
Try it NOW!
Fluent Support is 100% self-hosted with 0 hidden cost.
You're 5 minutes away from your own support desk!
2. Google Collaborative Inbox
For existing Gmail users, Google Collaborative Inbox could be a good option. In layman's terms, Collaborative Inbox is a shared folder multiple people can access with their own personal email ids.
Setting up is relatively simple. All you need to do is set up an email address, create a Google Group then add people. That's it. Everyone in the group can respond to emails in the group mailbox without sharing the same login information.
Along with that you can assign conversations to individual group members and set custom statuses for different conversations (closed, on-hold, etc). There is an option to set different permission levels for team members, though it is not remarkably effective.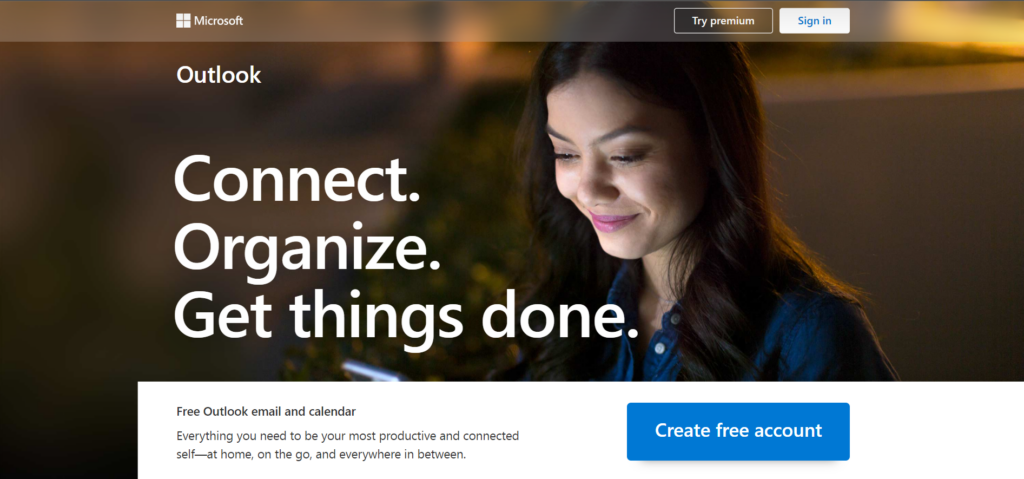 For teams already using Microsoft Outlook for email, Outlook Shared Mailbox has good potential to serve as a support system. It is fundamentally the same as Google Collaborative Inbox. All you need to do is create a group and then invite other members.
Outlook Shared Mailbox gives you the ability to respond from the same email queue and assign emails to specific members. For existing Outlook users there's no additional cost to set up a shared mailbox making it a good free alternative.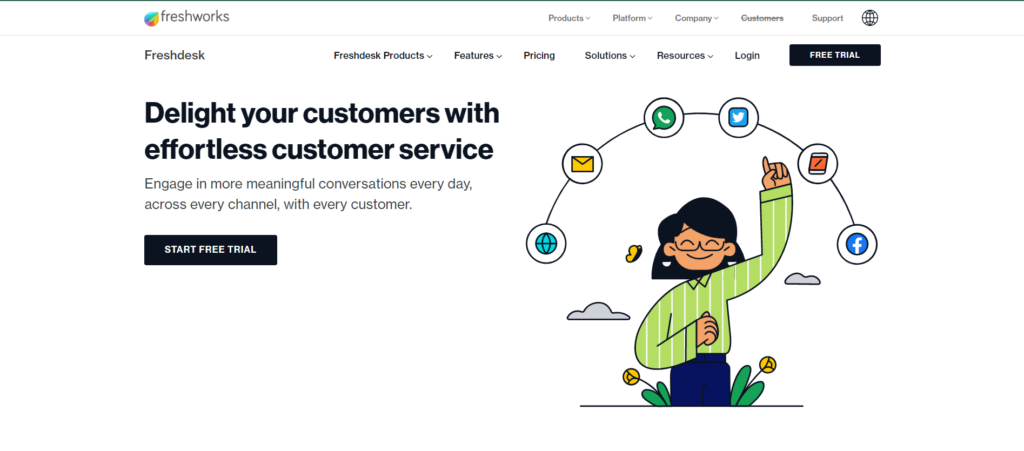 While Freshdesk is usually more closely associated with larger support agencies/teams, its free plan deserves consideration.
Freshdesk's free plan is a basic help desk that lets you create tickets from emails and social media messages and respond to them from the Freshdesk dashboard. Besides the basic ticketing capabilities, you can create a basic knowledge base too.
Some basic automations are also available such as routing tickets to different agents based on preset criteria. Freshdesk's free plan is a good place to start a customer support portal for your company.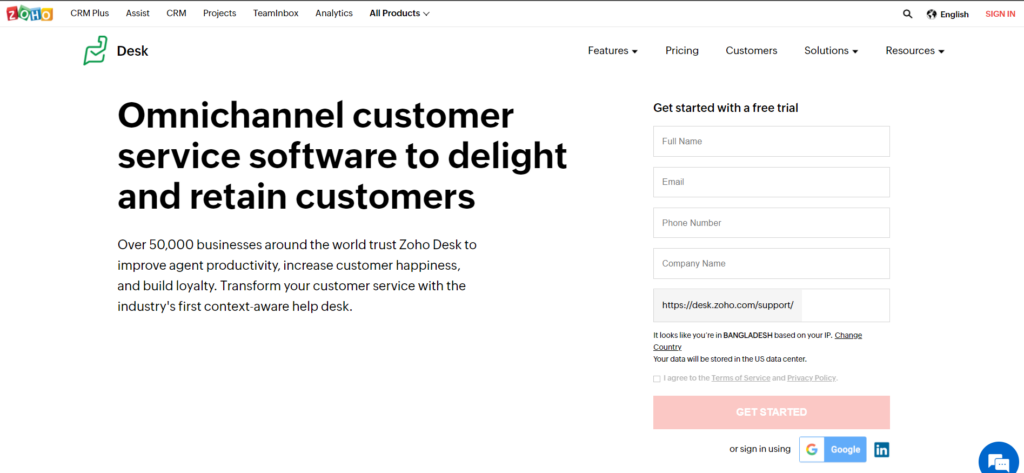 Zoho is famous for their pretty reliable CRM tool, but they have a support tool named Zoho Desk as well. The free version lets you respond to email requests from customers as well as tickets directly submitted to your portal.
Along with a shared inbox, you get to create a knowledge base that makes self-service options available to customers. You can even store macros (canned responses) to respond to routine questions faster.
Wrapping up the list, Zoho Desk offers some customer management capabilities, access to their mobile app, and pre-defined SLAs. It's more or less similar to Freshdesk, however, if you're a Zoho CRM user, it could be the option to go for.
Start with a simple inbox
A feature-rich help desk plugin with tons of add-ons is not a must-have for every support team. If you're a team of one, a simple Gmail account to receive customer queries is enough.
You can respond to each customer as they come into your inbox. However, as your support team or company grows, a shared mailbox can become increasingly complicated.
When things keep slipping through the cracks you can be sure it's time to invest in a professional solution. The last thing you need is frustrated customers that refer requests they've never heard back about. A dedicated support system can help avoid complications i.e. multiple team members responding to the same query or not knowing who's handling which customer.
Choose a basic, low-cost plan
Many support ticket systems offer cost-friendly plans that can scale as your business grows. We recommend a low-cost tool like Fluent Support that empowers you with full customer support and most of the features of a paid product.
Your team can add as many customers and support agents as needed without requiring you to purchase the Pro version. You can move up to a plan as your team grows, to enable collaboration on a bigger scale. For this purpose, we've also listed paid help desk plugins; feel free to check them out.
Final Notes
Customer support is all about helping others and that's the best thing about it. If a free tool can meet the needs of your team members and your customers, that's more than just the right tool for you!
However, if you're on a growth spurt, it's good to set the foundation with a solution that scales as you need it. Both right now and into the future.
Your own Support Portal in 5 minutes!
Start off with a powerful ticketing system that delivers smooth collaboration with unlimited room for your customers.