Customer questions are a routine thing for any business. There's always something a customer might want to know directly from you. That's why almost every business needs a customer support desk to manage questions and answer them efficiently.
If your business is on WordPress we have some great news for you. In this article, we're going to take a look at 2 WordPress help desk ticketing systems. Similar to our Help Scout comparison we're going to check out Support Candy and how it stands up to Fluent Support.
As with our other comparison reviews we're going to look at 5 key aspects to compare these help desk plugins. They are,
Ease of use
Reports
Support Features
Integrations
Pricing
Each help desk will get a score out-of 5 in these categories. The highest total gets our recommendation as the best support and ticketing system for WordPress.
Why Support Candy vs. Fluent Support?
Support Candy is one of the older solutions between the plugins we're going to look at today. Obviously there are some clear distinctions that can be made for these plugins. But first I want to clear up why we choose to make this comparison.
The "Growth Tax" model
A lot of the customer support plugins employ the growth tax model. It's the same with a lot of SaaS help desks too. The growth tax model is a type of pricing plan brands use to cap the number of users for a product.
In support desks, this means you'll be charged by the agent. So, adding more agents to your support team actually makes your support desk even more expensive. However, there's one explanation for this with regards to SaaS.
SaaS based help desks depend on this model to offset the cost of hosting and server space for each new agent you add to their system. More agents does incur more cost for them. So it makes sense to charge on a per agent basis.
But this is simply not true for self-hosted products like we'll see later on in this article.
The Paywalls
The second factor is the paywall model. In this system, most features (some of them essential) are blocked by tiered pricing plans or, sold separately as add-ons. In this case, to avail all the features you'll have to purchase the most expensive plan. Otherwise, even if you pay for the basic plan (entry-level) you get a handful of features.
Only after purchasing the enterprise plan will you get access to all features.
This is a serious drawback because the feature you most need might be locked behind a huge pricing wall. This significantly reduces the value you can get from each pricing tier and makes for an unnecessarily expensive tool that is limited by itself.
We've got a solution for the people that make it to the end of this post!
Support Candy vs. Fluent Support: In-depth Comparison
So now that you know what motivated us to do this comparison, let's get to it. We'll look at 5 core aspects of each plugin.
Ease of use
First up it's ease-of-use. We will look at how simple the product is and what kind of learning curve you'll be looking at to get started with the product.
Fluent Support – 4.5/5
Fluent Support has arguably one of the simplest set up process SaaS and self-hosted combined. It literally takes 5 minutes from downloading the plugin to creating a support portal. Even setting up separate inboxes for multiple businesses is simple. All you need to do is add the business information and email id and that's it.
Adding agents and controlling agent privileges is also pretty straight-forward. All you have to do is add agent roles to your WordPress users and that's it.
The user interface is pretty well designed. The best part about the design is you can customize the dashboard and label products and inboxes, making it really easy to navigate tickets.
Take it for a spin!
Offer the best support with ZERO costs. Installation is easy and setup is a breeze. Try it NOW!
Support Candy – 4/5
For Support Candy the process is similar. All you need is to download the plugin from the WordPress repository and install it on your site. The setup process is pretty simple taking less than 4 steps to complete. However, they don't offer separate business inboxes, so we can't really measure that.
Adding agents is a bit more complex as is getting used to the product. This is kind of the main reason for the lower score than Fluent Support.
The best part however, is they offer effective customization for almost every aspect of the product. You can customize the user interface, ticket submission page and agent dashboard to match your branding. If you ask us this is one of the best aspects of Support Candy.
Reports
The reports section will look at the metrics and reports you can track with these plugins.
Fluent Support – 4/5
Reports are actually one of the strongest aspects of Fluent Support. The reports section lets you control agent privilege, so you can customize who can see which part of the reports. In general, Fluent Support tracks open rates, closing rate, and average waiting time for both individual agents.
Moreover, after v1.6.6 now it's even possible to track hourly metrics for your support team as well. This makes it really effective to evaluate customer support in real-time. The reports are also generated with graphs and charts so visualizing is as simple as it can be.
Support Candy – 1/5
Unlike Fluent Support, Support Candy doesn't offer any reports in the basic and medium range plans. Only the enterprise plan offers reports. That being said the reports they do include are very limited and are hardly useful. Due to this we don't have much to cover in this section.
Support features
In this section we'll look at the core support features for each plugin. These features are crucial for any support team so they'll be our prime focus.
Fluent Support – 4/5
When it comes to customer support automations, Fluent Support really brings the prize home. You can virtually automate anything from agent assignment to email marketing and even CRM segmentation with WorkFlows. You can even automate using saved service responses with them.
Next, there is email piping. Customers actually prefer emails when it's technical issues. Fluent Support lets you convert service emails into tickets that you can view right inside the tickets dashboard. The setup process is pretty simple depending on your email provider.
One of the best features however is Fluent Supports multiple business and email inboxes. While you can create unlimited web-based inboxes for support tickets you can also create a number of email inboxes as well. So your customers can reach you however they like.
The coolest feature we found was collision detection for agents. This prevents multiple agents from checking the same tickets, reducing overlap and confusion. Paired with real-time activity logs, it's super easy for support managers to evaluate the whole team's performance in one dashboard.
To make things even easier, Fluent Support now offers free migration from a number of other WordPress customer support plugins including Support Candy and even SaaS support desks.
Considering all these features Fluent Support is a perfect help desk for small businesses.
Support Candy – 2/5
When considering support features, Support Candy drops the ball right at the start. For instance, they do not provide activity history or collision detection. This means you'll face some serious confusion when support tickets come in by the dozens.
Speaking of things they don't offer, unlike Fluent Support, they don't allow multiple inboxes to be managed on the same dashboard. The best you can do is, use the same portal for upto 5 sites but you won't get individual inboxes for them. Talk about being hard to manage!
As for the features Support Candy does offer, one is email piping. It's hardly anything unexpected. But it's only offered in the high-tier plan. So no email piping if you're a basic or mid-level user.
One feature that we absolutely loved is the Ticket exporter. It lets you export ticket conversations so you can import them into your CRM or other software for database upkeep. It comes in handy especially when your switching hosting or something is wrong on the server end. Exporting lets you store ticket history offline which makes it easier to backup.
Note: While writing this article we were unable to access their Documentation and Resources that is created on their site. Based on this we are assuming their service is not up to the mark.
Integrations
Integrations expand the features of your support desk and make it easy to collaborate among multiple tools and platforms. To be a good plugin, a solution needs to have a good number of useful integrations to relevant products.
Fluent Support – 4/5
Fluent Support boasts 21 integration as of 2022. These integrations include CRM plugins, Form builders, multiple LMS and Ecommerce sites, including WooCommerce, LifterLMS and Easy Digital Downloads.
The integrations bring customer information from all these platforms inside your tickets dashboard. So agents can view customer information right inside their ticket.
Support Candy – 2.5/5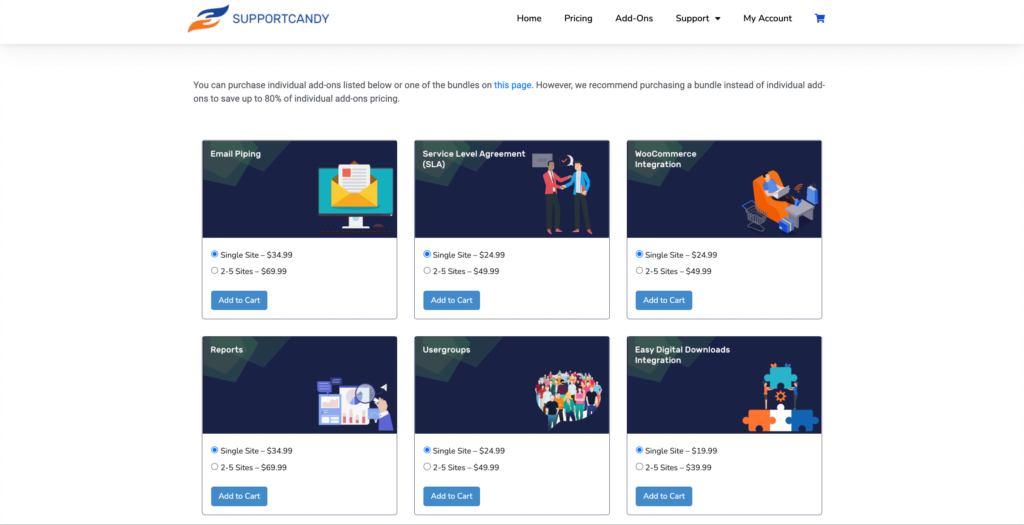 Like many things unlike Fluent Support, Support Candy offers very little when it comes to integrations. First of all, their basic plan doesn't include any integrations. In the mid tier plan you only get integrations to FAQ and Knowledge Base plugins.
Only in the high-tier plan do you get essential plugins like WooCommerce, EDD and Form builders. Without the LMS and CRM integrations, Support Candy seems like a lackluster attempt at customer support desks for a specific type of business, and that's about it.
Pricing
Lastly we'll take a look at how much these solutions will cost you and which one's got the bang for the buck.
Fluent Support – 4/5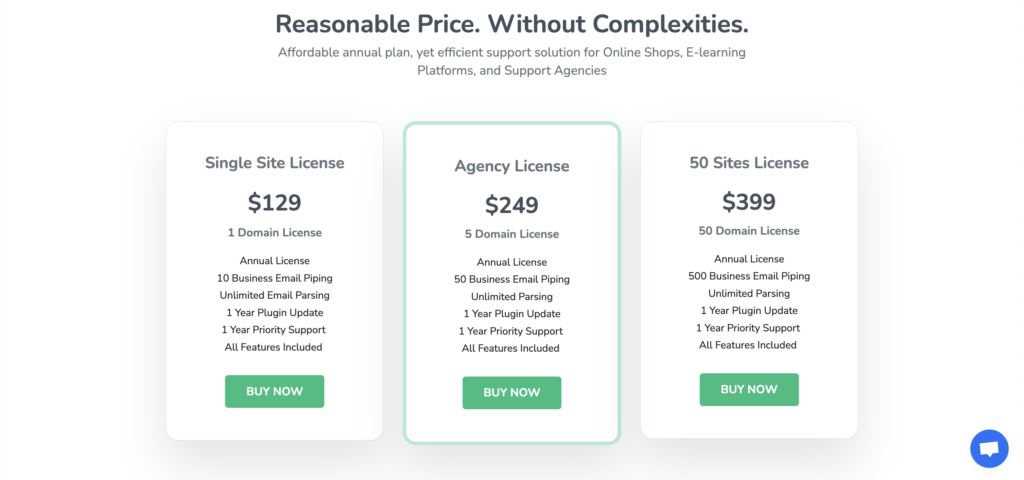 Fluent Support offers a simple pricing model to customers. The best part about their plans is they charge by the number of sites you use the plugin, instead of how many customers or agents you have. Totally avoiding the growth tax model we spoke about earlier.
Instead, they increase the number of email inboxes you can add and sites you can use the plugin on, which is honestly a great deal for fast growing businesses that are expanding but growing.
Support Candy – 3.5/5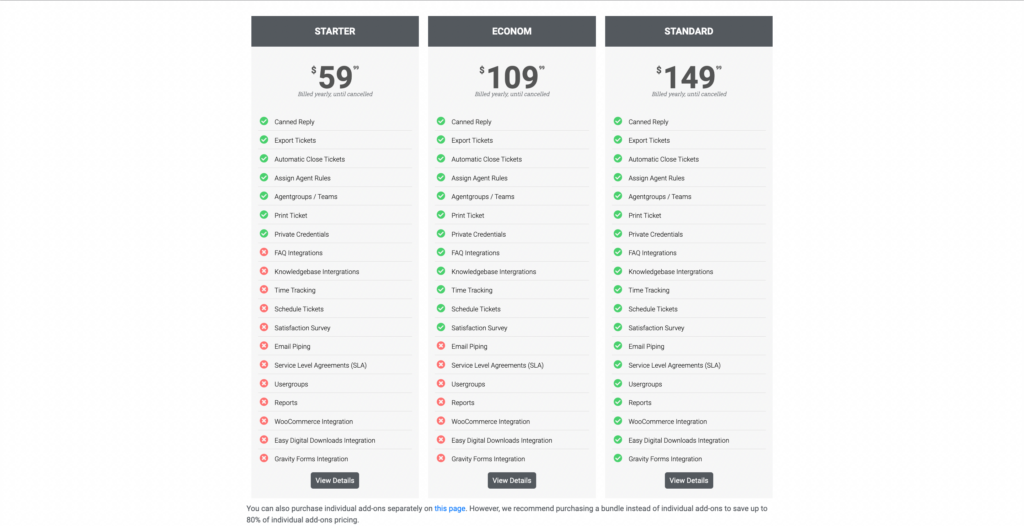 While Support Candy doesn't follow the growth tax model, their pricing plan is its own kind of problematic. It's true the basic plan comes in at half the price of Fluent Support, but it includes absolutely no features whatsovers. At that range all you get is a rag doll version of a support desk at best.
To get access to all the features you have to purchase the Standard plan which is actually more expensive than Fluent Support's basic plan, and still offers less features.
The worst part, however, is their premium-addons. You literally have to purchase each feature after purchasing the basic plugin! WooCommerce, FAQ and Knowledge Base integrations and even email piping is an additional feature that you have to purchase separately. Meaning you can end up with upto 2x more costs than you would with Fluent Support.
Verdict: Fluent Support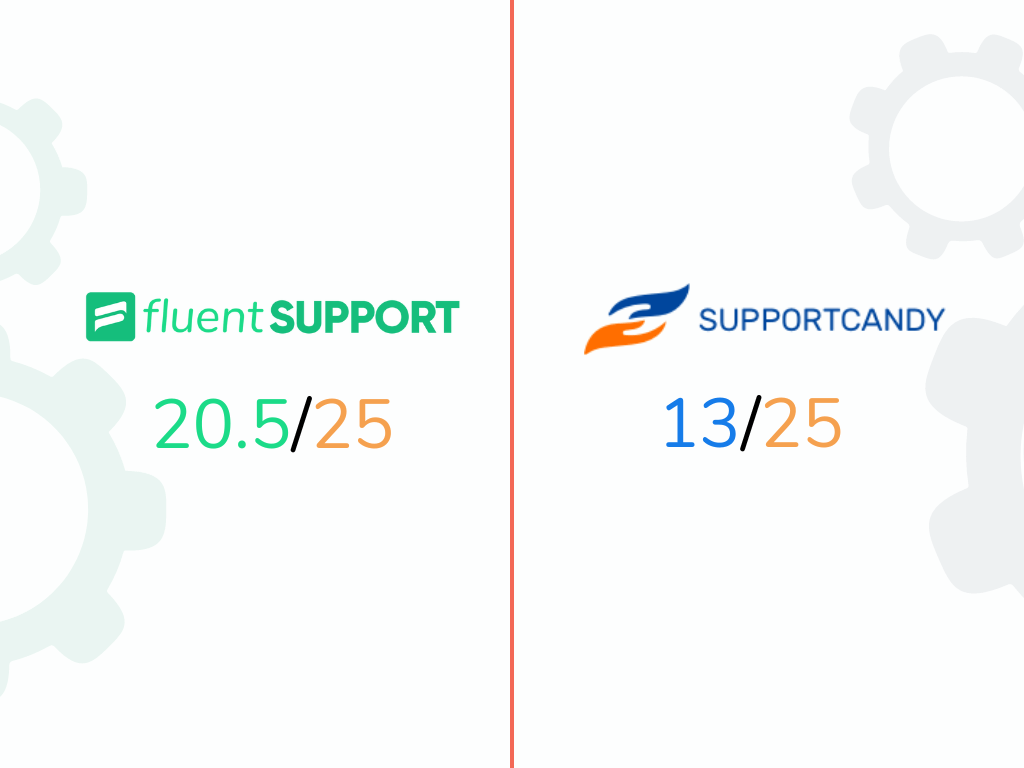 As from the scores you can see Fluent Support is the better option by a huge margin. The only case where we'd recommend Support Candy is if you are a small business that desperately needs to get a support portal but doesn't have the budget to do so. Support Candy will let you have a customizable support portal and a skeleton of a ticketing system.
On the other hand any SMB that's on a growth spurt can minimize a lot of their costs by choosing Fluent Support. With such a feature-rich plugin at budget friendly pricing you simply can't go wrong with it.
Your own Support Portal in 5 minutes!
Start off with a powerful ticketing system that delivers smooth collaboration with unlimited room for your customers.