Customer support is a must-have no matter the industry or type of business. If you are a business, you need to answer customers' questions, it's as simple as that. So investing in a system that makes this process smooth is pretty much in every brand's plans. If they take things seriously that is.
There's only so much you can do with a simple email inbox for customer queries. At some point, your business will outgrow this bootlegged solution. Eventually, you'll search for a customer support desk or a ticketing system for your business.
This article is for people who are in search of a customer support desk. We're going to check out Help Scout and Fluent Support, two of the most promising help desk + ticketing systems available for WordPress.
Why Help Scout vs. Fluent Support?
For one, these two help desks are leading providers in the WordPress realm. However, there's an even bigger reason to pick these two platforms for this comparison. The reason is that Help Scout is a SaaS (software as a service) product whereas Fluent Support is completely self-hosted.
What's the difference between SaaS and Self-hosted?
Help Scout and any SaaS product work on their own cloud storage. This means client tickets and information is stored on their servers. This means Help Scout has access to all your tickets and information. 
On the other hand Fluent Support, being self-hosted, stores data on your own server instead of a third-party cloud server.
Using self-hosted products means you are in charge of your customer data. This is a big deal if you prioritize the privacy of your business and your customers.
Help Scout vs. Fluent Support: In-depth Comparison
So we're going to look at 5 aspects of each product and see how they fair head-on. We checked out both free and paid versions of both products to get these reviews. We're not doing this review to say which is better. We want to find out which product is suited for who. With that in mind, we've picked 5 categories to evaluate these plugins and we'll score them on each category. A higher total score will get our recommendation. So let's get started.
Ease of use
In this section, we'll evaluate how easy (or difficult) it is to start using these tools from scratch with no prior experience. Along with that, we'll consider the cost of onboarding new agents to the system.
Fluent Support: 4.5/5
When it comes to ease of use Fluent Support is simpler than most support desks. You can literally set up and start serving customers in 5 minutes or less. This is due to the fact that Fluent Support is completely self-hosted.
All you need to do is download the installer from the WordPress repository and install it on your website. It's that simple. Setting up your inbox and business information takes up 2-3 minutes. That's all you need to start your own support desk.
Adding support agents is also very simple because you can just add WordPress users and assign them roles inside Fluent Support.
Help Scout: 2.5/5
Help Scout scores less simply because it's nowhere near as simple to set up. After purchasing or getting the free trial (which is also for a limited period) you get an email inbox for your business hosted on the Help Scout application domain.
To customize you need to go and set up a new inbox with your custom email id. This process alone can take up to 5 minutes. Adding new agents to Help Scout is fairly simple if you compare it to how hard it is to create business inboxes. Overall it may be simpler to use being an integrated SaaS software, but the same can't be said about user onboarding.
Reports
Reports are a crucial part of any support desk. Support managers and agents both need to monitor specific customer support metrics to evaluate the team and personal performance. We'll evaluate the quality of the reports from each tool and judge how effective they are.
Fluent Support: 3/5
The reports in Fluent Support although detailed lack some categories. However, their current reports are more than enough to make accurate assumptions about performance. Fluent Support divides reports into two categories, Team Performance, and Individual performance.
These categories are exactly what they suggest. Team performance tells the manager the overall efficiency of the support team. This includes number of responses, Interactions, Open Tickets, and Closed tickets.
On top of that, the current overall column shows the no. of Waiting Tickets, Average Waiting & Max Waiting time of tickets.
These metrics are also reported for individual reports so you can track the performance of every team member. However, these reports could and honestly should include more metrics that I'm guessing the developers will add in the future.
Help Scout: 4/5
The reports in Help Scout are much more organized, to be honest. They offer reports based on support channels. They include Emails, Chat, Phone, Business, etc. Under these categories, you can view average waiting time, response rates, and more. Aside from that, you get 2 unique reports called Happiness and Docs. These categories tell you the satisfaction level of customers from your support activities and documentation.
The reports aside from showing data also act as an activity log too. All emails, calls, and chat messages can be viewed from the Reports section. Which makes Help Scout reports one the most comprehensive you can get.
Note: The Docs report only works when you install Docs from Help Scout. It's a knowledge base extension developed in-house.
Support features
Now it's time to put the actual support-related features to the test. For this purpose, we'll compare 5 key features that absolutely every support team needs. They're going to be, Internal Notes, Inboxes, Email support, Automation WorkFlows, and saved replies (aka Canned responses).
Fluent Support: 4/5
Considering support features Fluent Support is a remarkable complete plugin, considering it's only been a year. It includes all of the features we've picked to discuss here. Let's start with the Inboxes.
Fluent Support allows unlimited business inboxes no matter the pricing plan. So you can support as many businesses as you like and have separate inboxes for each. You can sort tickets based on the inboxes they come in and assign agents according to that. It reduces agent conflicts as well as reduces response times as well. The inboxes are refreshed automatically so there is virtually zero loading delay.
Email-based inbox on the other hand is limited to 10-50-500 inboxes based on the pricing plan you use. Setting up an email-based inbox is very simple. You can also set up custom templates for your customer emails. Overall the email piping feature really sets Fluent Support apart from the rest. Emails are converted to tickets in real-time reducing any delay caused by switching from helpdesk to email inbox manually.
Fluent Support has some of the most effective automation workflows you'll find on any helpdesk. Besides automating support processes like, automatic agent assigning and product-based sorting, you can even trigger automation in other integrated software too. Very few helpdesks can offer automation beyond their own platform, which makes Fluent Support a strong contender.
Internal Notes in Fluent Supports is another obvious (and must-have) feature. It's pretty straightforward to use and the notes are stored right inside the ticket so you can view them seamlessly.
The Saved replies are also a must-have feature, and Fluent Support lets you save an unlimited number of them. Saved replies aka canned responses are a great way to reduce redundant messages and help agents wrap up conversations without typing out "thank you!".
The only reason it didn't get the perfect score is that there are some features that are in the works and it's not perfect just yet.
Help Scout: 3.9/5
The features we talked about are present in Help Scout too. So let's start with the inboxes.
The first clear drawback to Help Scout's inboxes is that they are limited. You can only set up 2 inboxes in the basic pricing plan. Other than that the inboxes function very well. Another way the inboxes are limited is that Help Scout sets up the first inbox to their provided email id on the Help Scout domain. This means your client support conversations are stored on a server you do not own.
Email inbox is a bit complicated to set up as well. The process can take up to 10 minutes and depend on your email provider it can be vastly complex or simple. However, they've got detailed documentation for every popular email provider so you can follow them and set up email piping with some ease.
Workflows are the place where Help Scout outshines the competition. They offer 19 different conditions to customize your automation. You can also use up to 7 unique logical operators to filter information. Our favorite among the conditions is definitely waiting since and Cc. These are definitely two conditions we used, specifically to sort out the neglected tickets in our system. Because it's automated we could follow up on tickets in long waiting queues automatically after a designated period. Workflows are undoubtedly one of the strongest suites for Help Scout.
Internal Notes are basically the same as Fluent Support. You can add notes to specific tickets and they are added below the conversation. Anyone with access to the tickets can view the notes very conveniently. It's one of the simplest productivity hacks on any support desk.
Similarly, Help Scout offers saved replies to be used in conversations. However, in the basic plan, the number of saved replies is limited. This is actually one of the reasons for its lower score than Fluent Support, at least in this segment.
Integrations
A support desk alone is never enough. Most businesses need an integrated help desk that can connect with other applications like CRM, project management, and communications apps. So we'll look at integrations for both Fluent Support and Help Scout.
Fluent Support: 4/5
Fluent Support is fairly new so it's got some limitations in the integrations department. While writing this, they had ~20 integrations including connectivity apps like Slack, WhatsApp, Discord, and Telegram. This is very low compared to other help desk and ticketing systems. However, most integrations are automatic, so no need to set them up yourself. Another cool part is all integrations are included with every pricing plan. So you won't have to pay more to enable integrations.
The only shortcoming is that Fluent Support only integrates with their in-house CRM called FluentCRM. This limits the effectiveness of the apps in some aspects, but when connected it really gives the bang for the buck.
Help Scout: 4.5/5
Help Scout really performs in this category with its 50+ integrations. However, these integrations are not automatic. You have to enable them both on Help Scout and the tool you want to integrate. This makes the process a bit more complex than Fluent Support.
The best part of Help Scout is it connects to every popular customer relation management software there is, including Hubspot, Salesforce, and Jira.
One of the surprising finds was that Help Scouts Slack integration only supports Notifications and Alerts and doesn't allow replies and ticket actions. Fluent Support outperforms them simply because they allow multiple ticket actions and replies on Slack, Telegram, and WhatsApp as well.
Take it for a spin!
Offer the best support with ZERO costs. Installation is easy and setup is a breeze. Try it NOW!
Pricing
Lastly, we'll look at pricing to see who's giving the most value for the cost.
Fluent Support: 5/5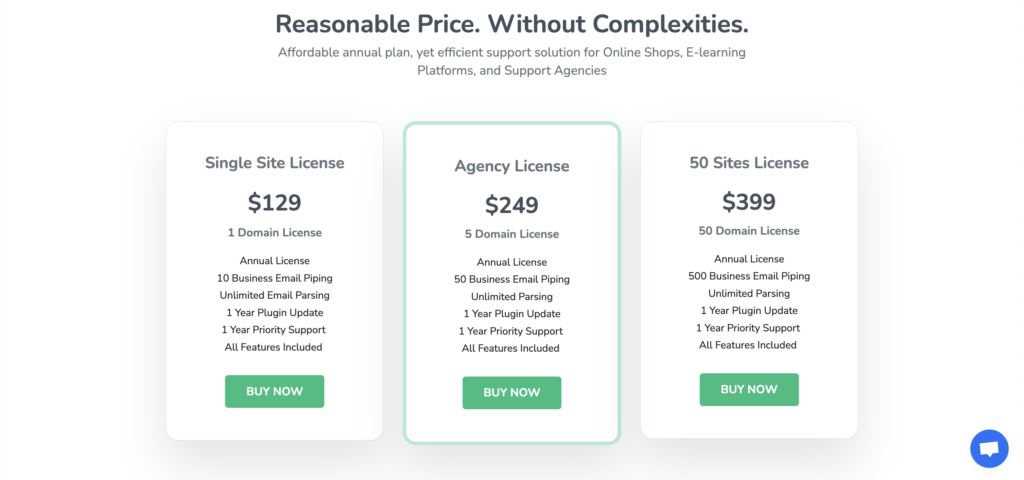 Fluent Support on its own is definitely cheaper than Help Scout. But that's not the reason for the perfect score. The main reason for that is, that Fluent Support doesn't limit features in the pricing plans. All pricing plans include fundamental features as well as all integrations.
Most importantly the pricing doesn't limit agents or customers you can add to your system. On top of that, the pricing is a fixed amount so you can grow your team without necessarily increasing your spending on the help desk
Help Scout: 2.5/5
Help Scout employ the growth tax model for its pricing plan. They charge you by the number of agents you have. So hiring new agents becomes really expensive, especially for fast-growing businesses. On top of that, they limit the number of customers to 25 for the basic plan which seems unfair to say the least.
Lastly, they have tiered features for each plan that aren't available for cheaper plans. Meaning you are essentially not getting the full experience without paying the absolute ludicrous enterprise fees. Overall it seems like the worst pricing model to work with as a customer. Compared to Fluent Support, this is as high as we can score them.
Wrapping Up: Verdict
Considering the factors and scores it's clear that the two tools are suited for very different users to broadly explain that we can say,
Fluent Support is best for SMEs or small and medium enterprises that are on a growth spurt but have fewer dependencies on other apps and tools.
Help Scout on the other hand is suited for large well established firms that are not growing but rather have stabilized. Having reliable integrations with more apps also means they are better suited for companies that already use high-end applications for sales and customer management.
So if you have a rapidly growing business that has minimum dependencies, Fluent Support is the help desk of choice for you.
Until next time, happy serving!
Your own Support Portal in 5 minutes!
Start off with a powerful ticketing system that delivers smooth collaboration with unlimited room for your customers.