Customer onboarding is the first baby step to a customer's journey with your brand. Customer onboarding is the most important customer acquiring process and every business should take a hard look into their client onboarding strategy.
Acquiring more customers does not often translate to more profits. If your customers are not sticking after signing up, then there are problems in your customer onboarding system. Right customer strategy ensures your customers understand your products, get the value they seek, and keep using them.
In this blog, you'll learn about customer onboarding, the benefits of seamless customer onboarding, top onboarding examples, how to develop a customer onboarding strategy and create the onboarding process.
What is customer onboarding?
Customer onboarding is the process that helps your new users to get familiar with your product features and start using them regularly.
Customer onboarding plays a significant role in customer retention. It ensures your customers are acquainted with your products and will not churn after a few weeks.
The main focus of customer onboarding is to deliver value to your customers on their first use. Your customers already know you and are aware of your value, which is why they bought your products. Now it's your turn to help them derive the value when they start using the product daily. Customer onboarding helps you do this without annoying new customers.
Why is customer onboarding important for business?
Customers who come through a good onboarding recognize the value of your product. They stay with you longer. Customer retention goes high when customers keep using the products frequently.
Customer onboarding is important for your business because it builds the foundation of long-term customer relations. Onboarding is a critical step for new customers trusting you as a brand. If you do it right, that satisfied customer will be a consistent client of your business.
Here are the main benefits of a good customer onboarding:
High customer retention– When customers get the most value from their first use of your product, they will stick with it. They will keep using the product for their necessity. And the more customers stay with you for a long time; you will have more options to sell features or more related products to them. More sales mean more profits!
High customer engagement rate– Good customer onboarding process keeps your customers engaged with your products. Step by step process will make them interested in product features and instant knowledgebase will keep them informed on how they can use the features for their benefit. Customers will sign in again and again to keep using the product.
High conversation rate – Great onboarding will boost your conversation rate exceptionally. If you offer a trial, customer onboarding is the only way to give customers a great experience. When your trial customers see the real value of your products during the onboarding process, they are more likely to convert into paid customers.
Reduce churn rate– Churn rate is a headache for businesses. Your new customer acquisition cost will increase if your churn rate is high. Customers often churn after initial purchase, in a trial phase, or during a bad onboarding process. If you can streamline your customer onboarding and provide a significant customer experience, your customer churn rate will reduce outstandingly.
Higher brand recognition– your happy customers are your brand promoter. When a customer experiences great product results, they will refer your brand to their networks without your push. Word-of-mouth plays a huge role in organic marketing. You can create a loyal, satisfied customer base by delivering an amazing customer experience from a smooth onboarding process.
Take it for a spin!
Offer the best support with ZERO costs. Installation is easy and setup is a breeze. Try it NOW!
How to develop a customer onboarding strategy?
The first step toward delivering an excellent onboarding experience is crafting a perfect customer onboarding strategy. But how can you develop a perfect onboarding strategy for your business?
You can't achieve perfection the first time; you'll need to refine it over time. First, you need to know your customers and their demographics for a strategy. Data from marketing & sales will help you here. Define what you want from your customers and learn what they will want after their initial purchase.
Start with an objective in mind, map customer touchpoints in the onboarding process and write down the details. Remember, every customer touchpoint is crucial because every interaction will influence new customers to use your products regularly.
Here are some simple tips to kickstart your strategy:
1. Set your goals
Without a specific and realistic goal, you'll not accomplish anything. Plan your steps before implementing, work on your weakness and then provide a better solution.
Goals will help you increase your effort on the right point and maximize the output. Make sure your goals are measurable and you can achieve these within a time limit. Keep your goal relevant to your onboarding process. It will help you create many delightful moments for your customers.
2. Create a separate onboarding team
You have marketing team, sales team & other teams in place to do the specific work. Why not create a separate onboarding team to create an onboarding strategy and process?
A separate team will get done more than anyone. Assign the right person if you are a small business. If your business needs more attention on the onboarding process, assemble a team with suitable persons with analytical minds and good customer psychology.
Ensure you train them well, knows your goals & objective and are equipped to do what is necessary to achieve them. Make sure your team has these skills:
Great product knowledge
Training in customer support
Efficient on helpdesk & other communication tools
Deep understanding of customer communications
Has basic understanding of customer onboarding process
3. Plan your onboarding process
Customer onboarding can happen in many ways. Most are signup processes, self-service, one-to-one agent communication, or emails. It depends on how you want your customers to onboard.
First, plan your onboarding process. Do you want it to be no-touch onboarding? Or low-touch? Or want to offer a dedicated success manager to onboard customers?
Most B2C companies use the signup process to onboard their customers. It combines signup forms, self-service, faq, documentation, guides and follow-up emails. Mostly it's a no-touch onboarding process. It's a perfect process for B2C companies with a large customer base.
On the other hand, B2B business sometimes requires one-to-one customer relations through a customer success manager due to high volume sales. People want to go face to face before & after finishing the purchase. Now choose your model wisely. Sometimes, a small business can onboard customers successfully with a series of follow-up emails offering self-service, videos and tutorials.
4. Measure onboarding metrics
Keep an eye on your metrics after a customer onboarding ends. Here are some metrics you should check:
How many customers finished the onboarding in a timeframe?
Which touchpoints were delightful for your customers & which ones frustrated them?
How many customers convert after a trial period? What difficulty did they face during their trial time?
What are features not user-friendly?
How high and low your customer engagement rate are?
Customer churn rate after a specific time.
Customer satisfaction survey results after the onboarding process.
These metrics vary depending on the business and different industries. Choose what metrics you want to measure depending on your needs and business. Collect these data, measure and analyze them to refine your onboarding process on the go.
5. Collect feedback
Customer onboarding requires time. Sometimes days, weeks, or months are required to onboard new customers. You have to provide full support to your customer during this time. Customer success team has to communicate with customers constantly during this period.
Collect feedback from your customers and learn about their pain points. Run surveys on different touch points, collect customer behaviors & refine your process based on the results.
Customer onboarding is all about listening to your customers & educating them on the product. Use feedback to make the process smooth, keep in touch with your customers and let them know how much they mean to you.
How to create a customer onboarding process?
Most customer onboarding process requires the customer to follow a system and finish a few steps to get used to product features. Sometimes these steps depend on the business or user's specific needs. But you can't force them on customers. Then it will backfire. Remember, our goal is to provide a great customer experience. Giving your users the freedom to choose each step whenever they want is another great way to achieve this.
Here are some common steps of the customer onboarding process you should consider:
1. Signup process
Customer onboarding journey starts when they signup. Successful customer conversations depend on how well you design and optimize your signup process.
Keep your signup simple. Do not ask for everything the first time. Asking too many questions can turn off customers. If your conversation rate dropping after signup, consider checking your signup process and immediately take action.
2. Welcome email
After the signup, the best way to onboard customers is by sending them a welcome email. Congratulate them for their successful purchase and direct them back to your product. Your welcome email should be exciting and show how grateful you are to have them as your customers. Thanks them, offer support and guide them to product to ensure their first use.
3. Product education
New customers know the value of your product. That's why they purchased it. Now what they need is education. Show them how your product's feature can solve their one problem. Start with one specific problem, share information, and educate your customers. Then move to the next.
It is important to teach your customers how they can get value from your products fast in their first use. Create well-crafted tasks to do small things around your products and encourage customers to finish the task with a progress bar. Share tips right within the task to teach customers how to finish it. You can use banners or pop-ups inside the process to grab customers' attention.
4. Product setup
When a customer signs in with your product or starts using it, they should be able to set it up without any frustration. Offer a setup wizard or a step-by-step guide that customers can follow and do it quickly. Remember, first impression always matters. If your setup is complex, it will annoy customers.
Make it short and optional. Help your customer to help themselves. Offer knowledge base with in-depth tutorials with photos and videos. A well-organized knowledge base will help customers find relevant answers of frequently asked questions without support help. Chatbots can be used in this kind of process to provide personalized communication.
5. Seamless support
Offer seamless support to customers at each touchpoint of customer onboarding process. Chatbots and automation are helpful but keep the direct option to reach a human support agent. Make sure customers can contact an agent anytime. Sometimes people want to talk to a human or require a human touch.
Your new customer should feel you care about them from the beginning. Reach out to them proactively and help them use your product. Proactive support is the best way to win a customer's loyalty.
6. Follow-up emails
Use follow-up emails to keep in touch with your customers. You don't want to end your onboarding process right after customers first sign-up or sign in. The main goal of customer onboarding process is to keep customers engage with the process and make them use your product regularly.
Send additional emails with actionable tips to solve their problems, so your customers feel the need to use the product again. Showing specific use cases can work wonder here.
Top customer onboarding examples
Here are some great customer onboarding examples from five well-known brands in their niche. Use these examples as your inspiration to develop your customer onboarding process.
1. Trello
Our first example is Trello. It is a project management tool that helps businesses to organize ideas, projects, and workflows.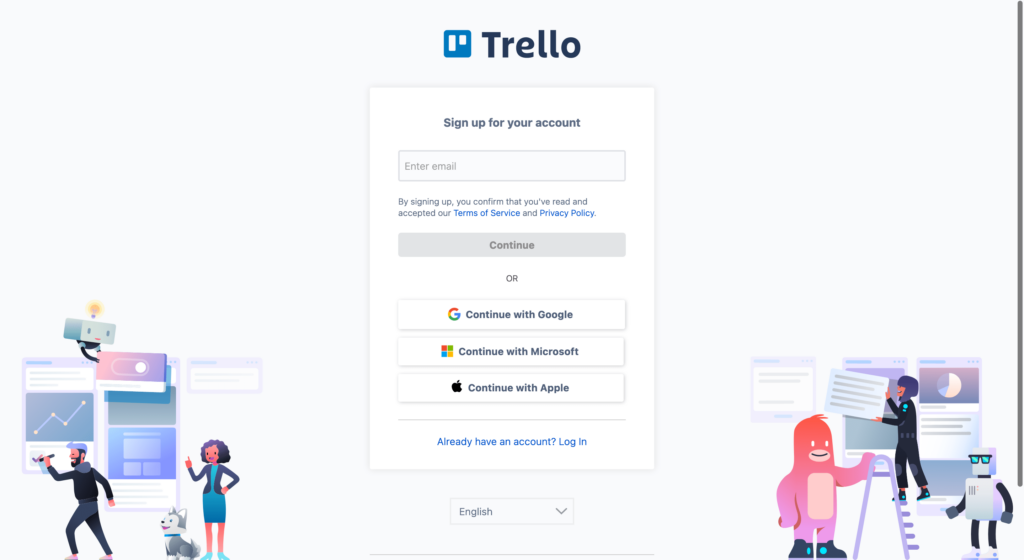 This is their sign-up form. It's straightforward, with a lot of options. And send you straight to open a workspace.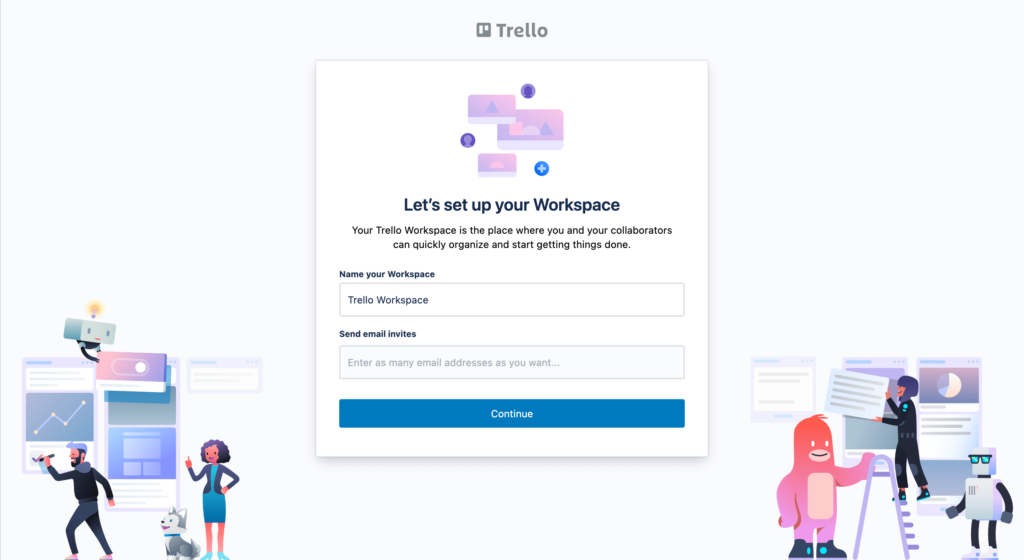 The third window shows a message to try the trial, but don't push it. You can always choose the free version with one click. You don't need to put your credit card information.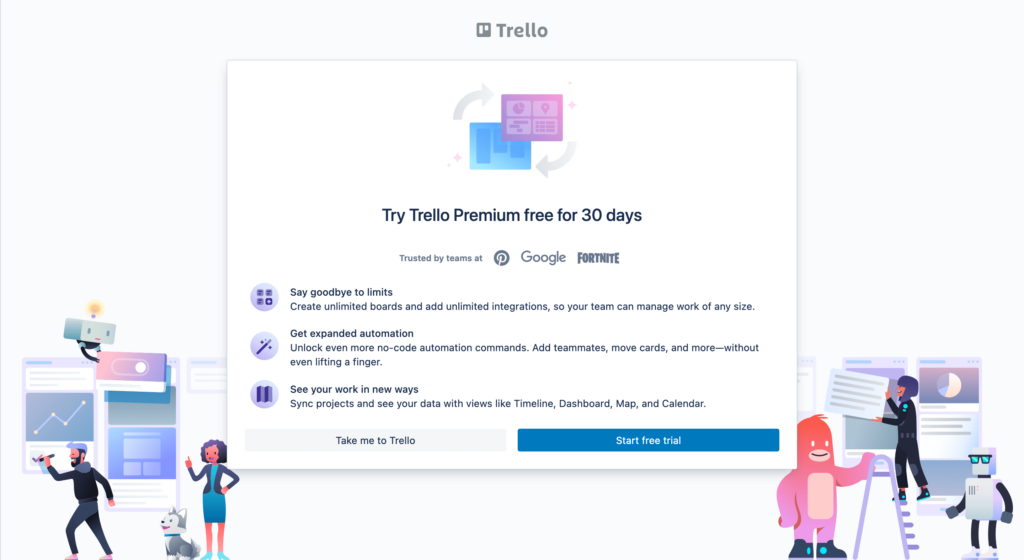 And their welcome email is clear and shows what you can do with Trello. New customers will get an idea of Trello and start working on their Trello board with one click.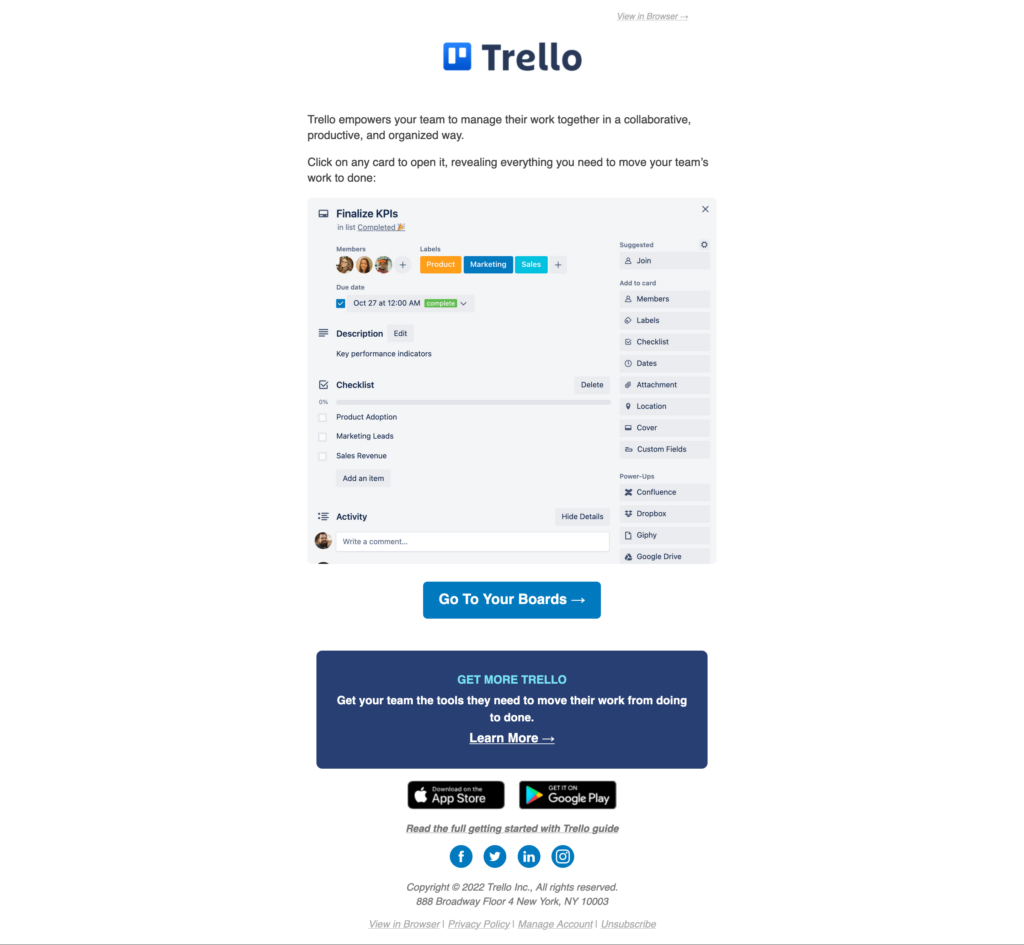 2. Loom
Loom makes it easy for everyone to screen record their screen. Their sign-up form is the same as Trello but comes with real user recommendations. This is very useful to entice first-time customers.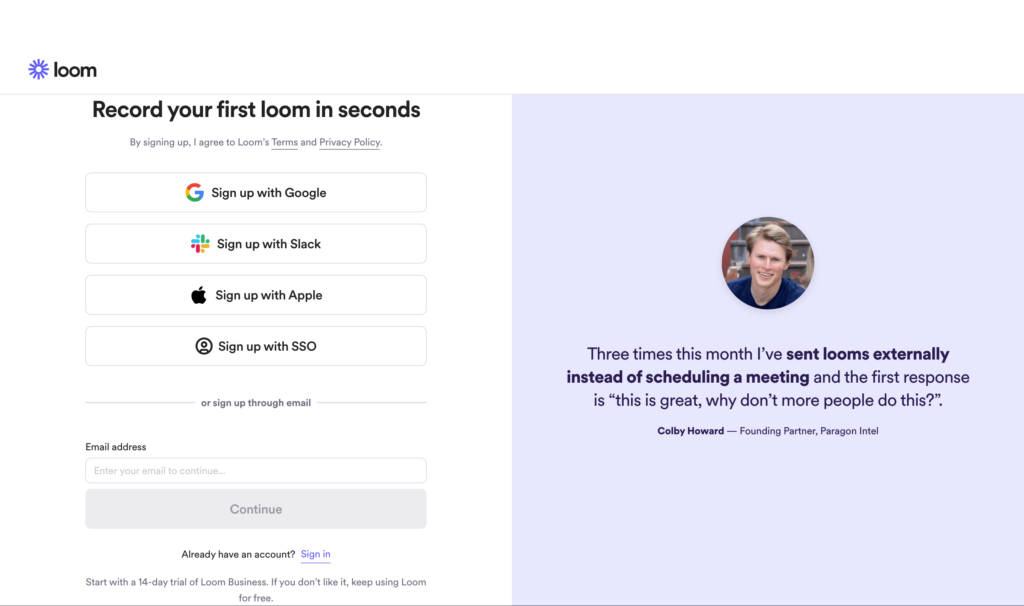 After you sign up, they ask relevant questions and customize your dashboard based on your preference.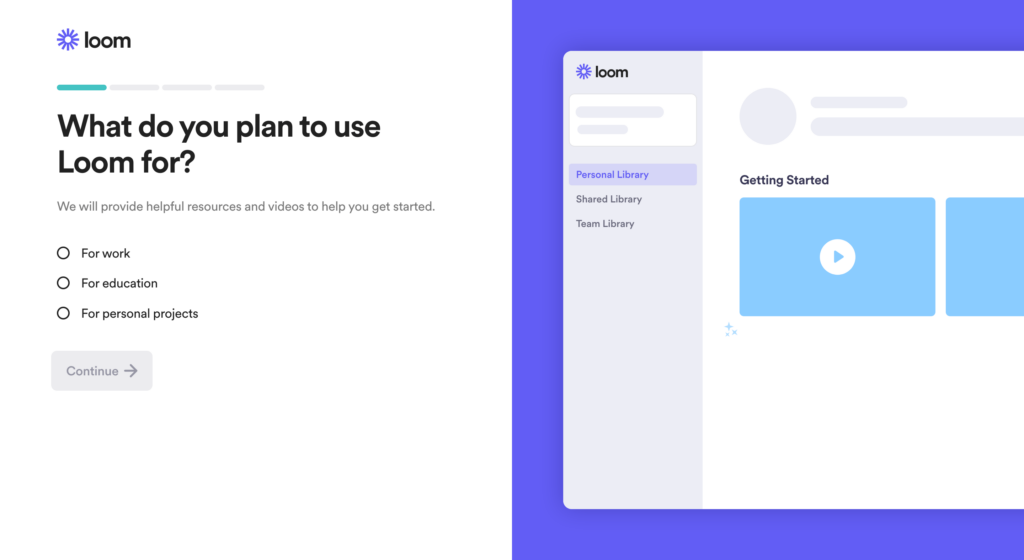 The loom dashboard after customer sign-up, where new customers can easily access tips and tricks.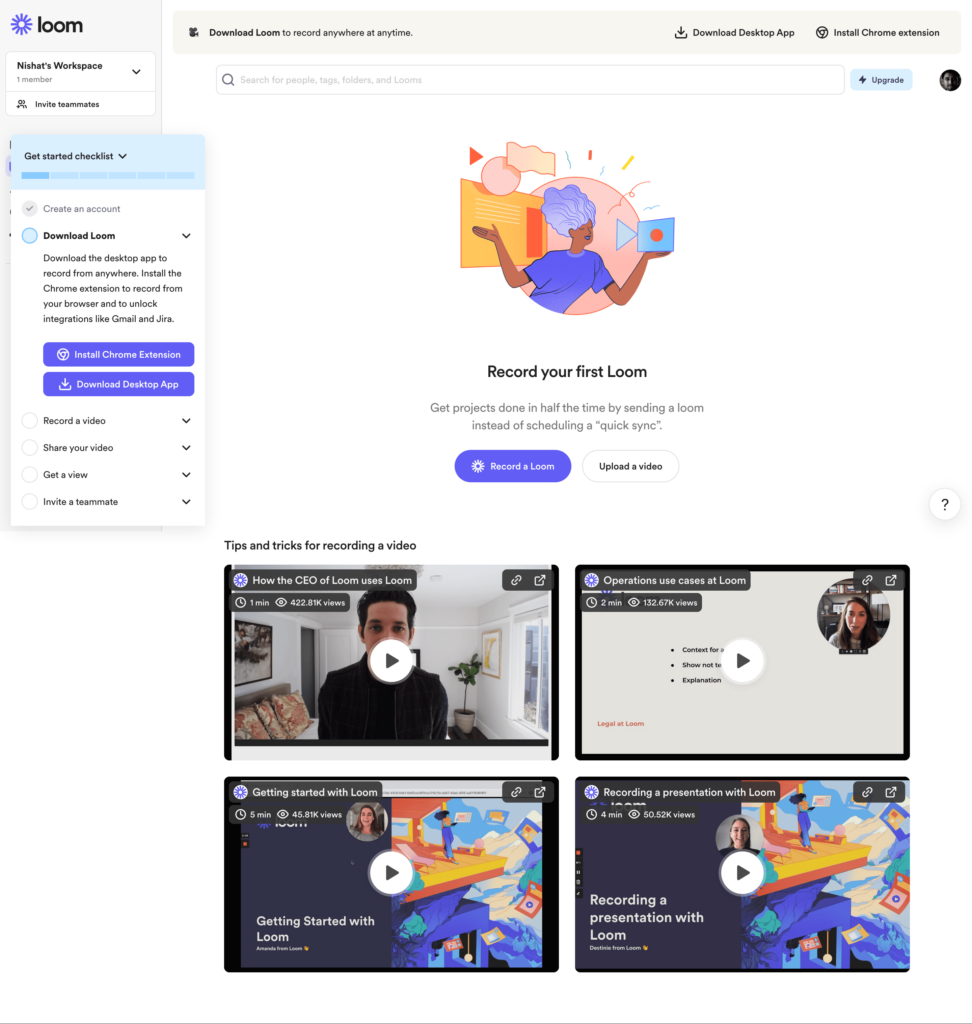 3. Zapier
Zapier makes workflow automation easy for everyone. Their sign-up process focuses on this. They clearly state these in 3 points with a simple sign-up form.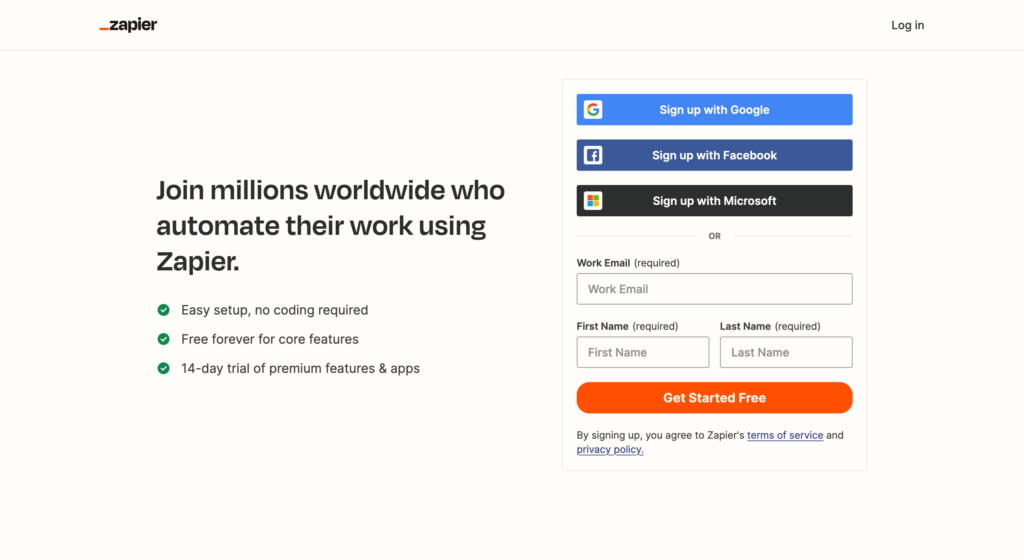 Their customer onboarding process involves customers selecting their information & interest.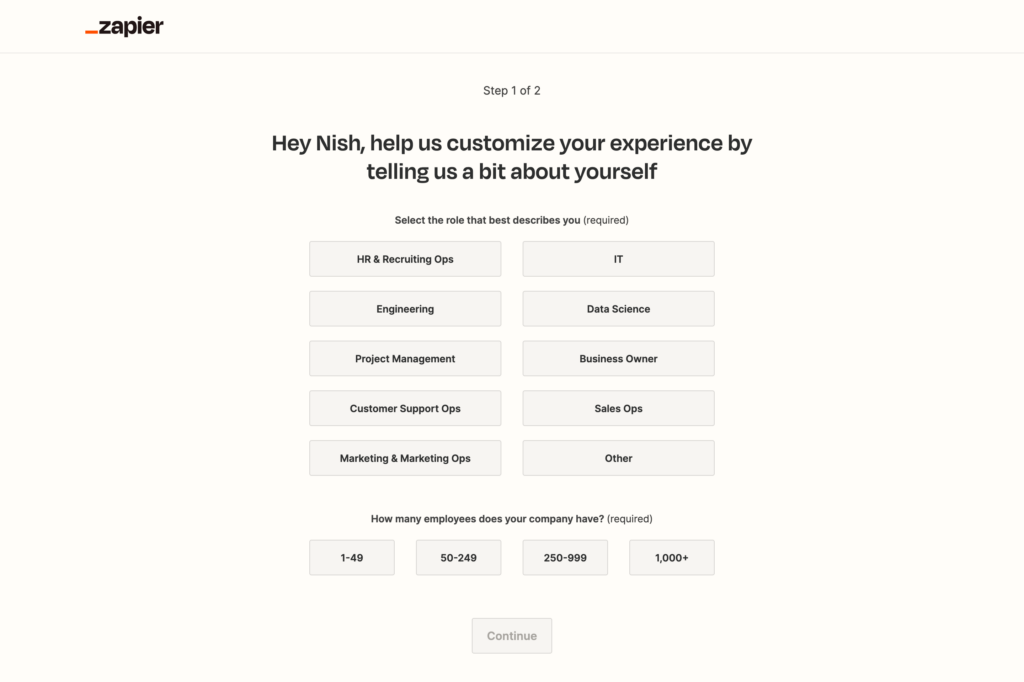 This helps zapier personalize the user dashboard.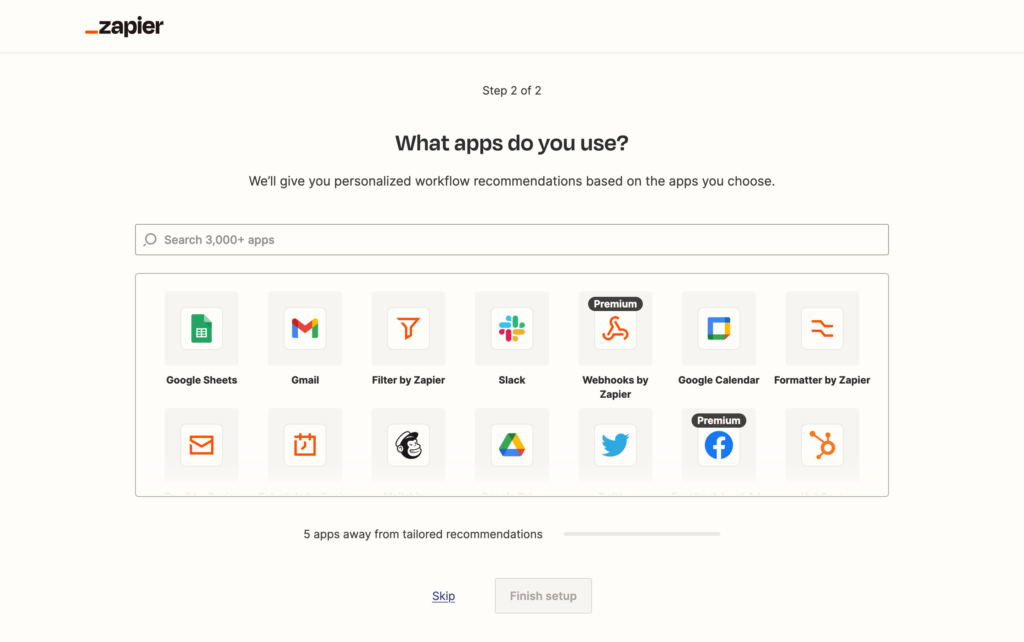 Their welcome email is focused on helping new users with a video & step-by-step guide with documentation links.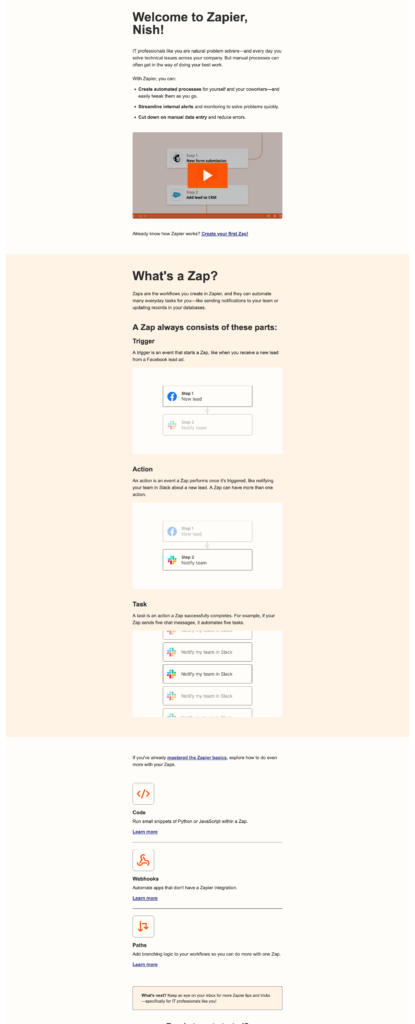 4. Pinterest
Pinterest is an image-sharing social media site. Their user onboarding process asks you to pick your 5 or more interests after signing up.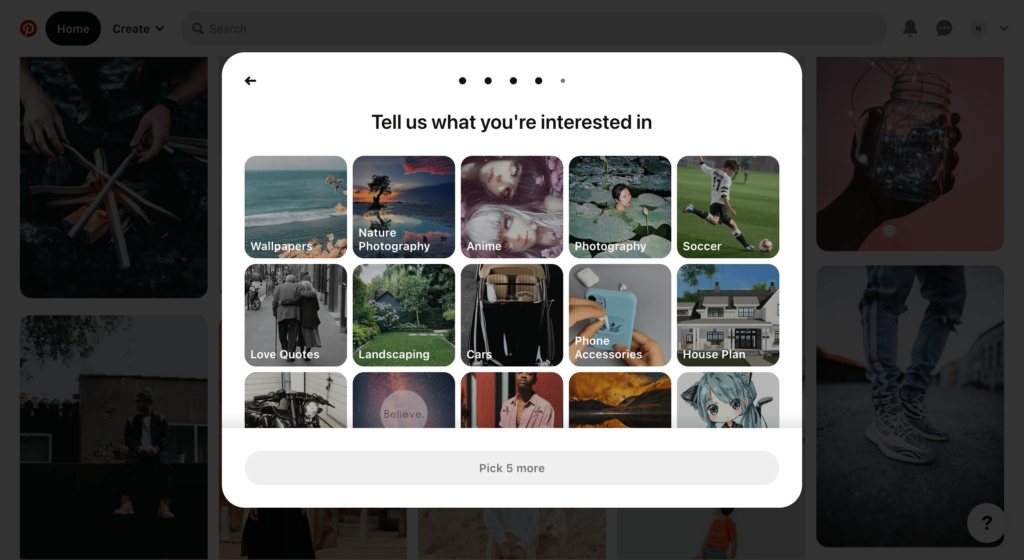 Pinterest then shows content based on your interest. They took personalization to the next level.
5. Dropbox
Dropbox offers more than traditional file sharing. Their onboarding process pushes premium plans but does not hide free options.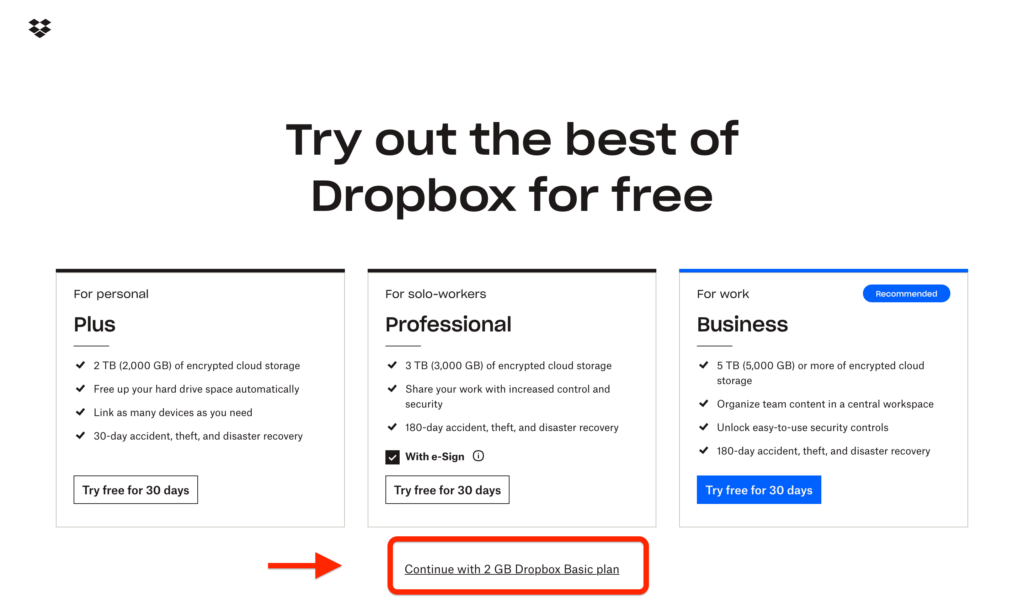 You can follow this process if you are fully focused on premium users.
Conclusion
A great customer onboarding process ensures a successful customer journey. It facilitates customers' first use of your products. Customer onboarding is the foundation of long-term customer relations between your brand and new customers.
Your onboarding process helps customers get the most value from the beginning and sets them up for long-term success. Make sure to set your goals, have a strategy in place, measure the results and provide your customer a great support experience.
A great customer onboarding makes your new customers into regular & loyal customers. It is an amazing opportunity to create a lifetime loyal customer base and achieve higher customer retention.
Your own Support Portal in 5 minutes!
Start off with a powerful ticketing system that delivers smooth collaboration with unlimited room for your customers.