Over 3 billion people are now using mobile messaging apps for daily communications. 90% of smartphone users use mobile communication apps for daily interaction with friends, family & co-workers! It will grow to 3.51 billion users in 2025.
Millions of users now use WhatsApp, Messenger, Telegram, Wechat, Slack & other niche messaging services like Discord. Their daily use of these apps changed customer behavior drastically. Texting and messaging are now for boomers, "DMing" is the new cool thing for the younger generation.
Companies now adopted this ever-changing landscape to pursue their customers where they are. Users now expect you to provide customer support via these communication apps. Digital generation lives and breathes in this app ecosystem; businesses have to change their operation according to customers behavior to survive this digital app era.
Most of these communication apps are compatible to integrate with your helpdesk systems. You can run your customer service operation from these messaging apps without problems. In this blog, we'll feature some popular communication apps, look into their advantages and learn how to use them for customer support operations.
14 Best messaging apps for customer support operations
Here are 14 communication apps businesses can use for their customer service. These messaging apps provide great support and features than general texting. You can use them as your customer support channels, integrate them with your helpdesk and attend customer support tickets through the app's chat functions.
Be where your customers are!
Hear your customers wherever they need you.
1. WhatsApp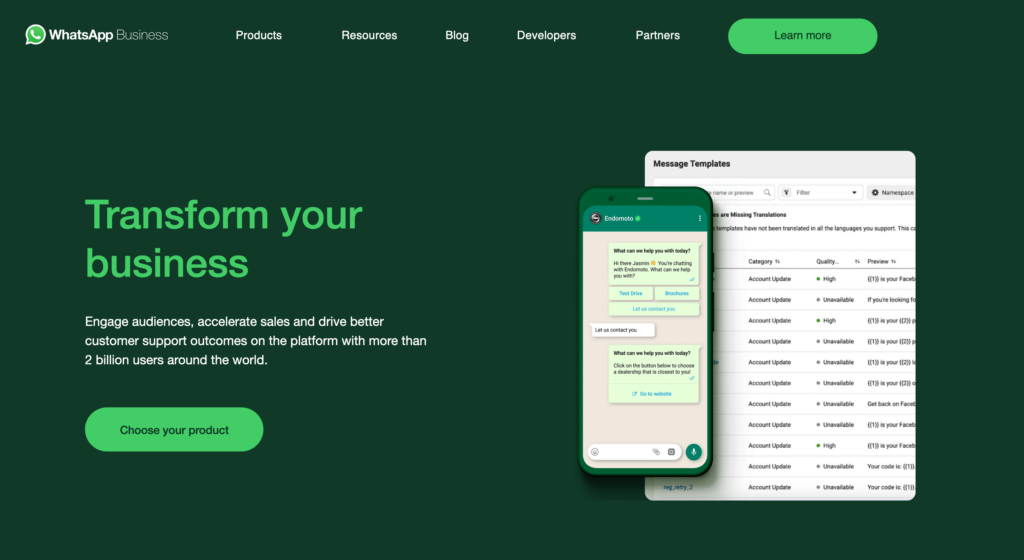 Over 2 billion people used WhatsApp in 2021, and it is the number one communication app that delivers 100 billion messages daily in 2022. WhatsApp is maintained by Meta, which also offers other apps like Facebook, Messenger & Instagram.
Whatsapp is already the most used app in most countries. Meta is also investing heavily in WhatsApp Business, targeting small businesses. It directly integrates with Facebook pages; users can directly send messages from Facebook pages and contact brands for customer support.
WhatsApp has 2 types of features you can use for your business:
WhatsApp Business: It's like a personal account but has more features to fulfill small business needs. Small business owners can set up a business profile & connect it with their Facebook page. You can also use response templates, set up customized auto-replies, create labels and away messages.
If you are a small business and want to create a deep relationship with your customers, WhatsApp business is highly recommended.
WhatsApp API: Like to integrate WhatsApp with your helpdesk, CRM, and other tools? WhatsApp offers a complete API for enterprises and businesses who likely have a big customer base or want to control customer support operations more closely.
You can send customized, personalized messages and updates like shipping info, new discounts, reminders, and automated responses as you need. You can integrate WhatsApp with your help desk and reply to customer queries using WhatsApp chat. WhatsApp API helps you provide your customers with seamless & secure customer service.
2. Telegram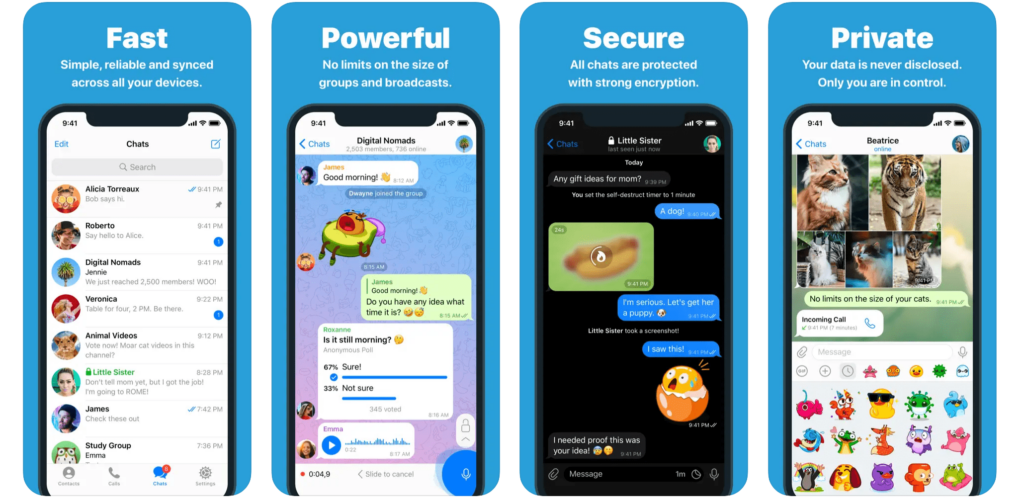 Telegram is well-known for its security features. It has 700 million users and aims to get 1 billion in 2023. Telegram provides cloud base communications, end-to-end encryptions for secret chats, self-destruct features, and open-source API.
Telegram offers unlimited participation in groups & channels; it has more flexibility than other communication apps. The best thing about Telegram is anyone can create chatbots for their ecosystems. Companies can run their whole customer care service using Telegram chatbots and API integration with their favorite helpdesk, CRM, and any other tools.
B2B businesses can use Telegram to share sensitive information with their partners, and B2C companies that respect customer privacy can offer more secure customer support for their privacy-conscious customers.
3. Slack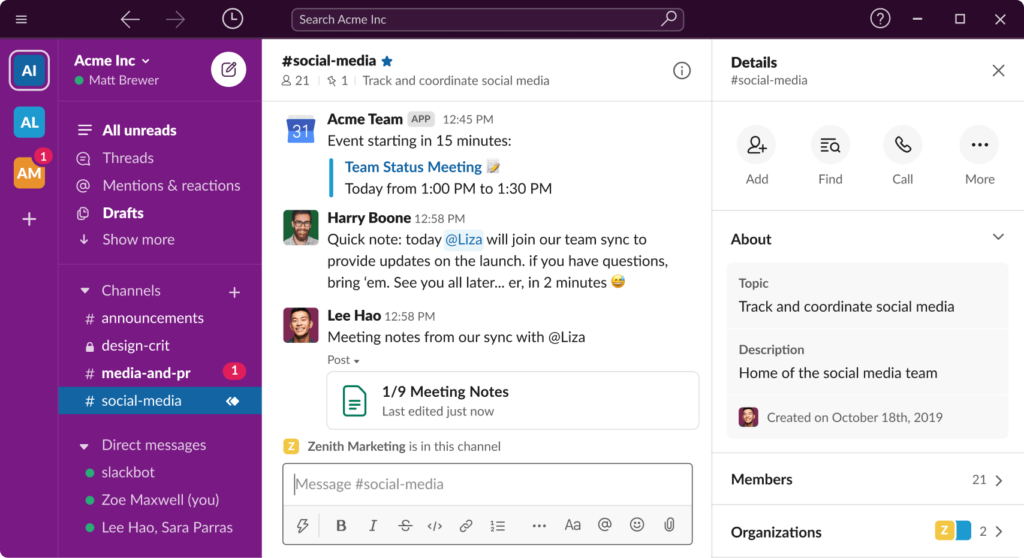 Do you know? 40% of Fortune 100 companies use Slack. Slack is a communication app specially designed for offices. You can connect with your teams, organize tasks and provide more security than email.
Slack is used by 10 million people every day! It is the most popular messaging app used by teams. You can use slack for your company's internal communication, provide customer service from Slack chats, create public channels to create community forums for users, or use public channels as a knowledge base.
Slack API offers tremendous flexibility. You can connect Slack with numerous popular apps. It has 2000+ apps in its app directory. You can use its API to create customized apps and build workflow automation to process your business's repeat works. Like Telegram, you can build bots in Slack or buy bots from the marketplace to automate specific tasks. Slack offers integration with all kinds of customer service helpdesks so that you can offer customer support from your Slack channels.
4. Discord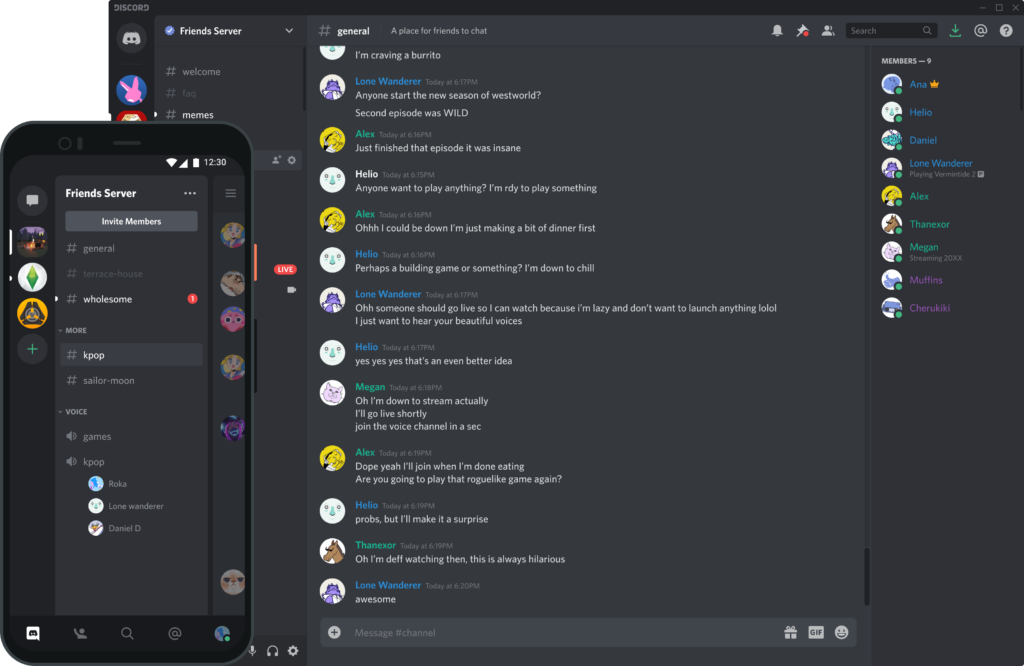 Discord was preliminarily founded for gamer use but now serves various niche communities worldwide. This niche communication app has 6.7 million active servers hosted and 140 million active monthly users.
Although Discord started as a gaming tool, now its motto is "chat for communities and friends." Businesses can create different servers (channels) for different purposes and share files, audio, video, or anything with a selected group.
Discord offers screen sharing ability, which is useful if your company offers video customer support. You can use Discord to share multiple screens with customers and provide complex support. Its audio quality is impressive and can be used for phone support.
You can build apps on top of Discord, create bots or integrate Discord with your favorite tools. You can easily connect your helpdesk with Discord through webhooks or integrations available.
5. Facebook Messenger
Messenger is another popular communication app from the Meta family. It has over 1 billion active users. Most Facebook users use Facebook messenger daily. It has a big influence over their customer behavior.
Facebook Messenger can send auto-replies, pre-written, instant replies, and personalized messages. You can automate these things using messenger integration and connect most tools or helpdesk.
You can generate leads & follow up on them with live chats or automated responses. Small businesses can use messenger to help customers with frictionless onboarding, provide seamless customer service through multiple agents, and proactively send customer notifications through the app for faster results.
6. Instagram Direct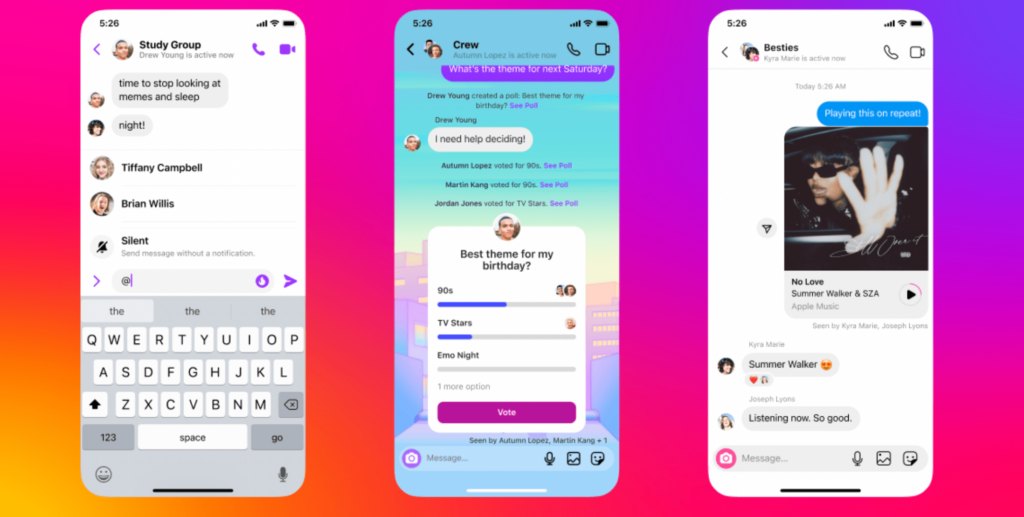 Instagram is another popular messaging app among the younger generation from the Meta family. It has over 500 million daily active users and 1 billion monthly users. Most instagram users follow public figures, brand accounts, and local small businesses.
Business uses instagram to share behind-the-scenes,e new product announcement, photos, and videos through instagram stories. Instagram direct is great for communicating with your fans, customers, and long-term well-wishers.
Instagram offers a great range of business tools, like professional accounts with analytics, shop features, and brand management tools. You can set up push notifications and quick reply templates to help your customer service operation.
7. Twitter Direct Message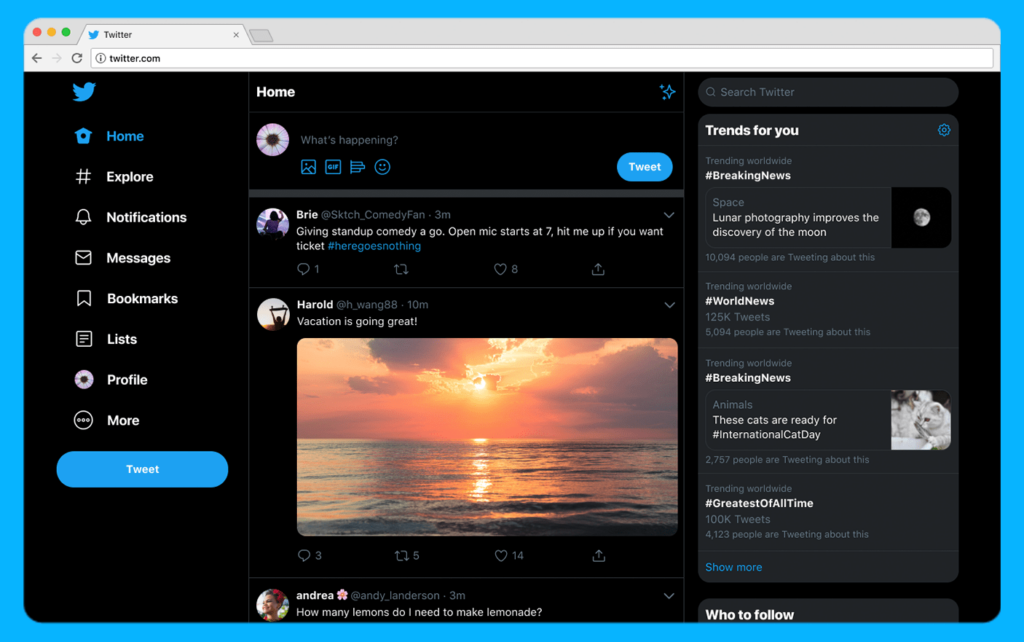 Twitter is one of the fastest social news networks. More than 229 million users use Twitter actively. Over 75% of B2B businesses use Twitter to market their products or services. Customers mostly use Twitter to share product reviews, recommendations, and conversations with others.
Businesses can share their new product news, start a conversation with customers or join customer discussions organically. Often customers use Twitter to share their frustration about customer service. Companies can jump in and provide instant solutions from there. Twitter direct messages can be 1:1 communication with customers to provide a fast response.
8. Apple Business Chat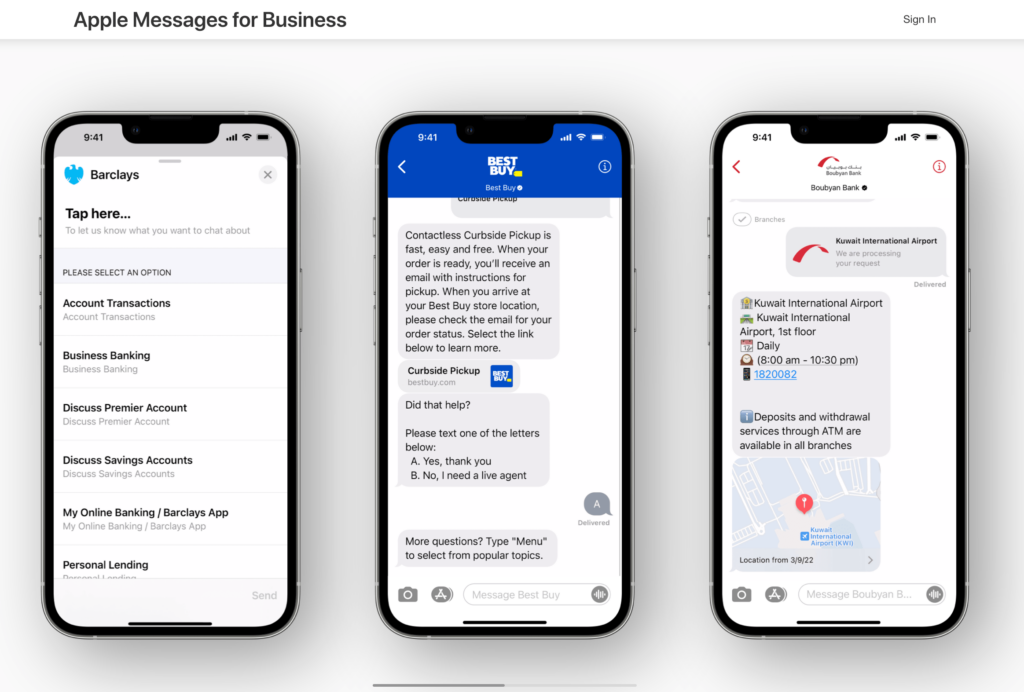 Surprised to see Apple on the list? Apple has a "Business chat" communication app, which can connect your business with over 1.65 billion Apple device users! Apple users can send messages from Apple maps, Siri, and Safari web browsers.
Businesses can use Apple business chat to receive buyer's payments via Apple payments. It also offers functionality to send updates, reminders, product photos, and automated responses. If you provide high-end service or premium products, then Apple business chat is the right tool to connect with your high-ticketing customers.
9. Google Business Messages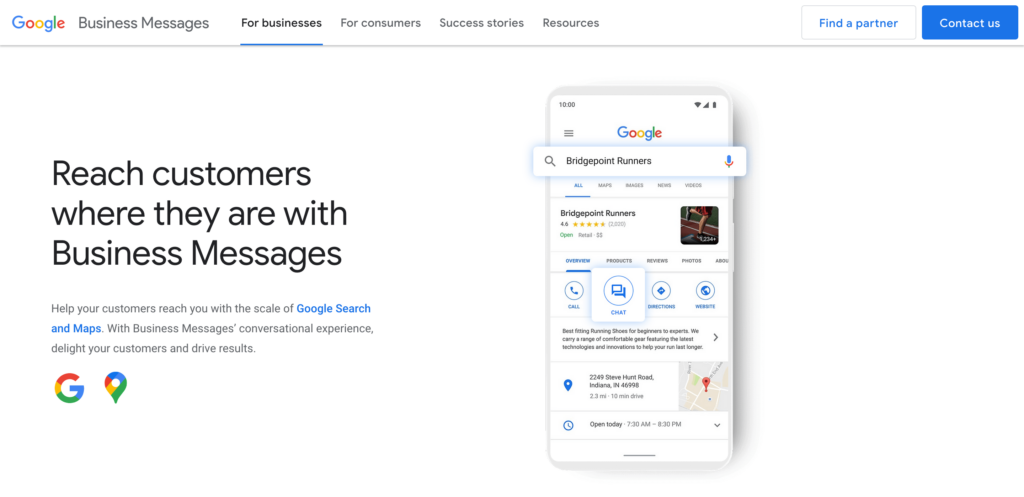 Google is one of the most used search engines. Over 4 billion users use Google search daily! Imagine how many of your customers are using google. Isn't it would be easy to connect with these customers when they search your brand name on Google search?
Google business messages help you connect your customers directly from google search. Customers can start a conversation from google search, google maps, and other google apps. It can provide fast customer service; customers can contact companies directly through 'Google Business Messages' without clicking on websites, your store, or any other 3rd party communication.
Like 'Apple Business Chat,' you can receive buyer's payments through 'Google Business Messages' using Google Payments. Customers can access personalized support via live chat with one click, get the latest updates, and get answers to frequent questions.
10. Viber

Viber is a Japanese chat app offering communications across 190 countries and has 1 billion registered users. It offers bots, rich messaging features, and secure chat functionality.
Businesses can use Viber chatbots to set up frequently asked questions for one-to-one communications and offer customized chat stickers for super customers and public groups for nurturing communities for long-term customers.
11. Wechat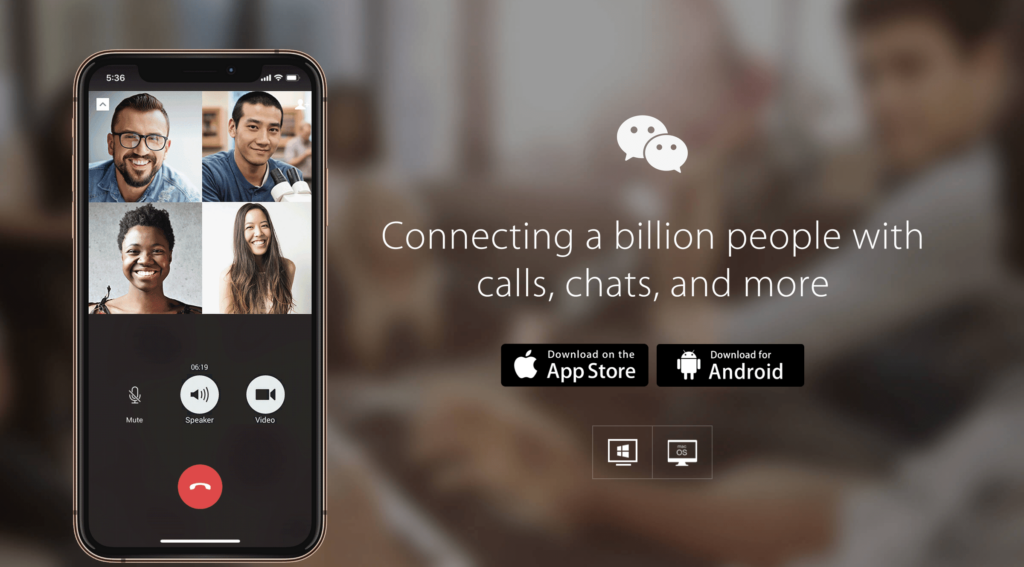 China is notorious for banning outside apps; users are left to use only country-made apps. WeChat is one of the most used apps in china. It is used by over a billion people and is dubbed a super-app.
What can't you do with WeChat? Everything! WeChat offers a shared inbox for customer support, branded stickers, and chatbots for automation. Businesses can use these features for personalized customer communication, segment contacts, and send automated messages using chatbots. WeChat offers an in-app payment option that you can use for receiving payments from buyers.
12. Line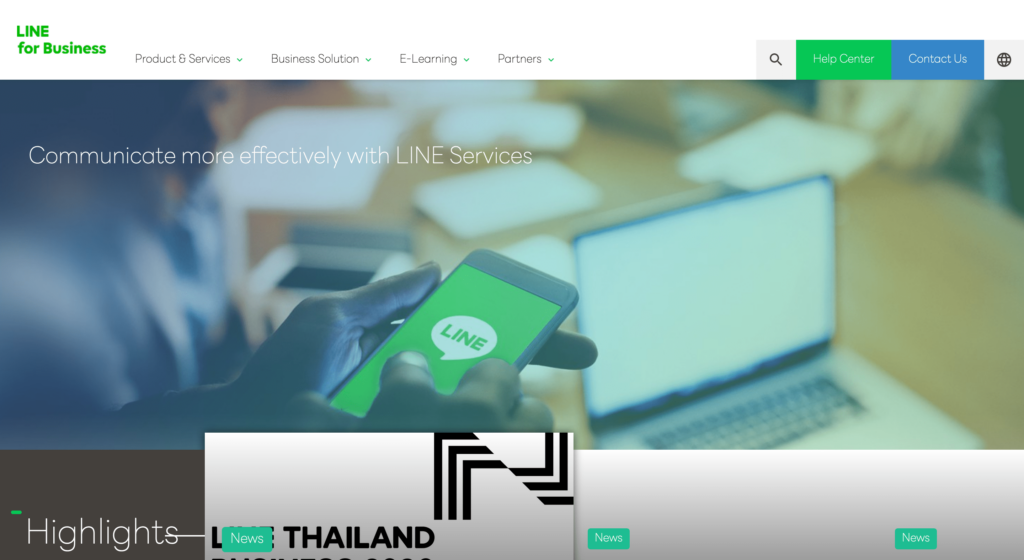 Line is another popular Japanese app like Viber. It has similarities with WhatsApp. Line is used by 160+ active monthly users and has a wider reach in Asia Pacific countries. If you want to reach customers in these areas, Line can help you with lots of functionality.
Line offers business accounts for companies and tools like autoresponder with keyword triggers that can trigger certain frequently asked questions based on customer queries. Line has customizable brand stickers you can create and use in customer conversation, set up away messages, and add plugins in your business profiles for appointments, loyalty programs & reminders.
13. Zoom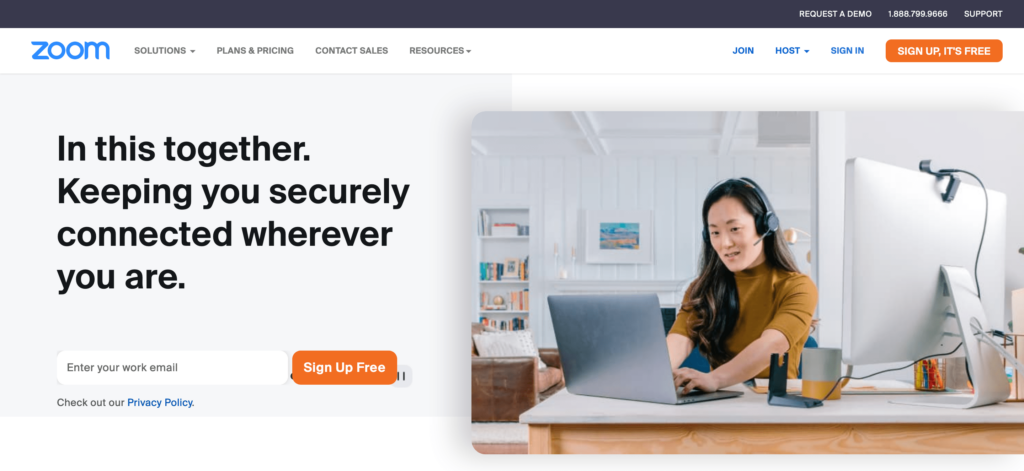 Everybody used Zoom during the last pandemic, and the covid era helped Zoom to become a worldwide brand. Zoom offers one-to-one chat and team chat too. You can do video and audio chat with multiple people using zoom.
Businesses can use zoom to share screens with customers and have one-to-one audio & video chat. You can record & share meetings that customers can rewatch later. Zoom also shares integrations so you can schedule and track customer meetings with one click from Zoom's desktop.
14. Microsoft Teams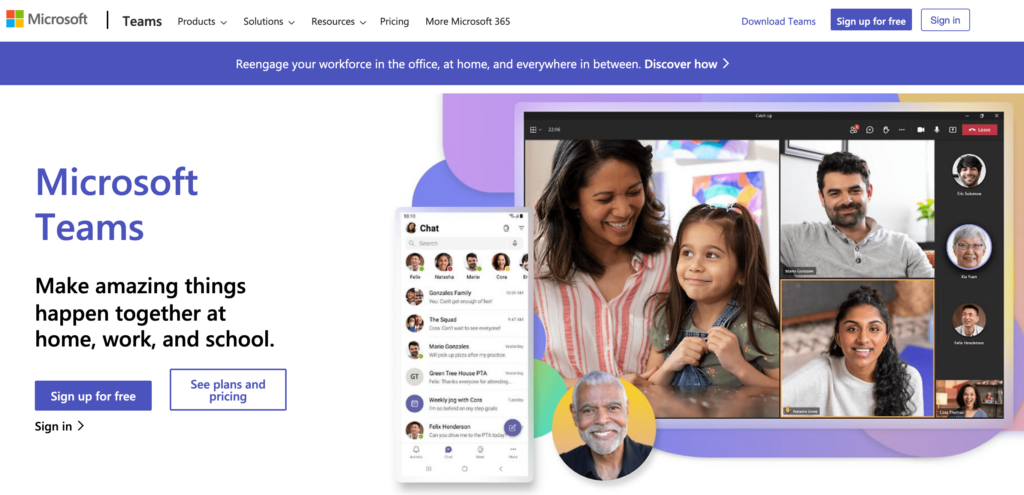 Like Slack, Microsoft Team is a new sharing & productivity app directly from Microsoft. Support agents can collaborate with their team using the team app while having a conversation with customers.
Microsoft Team offers instant messaging, video calls, shared channels, and other team collaboration features. You can integrate popular apps using team integrations and connect with Trello, ClickUp, Asana, Salesforce, or Jira and over 100+ apps.
Businesses can set up private channels through Microsoft Team and share files and notes or collaborate on ideas with team members. You can offer one-to-one support to customers and training on troubleshooting using the Microsoft team app.
What to look for in messaging apps for customer support
These 14 apps are some of the best communication apps, but more are out there. How can you pick the best one for business?
The first thing you should consider – how simple it is for your customer to use.
Easy-to-use tools can help your customer contact your customer support instantly with less friction, create smooth customer onboarding and automate repeated responses.
Here are a few things you should look for in messaging apps for customer support operations:
Does it resonate with your customer base? Is it popular with your customer demographic? If your customers use a specific communication app, it will be wise to integrate it with your support system.
Is it mobile-friendly? Does it offer both ios & android versions? It is necessary to offer support for both user bases; you don't want to leave out one to another.
How fast can your team adopt the app? Does it offer fast onboarding? You don't want to waste time training for a close communication system; rather, choose an app that offers minimal customer onboarding so your team can pick it up fast and start serving customers. Time is crucial for small businesses.
What type of integrations does your chosen app offer? Does it offer integration with your customer service helpdesk, communication apps, and internal tools? Small businesses need to invest in the right tool without hammering their yearly budget.
Does that app offer seamless automation? Can you integrate artificial intelligence in the near future? An app with internal workflows, outgoing & internal webhooks, and automation can help you create automatic systems for repetitive & manual tasks. This way, your support agents can have more time on their hands to attend to customers one-to-one and build long-term relationships.
Go through these checklists, then select your app and check for trials. Trial will help you determine if the app is best suited for your business.
Moving Forward
Billions of people are now accustomed to using communication apps daily. Messaging apps changed customer behavior over the years. It also affected how customer service runs and business relationships with customers.
Communication apps offer speed and simplicity, which can accelerate customer support operations and help you provide customers with proactive support using automation. Take advantage of these new opportunities as a small business owner and integrate communication apps with helpdesk to offer high customer satisfaction.
Your own Support Portal in 5 minutes!
Start off with a powerful ticketing system that delivers smooth collaboration with unlimited room for your customers.