Customer support helpdesks are essential for companies to keep improving the customer experience. If your business is hosted with WordPress ecosystem, there are lots of options for support systems available.
JS helpdesk & Fluent Support are two helpdesk options currently holding their place in the WordPress ecosystem. JS helpdesk is older than Fluent Support, but Fluent Support is catching up with JS helpdesk with constant updates and functionality.
In this blog, we'll go through Fluent Support and JS helpdesk to find out which is better for your customer support system. It's necessary to learn about WordPress helpdesks and their features if you are planning to start or looking to migrate to a suitable helpdesk system.
Why JS Helpdesk VS Fluent Support?
Customer support is a must-have investment for a business. Your company's reputation and sales depend on how fast you can reply to your customers with quality solutions. Helpdesk helps you facilitate these operations smoothly.
We selected JS helpdesk & Fluent Support because both are well established in the WordPress support plugin category. Fluent Support is the new contender, which made a great entry into the market one year ago.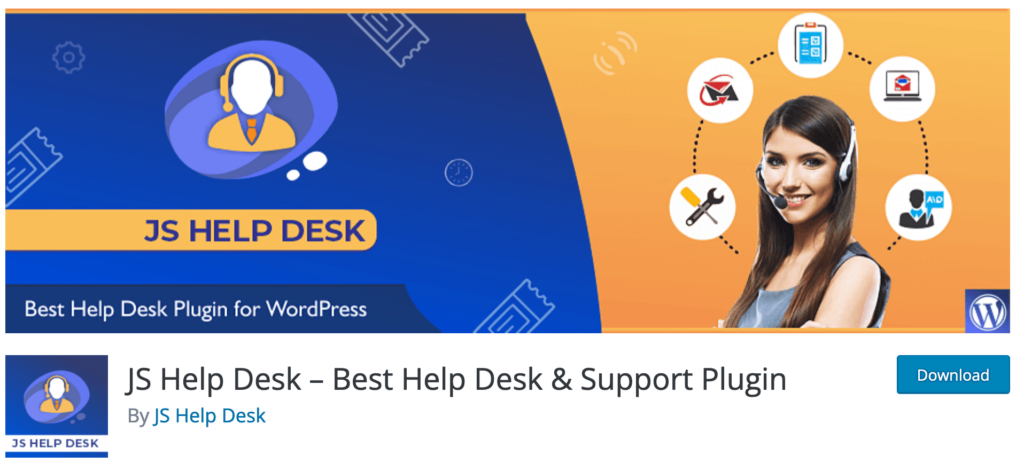 JS helpdesk offers a user-friendly interface with 190+ admin configurations. Here are some notable features of JS helpdesk:
Unlimited agents with unlimited tickets.
Reply to tickets using emails
Time tracking on reporting area
Responsive and translation ready.
Auto close tickets
Internal notes
Merge tickets
JS helpdesk might have some useful features but lacks in many areas. Some are:
JS helpdesk has very limited free features available.
Their premium plans are not flexible. These plans do not offer all features.
You have to buy premium bundles to use certain features.
JS helpdesk lacks integrations with 3rd-party, and available integrations are accessible through premium bundles.
JS helpdesk offers very limited support. Their paid support is available in paid plans.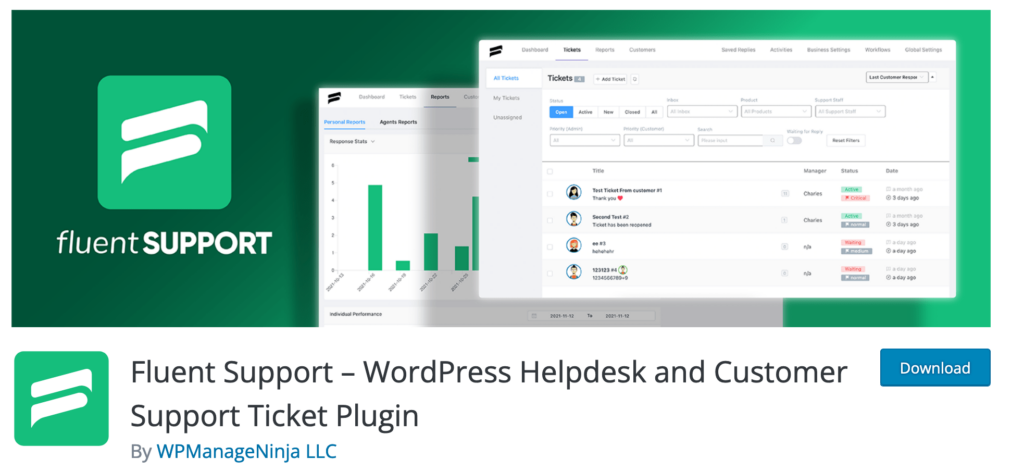 On the other hand, Fluent Support is a feature-rich WordPress helpdesk plugin that offers flexible plans and easy migration from limited plugins like JS helpdesk, Awesome Support & Support Candy. It offers multiple features, some are:
Unlimited tickets, unlimited agents, and users
Fully responsive plugin
Very flexible pricing plan
No premium add-ons
Workflow automation (manual & automatic)
Customizable dashboard
Front-end admin portal
Shortcodes
Custom fields
Add & remove tags
Ticket form configuration
Custom notifications
Email piping
Advanced search with custom filter & sorting
Internal notes
Saved replies
Agent dashboard
Integration with 20+ tools
Close ticket automatically
Get notification & reply tickets from Telegram, Slack & WhatsApp
Collision detection
Bulk action
Activity log filter
WordPress dashboard widget
Merge & split tickets
Response delay tracking
Custom ticket status
Advance reporting with hourly reports
Ticket bookmarks
Ticket summary in WP toolbar
Fully translation ready
Ticket importer (import tickets from other plugins)
You can check out the full feature list of Fluent Support here. 
JS Helpdesk VS Fluent Support: In-depth Comparison
Let's peek into the detailed features of Fluent Support and JS helpdesk. In this section, we'll compare JS helpdesk and Fluent support on certain categories to see who stands out the most. We'll look for which is better and which has more options to run customer service operations.
Usability
Installing Fluent Support & JS helpdesk is like installing any other WordPress plugins on your website. You need to install and activate them before setting them up. If you wish to run the pro version, you need to buy the pro addon from their official websites. You have to manually download the plugin zip file and upload it to the plugin area.
The setup is pretty straightforward. For Fluent Support, you must first set up a "Business inbox" to kickstart your support system.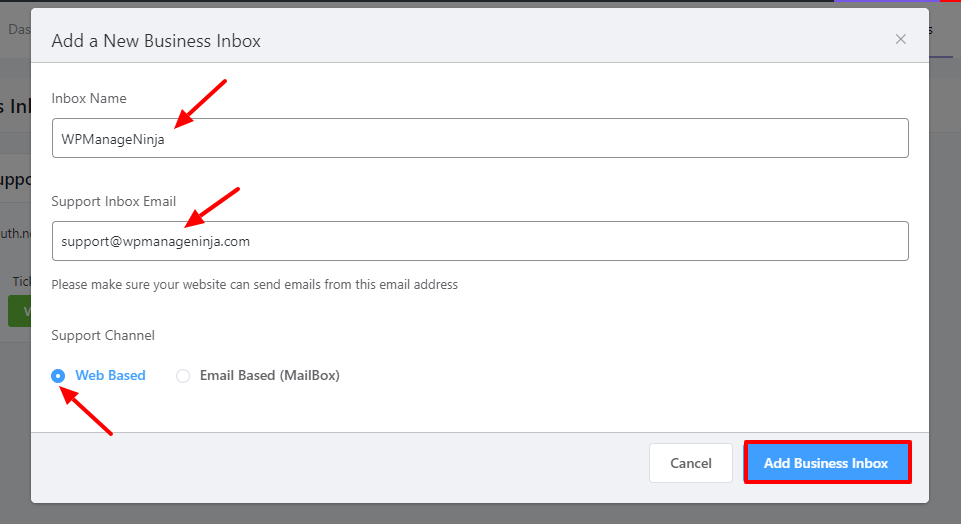 For JS helpdesk, setting up the plugin is a bit stressful. Their dashboard is not flexible as Fluent Support. You will need to spend a lot of time learning basic setup through their videos because there is no documentation available on their official sites to follow step-by-step setup.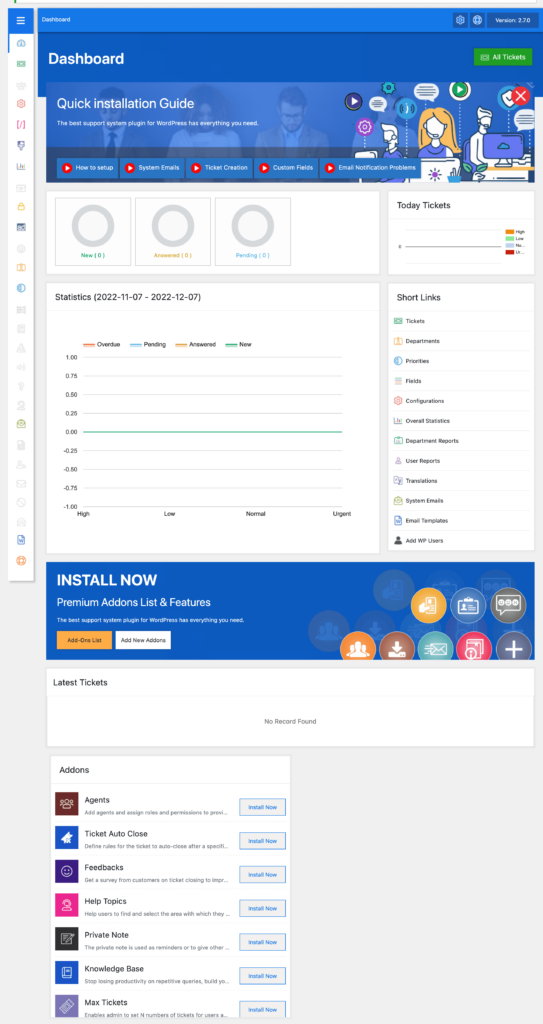 Fluent Support offers dedicated documentation sections and a video playlist for main feature configurations. You can follow both to set up Fluent Support in 5 minutes!
Fluent Support offers basic features free in its free plugin, but JS helpdesk is very limited on its free plugin. You can install free plugins and use their offerings and basic features. Fluent Support wins at a big percentage here.
Reports
Reporting is a necessary feature for any kind of helpdesk. It helps you track your customer's support data and give you a full picture of your support agent's effort. JS helpdesk gives you basic reporting on these three categories:
Overall statistics
Department reports
User reports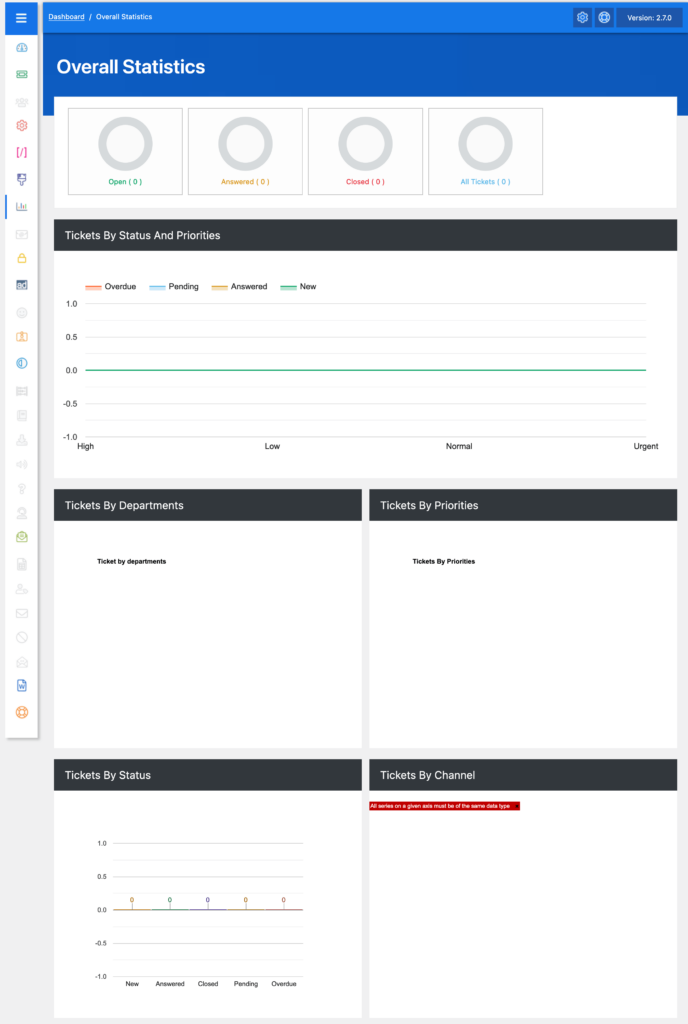 While Fluent Support gives you more with its detailed reporting. It offers:
Personal reports – Where you can view individual performance, filter them by dates, resolve stats, and response stats.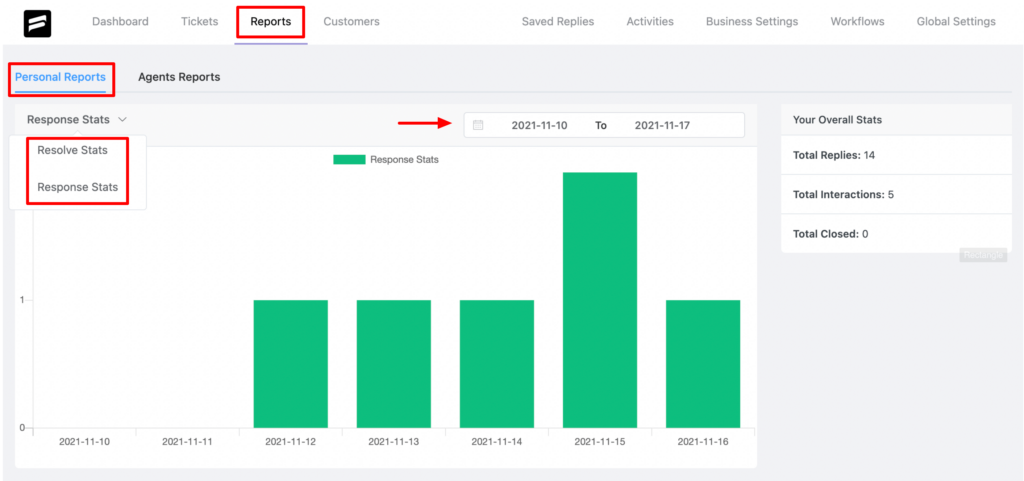 Agent reports – Which can be helpful to get more into individual reports based on ticket stats, response stats, and resolve stats. You can also filter them using the agent's name and time.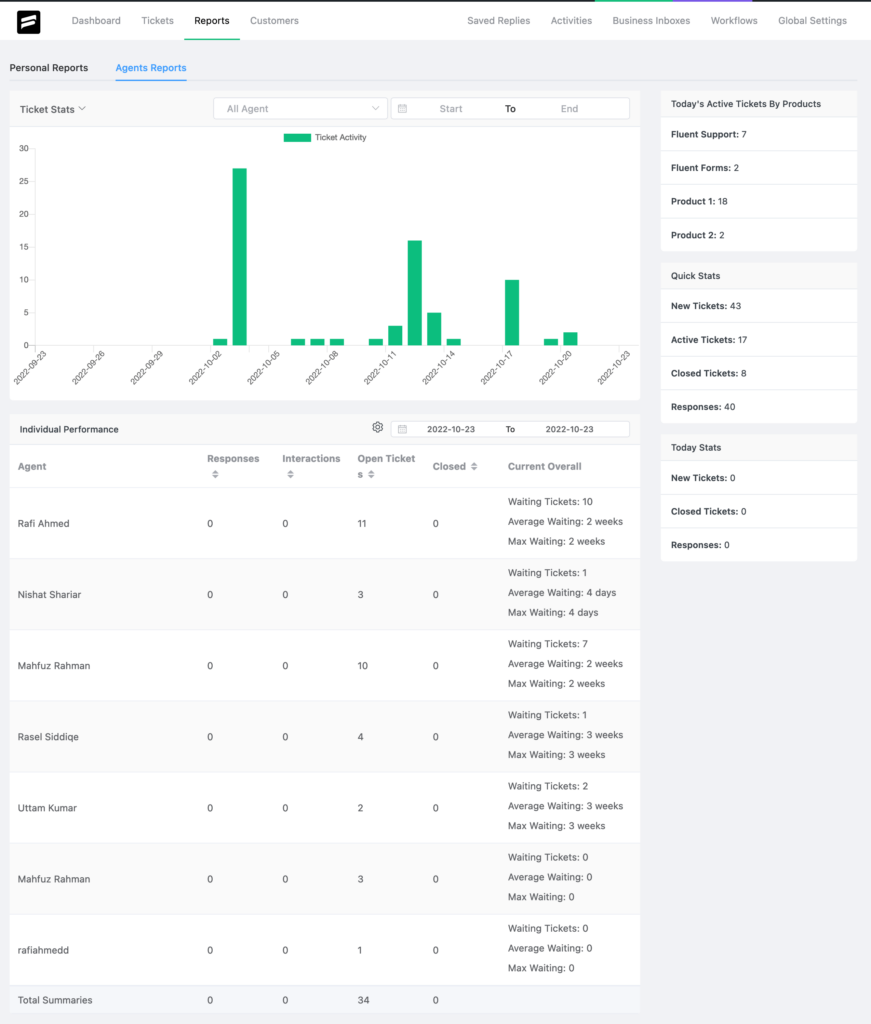 The best part of Fluent Support's reporting is that you can download agents' report summaries. You can select all agents, parameters or select all agents and export summary with one click. JS helpdesk has no 'export agent summary' feature available.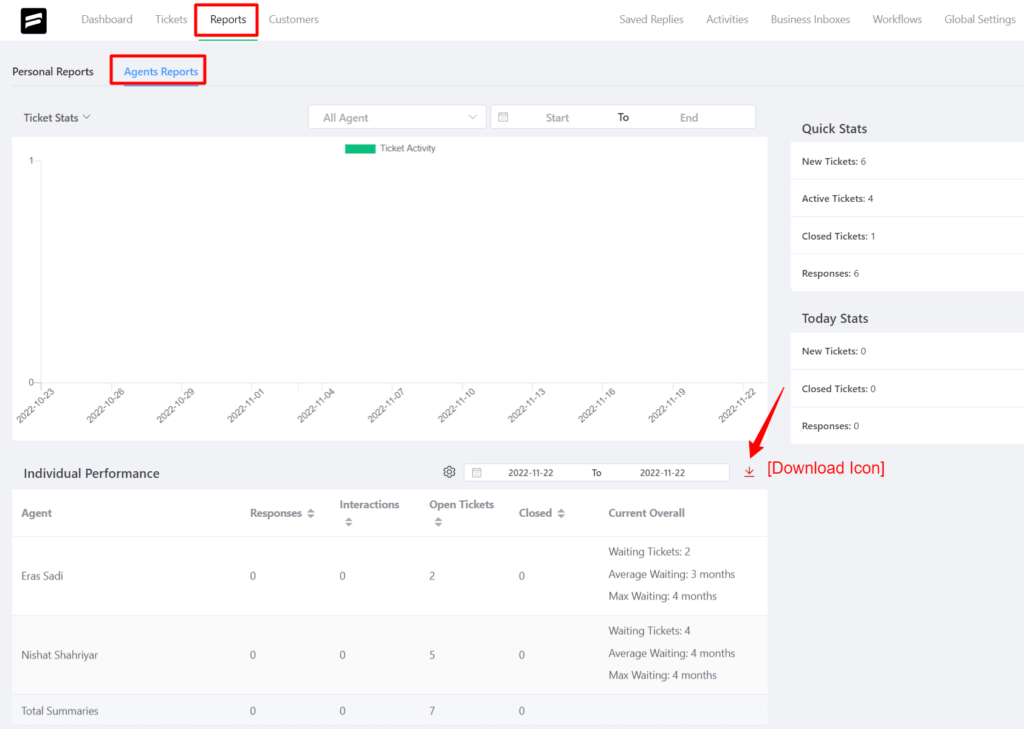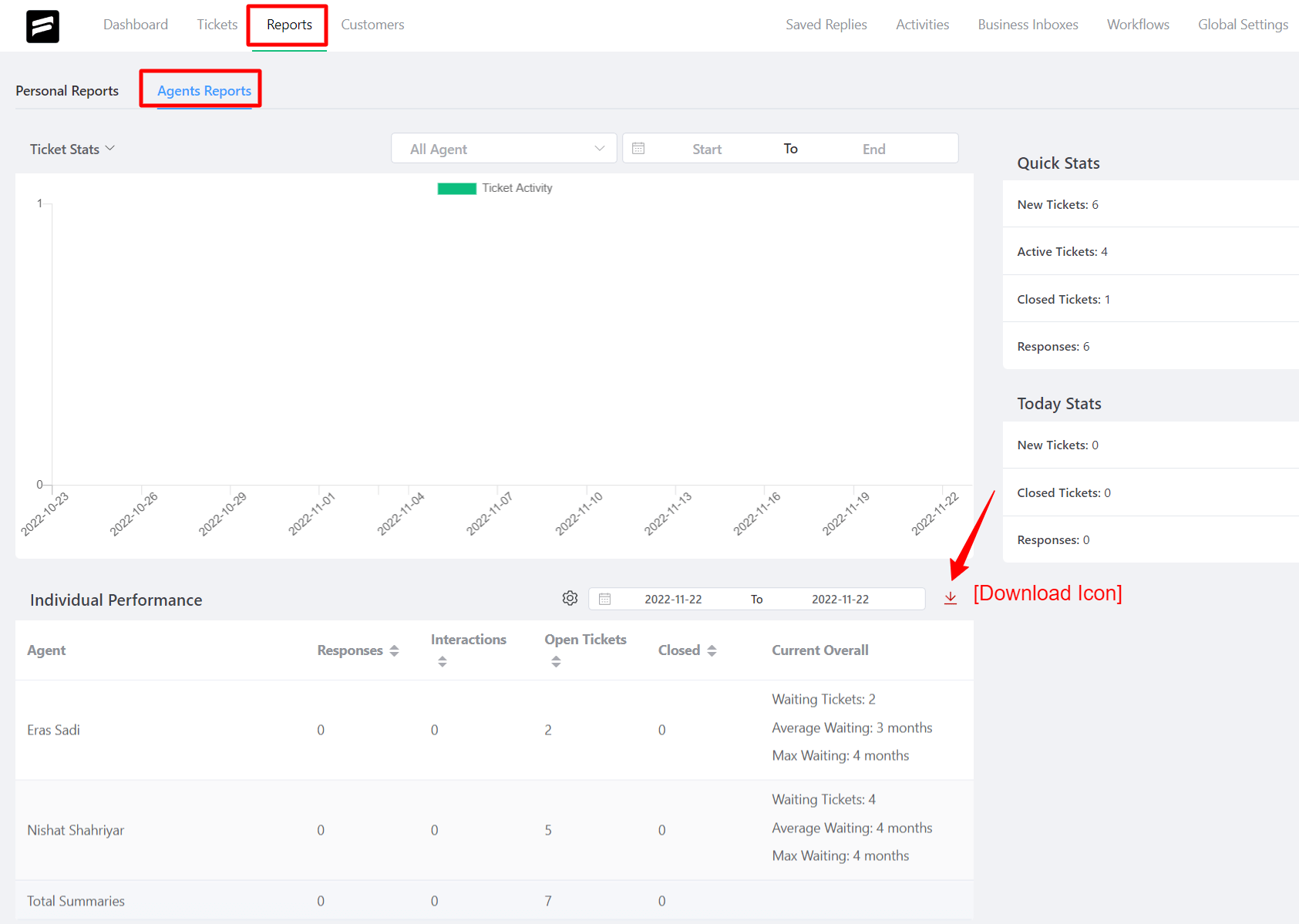 Fluent support also has an awesome feature called "Activities." It will help you review your customer support activities, from ticket creation to ticket replies, agent assigned, and ticket actions in one place. You can sort them by agent name and dates too!


Support Functionality
Both JS helpdesk and Fluent Support offer the same support functionality. But the main difference is Fluent Support offers all functionalities on every plan. JS helpdesk does not offer that. It is limited to their premium plans. Some of the essential support functionality both plugins offer:
Internal Notes – This feature helps immensely with team collaboration. You can use internal notes to inform your fellow support agents about individual tickets or users. Internal notes are great for passing information between agents.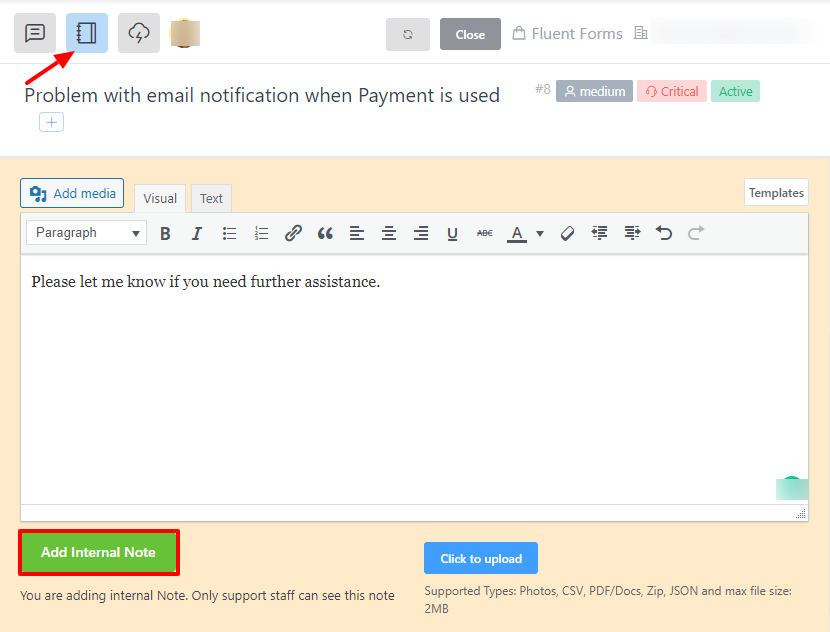 Fluent Support and JS helpdesk offer 'Internal Notes", but the main difference is that it is not available on all of JS helpdesk's premium plans, while Fluent Support offers it on all. 
Business Inboxes – Fluent Support allows you to open multiple business inboxes on your websites. You can use web-based and email-based inboxes for different emails. You can use both to serve users, and your support agents can reply to the tickets from one shared dashboard.
JS helpdesk has departments where you can set up different departments for different emails. The functionality lacks flexibility and is not user-friendly.
Email Support – Fluent Support and JS helpdesk offer email piping on their paid plans. Email piping offers the ability to receive emails from users, and agents can reply to these emails straight from their support dashboard. They don't need to log in to their inboxes. This feature is great for using multiple emails, receive and reply emails from one support dashboard.
While Fluent Support offers email piping on every pricing plan, JS helpdesk offers it on 'Professional Plan.' If you wish to use it with other plans, you'll need to buy the individual addon with a price tag of $49.
Automation WorkFlows – Automation is essential for regular customer support operations. It reduces extra time on repetitive tasks and gives agents more time on quality support responses. Fluent Support has unique 'Automation Workflows,' where you can do automated work manually or automatically. You can set up both manual and automatic workflows in Fluent Support.
On the other hand, JS helpdesk lacks full automation workflows. Only 'Agent Auto Assign' is available on 'Professional Plan' and as an individual add-on priced at $49.
Saved Replies – Also known as canned responses, this function is very helpful for using template responses over and over again. Fluent Support offers it within every pricing plan, but JS helpdesk offers it on standard & professional plans. You can buy it as an individual add-on for $39.


Collision Detection – Fluent Support has an awesome "Collision Detection" feature, which shows agents working on tickets. If multiple agents open the same ticket, their profile picture will show up. This will stop any collision on any ongoing tickets. JS helpdesk does not have this feature.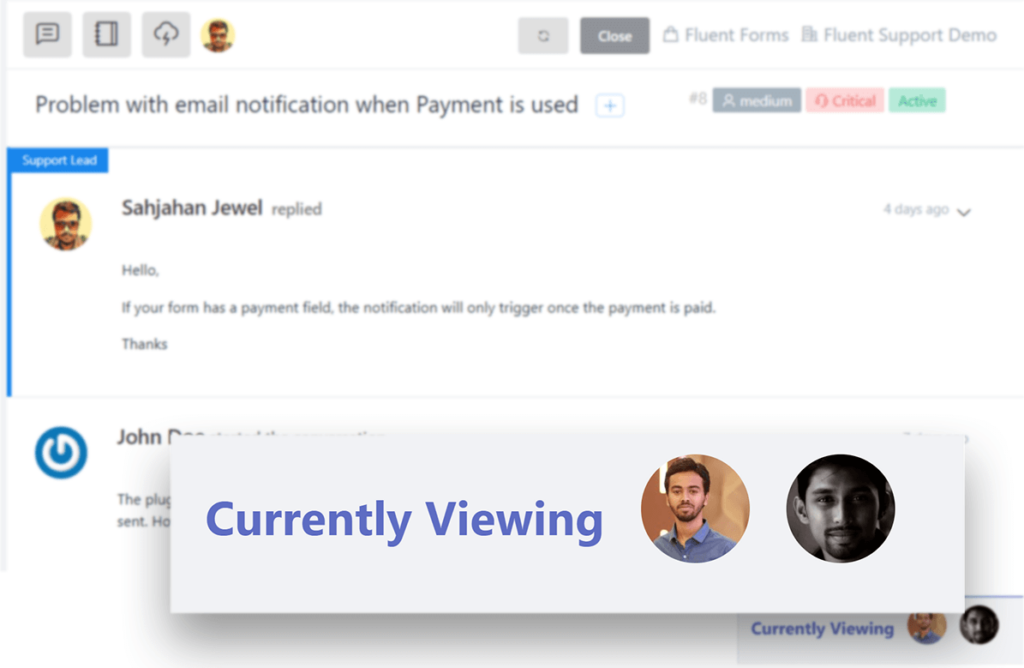 Custom Fields – Fluent Support allows you to create custom fields on support forms based on your need and integrations. JS helpdesk is limited this function only accessible by premium add-ons.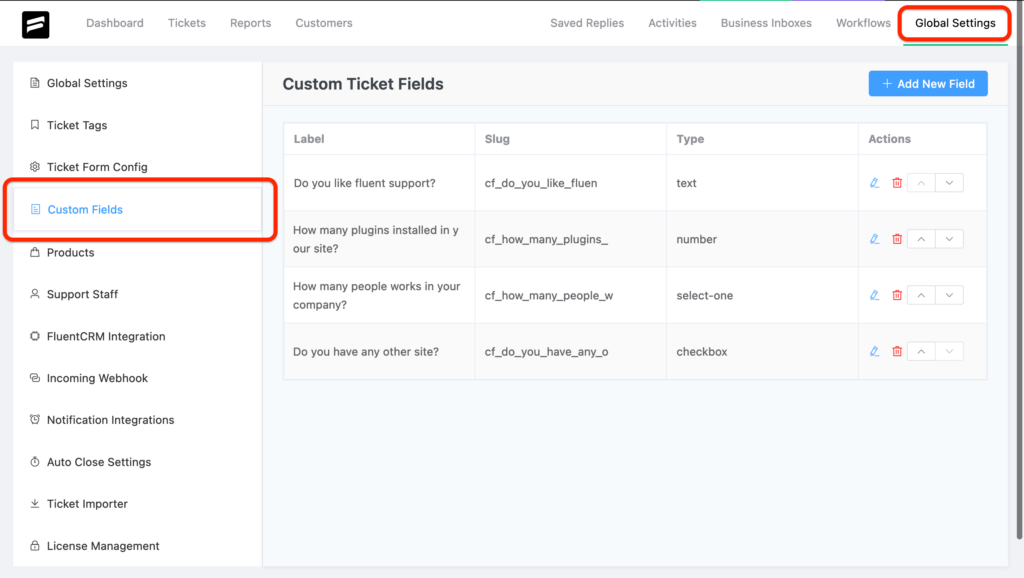 Full Customer Overview – Fluent Support offers a complete customer overview with its dynamic dashboard. When you open a customer's ticket, you can see their information, previous conversations, and purchase history.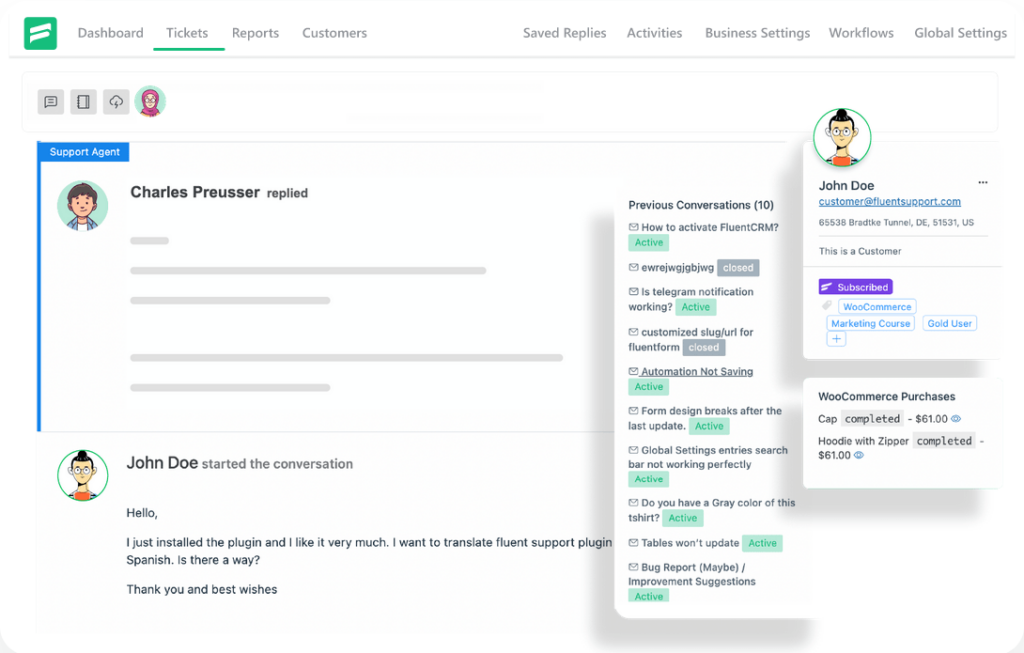 JS helpdesk has very limited functionality on this. You have to buy multiple premium add-ons or a professional plan to get a complete overview of JS helpdesk.
Integrations
Integration functionality can make any customer support system super efficient. That's why Fluent Support offers seamless integration with 20+ tools, including various LMS plugins, e-commerce, form, CRM, and documentation tools.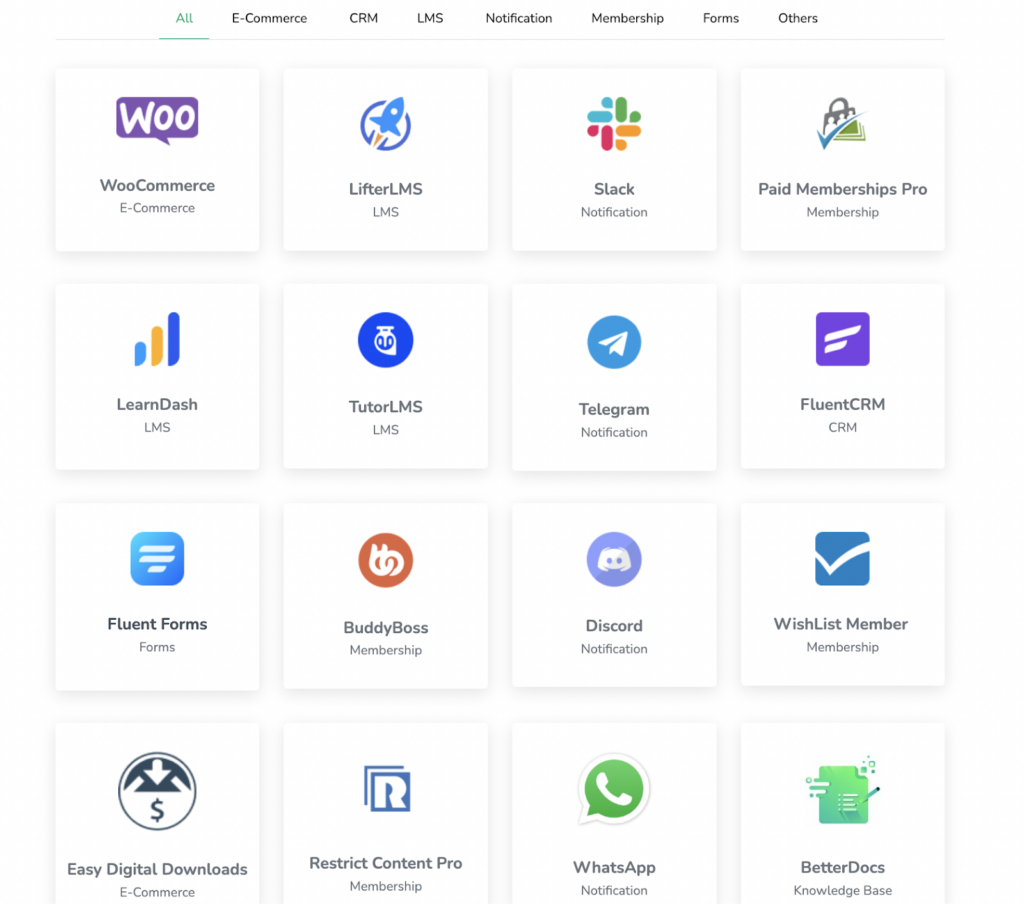 JS helpdesk has an awfully limited integration offer with WooCommerce, Mailchimp, Envato, and Easy Digital download only. And the frustrating thing is that they are not available in every plan. You have to buy a premium addon to use them, while Fluent Support offers all integrations with every plan.
Fluent Support also integrates Telegram, Slack, WhatsApp, and Discord. This type of integration offers a seamless connection between Fluent Support and 3rd party communication tools. You can receive and reply to tickets directly from Telegram, WhatsApp, and Slack. This integration will come in handy if you run your support team from these 3rd party communication tools. Unfortunately, JS helpdesk does not have these integrations available.
Pricing
The biggest plus point of a helpdesk system is its pricing. When you start your customer support team, it may be small, but after some time, you'll need to add more agents and functionality for a complete customer experience.
JS helpdesk's pricing does not match the needs of a growing customer support team. They have 3 price tiers, and not all features are available on every plan. You have to buy premium add-ons to use features if you are not using professional plan and plans are limited to single site only.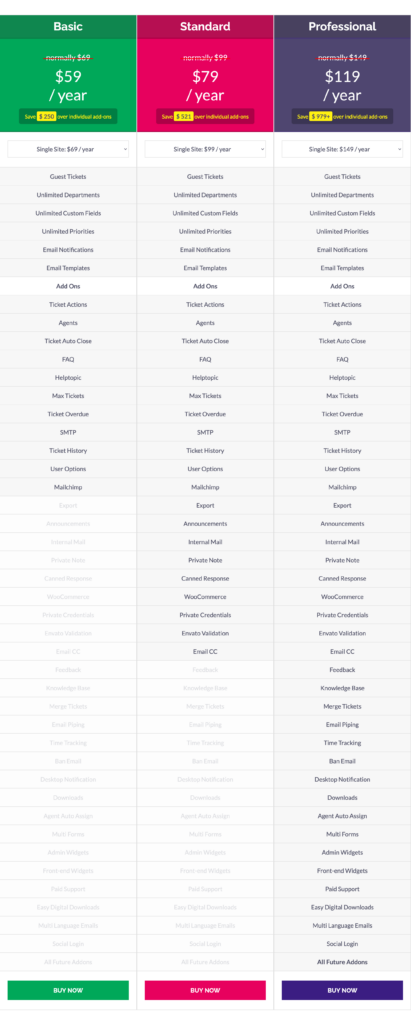 Fluent Support has 3 flexible pricing plans and offers all features on every plan. You don't need to buy individual premium addons like JS helpdesk to use Fluent Support's full functionality. Fluent Support also offers multiple domain licenses.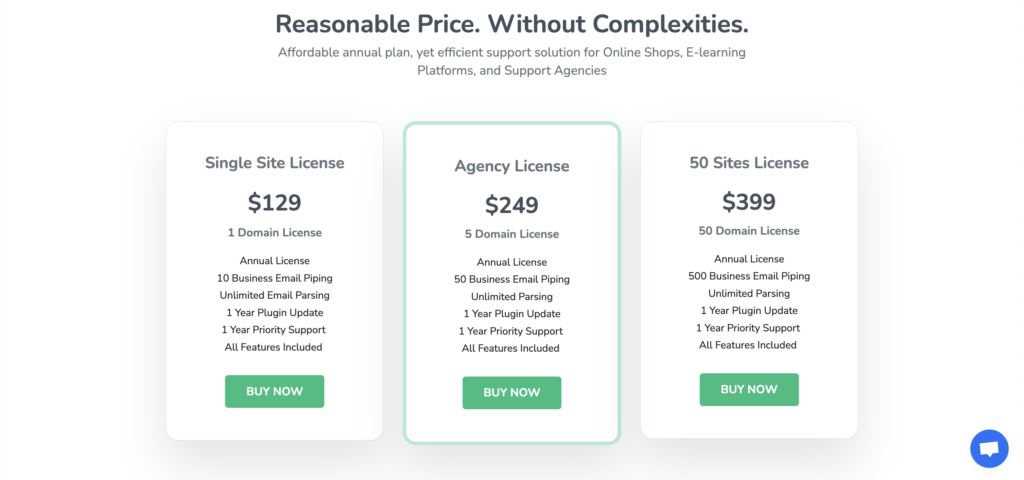 Fluent Support also offers steady customer support while you need to buy a 'Paid Support' premium add-on to get premium support on JS helpdesk.
Fluent Support VS JS helpdesk: Final Verdict
Although both plugins have their purpose, Fluent Support stands apart from the JS helpdesk if you want more features and flexibility. When you compare Fluent Support with JS helpdesk, Fluent Support is fast, fully responsive, and can connect with lots of tools.
Using Fluent Support, you can offer customer support for your course students, product buyers, and site members. Fluent Support tickets are accessible through Slack, Telegram, and WhatsApp, allowing you to attend to customer queries from anywhere. Your agents don't need to log in to the dashboard even!
Fluent Support gets updates regularly and listens to its active community for new suggestions to improve its functionality. Its 'Ticket Importer' can import tickets from Awesome Support, Support Candy, Help Scout, and JS Help Scout.
If you run your customer support system using JS helpdesk, follow this ticket importer documentation to migrate from JS helpdesk to Fluent Support in one click!
Whenever you need to select a helpdesk system for your business, always look for vast integrations, flexibility, and responsiveness. The first rule of great customer support is how fast you reply to your customers. Quality fast solutions play a huge role in creating long-lasting customer experience. Fluent Support is surely ahead of JS helpdesk in many areas as the best customer support plugin for WordPress.
Your own Support Portal in 5 minutes!
Start off with a powerful ticketing system that delivers smooth collaboration with unlimited room for your customers.