With Fluent Support's advanced Analytics and Reporting feature, you can get an accurate view of the entire team's performance. You can even keep track of individual support execs and measure their performance.
Let's take a closer look at how the Reports and Stats feature works in Fluent Support.
Go to the Reports option from the top-left menu on your dashboard. This page displays two different Ticket Statistics & Reports sections: Personal Reports and Agent Reports.
Personal Reports #
This section shows the ticket statistics of the individual support agents or the personal reports of each agent. This section will be specific to each agent and the support agents will see his/her own reports here.
In Personal Reports, you can check separate statistics for – Resolve Stats and Response Stats.
You can filter by dates to see the reports from a specific date range and also check the overall ticket stats on the right side.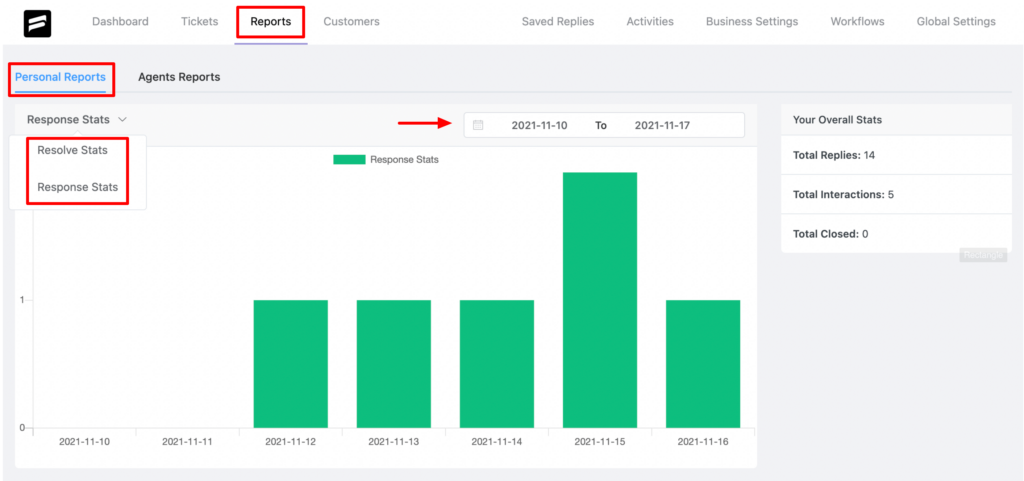 Agent Reports #
The Agent reports show the overall report of all the agents and it is only accessible to the support agent or supervisor who has permission to view this page.
In Agent Reports, you can check – Ticket Stats, Resolve Stats, and Response Stats.
In this section, the Bar Chart demonstrates the overall Ticket Activity statistics over a certain period of time, you can filter by date to see the stats of a particular period. You can also see a Quick Stats report on the right side which shows the total ticket report of the Support Agent.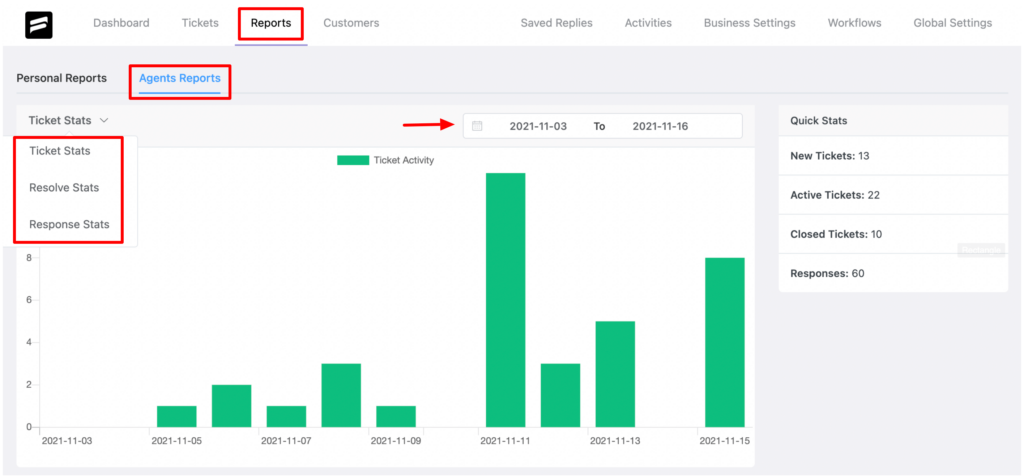 Individual Performance #
This section helps you keep track of individual support agents. And measure their performance according to the number of Responses, Interactions, Open Tickets and Closed tickets. The Current Overall column shows the number of Waiting Tickets, Average Waiting & Max Waiting time of tickets.
You can select a specific date to view the individual performance for that period of time by clicking the calendar icon at the top right corner.