You can build a custom Ticket Submission Form very easily with this integration.
Let's have a look at how it works.
Installing and Activating Fluent Forms #
Installing Fluent Form is similar to other WordPress plugins. Here are the steps –
Navigate to WordPress Admin Panel → Plugins → Add New.
Now, search for Fluent Forms, click Install, and then Activate.
Enabling Fluent Support Integrations #
First, go to Integrations Modules from Fluent Forms (WordPress admin panel sidebar) and turn on the Fluent Support Module, as shown in the screenshot below –

Design Your Form #
With Fluent Forms, you can create beautiful and responsive online forms with just a few clicks. Go through the following steps
Enable Fluent Support Feed #
In this step, you must enable the Fluent Support Feed for that particular form.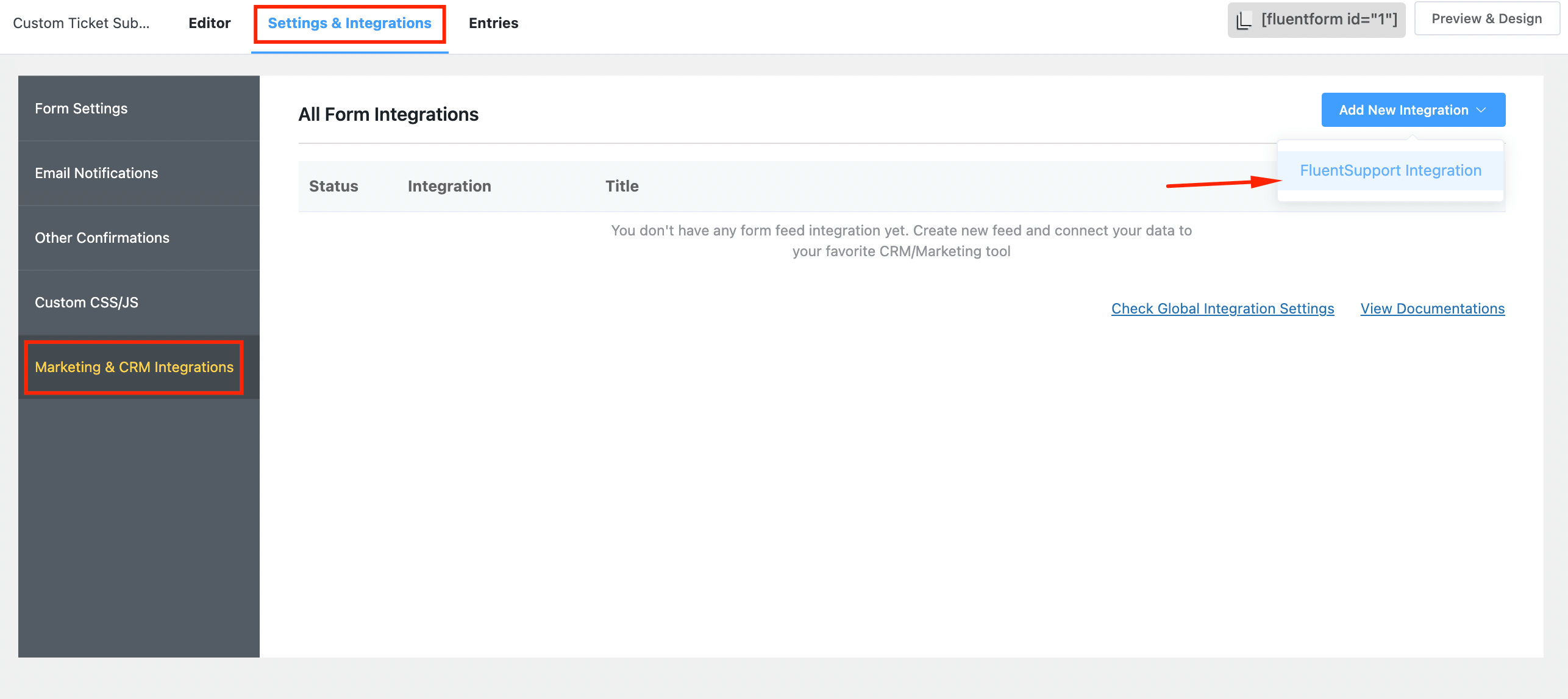 Go to Settings & Integrations of the particular form.
Click on Add New Integration, and select Fluent Support Integration. Configure the Fluent Support settings as required.
You will see various checkboxes and input fields; you need to map them accordingly.
First, Give the Feed name and select your preferred business from the dropdown.
On the product option, you can select from your product list, or you can select the product based on certain conditions.

Next, you need to map your input fields with the corresponding ticket field; on the left side you will see the ticket fields, and on the right side, you need to select the corresponding input fields. Click on create to see all of your created input fields.

Next, you need to provide the ticket provider info. Please note that your form must have an email address input field. Hit the Create Fluent Support Feed button when the configuration is done.

Adding the Form on a page #
You can simply copy the shortcode of that form by clicking on the shortcode shown on the top bar, as seen in this screenshot below –

This is how you can integrate Fluent Forms with Fluent Support!