Often, users may need to manage Support Tickets from multiple Businesses. For this, Fluent Support offers a feature known as Business Inboxes. Using this feature, you can easily handle multiple Business accounts.
Follow this simple guide to learn how to Create Business Inboxes in Fluent Support.
The first step is to go to the Fluent Support dashboard & click on the Business Inboxes tab. This will take you to the Business Inboxes page, then click the Add New Business Inbox button.

A pop-up box will appear where you must add a relevant Inbox Name, i.e., your company name, and enter your Business Email. Please make sure your website can send emails from this email address.
You can select the Support Channel as Web Based if you want to allow customers to create support tickets directly from the website. Otherwise, if you want to set up an Email-based support ticket using the Email piping feature, then you have to choose Email Based (Mailbox) channel.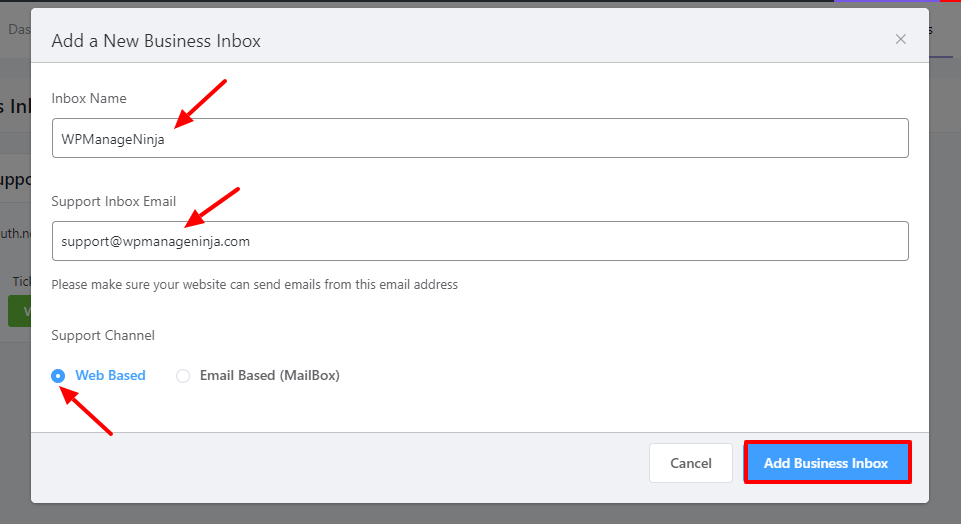 Lastly, click on the Add Business Inbox button to save it.
You can easily choose a default business inbox by selecting Set as Default from the drop-down menu.

After adding the Business Inbox, you can click on View Settings to complete the Inbox settings. Besides the Inbox Name & Business Email, you can set the Admin Email Address where the admin will get emails if enabled in email settings.
In the Email Footer For Customers option, you can add suitable footer texts or email signatures here. You can get a list of the available shortcode by clicking the Available Dynamic Codes button. After you're done, remember to click the Save Settings button.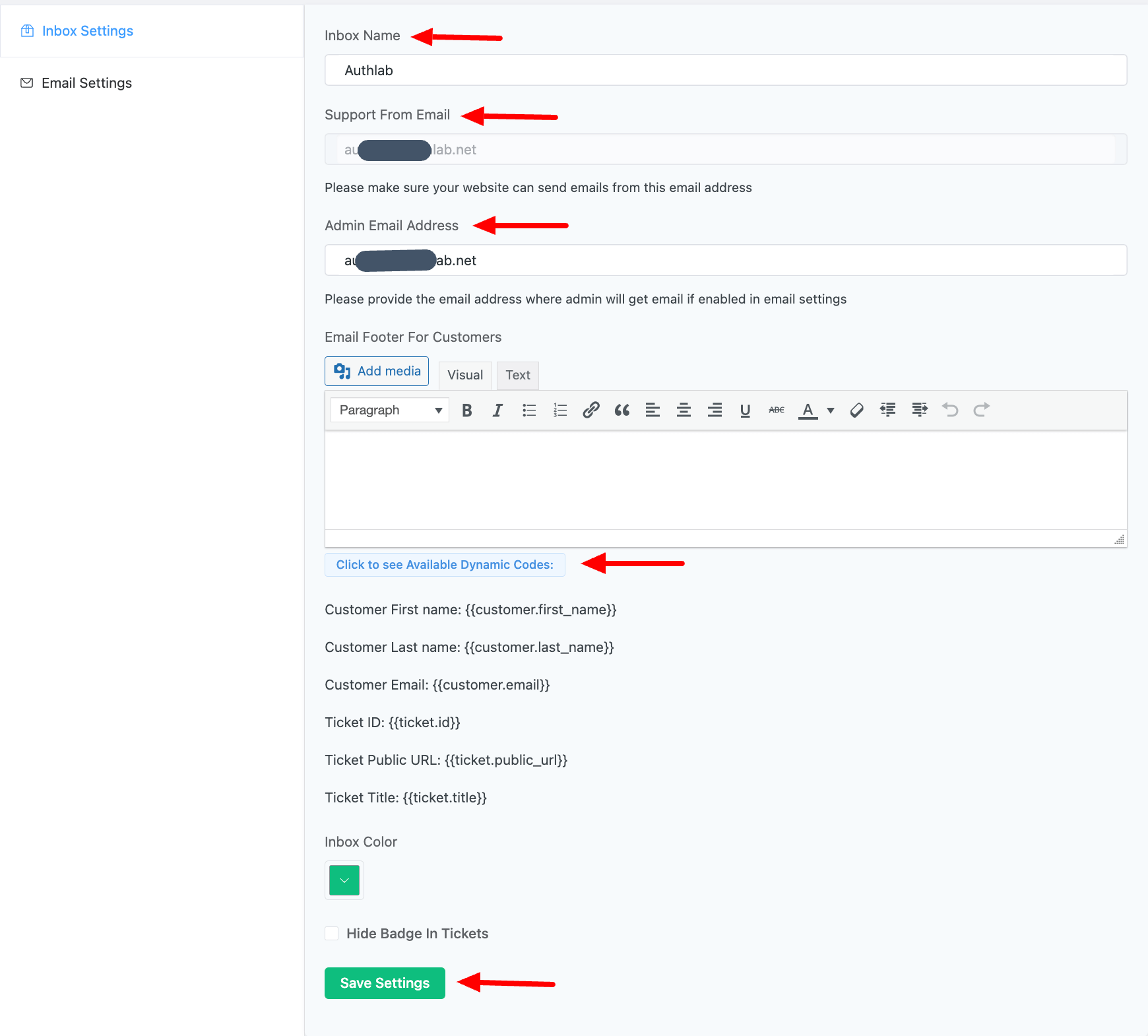 This is how you can set your Business inboxes in Fluent Support.
Set Mailbox in Customer Portal Shortcode #
You can easily generate a customized support portal for your specific business inbox by utilizing a shortcode. This shortcode can be conveniently used from any page, allowing you to swiftly create a personalized and suitable support portal for your business.
Go to the page you want to embed a portal and paste the below shortcode.
[ fluent_support _portal show_logout = 'yes' business_box_id=21 ]
To find the Business Box ID, go to your Fluent Support dashboard and open the Business Inboxes. Now click the View Settings of your desired business inbox.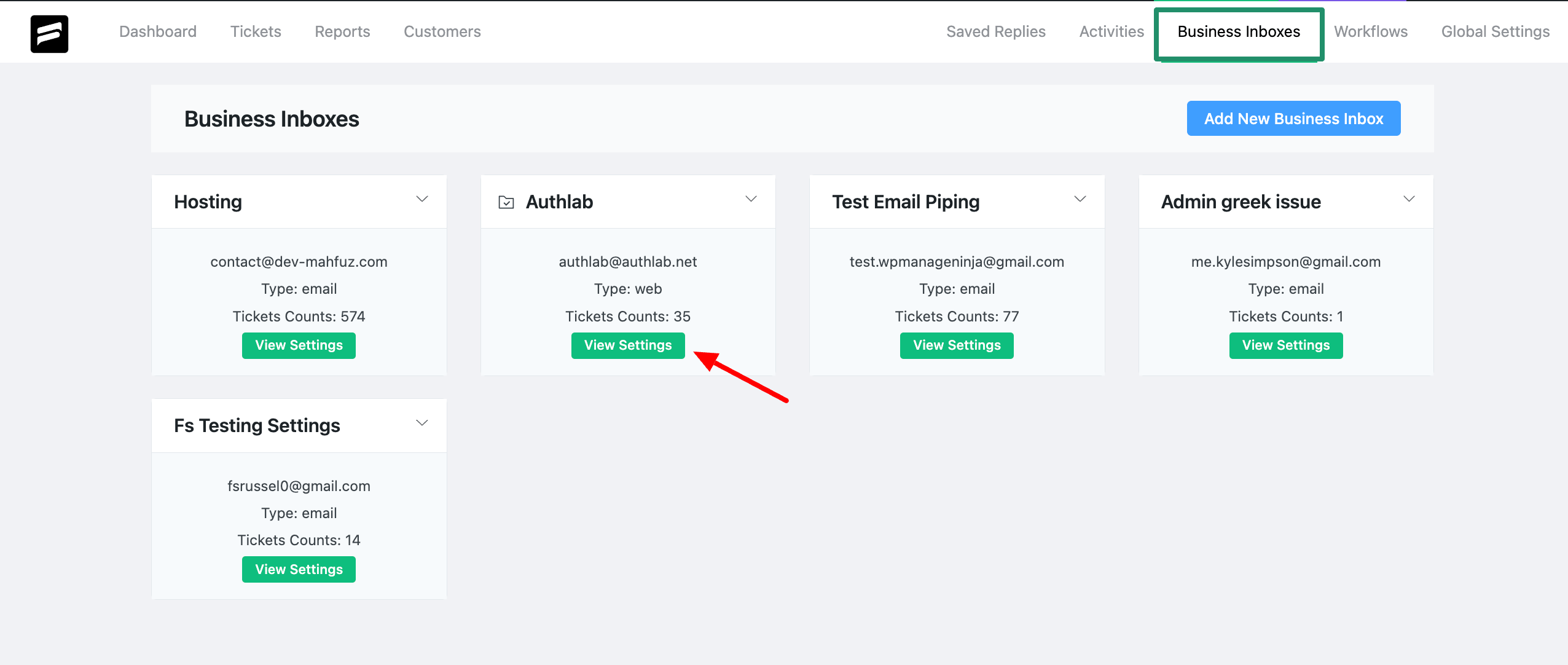 Now you will find out the business box ID in the URL of that business box like the below screenshot. Take the ID from here and use it in your shortcode.