You can easily view and manage all the ticket entries, for instance, replies using Fluent Support. Not only that but it is also packed with other features like having a precise User Summary & all the customer info in one place.
To view your Ticket entries, go to the Tickets → All Tickets option from your dashboard. And click on the preferred ticket from the list of tickets. Then individual ticket page will open up, displaying the ticket entries along with all the customer data.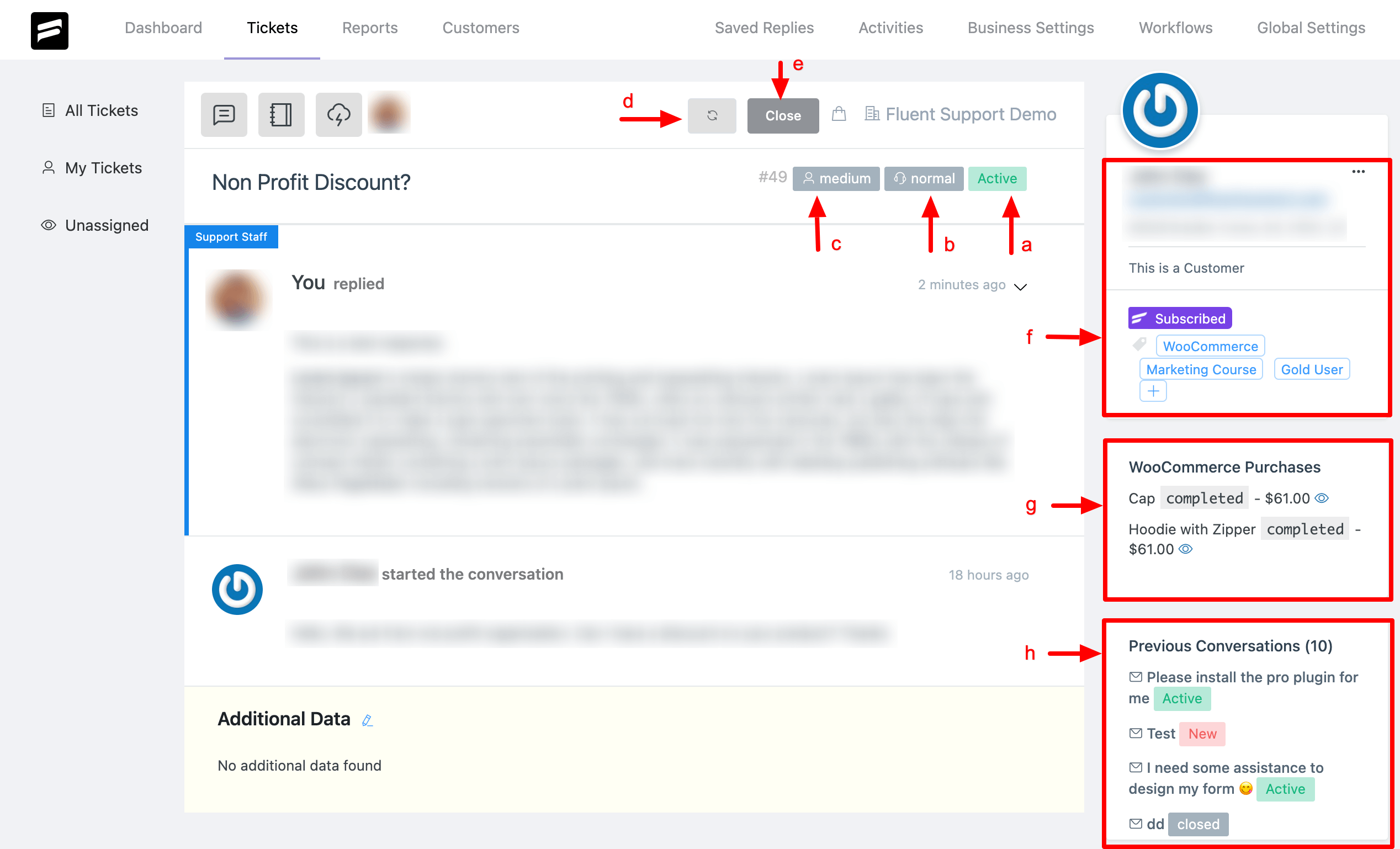 Given below are the available options on the Ticket Entries page explained briefly –
a) This shows the current status of your ticket. Some of the statuses are – Active, New, & Closed.
b) This represents the Priority level (Normal, Medium, Critical) of your ticket that is set by the support agent.
c) This represents the priority level (Normal, Medium, Critical) set by the customer/client.
d) To refresh your ticket entries, you can click the Refresh icon.
e) The Close button lets you close an Active/Open ticket.
f) In this section, you can view the customer profile, which includes the Name & Email of your customer. It also includes the user's subscription status, User ID, overall ticket statistics & FluentCRM data.
g)  This section shows all the data related to the integrations. If the customer is a Woocommerce customer, then their Woocommerce purchase history will be displayed here. Similarly, any LMS or membership integrations will show the related data here.
h) This section shows all the Previous Conversations with the customers.
Internal Note #
If you click on the Notebook icon at the top of the page, you can keep notes on your users for better ticket management. After adding your internal note, click the Add Internal Note button to save it. Keep in mind that only the Support Agents can see this note. To learn more about Internal notes, click here
Reply #
To reply to a ticket, click on the Chat icon in the top right corner of the page. This will open a text editor where you can include the reply. As well as make your reply text bold, italic, add a link, etc. With the Add Media option, you can even insert any media file into your reply. You can use the Click to upload button if you want to upload any file externally.
Click the Add Reply button or the Reply and Close button to close your ticket after replying to it.
Templates #
You can easily get to use readymade Reply Templates by clicking on the Templates button. This option also lets you search for a reply template using the search box. Use the dropdown at the top to look for replies based on the products. To know more, please check our documentation on templated replies
Run Workflow #
If you click on the Cloud icon, you can run particular Workflows that were set up beforehand. Just select your preferred workflow & then click on Run Workflow. You can only run Manual Workflow using this option.