Communicating with customers is the most important aspect of any business. It is necessary for businesses to receive customer's emails, manage their needs, send appropriate replies and organize all customer conversations. Many businesses fail in this matter.
A complete customer support solution can only help fallen businesses to win customers back. The only reason small businesses are failing is not choosing a better customer support solution software for their business. Business runs on smooth communications. And that's why it is super important to have uninterrupted support ticketing systems.
There are many help desk tools available in the market. In this post, we have taken two WordPress support ticket plugins – Awesome Support & Fluent Support, and we are going to explore them in detail to tell you what each of them offers! 
Awesome Support VS Fluent Support
Meet Awesome Support and Fluent Support. Awesome Support is one of the old customer support portals in the WordPress market. Fluent Support is the new one, but it became one of the hottest WordPress helpdesk plugins releasing awesome features in just one year!
Before we get to the plugin comparison, a word about them.
Awesome Support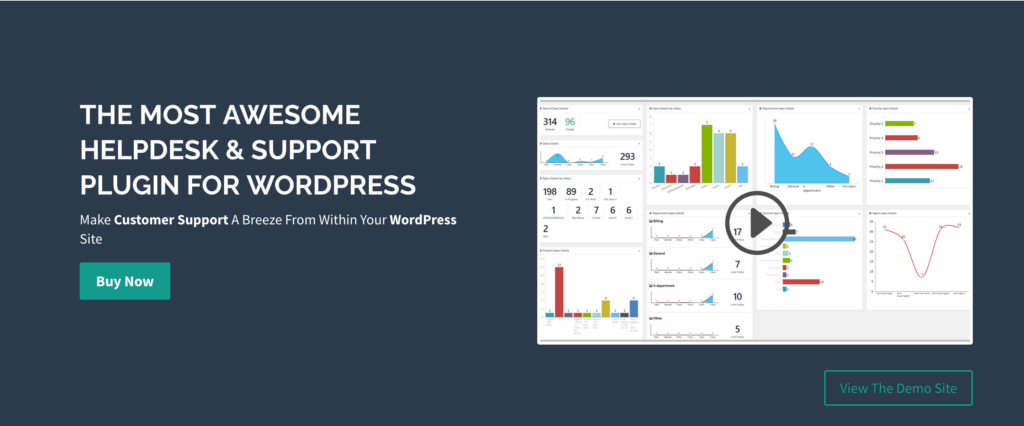 Awesome Support is an effective tool for WordPress. It is user-friendly. You can create a support portal easily in your WordPress dashboard with a few clicks.
Here are some benefits of Awesome Support:
Private Notes: Ability to save messages or instructions for other agents to follow.
Instant Notifications: Get instant email notifications about new tickets or tickets reply.
Canned Response: Can save and send pre-written responses for new tickets.
Unlimited Tickets: Offers unlimited tickets for users.
Unlimited Users: Serve unlimited users from your support portal.
Awesome Support has some useful features, but it has many flaws. They do offer a limited free version and offer premium plans. They also sell features as premium add-ons. Their integration with third-party tools is also very limited; available options are not included in pricing plans.
Limited Basic Features
Awesome Support lacks most of the basic features like auto-reload. You have to open every page and wait for it to load! That's disappointing when you are trying to give your customer fast Support.
Most Features available as Premium Add-ons
Awesome Support offers some features as premium add-ons. You have to buy these separately after buying their software subscription, which is a deal killer for most people.
Limited Support
Continuous Support after buying a product is a must-have. Awesome Support only offers one year of Support to the buyer. This is very limited when you have to run your business for years.
Limited Integrations
Integration with other services and top plugins makes a support ticket system more efficient. Awesome Support has limited integration and lacks the most necessary plugin integrations.
Complex Pricing
Awesome Support's pricing comes with a regular price with a bundling price and separate premium add-ons. It is so tricky for first-time customers. They lack one simple pricing solution.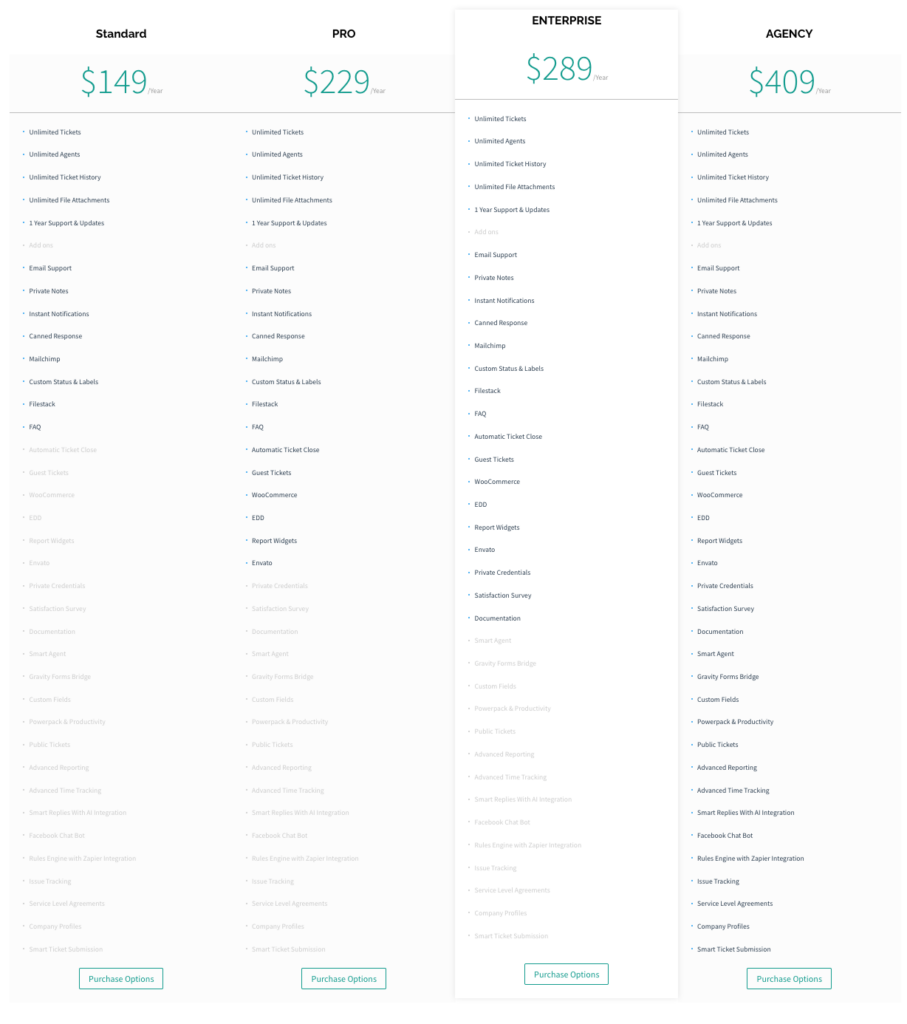 Sometimes these limitations force people to look for Awesome Support alternatives.
Hence, enter Fluent Support!
Fluent Support, the all-in-one customer support system!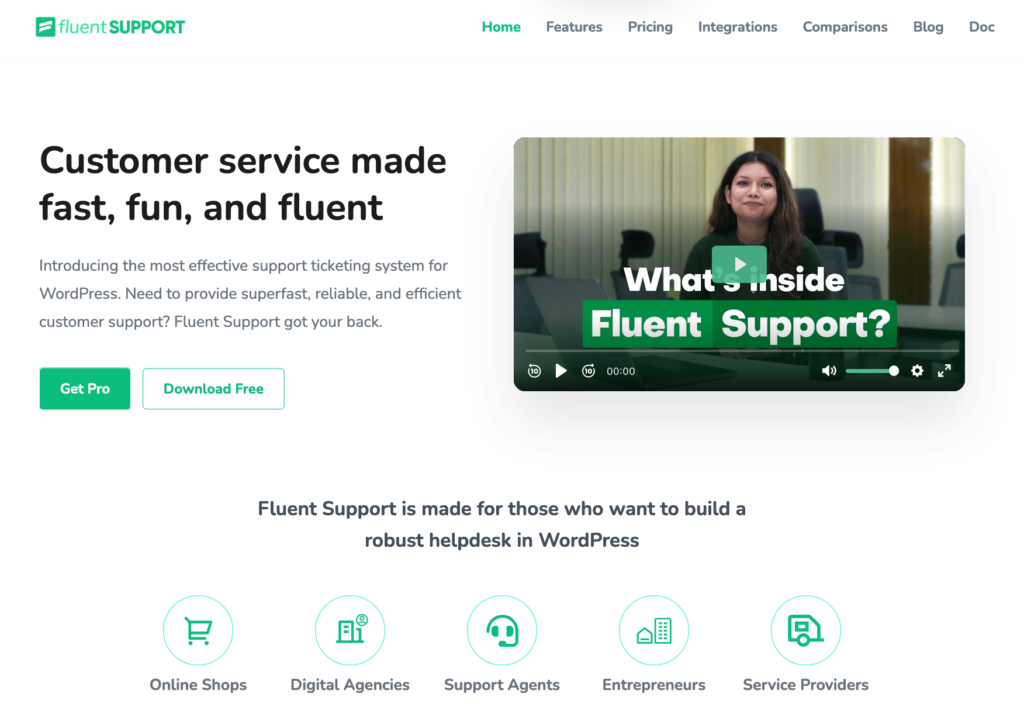 Fluent Support is the fastest WordPress support ticket plugin out there right now. It has vast features compared to Awesome Support. When you dig deep into it, fluent Support will change your view about the WordPress support plugin.
Here are some awesome features of Fluent Support:
Automatic agent assignment
Unlimited tickets & users
Collision detection
Advanced search
Filter and sorting
Admin dashboard
Bulk action
Saved replies
Internal notes
Seamless integration with 20+ tools
Custom email notification
Instant notification & reply tickets from Slack, Telegram & WhatsApp
Automatic workflows
Add/Remove taggings
Custom fields
Close ticket silently
Auto close tickets
Activity log with filters
WordPress dashboard widget
Merge & split tickets
Response delay tracking
Ticket importer
Custom ticket status
Advance reporting with hourly reports
Frontend admin dashboard
Ticket bookmarks
Ticket summary in WP toolbar
Fully translation ready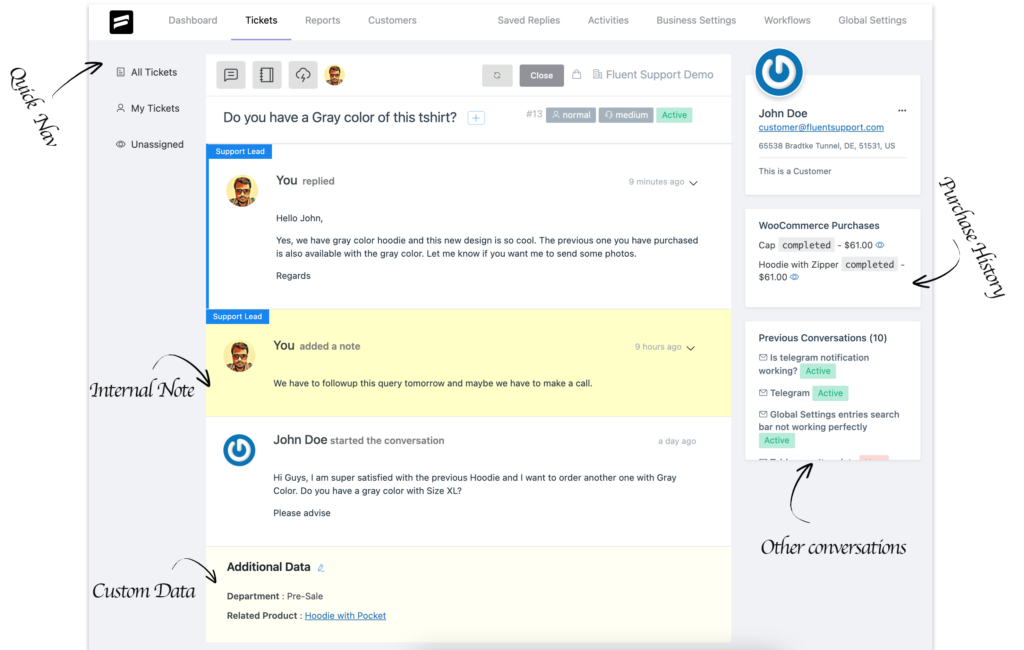 Read Fluent Support features in detail.
Fluent Support VS Awesome Support: Comparison features
In this section, we will discuss the main features of a good WordPress helpdesk plugin. What makes it useful and better than its competitors? We will go through some key points and compare Fluent Support and Awesome Support.
Basic Features
Fluent Support and Awesome Support offer some free basic features when you install the free version of the products.
You can use the free version to determine which suits you well for your support team. Then you can buy the pro version. In this case, Fluent Support is one step ahead on basic features like unlimited tickets, users, agents and products!
Speed
Speed is the most important factor when it comes to customer support. Awesome Support falls far behind Fluent Support on this!
Awesome Support takes a lot of time to load single pages, which makes response and closing tickets time-wasting. On the other hand, Fluent Support loads tickets faster. It is built using VueJS and runs only if you log in to the Fluent Support admin dashboard. In addition, the admin UI is super-fast since it's a SPA and communicates via AJAX. So it makes support agents' time well spent on tickets and they can attend to more customers!
Team Collaboration
Collaborating with your team is the second important factor after speed. A great requirement is also how much a plugin offers the best features for team collaboration. You should always look for this before selecting a helpdesk system for your business.
Awesome Support offers the tools, but their team collaboration features, like private notes and canned responses, are bundled with premium add-ons. But Fluent Support offers these features in single pricing! Fluent Support also has a collision detection feature that shows which agent is working on support tickets showing their avatar in the ticket.
Custom Fields
Want to add custom fields in your support forms? Fluent Support makes it seamless. You don't need to do anything other than having the plugin installed on your site; it will show related custom fields in the "Global Settings" of Fluent Support.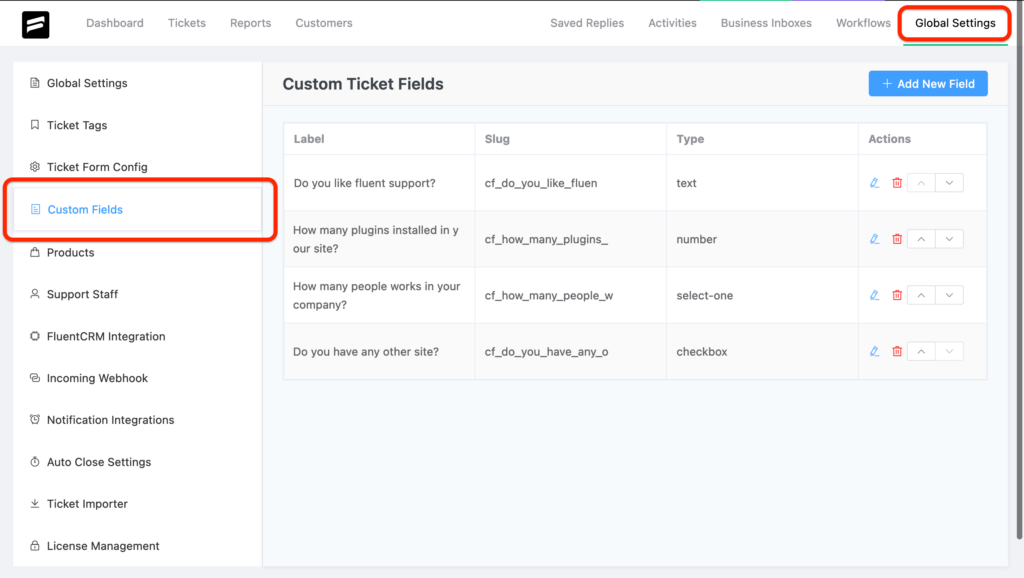 But with Awesome Support, you have to go through zunglings and get premium add-ons.
Workflow Automation
Every day the customer support team goes through doing repetitive tasks over and over again. This cost lots of time. You can easily do it by setting up workflow automation.
Awesome Support's automation feature is not thorough, where Fluent Support has a dedicated "Workflow Automation" feature with manual and automatic automation.
You can do wonders like add/remove tags, automatic agent assignment, add internal notes, automated response and so much more with Fluent Support Automation! Fluent Support has 3 triggers: On Ticket Creation, On Customer Response & On Ticket Closed. You can set your actions automatically based on these triggers.

Email Piping
Email Piping helps you to give your customers the ability to open tickets by sending emails rather than coming to your support portal, registering and opening a new ticket.
Your support agents can attend to those emails from their agent dashboards and reply to the customers. Awesome Support limited that with premium add-ons.

Fluent Support offers an email-based inbox with every pricing plan! You can use both "Web-based" & "Email-based" inboxes from one website! You can set up multiple inboxes inside one Fluent Support system.
Complete Customer Overview
Fluent Support can provide a complete customer overview whenever you open a ticket. You will know who your customers are, what they bought, whether they attended any course or are in your service, and what their previous conversations are. Every aspect of your customer profile will be visible to you!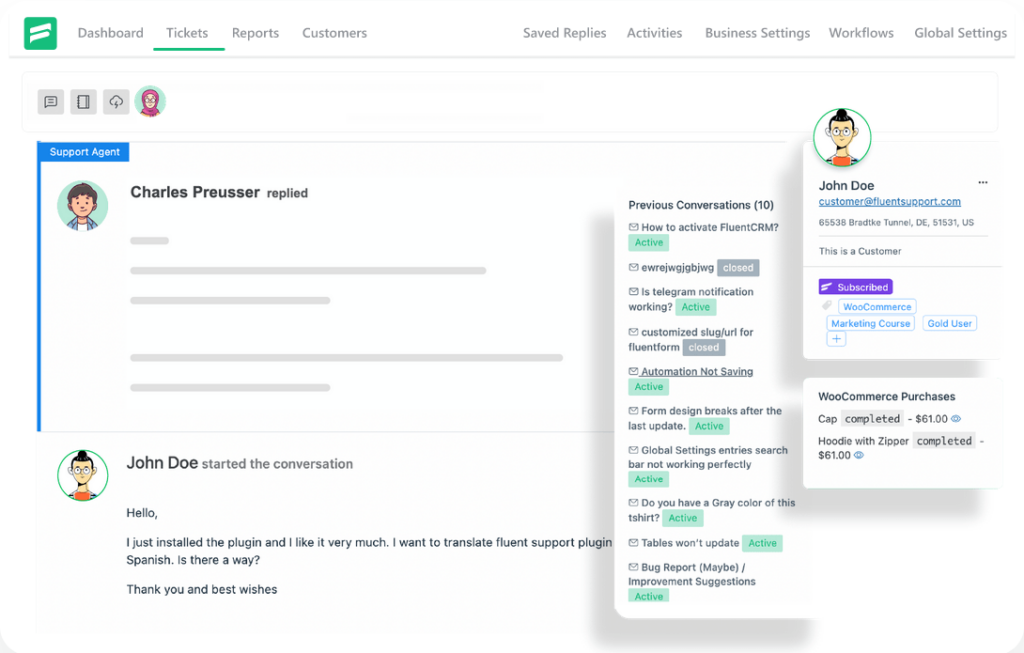 Awesome Support limited that separating key features distributed as premium add-ons.
Integrations
Fluent Support has powerful tools integrated with its system. For example, you can replace our default support form with the powerful form builder Fluent forms to create beautiful forms for your site. You can easily add that form anywhere on your customer support website using Fluent Form shortcode. Fluent Support integration offers 20+ integration!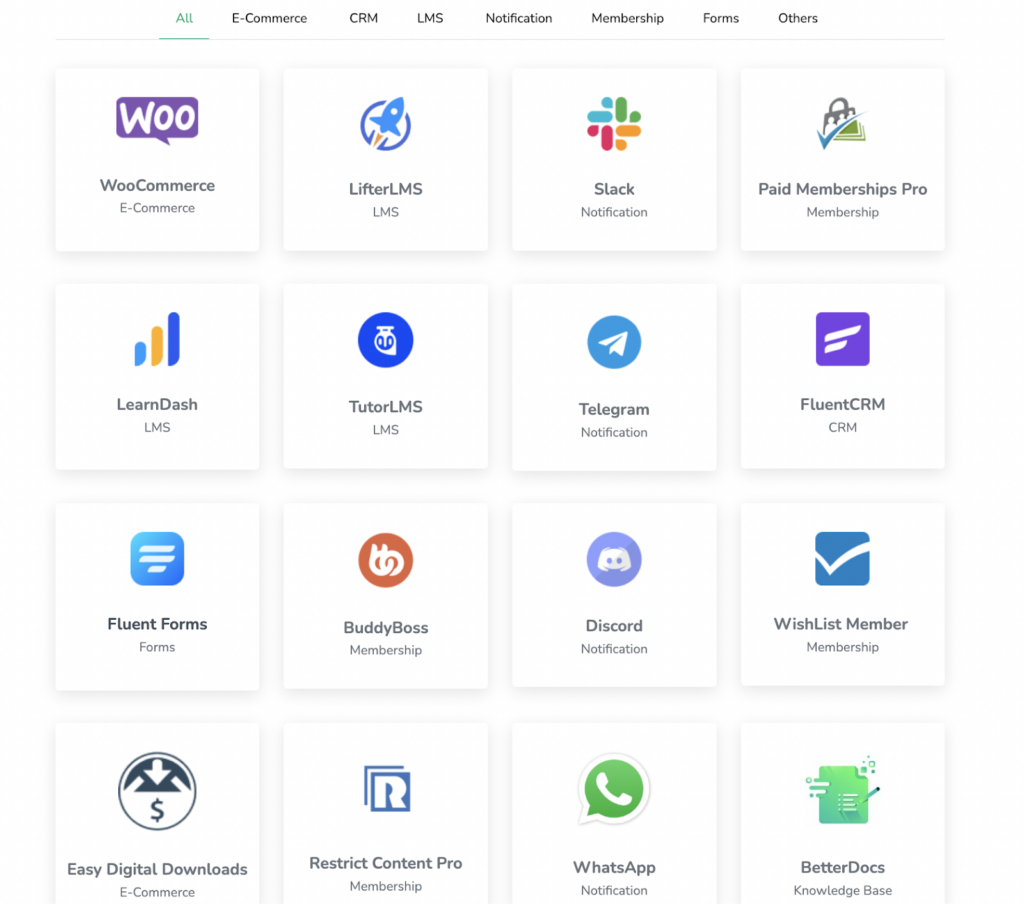 Fluent Support offers both incoming and outgoing webhook features in every pricing plan.
Awesome Support stands poorly next to Fluent Support in terms of integration, only offering 6+ integration for users. And most frustrating is that some of them are premium add-ons. Fluent Support integrations are part of every premium plan.
Third-Party Communication
If you want to provide superior customer support, you have to be very flexible about your service. You have to integrate reliable customer communication tools to connect with your customers and provide information about their support tickets.
Fluent Support integrates seamlessly with Telegram, Slack, Discord and WhatsApp. You can connect your support portal with these messaging services and your agents can get ticket notifications about new tickets on their preferred platforms. They can also attend tickets by replying directly from their Telegram, WhatsApp and Slack chats!
Awesome Support only offers Slack integrations, although it is not available in all plans. You must buy it as a premium add-on if you want to use it. Fluent Support offers Telegram, Slack, Discord and WhatsApp in all 3 pricing tiers.
Detailed Reporting
Tracking data and your support agent's effort is necessary to evaluate your customer service operation. This is why you need detailed reporting. Awesome Support does offer reporting but advanced reporting is not available in all plans.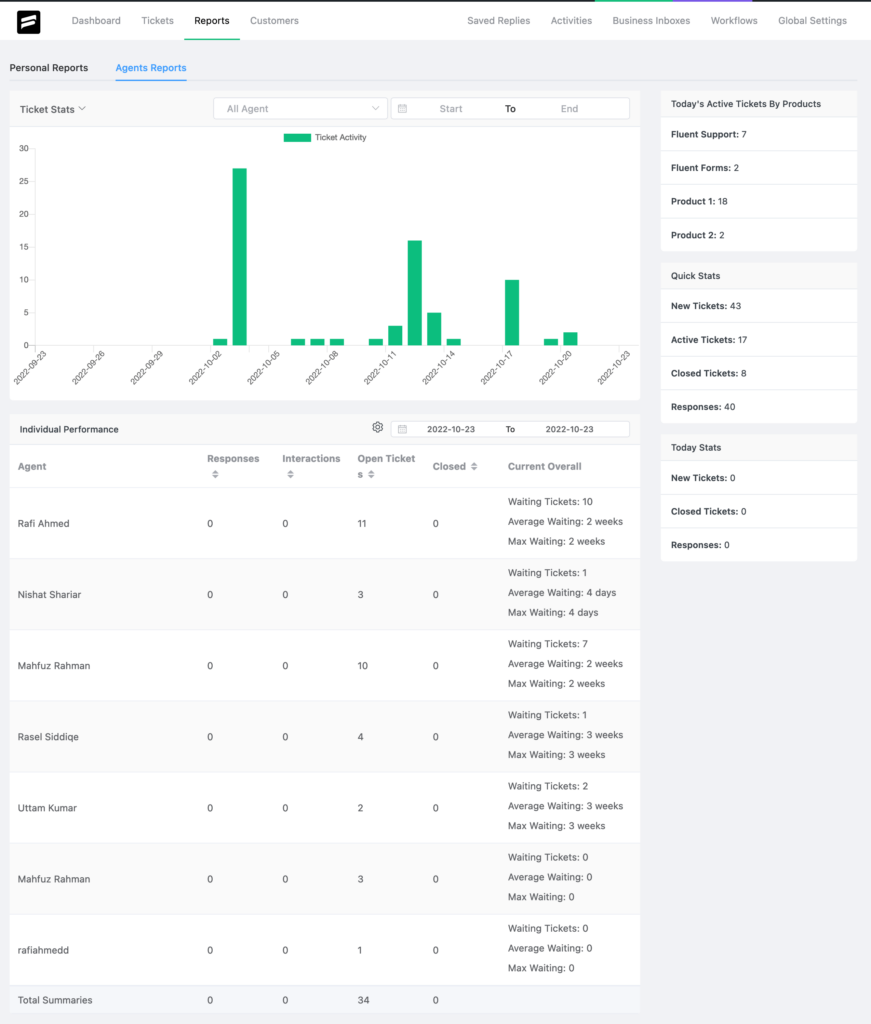 Fluent Support offers detailed reporting for both team and individual agents. It is available in all pricing plans. It also offers activity log features with filters and hourly reports; you can use this feature to track individual agent's daily activities.
Priority Support
It is crucial to have Support for the customer ticket system you want to use as your support solution.
Awesome Support and Fluent Support offer one-year priority support and plugin updates. But with Fluent Support, you can access a vibrant community anytime if you need help and our Support is always ready to fulfill your needs whenever you get stuck!
Are you having difficulties with Fluent Support? We are just one ticket away!
Fluent Support VS Awesome Support: Final Thoughts
Not all plugins are perfect. Both Awesome Support and Fluent Support may lack some functionality. Not all users or customer support solutions need everything; sometimes they may not get satisfied with any of them.
But when we go head-to-head with Fluent Support VS Awesome Support comparison, Fluent Support surely stands apart!
Fluent Support is faster than Awesome Support; it has more flexibility and offers deep integration with powerful tools such as WooCommerce, Easy Digital Downloads, Slack and LearnDash.
We are constantly updating Fluent Support to make it the most powerful one in all solutions for all support needs. Whether you run online shops, digital agencies, services, or any service-related stuff, Fluent Support can help you serve your customer better.
We are constantly talking to our users and taking notes to improve Fluent Support. You can submit your suggestions and participate in the Fluent Support community.
Fluent Support is a great plugin that is worth your money. You can still go through Fluent Support WordPress respiratory and check out for yourself. Our pricing plan is not so complex as Awesome Support and there are no features locked in as premium add-ons!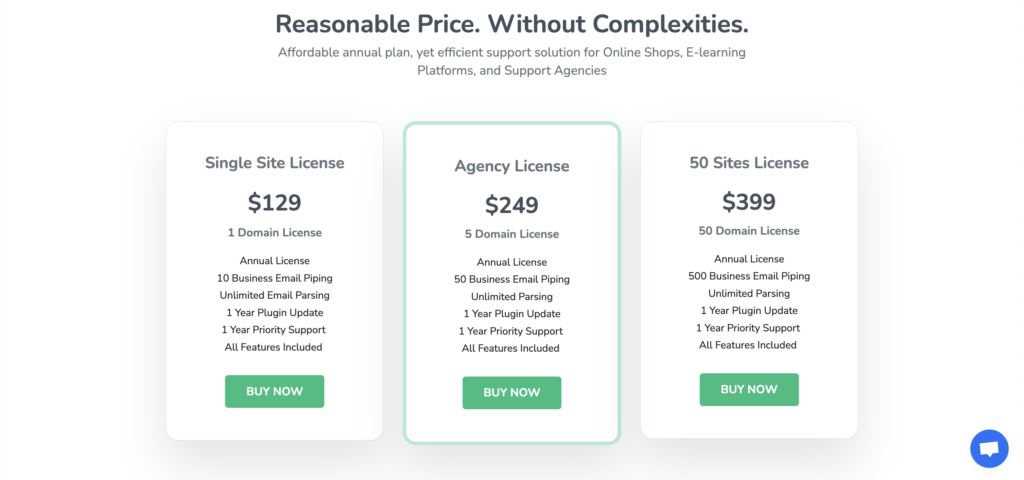 How to migrate to Fluent Support from Awesome Support?
Ready to migrate but worried about how you can move your years of support tickets from Awesome Support to Fluent Support?
Don't worry a bit!
Fluent Support recently introduced the "Ticket Importer" features in the latest 1.6.6 release. You can import tickets from Awesome Support & Support Candy in one click!
All you have to do is install Fluent Support Pro and activate it after purchase in your already Awesome Support running WordPress website.
Then after finishing setting up Fluent Support, go to 'Global Settings. Click 'Ticket Importer.' Fluent Support will automatically read the Awesome Support database and show you the ticket details. Click Import Tickets. It will import all tickets from your Awesome Support system to Fluent Support.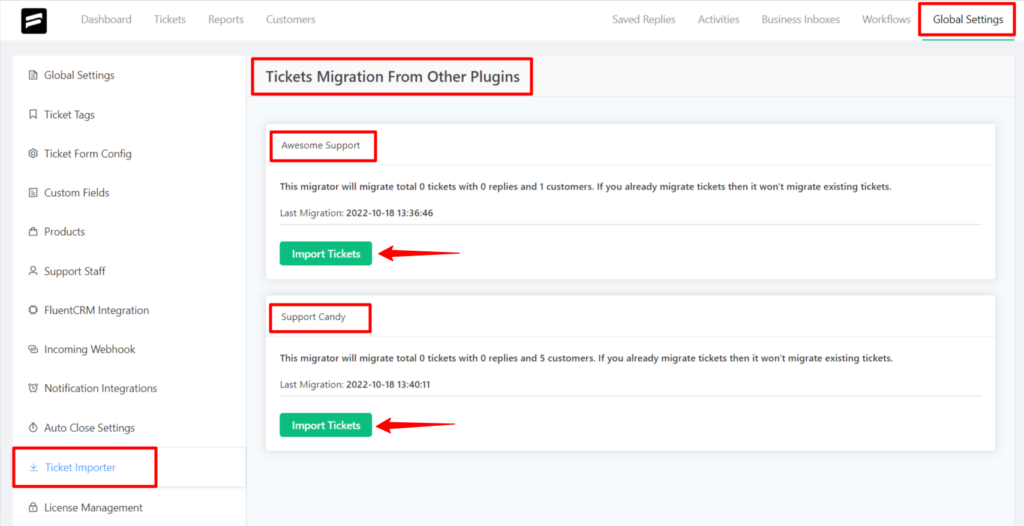 The importing time depends on the ticket number & data size. You can close the window if you want because the whole migration will happen in the backend.
Awesome Support migration to Fluent Support is as simple as installing a WordPress Plugin!
Conclusion
While Awesome Support lacks pricing flexibility, Fluent Support offers pricing, integration and features to operate a complete customer support system from WordPress. You can go through the comparison of Fluent Support VS Awesome Support again to determine which is the best solution for you.
But in the end, go for the affordable one that improves functionality based on the user's suggestions. Fluent Support listens to its users, ships new updates regularly and offers reasonable pricing.
That's for today! Best of luck!