How often do you find yourself looking for a self-hosted help desk plugin that caters to your needs? We hope not very often for the sake of your business. If you are on the lookout for it, here's a place to start.
In this article, we'll be looking at 5 of the best self-hosted help desk plugins for fast-growing businesses on WordPress. But before we get into that, let's check out what you need to keep in mind when picking a support system.
A support plugin should ideally,
Enable you to handle multiple inquiries faster and more effectively.
Let you direct support requests across your team with zero delays. Last but not the least,
Offer an organized and convenient interface for all your support inquiries.
This is where WordPress support plugins or self-hosted ticketing systems outshine SaaS platforms because your ticketing system becomes integrated into your server and your website's backend. No need for an extra application that you have to go back and forth with your browser.
5 best self-hosted help desk plugins
With that, we can take a look at the best you can have on WordPress.
1. Fluent Support
Fluent Support is arguably the simplest helpdesk plugin on this list. It offers all essential support ticketing features at all pricing points with almost no limitations.
Creating and managing tickets is easy with no learning curve. If you're used to the WordPress dashboard, you'll love Fluent Support. Designed to make life simpler for support agents, Fluent Support contains advanced features such as email piping, automatic assignment, collision detection, customizable support automation, etc.
Not to mention saved replies and automation workflows greatly reduce the time spent on each ticket. Internal notes and custom priorities make collaboration efficient between your teams. The recent update has made Fluent Support a stronger contender in the self-hosted help desk space.
Verdict: Highly Recommended
Pricing: Plans start from $129/Site/Year.
Take it for a spin!
Offer the best support with ZERO costs. Installation is easy and setup is a breeze. Try it NOW!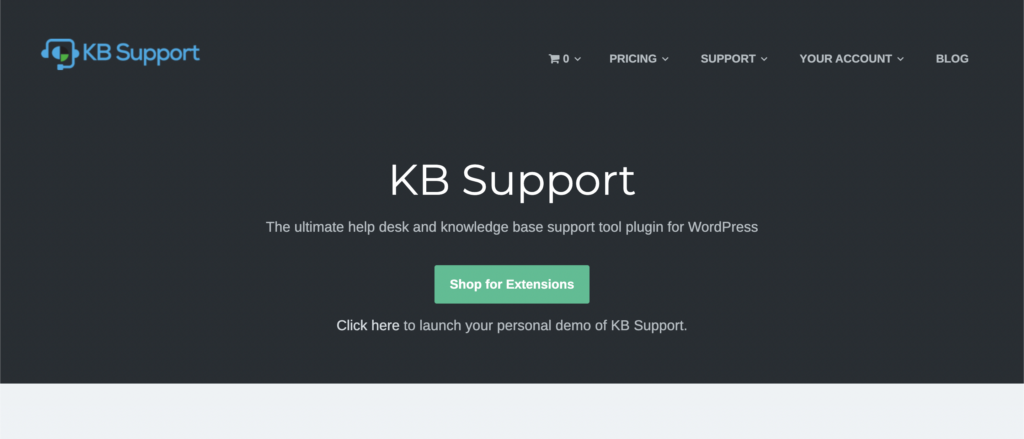 KB Support is another strong contender in the helpdesk and customer support space. Alongside being significantly easier to use than most solutions, there are numerous plugins that integrate seamlessly with it. The best part is it comes with its own knowledge base for support resources.
Easy Digital Downloads and WooCommerce integrations allow your WordPress eCommerce site to work with KB Support, but they are not available in the basic plan.
The drawback of using KB Support is essentially in their pricing. Especially because their basic plan isn't quite enough while their enterprise plan's simply overkill. This makes the plans unsuited for small businesses on a growth spurt.
Verdict: Not recommended
Price: Plans start from $74/Site/Year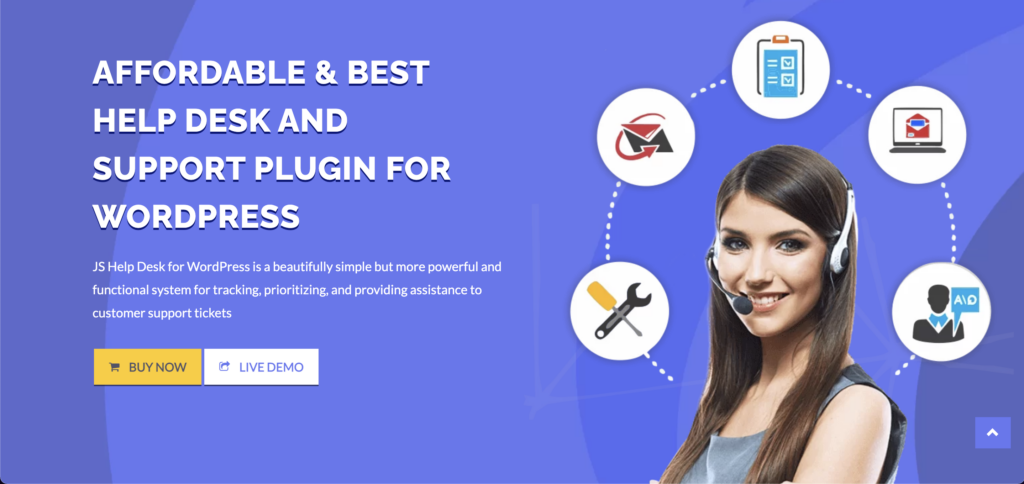 JS Help Desk is another self-hosted help desk and ticket system. It lets you set up separate teams, multiple products, and store documentation. Being self-hosted, it works very well with WordPress-based sites.
It makes it easy for WordPress users because logged-in users on your WordPress site can access the helpdesk without needing to switch accounts. The best part is it lets you view your tickets right in your WordPress dashboard.
Typical features include agents, creating tickets, email notifications, and multiple file attachments to tickets. On the less typical side, you get custom frontend widgets and Envato validation.
The only downside to JS Help Desk is that they offer some fundamental features such as merging tickets and internal notes as paid extensions. However, the pricing is moderate so we won't hold it against them per se.
Verdict: Recommended
Price: Plans start from $69/site/year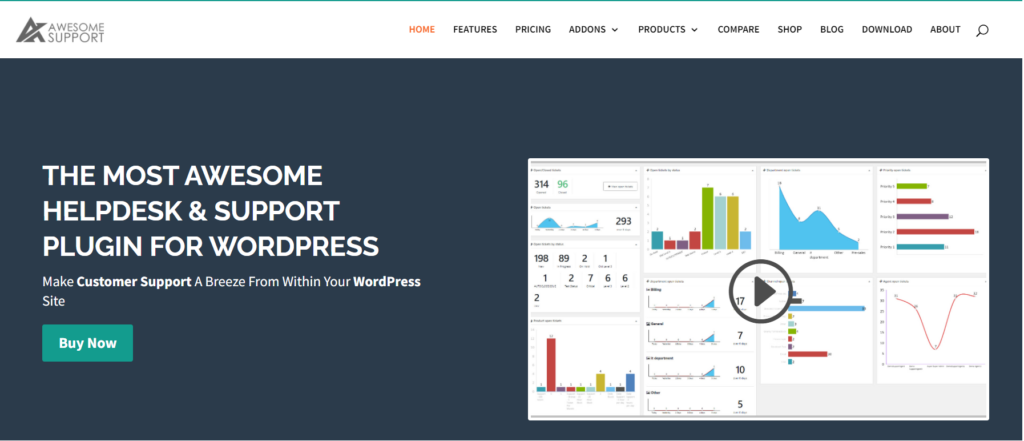 Awesome Support is the oldest self-hosted help desk plugin on this list that runs entirely on your WordPress site. They have a basic plugin you can use for free that can function as a primitive ticket system. 
The features can be extended using premium add-ons. Aside from the basic ticketing system, it offers email notifications, access restrictions as well as file and media attachments. You can also add customized fields in the ticket forms using custom fields.
Verdict: Recommended
Price: Plans start from $149/yr

Support Candy is another self-hosted help desk plugin for customer support on WordPress. The plugin itself is reliable and fairly easy to use and is specifically GDPR compatible. Along with basic ticketing and logs, features include guest tickets, unlimited agents, and so on. 
The pricing plan is much cheaper than Awesome Support. However, they offer necessary integrations such as WooCommerce and features such as Email piping as premium add-ons. That's a huge drawback if you ask us because basic features will exceed the pricing plan by a large margin.
Verdict: Not recommended
Price: Plans start from $49/yr for a single site (Add-ons sold separately)
Final Thoughts
Helpdesk plugins all offer more or less the same functions for slightly differing prices. However, the catch is whether they include all services or offer premium add-ons. The latter is exceptionally painful for small to medium businesses that are looking to expand.
Considering this criterion and other included features, Fluent Support comes out on top for us.
On the flipside, Support Candy and Help Scout, although being a bit more powerful in some aspects, are hardly worth the cost.
At the end of the day, every plugin offers a unique selling point. So check out free help desk plugins for yourself before committing to a support portal for your business.
Your own Support Portal in 5 minutes!
Start off with a powerful ticketing system that delivers smooth collaboration with unlimited room for your customers.