To create a successful business, your company must fulfill your customers' expectations. The problem occurs when these expectations are not clearly defined. If your customers don't know what to expect from your business, it will always be a difficult task to meet their expectations. For this reason, companies tend to rely on a Service Level Agreement, aka SLA.
Here, we will explain the Service Level Agreement, its benefits, types, best practices, examples, and a few other basic things to get started.
What is a Service Level Agreement (SLA)?
"The SLA explains the service. It does not predict the performance of that service. Explanation does not mean prediction."

-Denis Matte
A Service Level Agreement (SLA) is an agreement on a set of deliverables (quality, availability, and responsibilities) that both the service provider and the customer have agreed on. It is an essential element of any outsourcing or technology vendor agreement.
The agreement defines all the services and service standards. And it lays out the metrics for the customer to measure the provided service. Moreover, it clarifies the necessary remedies or penalties when requirements fail to meet.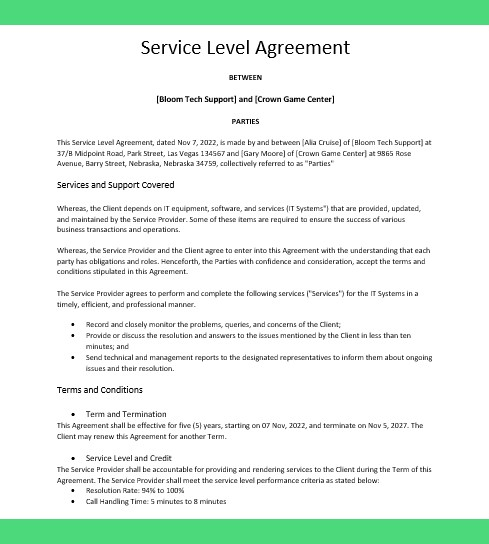 Usually, a contract takes place between a business and its customers. The agreement can also be between two departments of the same company or between a company and its external suppliers. Suppose a web hosting company may promise a 99.9% 'Uptime Guarantee' for each month.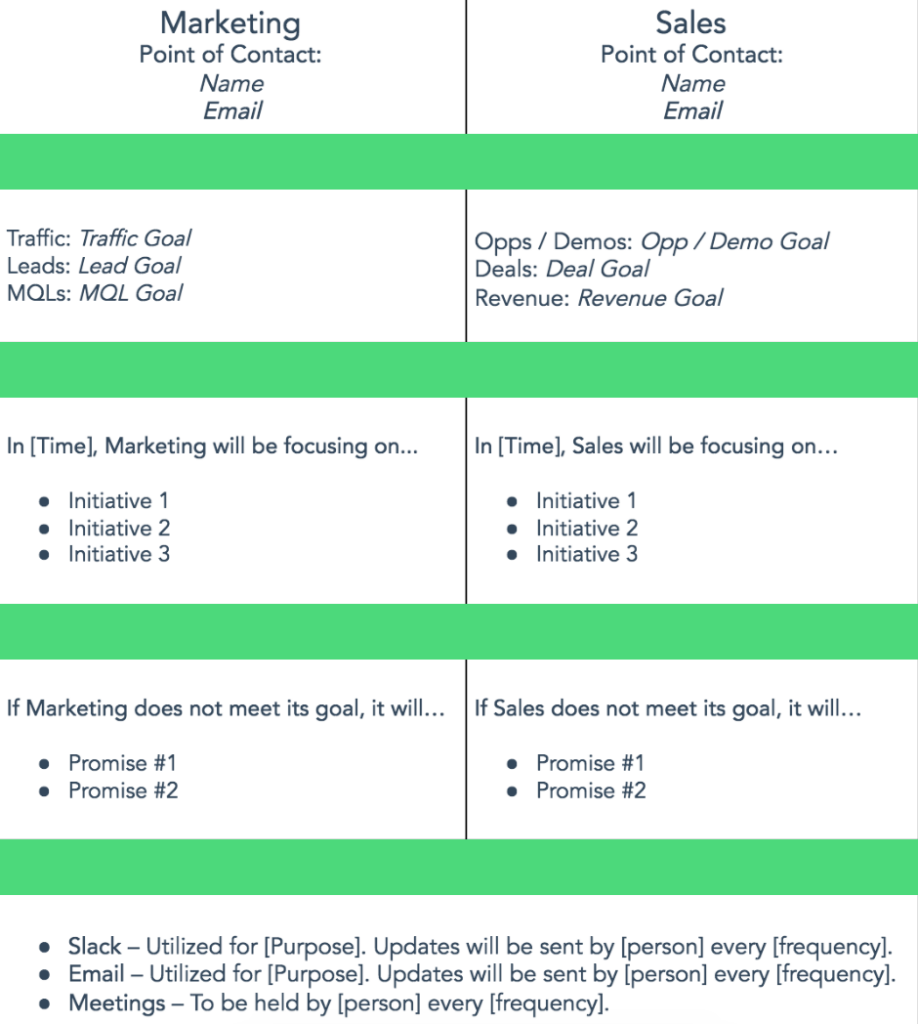 It means all of its necessary services will be available at least 99.9% of the time during each monthly billing period. However, if the provider cannot fulfill the promises, the customer can penalize the service provider according to the SLA and claim compensation or a solution. Forms of penalties like these must be well-defined in the format of an SLA, or the customer will not be able to identify them.
In a Service Level Agreement, a company defines its Mean Time Between Failures (MTBF) and the Mean Time to Recovery (MTTR). According to Wikipedia, MTBF is "the predicted elapsed time between inherent failures of a mechanical or electronic system, during normal system operation."
On the other hand, MTTR is "the average time that a device will take to recover from any failure." These also specify who is accountable for reporting flaws, paying fines, and other measurable data.
Types of Service Level Agreements (SLAs)
As a service provider, a well-defined SLA helps you keep a better relationship with your customers. There are three common SLA types based on their unique use cases. And now that we've already covered what an SLA is, we'll briefly weigh in on three of its variants.
1. Internal Service Level Agreement
Internal SLA defines the agreement between two separate departments or teams of the same company. It helps ensure that both teams are collaborating as they should be to meet the company's vital goals.
For example, in a company, the design team has to deal with the content marketing team to supply designs for content. It might include weekly status reports per month from the content marketing manager.
The report shows that they're receiving the exact amount of designs as they agreed. Thus, it helps both parties to keep pace.
2. Customer Service Level Agreement
Customer SLA defines the contract between a service provider and its particular customer. It's an agreement by the vendor to deliver a certain level of service to an external customer.
For instance, a stationery supplier company might have an SLA with a particular bank stipulating that they'll supply 100 reams of paper per month, shipped every Thursday.
It might also include a delivery confirmation note by the bank sent back to the office supplier company. An agreement of this sort is sometimes called an External Service Agreement.
3. Multilevel Service Level Agreement
A multilevel SLA is an agreement between more than two parties. This type of SLA helps outline expectations within a company's multiple internal departments or more than one customer.
Not only it can divide the contract into several levels. Also, it can cater to numerous price ranges and actions within a single product.
For example, developers and the marketing team within an organization might find they need to enlist the help of a third team—customer support—to improve customer retention.
Primary differences between SLA, SLC, OLA, and KPI
Many of us often mix up SLA, SLC OLA, and KPI. These are not the same thing. Service Level Commitment (SLC) is a more generalized version of an SLA. An SLA comprises two parties. On the other hand, SLC is a unidirectional commitment outlining what a company can assure its customer at any given time.
Operational Level Agreement (OLA) is a bit more technical. It is an agreement between a company's internal support groups that supports the SLA. OLA examples can be agreements between the company's internal groups about operating hours, support time, response time, etc.
Last but not least, Key Performance Indicators (KPIs) are measurements for assessing how well a team performs with agreed-upon standards. On the contrary, an SLA is a contract between you and your customer describing how your relationship will function.
What is an Indemnification Clause?
There are cases where an SLA might feature an indemnification clause. In an indemnification clause, one of the parties (Indemnitor) willingly takes full responsibility for any mishaps suffered by the other party in the event of a contract breach.
It is an approach for further ensuring the quality of their services. Therefore, an indemnification clause serves as an agreement that declares to compensate one party for harm or loss caused by the other party or failure to act. The goal is to shift liability from one party to the indemnifying party.
However, to limit the scope of indemnification, a service provider can do a few things. For example, minimize the indemnitees' number, create time limits, establish monetary caps, consult an attorney, etc.
Importance & benefits of an SLA
In the late 90s – when IT outsourcing was booming, cloud computing and managed services became more prevalent. That is when SLAs started evolving and addressed some new approaches. Shared services, rather than customized resources, characterize the newer contracting methods.
Thus, businesses use service-level commitments (SLC) to produce broad agreements. These are to cover all customers. A Service Level Agreement builds trust. It describes the Performance Characteristics of the service. And helps both parties stay on the same page.
Moreover, a customer can redress any service-related issues to the provider. They can penalize the provider for broken agreements, on the flip side, bonuses for exceeding them.
Likewise, the provider also can check at times under which circumstances they will not be liable. So, an SLA offers transparency to clients and escalates mutual understanding of service expectations. Here's a short list of its benefits:
It ensures enhanced customer satisfaction
Helps solidify the trust
Projects an established source of information
Boosts the overall working experience with a clearly defined goal
Brings forth a better experience for employees as well
Be where your customers are!
Hear your customers wherever they need you.
Common SLA metrics example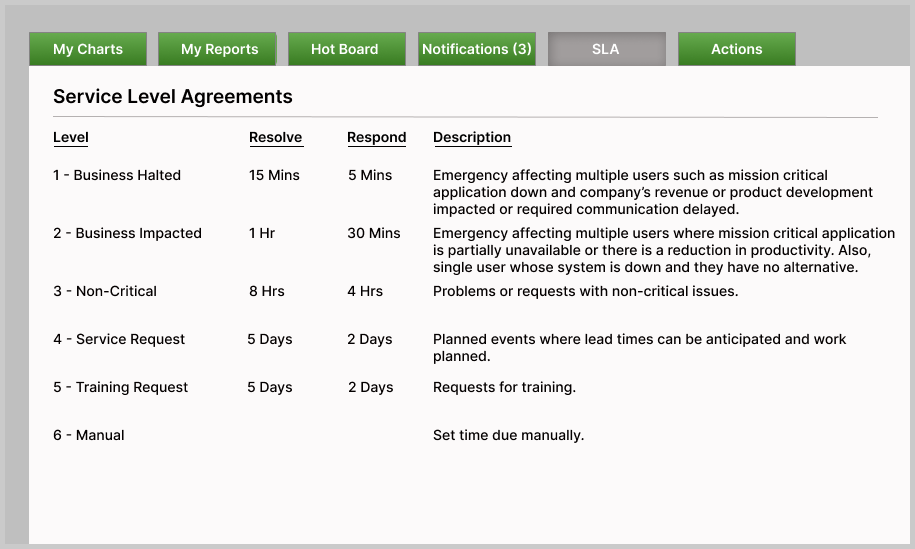 SLA examples may vary depending on the industry. But here, we have gathered a few examples of commitments for you with some common SLA metrics that companies use most of the time.
Uptime guarantee – In technology services, uptime commitment such as a '99.99% guarantee' ensures the service's availability.
The promise of 24/7 technical support – The provider must assure customers that in times of any technical difficulties, they can reach out to customer support (24/7) and address the issue. Also, the provider needs to promise an average response time from the support team.
Customer satisfaction – The help desk determines customer satisfaction through customer ratings.
Turnaround time – It specifies the required time to finish a task. If the service provider is a delivery company, their SLA may commit to an average delivery time of three days and refunds if it delays for more than five days.
Call metrics – Usually, call center services do use call metrics. Their service level agreement may include a variety of call metrics, such as average queue time and call abandonment rate.
Quality assurance (QA) – The quality assurance commitment might vary depending on the industry. It can be an automated process or obtained by the quantification of customer reviews and ratings.
Mean time between failures and mean time to recover – Usually, the mean time between an incident only gets measured in times of major issues. And the time it took to recover from the failure after logged by its provider is the mean time to recover.
Business results – It is related to every aspect of an SLA. Service providers use KPIs to determine whether they meet customers' primary objectives.
Security metrics – Most of the SLAs include a security precaution commitment. It defines the cybersecurity and physical security measures taken by the service provider to protect their customers' assets.
Service Level Agreement – key components
To avoid conflicts and misunderstandings, you must set the key components. Set components that are related to your SLA type. Generally, there are two areas of SLA components: Services and Management. Sometimes there is also a third section defining what's excluded (if there's room for any doubt).
However, inside those areas, there can be a lot of variables. So, we have gathered seven key components to enhance your SLAs. Which also ensures total security when working with vendors.
Agreement Overview – An agreement overview is an element that includes individuals who are involved, service effective, and expiry date. Also, it contains a general statement about the details of the agreement.
Goals and Objectives – It explains the goals and objectives and outlines the ability to obtain a mutual agreement.
Stakeholders – The stakeholder section will hold the name of the parties involved in the agreement—for example, a tech support company and a game-developing firm.
Periodic Review – Along with the goals and objectives, it defines the parameters regarding the review timelines of a particular SLA.
Responsibilities of Each Party – This section outlines and declares the responsibilities of each party.
Penalties for Breach – The indemnification parameters for any unwanted data or property breach (penalties/compensations) will be mentioned in this area.
Protocol for Adding/Updating the Agreement – This section is just what it sounds like. It describes all the protocols for adding or updating the agreement.
These are just some of the components of an SLA. It includes other elements like signatures, risk management, disaster recovery, security, exclusion, termination process, redressing, etc.
SLA best practices & takeaways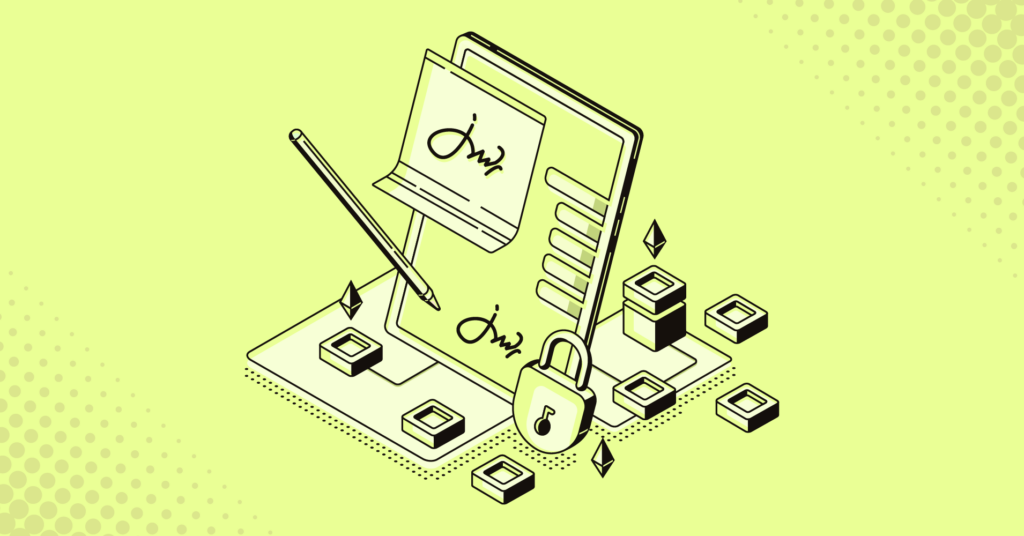 SLA is a crucial tool for business. It holds power to establish trust between your customers and your business enabling everyone to stay on the same page. And once you understand its fundamentals, you can better arrange an SLA keeping your customers and business success in mind.
Here are some best practices and takeaways to further ensure your SLA's effectiveness.
Response time tracking – As a service provider, you need to track your support response time to provide better customer support. But while you're waiting for a customer to reply, create an SLA that stops tracking that response time. Or else, make sure your measurement and reporting systems can accommodate these exceptions. Otherwise, the resolution time will seem longer and look bad when it is actually not.
Stakeholders' decision – Before building an SLA, confirm your company's stakeholders agree to all its points.
Agent experience – Build an SLA your customers can easily read and understand. If you put too many goals, special situations, and complex naming conventions, it will be hard for them to get to the point. Thus, rather than creating complex SLAs, break them into small parts.
SLAs priority-based hours – Run some SLAs 24/7, and restrict the rest to regular business hours. If most of your support team works from Monday to Friday during business hours, it will be hard to ensure 24/7 support for every service you offer. Therefore, set different performance goals and serve based on the ticket priority levels.
SLA reviews & updates – SLA is not something unalterable. Make sure to revise and review the SLA regularly. Update it every year if necessary. Listen and incorporate customer feedback in your support SLAs.
Summing up
So there you have it, our take on Service Level Agreements (SLA). We've covered all the fundamentals of SLAs you'll need to know to get started. However, a lot has changed since the Covid-19 pandemic. As of 2022, there has been a significant shift toward making the IT industry more user-centric.
It has become essential to ensure a great customer experience. As a result, service providers are moving from SLA to an Experience Level Agreement, aka XLA. It is a specialized version of SLA that focuses on customer and employee experience while receiving the service.
Remember, more than anything else, it is about an agreement between you (the service provider) and your customer. A contract that protects both parties from disputes. It provides remedies and helps avoid misunderstandings, building a better relationship and a successful business.
Your own Support Portal in 5 minutes!
Start off with a powerful ticketing system that delivers smooth collaboration with unlimited room for your customers.