Imagine ordering a pair of shoes from a website in the middle of the night. And voila! Just within 8 hours, receiving them while you are making breakfast.
Or imagine the website showcasing a product now out of stock. And after contacting customer support, they're bringing you the link to that same product from one of their competitors.
Sounds impossible, right?
You may say we're dreamers (subtle Beatles reference)! But that's what Zappos does in real life. One of America's finest online shoe & clothing retailers that grew into a billion-dollar company focusing on customer support.
Now, without further ado! Let us jump straight into the realm of Zappos. Find out what it is, and follow which core values for customer support it WOW'ed millions of Americans.
From 'Zapatos' to 'Zappos' – History of Zappos
More than two decades ago, in 1999, Zappos took off under the domain name shoesite.com. After a few months, they changed the name from Shoesite to Zappos. The name Zappos came from the Spanish word Zapatos which means Shoe.
Though at first, it was merely an online shoe retailer, it soon evolved into a renowned eCommerce brand.
In 2000, Nick Swinmurn (Zappos' founder) partnered with Tony Hsieh and Alfred Lin. Tony and Alfred invested $2 million in Zappos from their investment firm, Venture Frog. Zappos worked days and nights to make a meaningful dent in the USA's eCommerce market.
One by one, they listed more products like clothing, shades, bags, watches, kid's merchandise, etc. Yet, for personal reasons, Nick left the company in 2006.
Tony then became the CEO and initiated some unconventional approaches to enhance Zappos' customer support.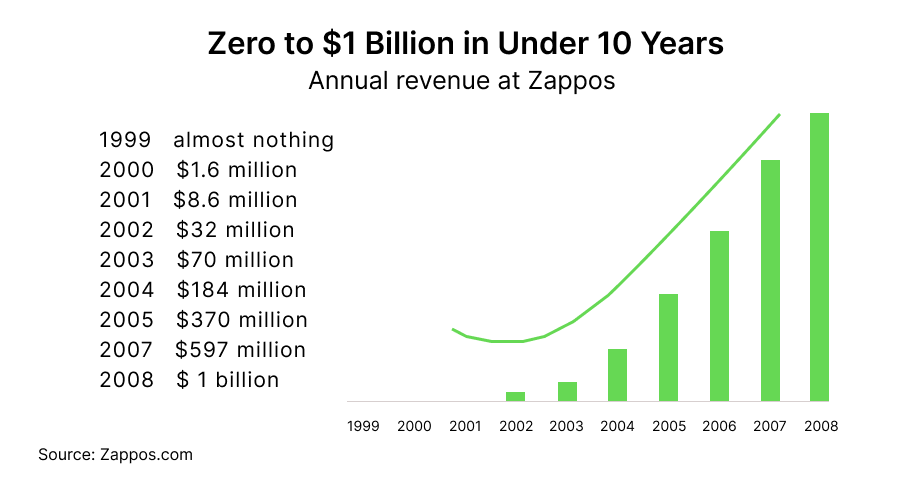 In 2008, Zappos hit the billion with a B in annual sales. After a year, it was on the list of 'Fortune's Top 100 Companies To Work For'. By then, Amazon and its CEO Jeff Bezos became huge admirers of Zappos' company culture.
They were interested in buying the company and approached accordingly. But, within Zappos' board of directors, Tony Hsieh and Alfred Lin were concerned with maintaining its company culture. Finally, in 2009, Amazon bought the company for $1.2 billion.
Amazon agreed on the condition of not diluting Zappos' company culture. And to this day, its approach to customer support has remained the same. Zappos puts customers at the heart of everything and delivers happiness.
But how does it put customers at heart? What are some of the most fundamental approaches it took to deliver happiness? Let's find out!
It all comes back to 'company culture' first
"What's the best way to build a brand for the long term? In a word: culture."

Tony Hsieh
Before Tony started pursuing his career at Zappos, he had a company called LinkExchange. Tony sold it to Microsoft for $268 million in 1998. And the reason was its warped culture. At that time, LinkExchange's company culture was going all downhill.
Tony knew from the beginning that culture is pre-eminent to success. Thus, he no longer felt connected with the company and hated going to that office. It was quite a lesson for him.
So, after moving to Zappos, the first thing he made sure of was to give this new company a proper cultural setup. He knew it was going to help them keep the focus on the customer.
The company took a few initiatives to maintain customer support as central to what they achieve as they scale. In continuation to that, every year, Zappos releases a Cultural Book. The cultural book contains the company's history, mission, brand values, and standards.
They ask every employee to give short answers to the question: What does Zappos culture mean to you?
It allows employees to express themselves. And guess what! They publish all these answers completely unedited. This way, the employees learn about Zappos' core values and its company culture.
Zappos core values
"As we grow, processes and strategies might change, but the core values need to remain the same."

Tony Hsieh
Zappos has set the company's core values by taking inputs from its employees. They believe Zappos' core values are more than just a few words and consider these values as a lifestyle. In the first instance, the company selected 37 beliefs. Later these were narrowed down to 10.
Here's the list of Zappos Core Values –
Deliver WOW through service
Embrace and drive change
Create fun and a little weirdness
Be adventurous, creative, and open-minded
Pursue growth and learning
Build open and honest relationships with communication
Build a positive team and family spirit
Do more with less
Be passionate and determined
Be humble
― Zappos' 10 commandments of customer focus
Zappos' core values serve as guidelines. It shows how its employees should conduct themselves at work and how to interact with vendors and business partners. The company is serious about sticking to its values.
So, on the second week of training, they test employee commitment with $2000 for quitting the job. However, almost nobody takes the payout.
After passing the test, the company's leaders demonstrate the human approach to working. The company illustrates what it takes to make customers happy.
For their employees, they promote a lively, collaborative environment. Moreover, they provide excellent benefits.
These benefits include studying at Zappos University. Also, option of choosing a new career path through internal shadow sessions. There is a network of life coaches, flexible work schedules, and volunteer opportunities.
Zappos wants to align the company culture with new employees at first. If the employees get the culture right, they'll bring forth excellent customer support at some point.
First, they learn and then take real-time customer support calls. It helps employees grow further & get used to a customer-centric environment.
Zappos customer support fundamentals
"We are not an average company, our service is not average, and we don't want our people to be average. We expect every employee to deliver WOW."

Tony Hsieh
1. Gather customer feedback using social media & software
From the beginning, Zappos has utilized social media & cutting-edge technologies to market its products.
By using different social media, AI tools, and other powerful software, it gathers customer responses. In this way, it is much easier for the company to improve the overall quality of its customer service.
Needless to say, when it comes to business, 'the customer is king'. So, a company must gather customer responses as elaborately as it can. Zappos understands that well.
While other companies use social media like Facebook, Twitter, LinkedIn, and YouTube for promotions, Zappos uses them for gathering customer feedback. They inspire employees to promote the company on a personal level (posting a tweet, word-of-mouth, etc.).
Besides, to learn about the customer experience from start to finish, they use an insight tagger called Chattermill.
Chattermill is an AI-powered sentiment tracker, an analytic system for understanding texts. It helps employees understand the voice of their customers and allocate resources more efficiently.
In sustainable marketing, branding through word-of-mouth with exceptional customer support produces a higher lifetime value.
Therefore, gathering feedback, analyzing, and providing excellent solutions through an organized customer support system is essential. Zappos follows that path. It magnifies Zappos' customer-centric philosophy to its customers.
2. Deliver WOW through service
You may have noticed the first core value we mentioned earlier. It is to 'Deliver WOW Through Service'. So, it is already setting the bar for a positive agent experience.
The support agents have the freedom to take unconventional, beyond-expectation approaches to 'WOW' their customers. It gives more importance to customers as well as touches them emotionally. That is why 75% of Zappos' purchases come from its returning customers.
Here are some examples of how Zappos deliver WOW through service,
Full refund for a faulty product and then giving a free replacement.
A record-breaking 10 hours and 43 minutes long support call.
Sending flowers with a note 'Get Well Soon' to an ill mother on the company's dime.
Returning $150 to a customer who forgot to take it out before returning a wallet to the company.
Sending a care package to a soldier in Afghanistan who wants to exchange his shoes.
Leather-free shoes for their vegan customers.
Free 2-way shipping & a groundbreaking 365-day product return policy.
In terms of Customer Support, Zappos trusts its employees. They let agents make their own decisions. Like other companies, it does not believe in making elaborate policies. It allows its reps to do whatever they think will do the best for the company.
For this reason, ex-employees from other call centers have to unlearn many conventional ways of handling customers.
3. Educate employees on operational processes
Operational process is "key activities or cluster of activities which must be performed in an exemplary manner to ensure a firm's continued competitiveness because it adds primary value to an output."
To have a solid operational process is necessary. Especially when it is a giant company like Zappos. A company that has to ship thousands of shoes & other accessories to clients from all over the USA must have pre-defined plans & procedures.
This way, a company can better prevent customer complaints, breakdowns, and other avoidable mishaps.
Therefore, while training newcomers, the company educates them about various operational processes. They put all the newbies under experienced employees to guide them appropriately.
To steer clear of further complications, they use a complex computer system called Genghis.
Genghis is for buying, stocking, tracking, and fulfilling customer orders. Also, it reminds employees when it's required to call a customer and coordinate the reboot system of the warehouse.
As a result, reports on the profit contribution of selling a particular product in their online store are sent to management.
Thus, the management can easily determine before stocking a product whether it is profitable to sell it or not. Using both trained human resources & complex computer systems, Zappos successfully makes customers happy.
4. Cultivate the 'do it yourself' mentality
"We no longer believe that customer service is something that we should make into a smaller number. We should make it into a bigger number. I am sure that our call center and warehouse costs are much higher than most organizations, but that's due to the fact that we view them as customer retention and word-of-mouth investments rather than operational costs."

Tony Hsieh
In 2002, Tony Hsieh understood that bringing it all in-house makes it easier to serve customers better. Although, for an online retail business, it was expensive to afford a giant warehouse. But they took the risk.
And, since they bought their first warehouse in Kentucky, every aspect of their business, including ROI, has improved.
Besides, Zappos on customer support spends way more than any of their competitors. They see this as an investment. Because the more effectively they can serve their clients, the less budget they will have to spend on conventional marketing.
While most companies outsource customer support, Zappos invests millions of dollars. It is to build the best in-house customer support team on the planet.
Moreover, they give their agents the free will to improvise on better handling customer support calls. There are no elaborate customer support policy books to make any of their employees say, "Sorry, our policy does not allow that".
They believe in adding value to customer experience, not just the number of calls completed per shift.
This customer-first mentality pervades their website also. Instead of burying the customer service numbers several clicks below the surface, they display them clearly on every page.
Here's an example,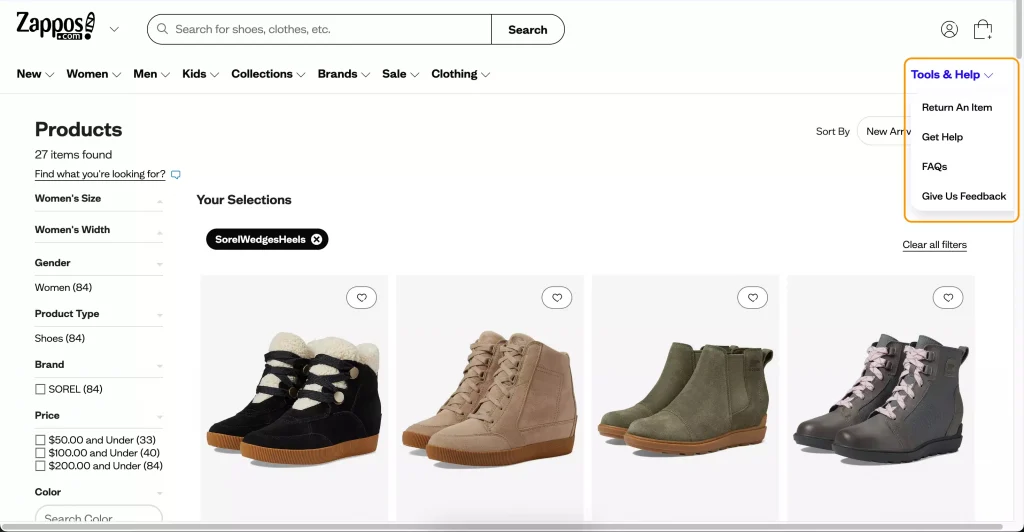 For this reason, people willingly call their customer service numbers. In most cases, they get outstanding customer support that eventually converts into loyalty.
Zappos' core values are benchmarks for a successful business
Zappos' growth over the last two decades has been phenomenal. Starting from an online shoe retailer to a 2 billion dollar fashion eCommerce, they control a large share of their niche market.
As the company has entered its third decade, the demand for more personalized & dedicated customer support is now higher than ever.
So, if you can successfully create a customer-centric online business like Zappos, the possibilities are that you'll be ahead of your competitors. And there are a lot of success stories of customer-centric business culture.
Thank you for your attention. We wish you the best in creating a successful customer-centric business.