Customer feedback is the holy grail of customer data.
I am not even exaggerating; it's true.
But many companies ignore this. They don't have a system of feedback forms and use it to collect feedback from everyday customer interactions.
Customer feedback helps you to improve your products, minimize problems and establish yourself as a customer-centric brand. Feedbacks play a huge role in understanding trends and customer psychology. You'll know what your customer wants and where you lack in fulfilling their needs.
What is the best way to design a good feedback form that works? Most small business owners fail to create a good feedback form. In this blog, we'll cover what is a good feedback form and how you can write one. After reading this blog, you'll learn how to create a feedback form from scratch with minimal effort.
What is a feedback form?
A feedback form is a simple way to collect people's opinions or reviews about your company, service, or products.
It is as simple as that.
Feedback form is an effortless system to learn about customers' perceptions of your business. It also helps you know about your company's overall customer experience.
You can clearly understand customer relations from your feedback forms data. Feedback forms can help you with 3 key areas:
1. Where your efforts are producing great results and your strength.
2. Customers' pain points and where you should focus.
3. Improving customer relations across all channels.
What are examples of feedback forms?
A company can collect customers' feedback in different ways best on their internal needs. There are many ways you can collect customer feedback.
1. Emails
Email is one of the most personalized feedback systems companies use. It is the oldest communication form, fast and effective.
If your customer communication is all done by email, you can use email to collect customers feedback. You can design your email feedback forms using simple HTML, but they may not exceed basic sections and confuse customers. Instead, go for a responsive HTML builder to collect their feedback.
2. Standalone forms
These kinds of feedback forms are gaining popularity among businesses. You can use basic templates for these forms, but there are many types. You can use single questions, questionnaires, or in-depth answer fields.
Standalone forms are easy to design and extendable. You can share these forms anywhere with a public link.
3. Pop-ups
Pop-ups are a new kind of attention-grabbing system. It is mostly used on websites, but app developers now use it to gain more exposure.
The cool thing about pop-ups, you can integrate these with your standalone forms. You can embed a standalone form in your pop-up and grab your customer's attention after a certain action. It is a good way to collect specific feedback regarding features, touchpoints, or problems.
4. Chatbots
Chatbot is a new cool thing that can help you elevate customers' experience through personalized interactions. Chatbots are used for general queries widely. Suppose you can train your chatbots to learn from customers' questions and set specific questionnaires to deliver. This way, it can collect customers' feedback automatically.
Use of these feedback forms depends on what kind of feedback you want to collect and where you want to collect it.

Reuse messages, reduce time
Save all your messages on your support desk.
Unlimited saved replies for unlimited agents
What are the types of feedback?
Different ways of customer feedback also depend on what types of feedback you are collecting. To use a feedback form, first, you need to select what type of feedback you wish to collect. There are many types of feedback businesses collect from their customers these days.
Here are some most common types of customer feedback:
1. Customer satisfaction survey
A satisfaction survey tells you whether a customer is satisfied or unhappy with your products or service. It helps you understand the overall customer experience, what customers need, where you are missing out, what a customer expects from you, and how you can deliver a great experience.
2. User experience survey
This type of survey is a bit different from CSAT surveys. While CSAT focuses on overall customer satisfaction, this type of feedback collects data about user experience using certain service or app features.
You can ask 2-3 questions after certain tasks or about a feature, and customers can quickly share their opinions. These feedbacks focus on how the features benefit customers, what is missing, and what customers want from it.
It is widely used by software companies to beta test their products before launching to the mass market. You can use this model on your customer onboarding journey and collect data about customer interaction at different touch points.
3. Net promoter score
Net promoter score asks a specific question – how likely are your customers to recommend you to their family and friends?
The options are given on a 1-10 scale, and customers can choose from them. The numbers are calculated as a percent when data collection is closed.
NPS forms give you meaningful data about your company's overall performance. You can determine how your business performs in a certain period or know the whole situation at once. You can find out how many of your customers will be your brand promoters. Customers who picked the highest number in NPS feedback forms are your most loyal customers who are most likely to recommend you to their networks.
4. Customer effort score
Want to know how your customers are treating a task or event?
Use customer effort score feedback forms. These types of forms help you understand how difficult a particular task is.
You can use CES feedback forms to determine your customer onboarding touchpoint's difficulty or use it to learn more about customer experience. You can ensure your product quality or customer service experience by using optimized CES feedback forms.
5. Customer information form
These feedback forms are highly optimized for current events or customer touch points. They help you collect data about your customers after their onboarding. You can use these feedback forms to learn more about your customers.
The more customer information you gather, you will be one step ahead of your competitors. These customer information feedback forms collect data that helps create your buyer persona. If you have a perfect buyer persona, you can easily target them with engaging copywriting and marketing campaigns.
6. Problem identifier feedback forms
I know the name may sound confusing. Let me explain. These forms are useful to collect data on single interactions instead of a full product experience.
It will help you find out what is working and where customers are facing problems most. If you can integrate these forms in every touchpoint and automate their functionality, you can collect customer feedback on every bug. You can fix them before a customer contacts your support.
Problem identifier feedback forms are highly convenient for proactive support operations. It can help you identify problems before they arise or can mark problems you are unfamiliar with.
Deliver super fast Support!
Provide customer solutions through one-to-one communications right from your help desk software.
How to write a good feedback form?
A good customer feedback form will give your desired data. But how can you write a good feedback form that gives you perfect results every time? Feedback forms have to be unique based on the needs of different industries.
Research your customers' behavior, understand what they want, and ask them questions. Feedback forms will help you understand what makes a customer happy. Writing feedback forms that work follows certain principles no matter what business it serves.
You can write good feedback forms following these guidelines:
1. Offer a personalized & seamless experience
The first rule of a good feedback form is – make it seamless for your customers to use.
Your customers do not have time to spend on lengthy or difficult feedback forms. They don't have time to change one channel to another to share their reviews unless they want to. Make it easy for them to write or send your survey or feedback.
Make sure your feedback forms align with your brand identity. Put your brand logo, colors, and font the same as other places in feedback forms. This way, customers will recognize & remember your brand while communicating with your feedback forms.
Use personalization to influence customers to click and fill up the form. If you already have customers' basic data, prefill those data in the form, so customers don't have to fill them up again. You can use the customer's name to call out in a survey sentence to attract attention.
2. Make it short & simple
Keep your feedback short & simple. A feedback form with too many questions can turn your customers away. Use simple sentences and use your words wisely. You want your customers to understand your questions, don't confuse them. They will leave the form before hitting submit. Know what to ask and when!
Design your feedback forms to have a clear impact on customers. White background & Black fonts are ideal for feedback forms because they cut most distractions. But you can use other colors related to your brand color. Always follow a consistent format & structure in your feedback forms.
Conditional logic is an awesome way to ask certain questions to certain demographics. Depending on customers' "yes and no" answers, you can show a certain feedback form field. This way, you can keep your form short and engaging.
3. Offer it at the right time & place
How can you get the most value out of a good feedback form?
By offering it at the right time & right place.
Customer feedback varies from time to time. Know when to send feedback forms or show popups because feedback results & customer engagements depend on it.
Revisit your customer's onboarding journey. Find out where feedback forms will get the best engagement & set up workflow automation. Automations will trigger your feedback forms based on customer input. This way, you will get better engagement and results.
Showing the right feedback forms at pivotal customer interaction moments is vital to improve overall customer engagement.
4. Give customers freedom
Most times, companies design customer feedback forms to collect data they think is important. That's why feedback forms constantly have the same options and multiple-choice fields. This leaves customers with few options.
Customers usually give up after a few form fields. Do not force your customers to select generic fields. Give them options with "I don't know" or "Maybe." This way, you will know which questions are important to your customers. You can edit your survey forms and add the most used fields for good engagement.
Give your customer the option to speak their mind freely. Use open text fields so customers can share their personal experiences and suggestions if they want to share. Make your customer feedback forms about them, not solely you.
Take it for a spin!
Offer the best support with ZERO costs. Installation is easy and setup is a breeze. Try it NOW!
How to create a feedback form?
Creating feedback forms on WordPress sites is very straightforward. You use a form plugin connected to your WordPress website to make a feedback form.
There are numerous form plugins you can choose from WordPress respiratory. We'll use Fluent Forms to show how to create feedback forms. We choose Fluent Forms because it has a deep integration with Fluent Support helpdesk plugin for WordPress.
If you don't have Fluent Forms, install and add it from your plugin area. Activate & go to the dashboard.
You'll see a blue "Add a New Form" button. Click it, and a new window will open with Fluent Forms pre-made templates.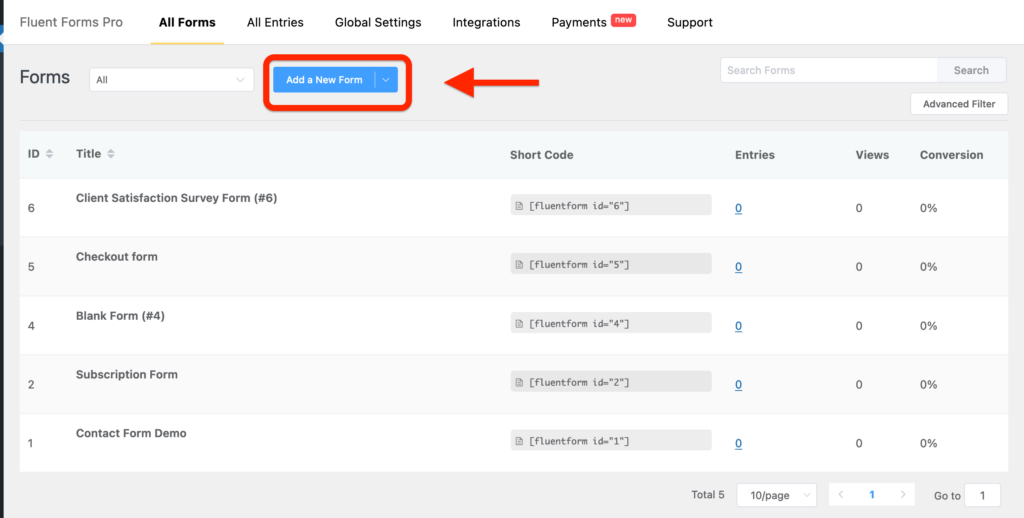 You'll find lots of variations in these premade templates. From basic to marketing, finance, education, product, and more.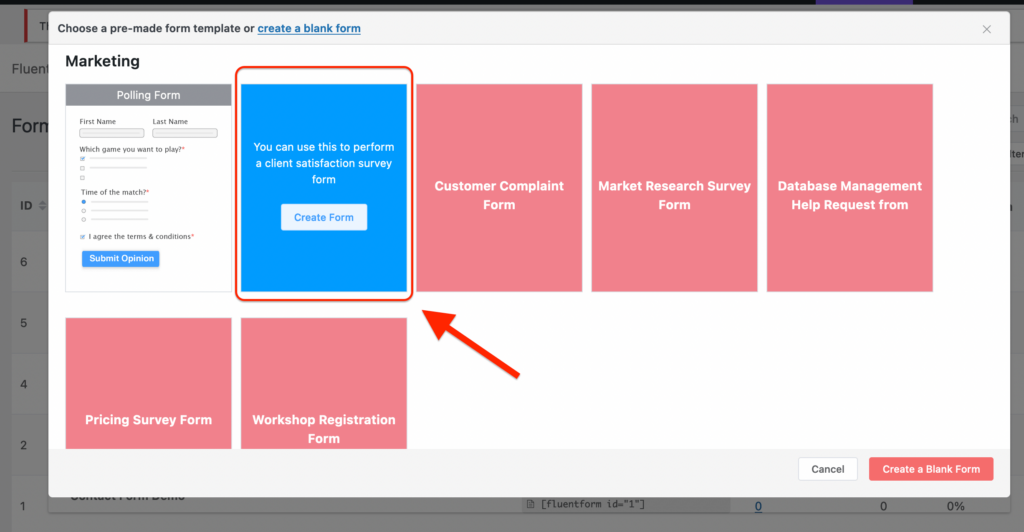 We will choose survey & feedback forms from these categories. Let's say you are in marketing and want to create a feedback form for a customer satisfaction survey. Click "Client satisfaction survey" from the marketing category.
A new window will open with a form editor.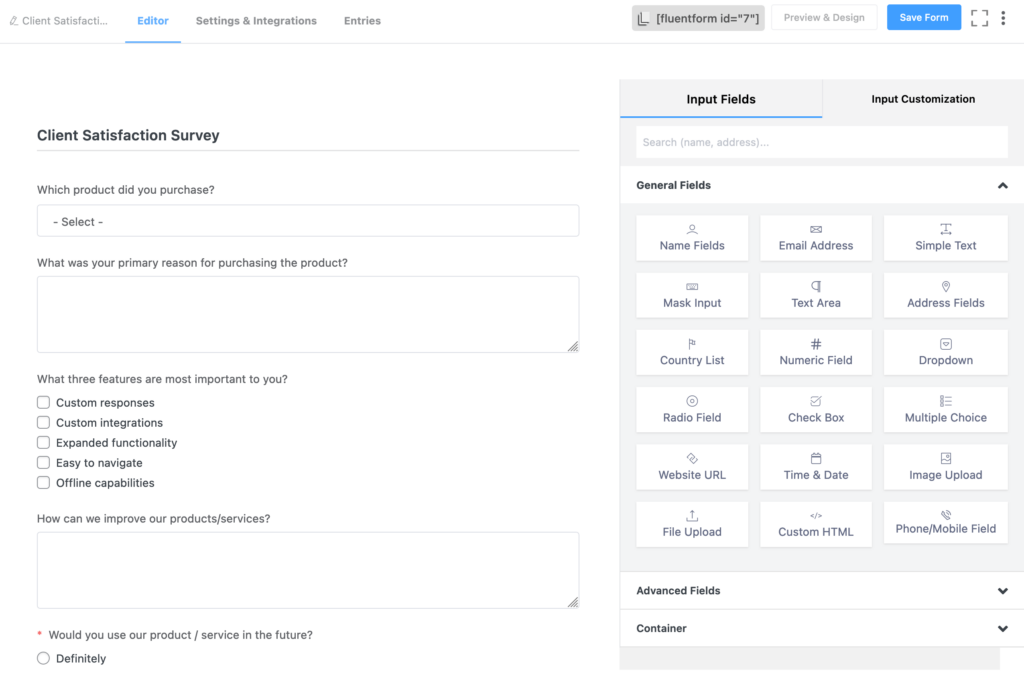 Here you can edit your form, add and remove general fields and use advanced options like conditional logic or direct payment blocks.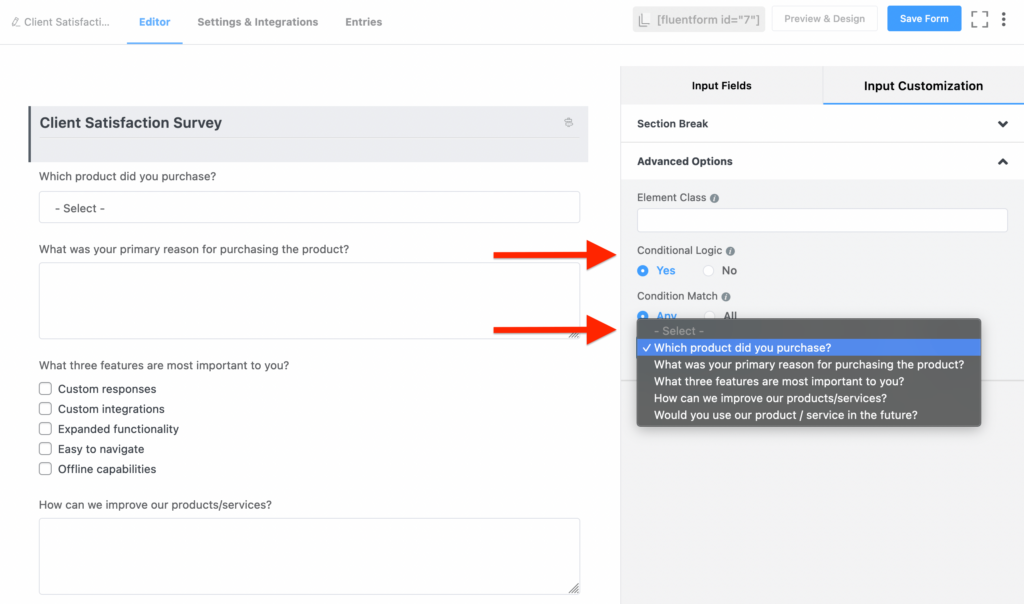 Conditional logic is a useful feature to deliver short feedback forms to customers with hidden custom fields only for targeted customer responses.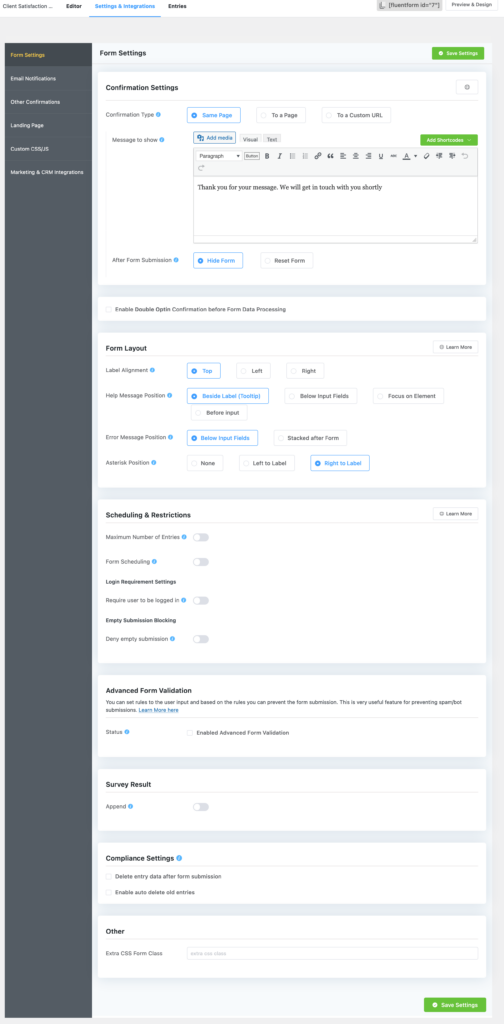 From the form setting, you can set up your forms as you wish:
You can set up confirmation types with custom messages.
Change the layout as you choose.
Add scheduling and restrictions to your specific needs.
You can also set advance form validation to prevent spam.
There are many features available in Fluent Forms you can use and customize to your specific needs. You can also use their conversational forms to create feedback forms that look more conversation-like.
Fluent Forms comes with pre-built templates, drag & drop features, great survey reports with cool visuals, and you can easily export your data anytime. Without any coding knowledge, you can create a feedback form like this!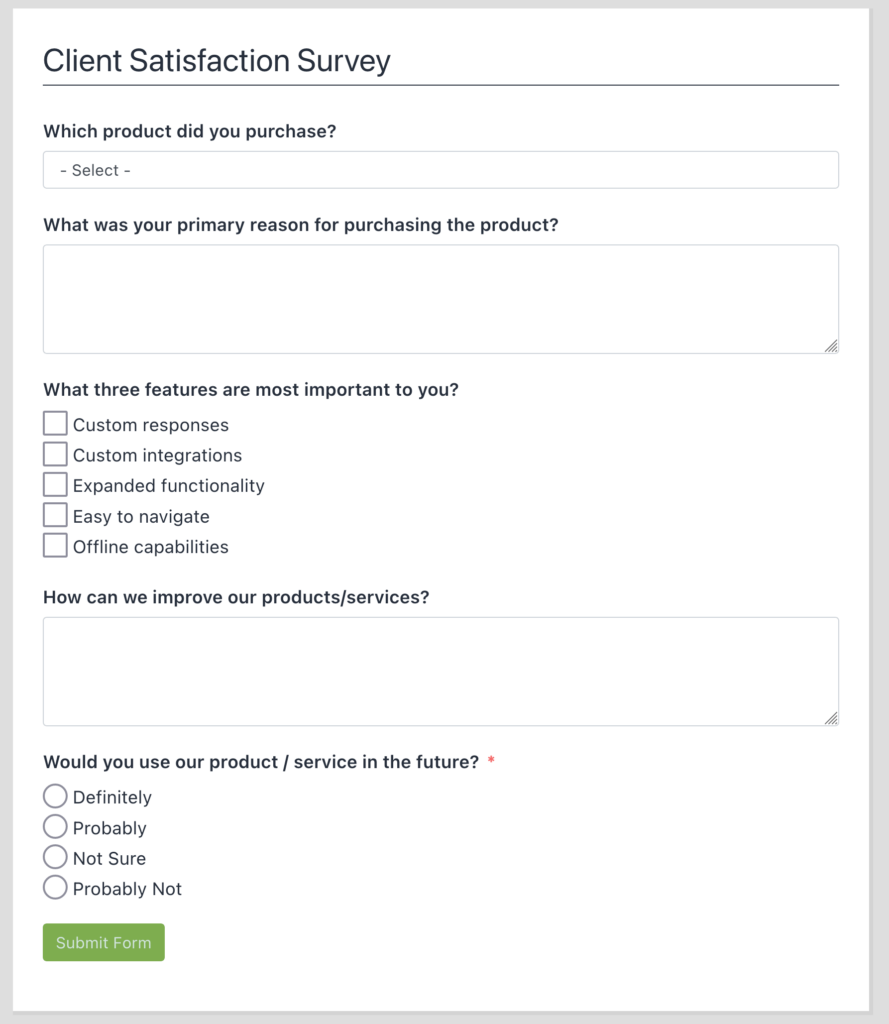 Want to share your feedback forms outside your WordPress site? You can do that too!
Fluent Forms directly integrates with the helpdesk plugin for WordPress – Fluent Support. You can easily integrate your forms with Fluent Support from the integration tab.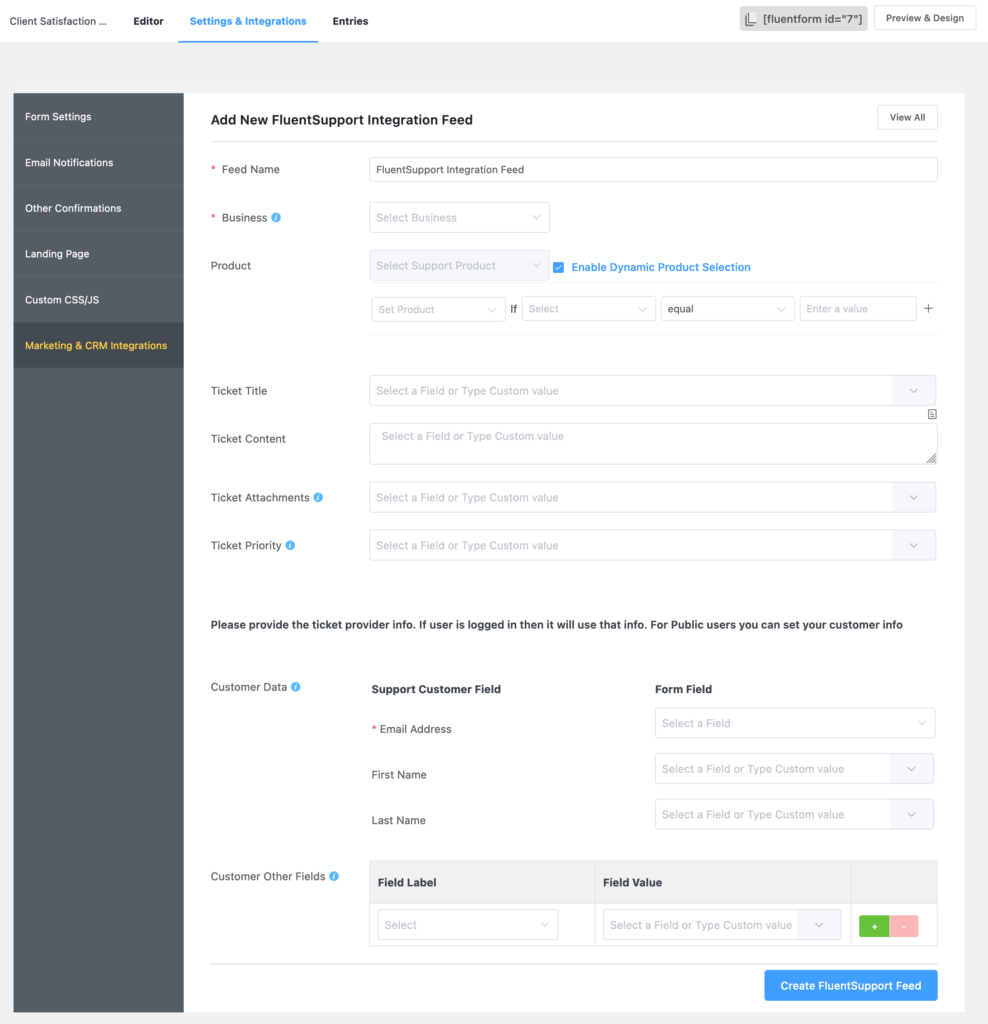 You can send your form data from Fluent Support forms to the Fluent Support dashboard with seamless integrations.
Feedback forms format you should follow
Crafting your feedback form in a good format is necessary for better conversions. Feedback forms may be different from industry to industry. But you can follow these basic form formatting to create a feedback form—
Don't mark any fields required. Give customers the option to choose whether they will answer it or not.
Offer open text so customers can write their answers rather than choosing yes and no. This is a great way to collect customer suggestions or frustrations in detail. Customers may want to share their individual stories with you. It can help you to connect with customers on a deeper level.
Use conditional logic to personalized fields for better customer engagements. You can get better customer results and feedback if you integrate conditional logic on your form fields.
Choose fields targeting your customers' needs rather than self-serving. Always think of the customer first when adding form blocks.
Stop using "I don't know," "Maybe," or "Others" in your answer fields. These options do not provide greater results.
Do not ask two things in one question. Always focus on one. Keep your questions different to maximize engagement.
When using a rating scale, always use the same scale in all fields. If you use 0-5 in one, do not use 0-10 in the next field. It will only confuse customers, and you will not get the answer you are looking for.
Feedback forms templates you can copy
If you want inspiration to create your customer feedback forms, here are some form templates by Fluent Support. You can use these pre-built templates or take ideas and make your own.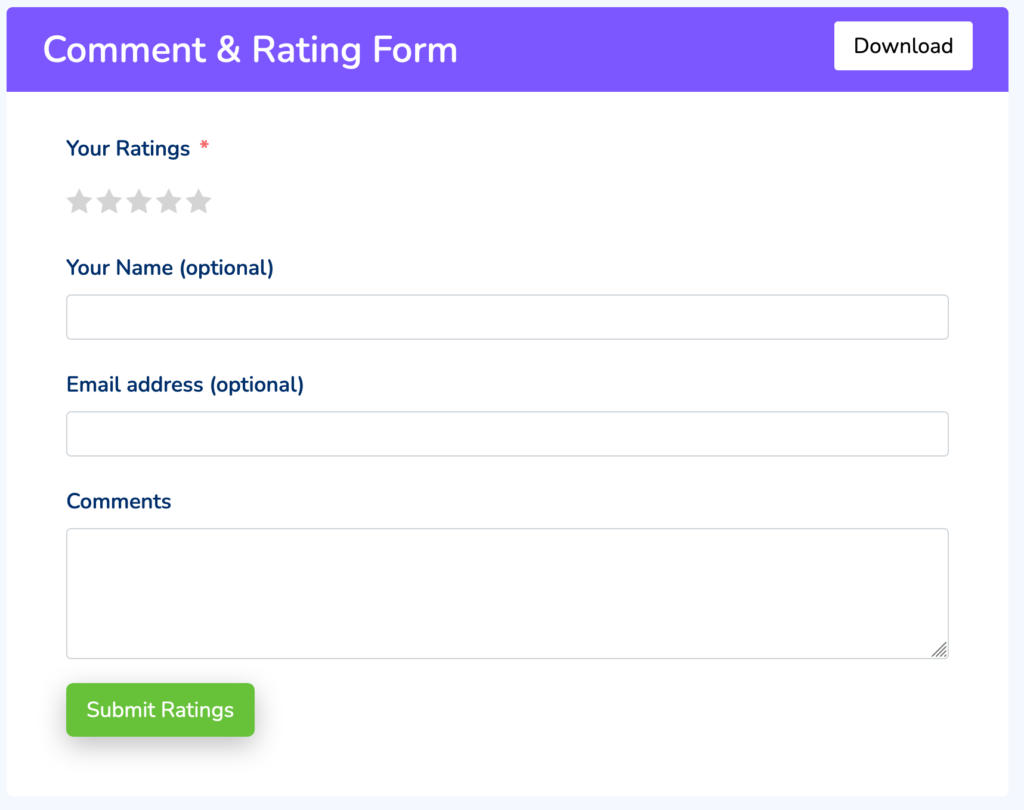 These forms focus on collecting customers' ratings and feedback on individual products. You can edit, add or remove these fields as you need.

Want to know if your target audience is aware of your brand? Use this form template. With this form template, you can find out what customers think about you, what impression you have on your customer demographics and collect data about your marketing strategy.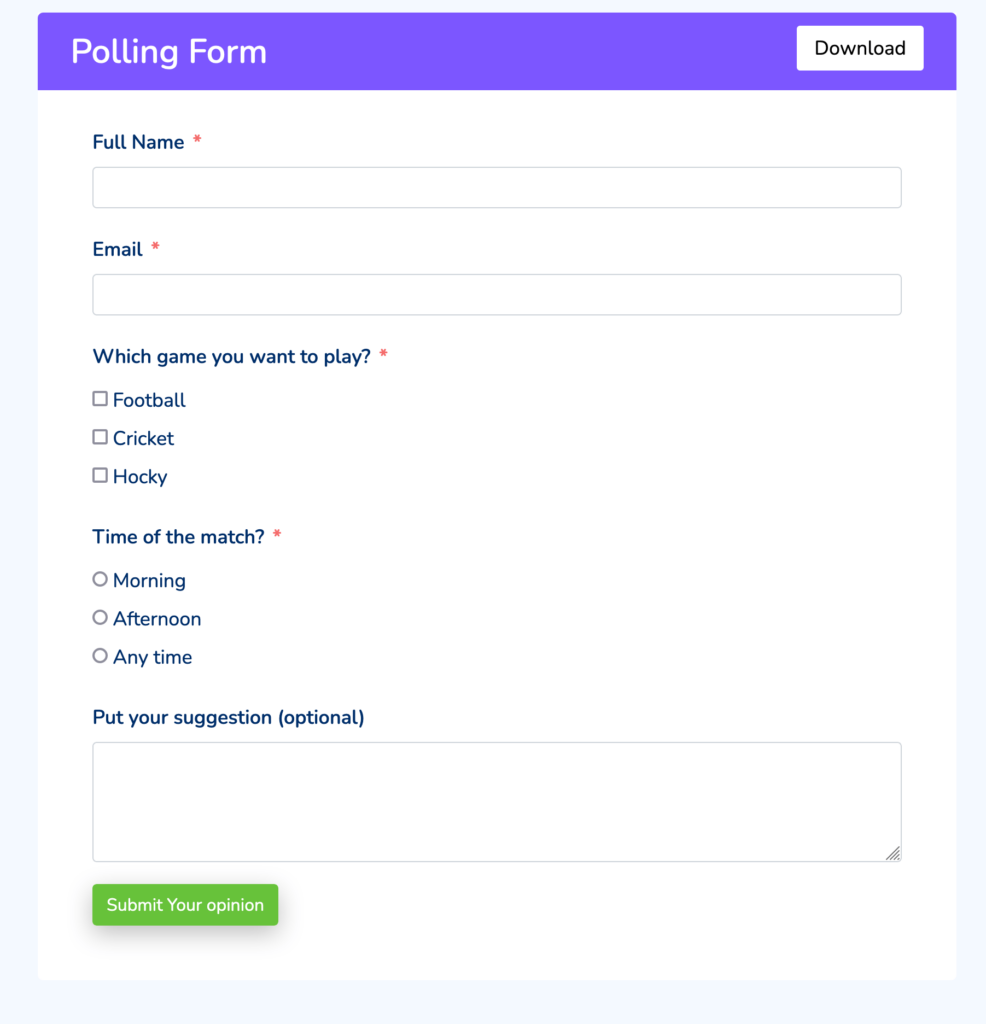 Polling forms are the best way to engage with customers. You can get direct answers and make decisions faster in specific areas.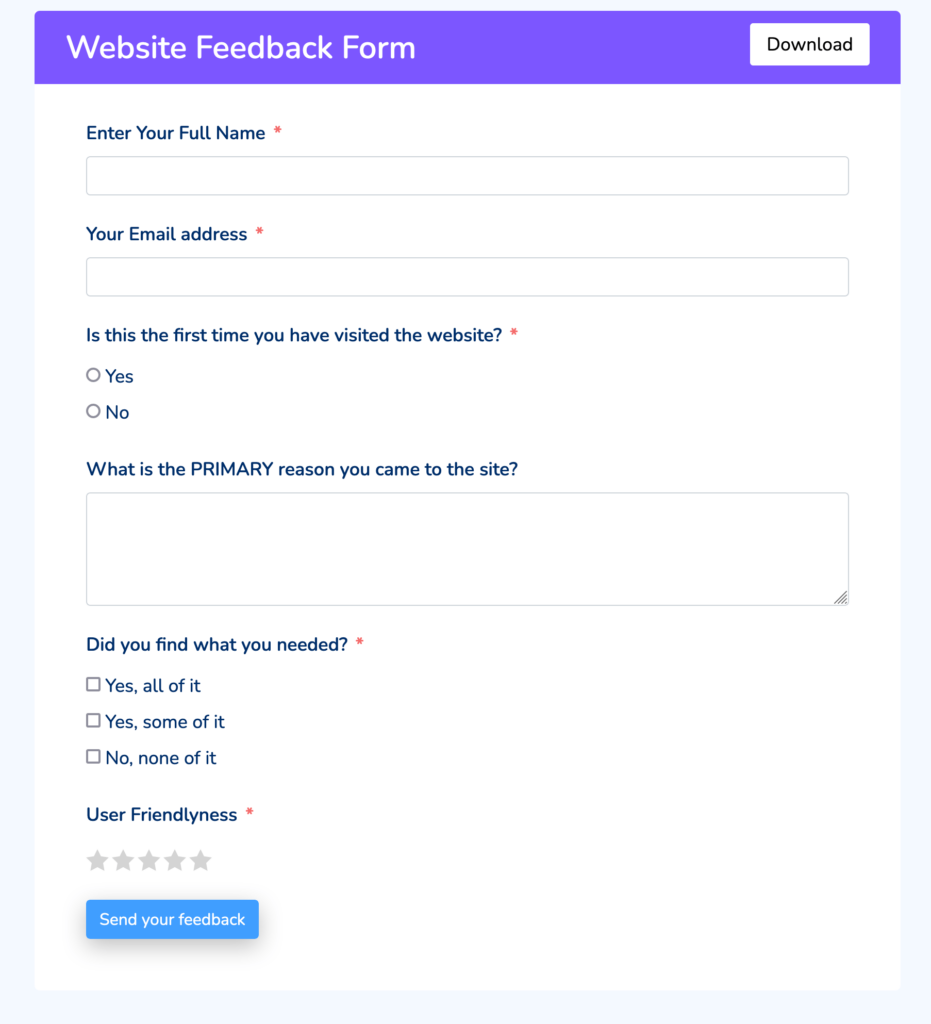 Want to redesign your website? The best way to do it is to collect and implement feedback from your visitors. Use this type of feedback form template to collect suggestions on how to improve your website.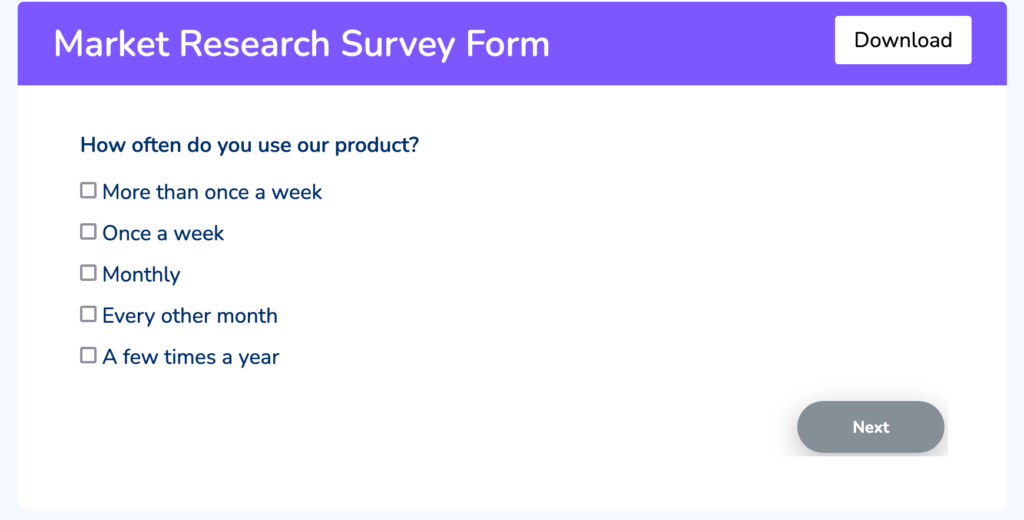 Need data for a marketing campaign? Use this conversation-style market research survey form template to collect data from your customers.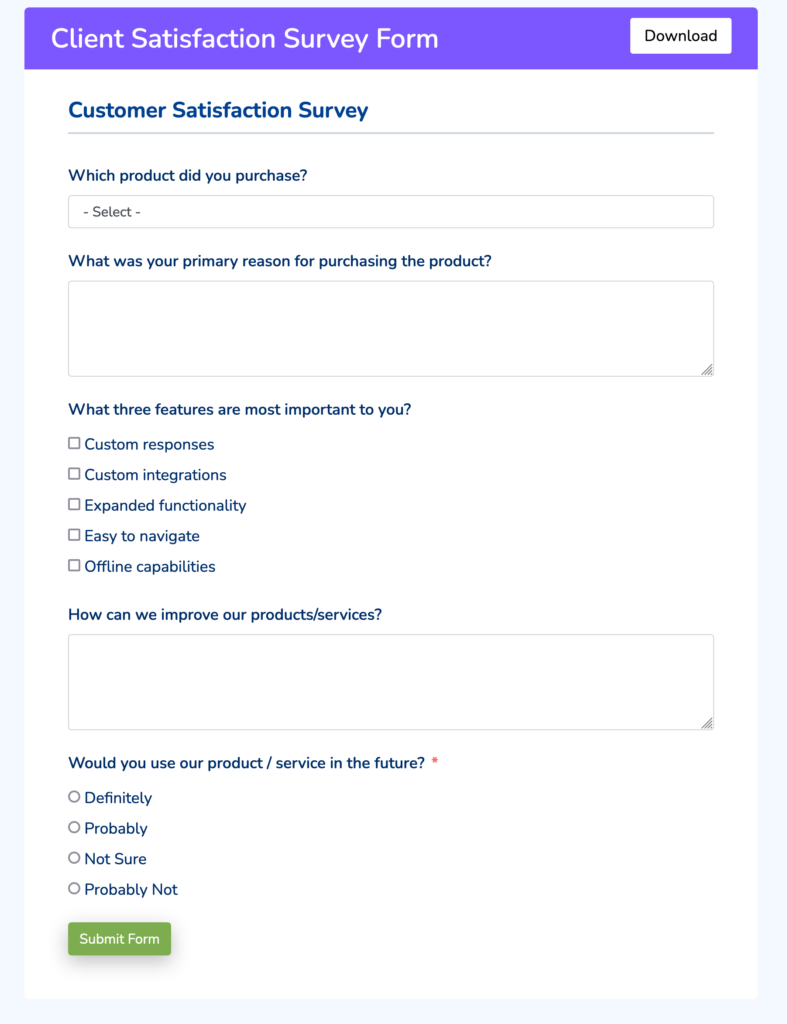 These types of feedback form templates are best to understand what your customers want. Ask specific questions, collect data on what's working and where you need to improve. Use this template to start and remove or edit fields on the go.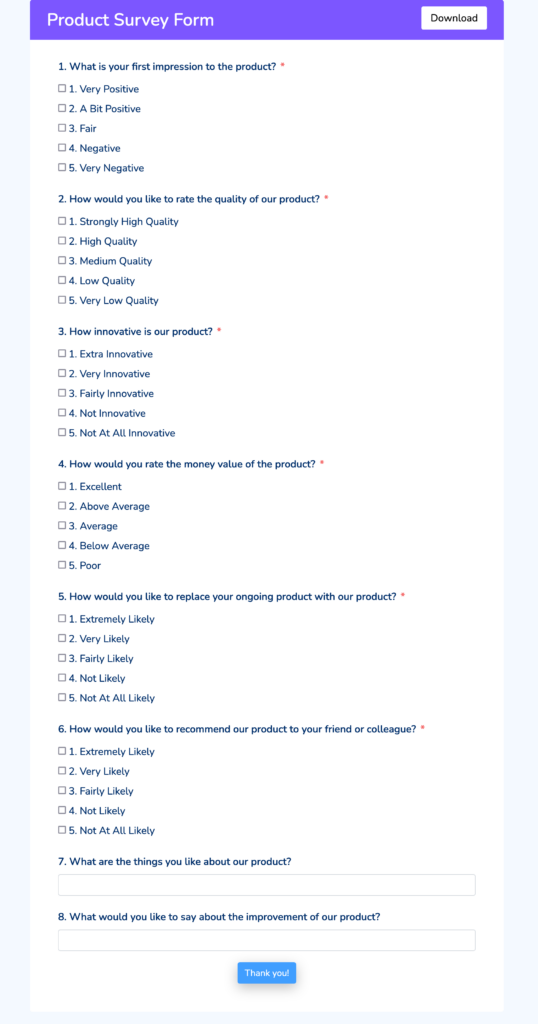 Best way to learn what customers think of a product and where you lack it is to impress your buyer.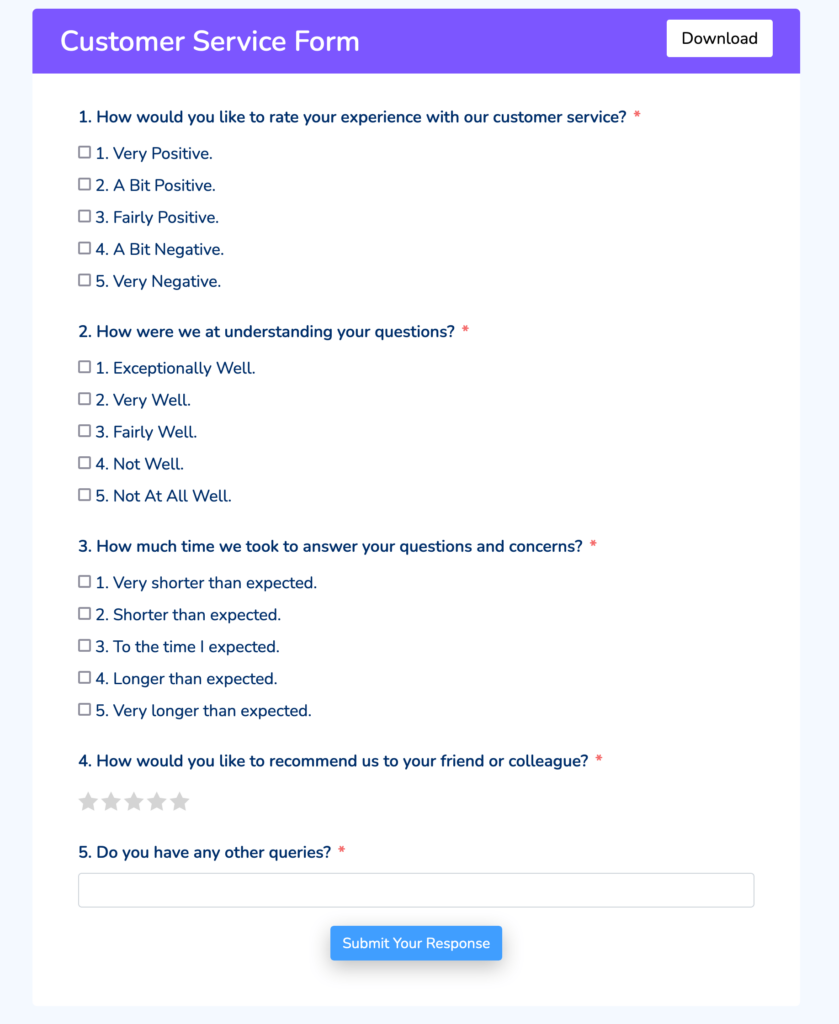 Want to evaluate your customer service or support team? Use these templates to understand how customers react to your service and support agents' interactions.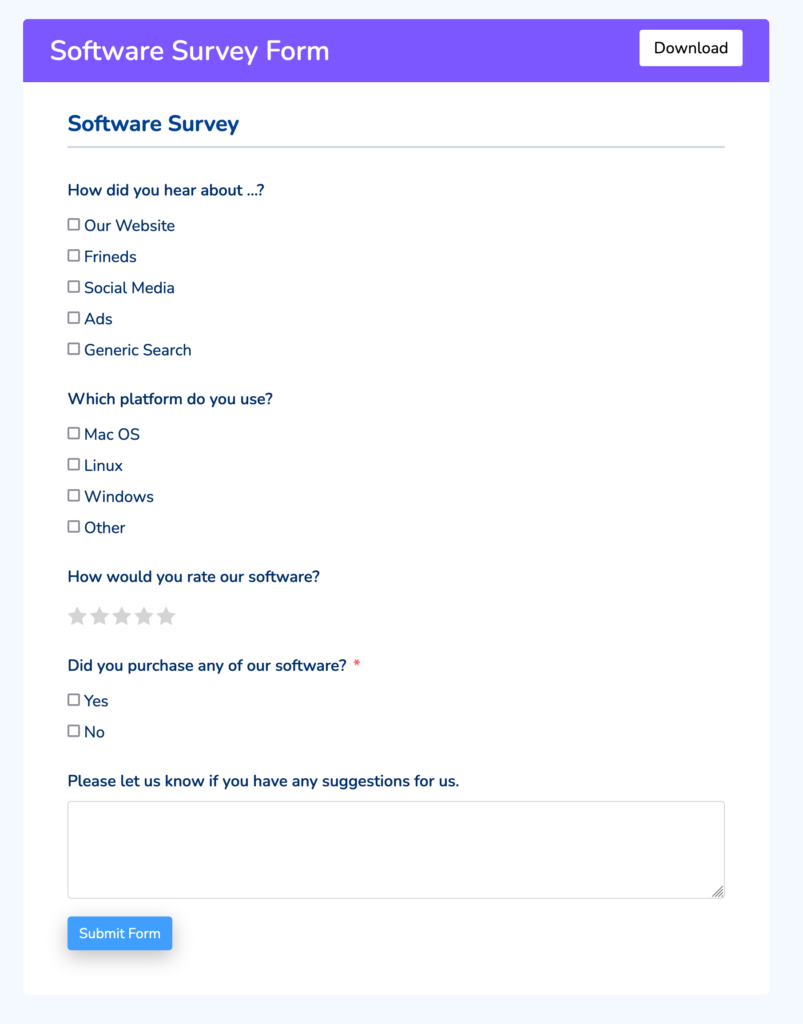 Simple feedback form to collect data about software. You can add or edit fields as your software farms need.

Knowing an individual's perspective about your brand is necessary. This feedback form template helps you identify that and help you know your overall brand recognition.
You can find and choose more types of form templates from the Fluent Forms demo page.
Feedback forms examples
We talked about a good feedback form and how to format one. We also showed you the best feedback form templates you can copy.
But how are companies using these templates in real life?
We have the answer too.
Here are a few examples of good feedback forms used by real-life companies:
1. Glassdoor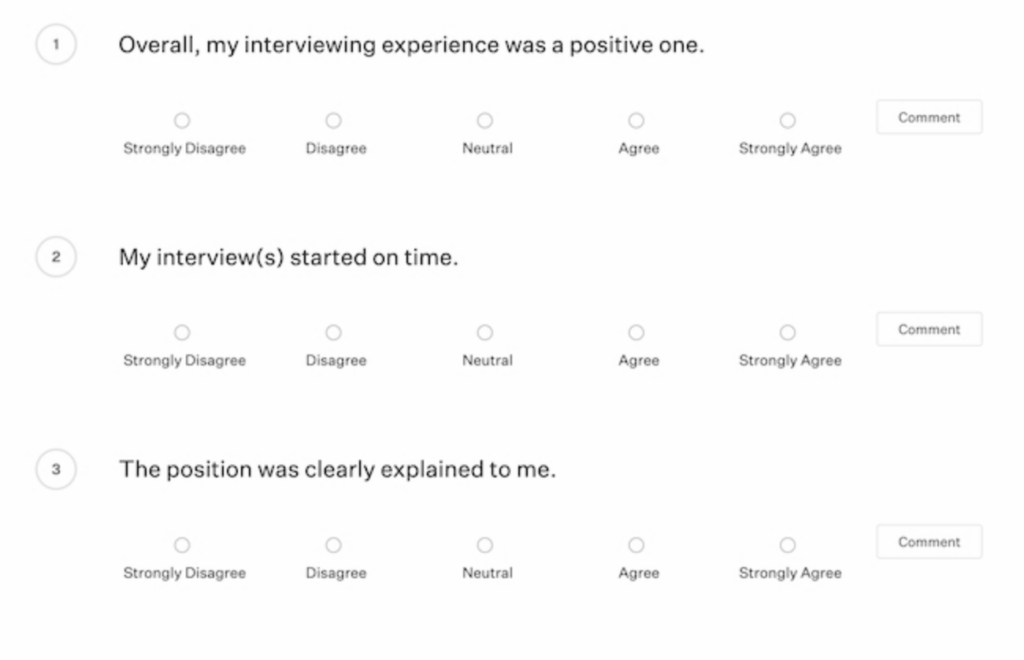 Glassdoor's feedback form follows a simple design. It is short and asks exact questions it wants to collect from users.
2. Airbnb
Airbnb follows a simple feedback form page route.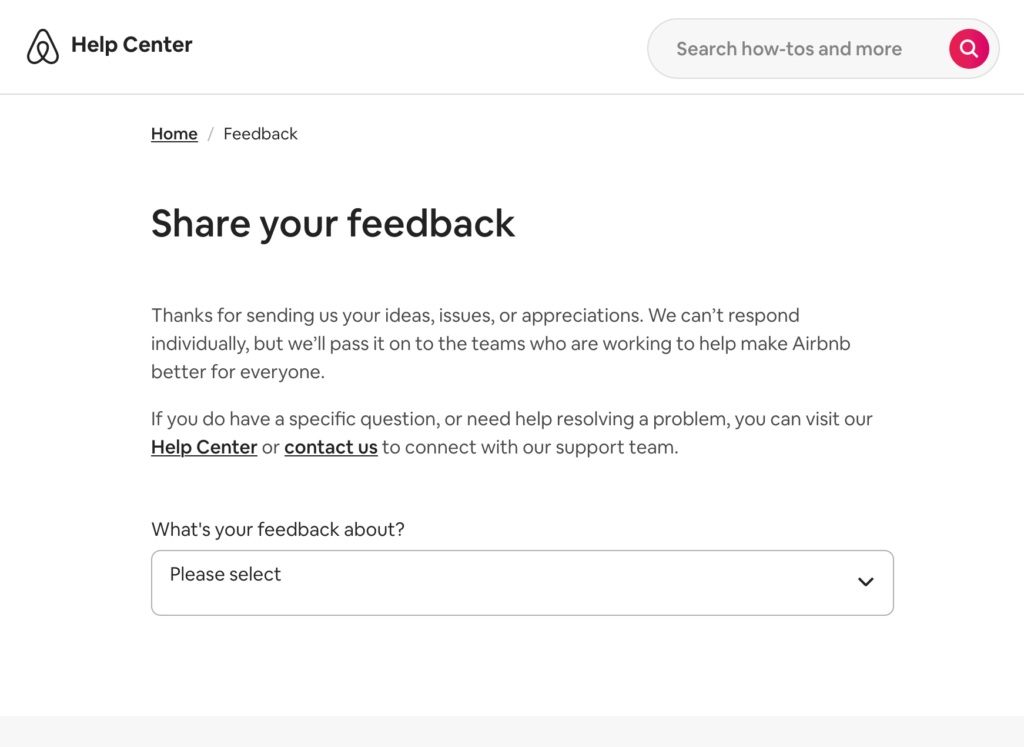 They use conditional logic to show the next question filed based on individual user input.
Airbnb allows users to share their experiences without limitations.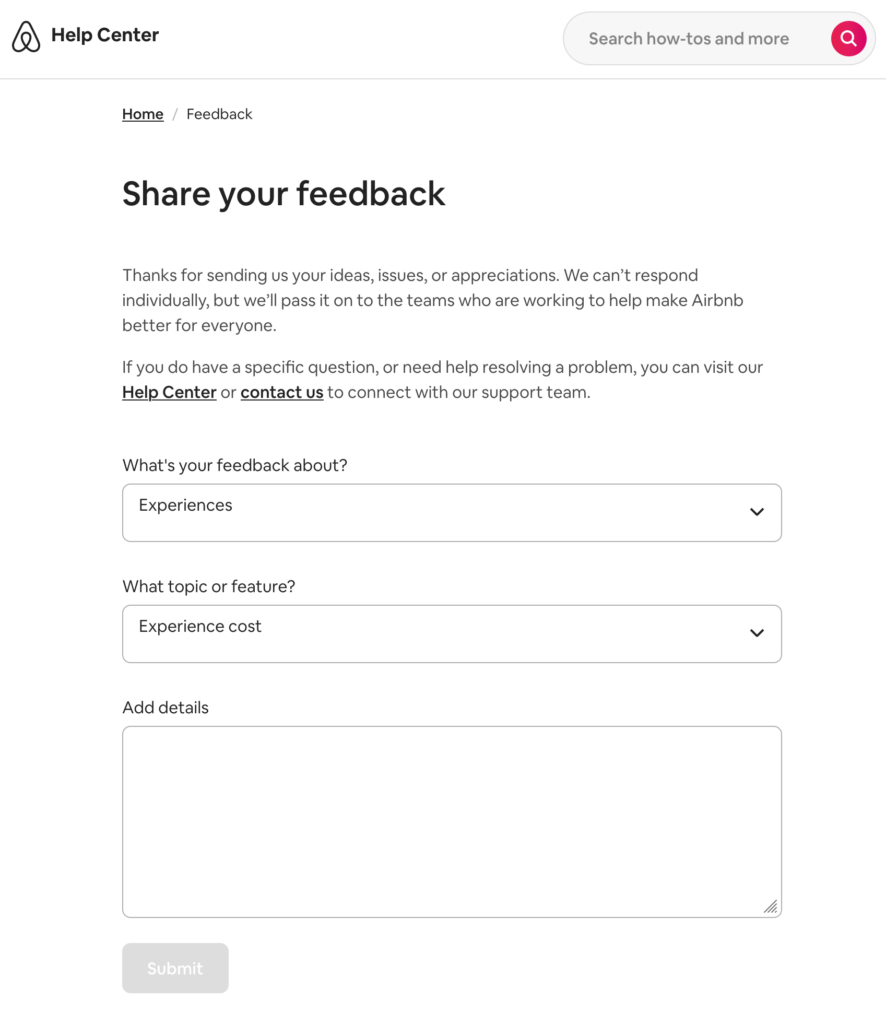 Here is how they approach users in email for surveys.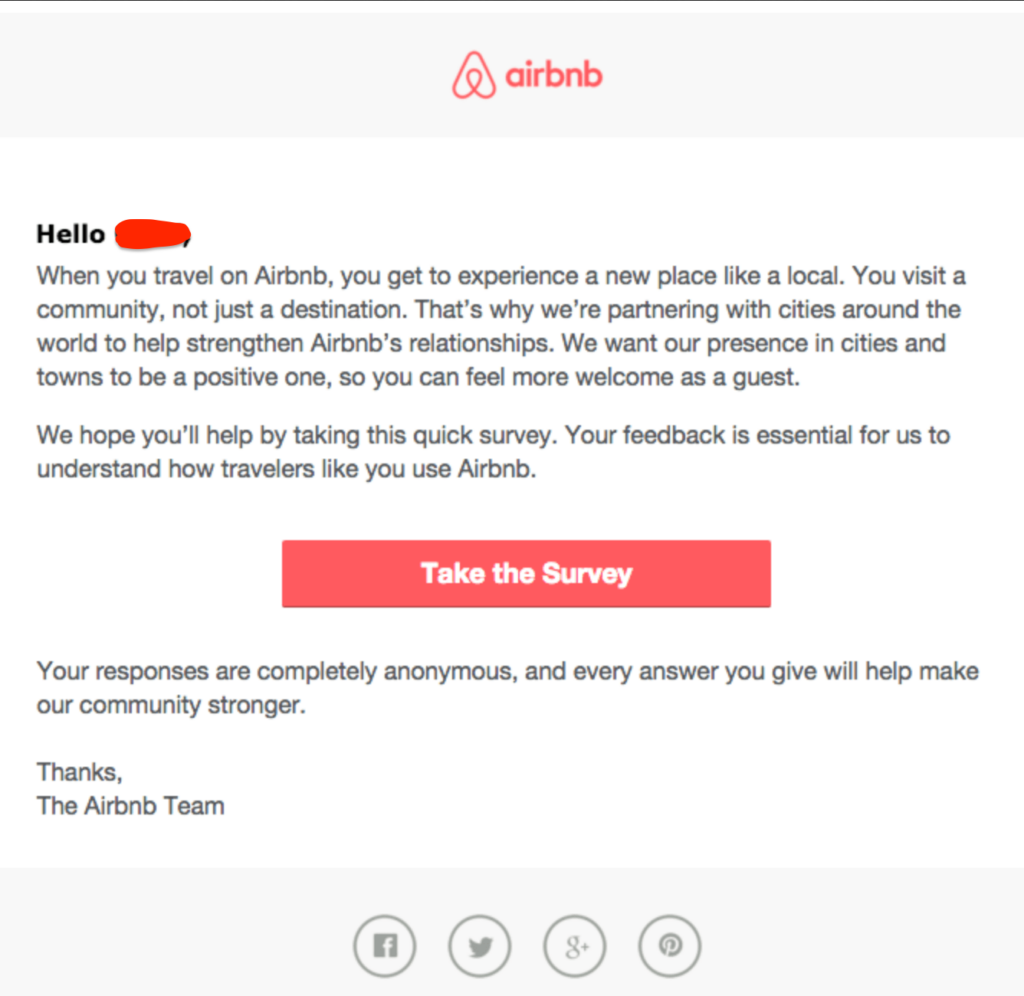 3. Apple
Apple has a dedicated feedback page for each product category. Their feedback form is straightforward.
Here is what the iPhone feedback form looks like.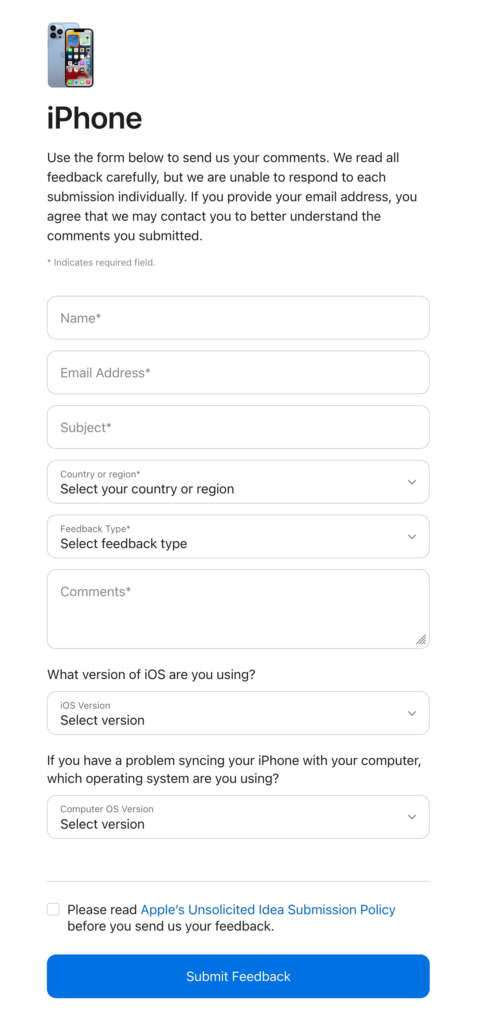 4. Zoom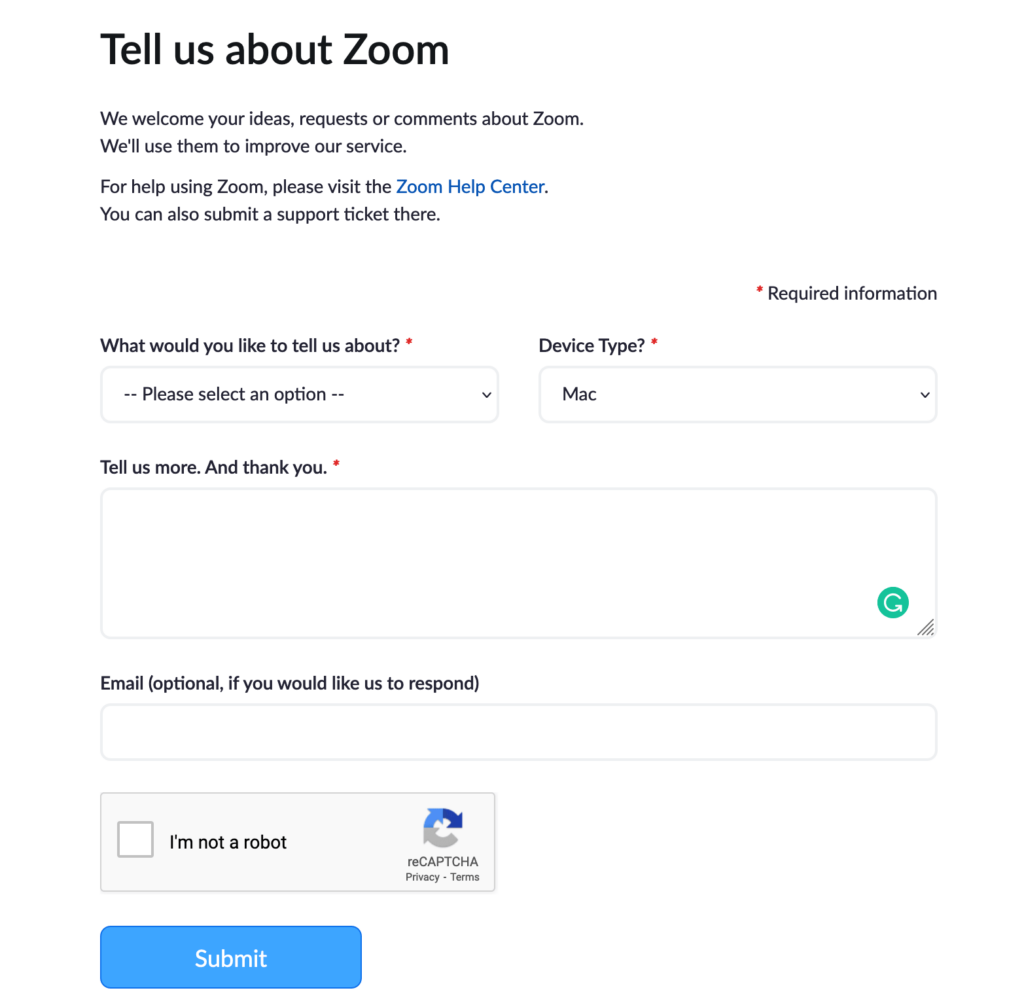 Zoom simply follows a basic format while focusing on questions that matter.
5. McDonald's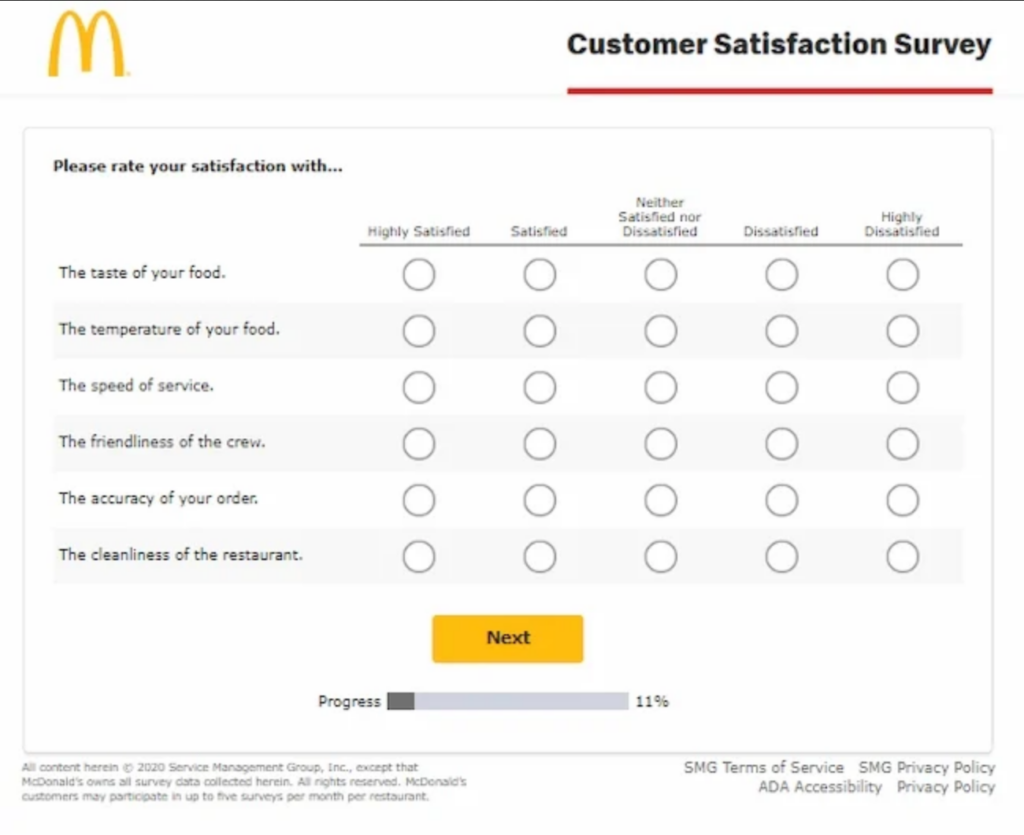 Mcdonald's feedback form focuses on specific individual food experiences. You can use this example to know what customers think about your specific service rather than the whole brand experience.
Conclusion
Customer feedback is essential for your business's success. How you collect feedback and use it to improve your service or products tells a lot. Successful businesses invest in collecting customer feedback data, analyzing and measuring it to increase the efficiency of their service or make good products.
Good customer feedback form plays a huge role in these operations. Experiment with your feedback forms format & templates to get better results. Consider what you want to achieve from your feedback forms. Create a form on top of that and act on the collected data. Honest customer feedback can help you understand customer behavior, your failings, and how you can provide what customers want.
Your Support Portal in 5 minutes!
Start with a robust ticketing system that delivers smooth collaboration with powerful integrations.