Customer happiness is not just happy customers; it is how customers feel about your brand.
There is a big difference between customer satisfaction and customer happiness. There are solid metrics to identify customer happiness, like customer satisfaction, but customer happiness plays a huge role in brand power.
You can satisfy your customers with extraordinary customer service or exceptional customer support. That will be enough for a great customer experience. But what can you do more to make your customers fall in love with your brand?
It takes a lot of effort, time, and genuine desire to help your customers succeed rather than focusing on selling products and making profits. People are unlimited options to choose from, and your competitors are not sitting idle. Customer expectations are increasing day by day. You have to put enough effort into going beyond a customer's expectations.
For a small business, that can be daunting, but you can follow some frameworks, tips, and guides to increase your customer's happiness. In this blog, you'll learn what is customer happiness, why it is important, and how you can achieve it.
What is customer happiness?
How can one define customer happiness? Think of it like this:
High level of (customer satisfaction + customer loyalty) = Customer happiness
It is not just a single good interaction with customers but your overall activity with them from customer onboarding.
How do you feel around your friends and family? The happiness you feel around them can be replicated with your customers too. Your customers can feel this way; with the continuous effort, you can make from the start.
Customers' happiness depends on many factors when interacting with your brand. Sometimes it is how fast you provide support, how smooth your onboarding process is, or how seamless your refund process is. It depends on the level of satisfaction customers feel with every step. A truly happy customer knows your ability to solve problems effectively, is confident in your efforts, and doesn't hesitate to recommend your brand to their inner circle.
Customer happiness vs. customer satisfaction: What's the difference?
One vast difference between customer satisfaction and customer happiness is – customer happiness predicts a customer's brand loyalty. On the other hand, customer satisfaction is a customer service metric that predicts customer expectations and health.
Loyal customers promote your brand without any incentive. They are the main powerhouse of your word-of-mouth marketing. Customer happiness boosts brand organic marketing. It comes from unique customer experience over long customer activity. These customers stay with you, even rejecting your competitor's tempting offers.
On the other hand, customer satisfaction comes from customer's daily interaction with your business, customer service team, or customer support and fulfilling their basic needs. Satisfied customers use your brand for their needs, but the efforts are not enough to keep them loyal. They can easily choose your competitors for a better deal anytime.
Measuring customer happiness with metrics is difficult, but you can measure customer satisfaction with CSAT surveys. After every interaction, you can ask your customers- "how satisfied are you today with this conversation/interaction?"
You can use this to measure customer satisfaction for the customer onboarding process, products, delivery, refund process, or your support agents. ANYTHING. CSAT surveys tell you about customers feeling about a single experience. But customer happiness gives you an overall idea about the whole customer experience of your brand.
Both are important. But not the same. Customer satisfaction contributes to customer happiness. The main factor is the emotional connection you build with your customers through time. Customer satisfaction is worthless without the emotional connection your customers feel about your brand, which ultimately drives customer's happiness.
Take it for a spin!
Offer the best support with ZERO costs. Installation is easy and setup is a breeze. Try it NOW!
Why is customer happiness important?
Every customer is important. There is a metric, "Customer Lifetime Value". You may hear of it; we talked about it in a detailed blog post. Customer lifetime value tells you how much a customer will spend with your brand in their relationship with your business.
Here is the key fact – a happy customer who is continuously satisfied with your brand and emotionally connected is far more valuable than a satisfied customer. Read how:
Higher customer happiness makes higher customer retention. Happy customers come back to you again and again. You sell them more and make more money. The profits go up!
Happy customers tell your friends & family about your brand. They do word-of-mouth marketing for you. They boost your organic reach without you doing much. Your paid marketing cost goes down. You save big money.
These type of customers willingly gives you more information and insight than others. You can use their suggestions for your next product roadmap. When you know what customers want rather than guessing, you will have features that customers will use and give you more money willingly.
When you deliver great products, or services fast, it will boost customer happiness organically. More happy customers, less after-sales support. Your customer support has to deal with unhappy customers when things go sideways. It also affects your employee's mental health when they don't know what solutions they should provide. Employee happiness plays a significant role in long-term business performance.
If customer needs are evolving with today's fast-changing world, you must evolve as a business to meet their ends. A happy customer enjoying a great customer experience through repeated positive experiences and developing an emotional connection with your brand is the most valuable asset for your business in the long run. Not only does it grows customer lifetime value, but customer happiness also ensures your business does not become stale or lost to your competitors.
Deliver super fast Support!
Provide customer solutions through one-to-one communications right from your help desk software.
11 ways to achieve customer happiness
Achieving customer happiness is not that hard. But it is not easy either. You must regularly do and keep an eye out for the following things to achieve ultimate customer happiness. These are small and simple things you should do to boost your customer's happiness—-
1. Develop an emotional connection with customers
We have already established why fostering an emotional connection with your customers is necessary. Try to build an emotional connection from the start, exactly when new customers start their onboarding process with your brand.
Show your face, show customers you are not just a business. There is a person behind this. Show the personality of your brand hard. Show your team their name and what they do on your about me page.
Break the ice, and build a strong personality around your brand. Because personality earns trust and creates reputation.
See how WordPress plugin developer authLab shows their team's individual identity on their about me page.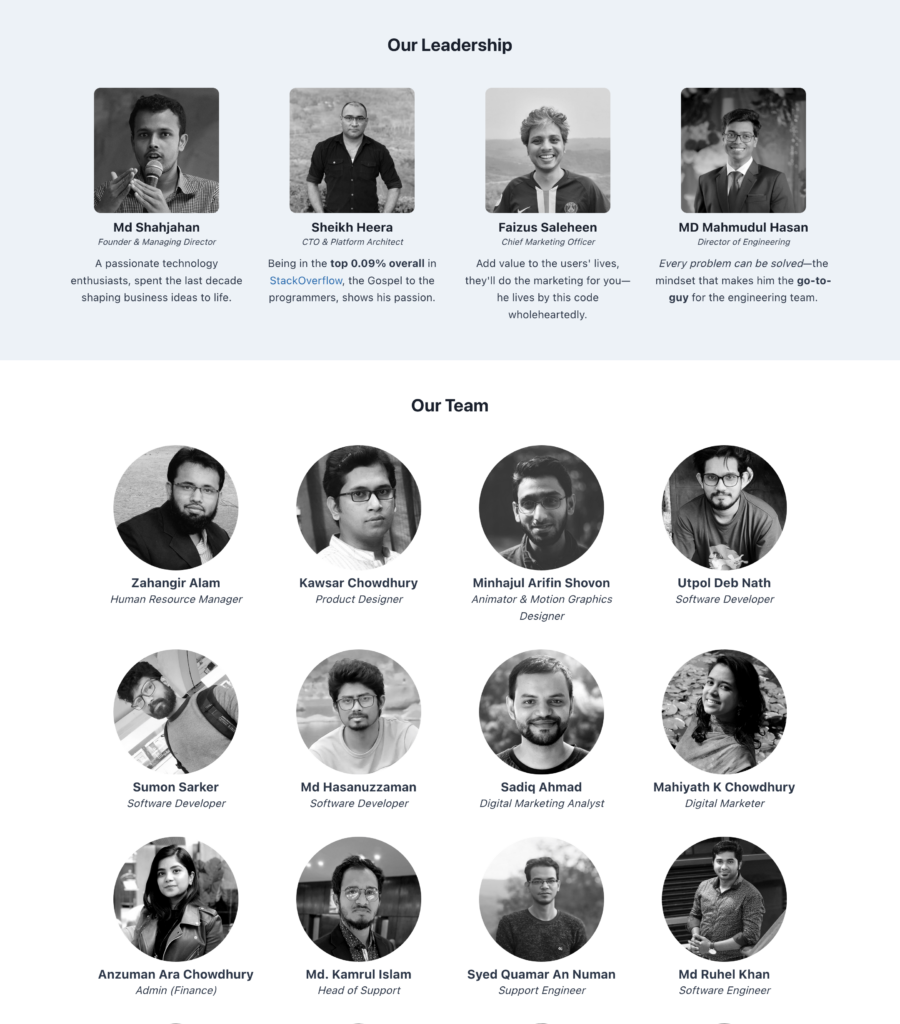 You can also share stories related to your brands with your customers through your social media or company blog. Storytelling is the fastest way to connect with customers and show how passionate you are about your products. When customers feel connected with your mission and vision, earning their loyalty is much easier.
Build your brand persona and tone of voice from day one of your business. When your brand personality aligns with your customer's demographics, you will not need to do much to attract customers. Your brand will resonate with your target demographics without extra marketing efforts.
2. Provide fast, but quality support
Your product may be great, and customers may love your products. But what happens when a customer faces a problem and contacts your support? What do you think will happen if your customer support can't provide a fast and exact solution to that?
That customers will go to your competitors without hesitation. That's right. Worst, they will leave a negative review, a tweet, or a Facebook post, which can go viral and hamper your brand reputation.
Fast customer support is essential in today's world. People are getting less patient with their attention span. They want fast answers and faster solutions. And you have to give it to them. It can be daunting, I feel you. But don't get anxious. We already wrote about speed vs. quality customer service.
You can follow our suggestions on how you can do both fast and quality customer support. All you have to do is invest in the right tools and empathic people in the support team. You can provide your customers with quality customer support and allow them to reach you through multiple channels through an omnichannel support experience.
When you keep the customer satisfaction bar high every time a customer contact you for help, it makes the cycle of customer happiness good to be great.
3. Reward your loyal customers
A one-time incentive can wow your customers, but a regular reward or discount will make your loyal customers feel special. Loyalty programs are a great way to nurture core loyal customers.
You can gamify your loyalty program with steps a customer can unlock after a certain time using your products or services. You can make satisfy customers to loyal customers by offering a discount or certain privileges. Surprise upgrades or unexpected discounts are an effective way to increase customer's happiness.
4. Apologize & admit failure
When there is a mistake, admit and apologize. Nothing frustrates a customer more than facing an annoying customer support agent who will not admit the mistake and throw that back to the customer.
Customers take their time when they contact your support even though their situation is frustrating. Respect that, acknowledge that and say sorry. It will help cool down the situation. You don't want to escalate the situation by talking rudely to an angry customer.
If you play your cards right, these situations are the best to build long-term relationships with customers. What do you think a customer wants in this situation? They want you to hear them, so listen carefully. Make sure you hear them, actively listen and repeat the words to make sure that you understand their problems.
If you do that, 50% of the problem is already solved. You must get to the bottom of the problem and do it right. Choose an empathic approach to solving every problem and always train your support agents to do this.
Make your customer feel appreciated, and send a follow-up email with a thank you note. If there is a customer-facing problem exchanging, make it free for them. Do not hold customers over a refund, pointing to company policy. It is not good for your reputation. Make your refund process simpler and keep it visible.
5. Collect customer feedback & implement
You can provide great customer service and keep your customer satisfied. But how can you take it to the next level?
Easy.
Ask your customer what they want. Ask for their feedback on how you can improve your products or service.
What features are customers want?
What process will save time for them?
Collect the data, analyze it, measure it and act on it. Nothing makes customers happier when their suggestion gets implemented. Email them when you add their suggestion. A simple thank you will delight your customer mood. Customers will feel valued by your little appreciation. These little things make their way to boost high customer happiness.
One of the best ways to collect feedback is – COMMUNITY.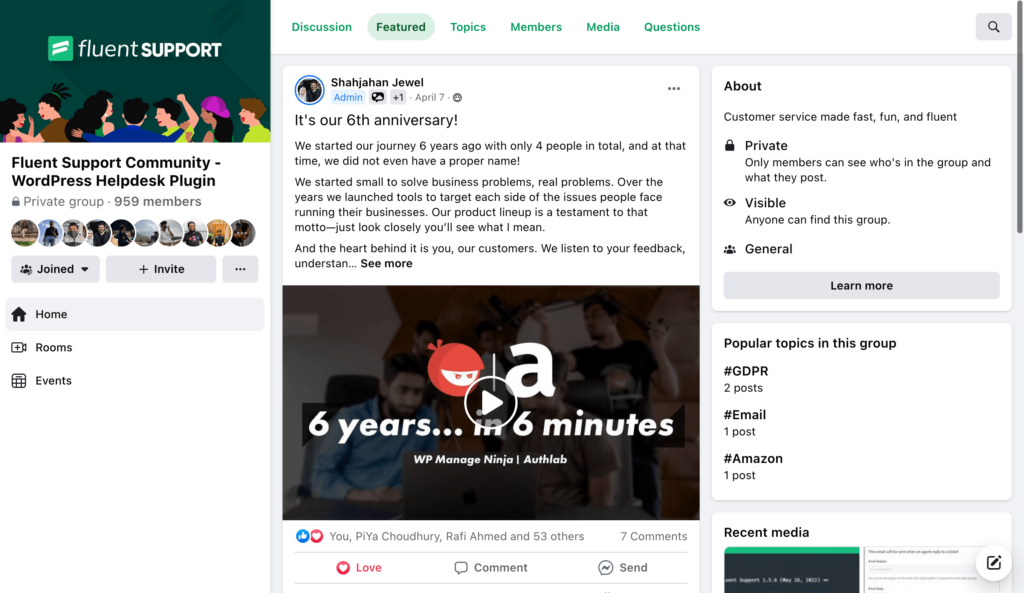 Give your customer a place to vent and share suggestion and their insight on how you can improve. Help them share what they care about and need from you. Reward your best community members, and acknowledge their efforts publicly. It will help you improve both your products and customer experience.
6. Track & measure your metrics
Customer service metrics are easily trackable, and you can use them to measure both customer satisfaction & customer happiness. Remember, customer happiness is the greater result of customer satisfaction.
Have a clear understanding of:
Your CSAT score
Net promoter score
First response time
Average time to handle a customer
You will fully view your customer base's happiness if you keep track of these metrics. Customer support data can give your support team insight into where they lack, where to improve and how to increase customer happiness.
7. Consistently offer good service
I know that may feel impossible to you. But it is not. Hear me out; you only need the desire to make your customer's day amazing. That's it.
You don't need an army of support agents to do it. You need a simple process and an empathic approach to customer service.
Best way to achieve this – "empower your employees".
You don't need your agents to hold a customer to know if they can refund. That isn't good. This back and forth frustrates both customers and agents. Empower your agents with proper guidelines and train them to go beyond for customer's happiness if necessary.
8. Create a human experience
People do not want to talk to a bot or hate to be on constant hold. How are you planning to improve your customer's first contact with your brand?
That's a million-dollar answer.
Implement a personal touch on every process of customer interaction. Cut your hold time on the phone, reduce phone prompts and make it easy for customers to contact a human.
Chatbots and artificial intelligence are nice to have. Clever automation can increase your customer experience. But a personal experience is essential if you want to build an emotional connection. From your website, copy to email, chat to helpdesk; try approaching customers as you approach your friends.
Say their name, understand the context & know their details when replying to them. This will make their interaction personal. Use customer service phrases. Always look for meaningful connections and how you can connect with the customer on a personal level. Customers want to talk to a human being who is warm & friendly, not someone repeatedly reading a written script without understanding the context.
Don't do that. Ever.
9. Provide undivided attention
When you talk to a customer, always provide them with undivided attention. People hate it when they feel you are not giving them enough attention.
You don't want your customers to feel this way. Right?
Start treating them like a VIP. You don't need budgets or extra hands to do it. You can do it now! Make your customers feel they are getting the attention they deserve. It's all about what words you use in your conversation and how you use it. A sample:
"Hello, Thank you for reaching out. I understand how frustrated you may be feeling. I would, too. Let me dig into the problem, and I will find a solution. Don't worry; I am here. I will help you out. Give me 10 minutes!"
See, the Right words matter. Use them wisely.
10. Never overpromise & underdeliver
Customers are not idiots. When you treat them like sheep, they will immediately know. Do not make false promises.
You don't want your customers to feel cheated or lied to. Building a customer relationship is hard. It takes time and lots of effort. But the bond can be broken if you lie, even if it is one lie. The damage can be far worse.
Your customers may churn, leave a negative review and hamper your brand reputation. Do not lie about any features or upcoming updates. Have a clear roadmap and make it public so customers can make a suitable decision. Honesty is the only way to achieve customer happiness.
11. Make communication easy and visible
Make it easy for your customers to contact you and your contact information visible on your website homepage.
Many companies hide their customer support number from the homepage. Some buried the contact button under menus. It does not help businesses, which makes it hard for customers to reach them.
Offer multiple options to your customers to reach you. It can be – a Facebook page inbox, email contact, Twitter DMs, or a simple call. Use communication apps to provide customer support. Options will give customers peace of mind, making them more likely to buy from you again. Because they know if they face any problem, there are several ways to get in touch with you.
Also, make sure your website is designed perfectly and easy to navigate. Make it easy for customers what information they are looking for, and provide categories and up-to-date information. When customers use your cart or checkout without problems and go through their purchases successfully, it will be a great experience.
Conclusion
A happy customer is a business's ultimate asset. A tribe of happy customers can make you a bank! Customer happiness keeps producing benefits for business even if the customers stop buying from you. They may not be using your products but could recommend you because of how they felt earlier with your brand.
Embrace customer happiness as your business goal, focus on improving customer experience and build an emotional connection with customers from day one. Creating loyal customers takes time. Measure your customer interactions and put efforts where needed. You can achieve customer happiness by playing the cards right.
Your Support Portal in 5 minutes!
Start with a robust ticketing system that delivers smooth collaboration with powerful integrations.