Customer service phrases are power words used in customer support conversations to influence customers in a positive way.
Clear conversations help to resolve issues fast. Customers want fast solutions and expect you to understand their problems with minimal interactions. A small misunderstanding or a slight misuse of words can escalate the situation. Using the right words at the right moments can make a simple interaction into a great customer experience.
These power words or customer service lines are mostly used and well-known by customer support representatives. They vary from industry to industry, but most times they are used to convince customers. You should use some customer service phrases in conversations and others to avoid.
In this blog, we'll cover some of these excellent customer service phrases, why they are important, and the perfect phrases for customer service. You'll learn about some customer service lines you must avoid in customer conversions too.
8 excellent customer service phrases to use
Here are 8 examples of positive phrases for customer support you should use in your daily customer support operations.It's important to clarify that these phrases are not must-follow words; you can change them as you wish based on your industry needs. These 8 are examples of customer service power words. If you follow these, you can surely get the idea of more positive customer service phrases you can use in your customer support conversations.
1. "I completely understand why you'd want/say that."
No matter what features your product offers or your service has, there will be one customer will ask for more. It is hard to dodge these conversations. Often it frustrates the customers more if you are not empathic in your answers.
I know, it's hard to fulfill every wish. You can't ship all of the features customers requested. Maybe that feature is in your roadmap, maybe it will take years or maybe that is not where you see your product going. You'll have to tell your customers that you are not focusing on this now. We certainly face that a lot with our helpdesk plugin, Fluent Support.
The most positive way to handle this situation is to become empathic. Show them you understand why they would want that or say that. Do not directly engage with negative words like No/ never/ we will not. Take the time to explain your mission & vision. Re-introduce your roadmap if you have any public one. Learn how to say no without actually saying no to your customers.
2. "Happy to help!"
Happy to help may be the most overused phrase in support conversations, yet it is the most effective! Don't worry; we wrote a full blog about happy-to-help alternatives. You can use any of these if you don't want to use "Happy to help" phrase.
But happy to help can be used to assure your customers that they are in the right place to ask questions. Sometimes people will leave a conversation without ending it. It will be awkward to end a support ticket or a call if you, as a support agent, close it without a proper ending.
Happy to help is the miracle word in these situations. It tells your customers they can ask other questions if they want. You don't want your customers to leave unsatisfied, do you?
3. "I would be frustrated/annoyed too."
There will always be a bunch of angry customers you have to face in customer support. Some may be for valid reasons or some for nothing. How can you cool down such angry customers?
Showing empathy, AGAIN!
Maybe they are waiting for a feature you promised to ship weeks ago but can't because of some unfortunate reasons. Maybe, they face bugs on your website when they proceed to a transaction. Or maybe they are waiting for an order before an important event that did not show up.
Bad things can happen. You can't control everything. When you take the time to understand your customers' situations, they will understand too. Be in their shoes, and feel their pain. Acknowledge your shortcomings and explain what you are doing to resolve that issue.
Here is an example:
"I understand your frustrations; we wanted to ship that feature. But we faced some bugs in our testing phase. We want to make sure the feature is working when we release it. That's why we are taking this time to test it right and our developers are working hard. I hope you will understand. It will be a blast when the feature finally goes live. It will make your X problem go away instantly!"
4. "While we may not be able to do that, here are other options we can explore for this problem."
There are times when you can't accept a client's offer. Sometimes you have to say no to a customer who might want something you are not offering.
It is best to show them other options rather than directly saying no. Offer alternative solutions; customers might take it. It is better to retain them than lose them now.
Here is an example how we handle this type of queries:
"Hello, Fluent support does not have the XYZ Form integration right now, but you can do it by outgoing webhooks. It may sound a bit technical but we do offer detailed documentation. You can follow the doc step-by-step and accomplish what you want without the feature! I hope this helps! If you have any problems, I am here to help you. Reply to this email if you face any difficulty!"
5. "Thank you for being our customer!"
Your customer support team is uniquely positioned to foster a deep relationship with your customer base using one-to-one interactions. Take the time to appreciate your customers while positively interacting with them.
A thank you may seem simple, but when you say thank you after a successful interaction will leave a positive feeling in your customers. A genuine thank you will help you have a long-term relationship with customers. Remember to say thanks when the issue is resolved. Do not say thank you when your customers are unsatisfied. That will leave a bitter feeling for customers.
Use your help desk features to see your customers' full history. You can then thank them based on their time with you. A personalized thank will matter more to them. Show gratitude when you can and it will help you earn your customer's loyalty.
6. "We really appreciate your suggestion/feedback."
Customer feedback is a goldmine if you use them correctly. Every type of business should collect customer feedback, measure them & analyze it for new features or improvements.
Customer suggestions can help you with proactive support. It is important to resolve issues before customers encounter them. If you regularly collect customer feedback, you'll see a pattern in issues and learn from it. This way, you can identify issues before customers face them and resolve them faster.
Ask your customers for feedback. And don't forget to thank them for their suggestion. Always acknowledge their input. Customers who take their time and share issues they identify with you, expecting nothing in return are your best friends. Because somehow these issues can affect other users later & increase customer churn rates.
Genuinely appreciate these customers; let them know how you will implement their suggestions. They will feel connected with your brand when they see their feedback is accepted in product features. Eventually, they will become your vocal supporter and tell their network about your brand. Thus increasing your organic reach!
7. "I want to make sure I understand your issue. Can you repeat this again?"
Active listening is a superpower in customer support. You don't want to rush in solving problems before understanding the customer's pain point. It will create more problems than solutions. Confusion and misunderstanding will leave customers frustrated.
First, listen to your customer, understand the problem and ask details for clarity. Thank your customer for taking the time to contact you. If you have any confusion, ask them to repeat politely. Then come up with your solutions. Assure your customers you are going to take care of it.
8. "I understand how frustrating this must be. I would too if that happened to me!"
Upset customers can be your most loyal customers if you handle them correctly. Most times, customers want you to feel how they feel. When you say- "Unfortunately, no!" it can trigger them to become rude, leaving behind angry reviews or frustration over social media. Which leaves room for one more viral bad customer experience story!
You definitely don't want that. Empathize with your customers using this customer service phrase. But remember to use it accordingly. You don't want to say, "oh, I understand how annoying you are right now," after misplacing a customer's order! It will frustrate them more.
This customer service line will cool down the tension and offer alternative solutions. The goal is to make a bad customer experience into a good customer experience. Help your customer to help you to give yourself a second chance!
Deliver super fast Support!
Provide customer solutions through one-to-one communications right from your help desk software.
6 examples of customer service phrases to avoid
Now you get an idea about which type of customer service phrases you should use, let's go through words or service lines examples you should avoid in a customer support conversation. These words may not seem negative, but they don't present you as genuine or helpful in conversations. Again, they may vary from industry to industry, but you'll get an idea about the type of phrases you should not use!
1. "Unfortunately, I can't do that for you."
Saying "No" to customers' faces is not a good idea. It will immediately turn off your customers. Frustration rises and customers leave. You'll experience customer support most of the time.
How can you avoid this customer phrase? Replace unfortunately with "As it turns out." Find related positive words you can use in your conversations without being rude to customers!
2. "I'm sorry. I didn't understand your request."
Understanding your customer's problems, why they are frustrated and how they feel is important to solve their problem effectively. Don't say you are sorry that you don't understand them.
Take your time to understand. Active listening is the key. Listen to understand, not to show reactions. If you are using chatbots, make sure your chatbots are well-trained. Often, chatbots use this line when the query does not match predefined questions.
3. "Your call/ticket is important to us."
Yeah, this customer service line is also on the avoid list. Surprised? Don't be!
People remember your actions more than your words. If you say customers are important for your business, then make sure your every action translates that. Most businesses treat their customers like numbers, sales prospects and a target! You have a better opportunity to stand out than your competitors if you care about your users. Show them you are ready to go the extra mile to win their trust.
4. "Our apologies for any inconvenience this may cause."
I don't know about you, but this customer service line irritates me every time I have to face it! Many people may have the same feelings. This overused line does not convey any empathy at all.
Companies used this as mandatory in any case, which made this expression the most hated. Say exactly why you are apologizing and take action to resolve that.
5. "Can I put you on hold/Can I call you back/ Let me get back to you in a few hours?"
No one likes to be on hold. Do you? Surely I don't particularly appreciate being held whenever I contact a business's support team. It can be frustrating for customers who need immediate assistance.
Sometimes you may have to put customers on hold. Ask them politely before that. But if they help right now, don't transfer their call. Use the resources at your disposal and resolve the issue faster. You can ask permission to call back but remember, customers may not have the patience to wait for your call every time. Use this option when it is necessary for you to consult your team or supervisor. Don't keep your customers waiting for hours to hear back from you.
This situation can be handled with better internal communication without irritating the customers. You can seek help from your fellow team members internally while talking to customers. A good helpdesk with an internal notes system can help you tremendously if you operate a customer support ticketing system.
6. "Can you tell me again what your last name and phone number are?"
Nobody likes to share the same information again and again. If your customer support is only available from the phone, ensure you have a fast customer database that your support team can access anytime. So they can easily pull up customers' information by id, code, or first name. Then customers do not have to spell their name and share details whenever they contact your support.
It will make customer support conversations more effective because support agents will have all the customer data at their fingertips. Ensure your customer database software includes all customer history with previous conversations.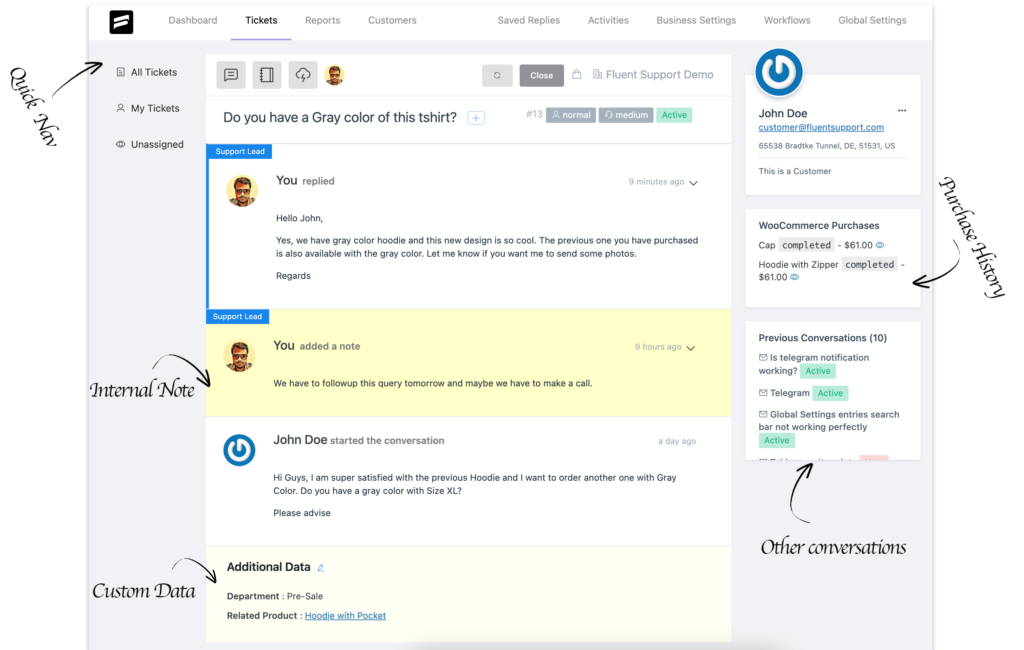 For example, most helpdesks (like Fluent Support) show customers' information, purchase history, and previous conversation right next to their new tickets. It saves time for both support agents and customers. Customer support systems help you with team collaboration within many departments and increase efficiency.
Conclusion
Customer service phrases can influence support conversations, but it does not automatically improve bad customer experience. It takes genuine action and a positive mindset to create a great customer experience.
The best way to use the customer service line is to solve customers' problems. Empower your customer support team with the right tools and enable them to do what it takes to ensure customer success. Customer support phrases only help you establish a personal connection with customers. Use them wisely and avoid lines that create tension.
Always acknowledge your customers' problems, show more empathy and thank them for their feedback. Customer support is your second chance to make your first wrong right. Don't treat customer queries as metrics to take from your list; invest time and energy to impress your customers with the right solutions. Empty promises won't help you in the long run.
Your Support Portal in 5 minutes!
Start with a robust ticketing system that delivers smooth collaboration with powerful integrations.