Customer service plays a crucial role in business growth. Sometimes it is not good enough to have good products or services. Companies that provide excellent customer service are the winners in the market.
People remember good behaviors. When they are treated with respect, they also tend to give it back. Businesses that are customer-centric get most of the customer loyalty. It is hard to earn trust, and it takes just one bad customer experience to damage it between businesses and customers.
Bad customer service is universal. People also remember lousy behavior. When we encounter bad customer service, we stop using the brand and tell our friends & family about our negative experiences. We tweet, share, and write social reviews about our experiences in this digital era.
What is Bad Customer Service?
Bad customer service is when a customer faces problems, tries to connect with you or your support teams but can not get help, or your support agents are unable to give them a viable solution. That frustrates the customers. When customers receive unfavorable customer service, they share their frustration with others on social media. That is terrible news for your brand.
Customers have expectations from a company's support team. Often, people measure a brand or business on their customer support. If customer support is not suitable, it influences customers' buying decisions. Customer service departments that are supposed to solve problems end up making things a lot worse instead.
Your company should build on the foundation of great customer service. If you are not fulfilling your customers' needs as soon as they arrive, you are establishing bad customer service examples for your business.
How Does Poor Customer Service Affect Your Business?
If you are serving your customers poorly, it is 100% possible you are losing that customer for future sales. Poor customer service can affect your business on so many levels.
Most of the time, if customers are dissatisfied with your support, they will switch to your competitors without thinking twice. Bad customer service not only affects your sales but bad press or negative word-of-mouth impression will dissuade your potential leads too.
Here are some effects of bad customer service,
Lost customers
When a customer contacts your support they want a solution fast. If you fail to provide this, there is a 50-50 chance that the customer will return to purchase again. Not only have you lost a customer due to lousy customer support, but you also lost all future sales along the way.
Losing brand value
When a customer is dissatisfied with your customer support, they will share it with their inner circle or on social media. So each time this happens, you lose potential customers, which affects your brand value. People will lose trust in your business fast and shift to other services.
High marketing costs
When you lose your existing customers' loyalty, it becomes costly to attract new customers. Marketing costs will go through the roof. Loyal customers were always your repeat buyers. When you lose that, you lose a good amount of sales. Whenever customer service standards weaken, touchpoints go up, significantly increasing customer service costs.
Customers hate to wait
Provide support on time, every time!
Setup and support in 5 minutes (or less!)
Bad Customer Support Service Examples
There is no "all in one guide" available for great customer service, but we can learn from existing bad customer service examples. This post will showcase the awful customer service and learn how to solve those with a customer-friendly approach.
1. Lack of empathy
No business is perfect. You cannot make everyone happy. "Customer complaints" will be a regular thing if you want to do business. Accept that.
But what you can do is – try to understand your customer's reasons for complaints and their frustration. In other words, you can show "empathy."
As per Wikipedia,
"Empathy is the capacity to understand or feel what another person is experiencing from within their frame of reference, that is, the capacity to place oneself in another's position."
Your customer representative should have the ability to emotionally understand what customers feel, see things from their point of view, and imagine themselves in their place. Essentially, it is putting yourself in your customers' position and feeling what they must be feeling.
Showing empathy in problem-solving is the fastest way to win customers and make them lifelong loyal users.
How to empathize with your customers?
There are some ways businesses can increase empathy in their customer service.
Put the right people on your team
Invest in your support team. Give the right people the right task. People who are good at communication and helping others are the best people you should hire. Businesses should have a checklist of what they are looking for in support agents.
Start with your hiring process. Your agents need to respect your customers' time and needs. Handling frustrated customers requires lots of energy. Hire people who are naturally empathic and energetic.
You can create a "customer satisfaction survey" to evaluate your existing running support team and find how effective or empathic your customer service representatives are. This will also make your customers more inclusive in your company and feel respected.
Give your agents freedom
Your customer's representative should have the ultimate freedom to ensure complete customer support. They should be able to access all types of resources. There should be a center point of communication for support agents to get help if they hit any roadblock. Don't limit your agents to a time frame to end a call. Drop quick call times and permit agents to attend to customers as much time as they need to solve a problem.
Train your agents
There should be enough resources for support agents. Any business must invest time, money, and resources to train their customer representatives to become the best version of themselves. This way agents can identify issues before they arise and take proper actions. They should also learn about the company and its products & services. But don't force agents to read pre-written scripts like robots!
Improve your agents' listening skills, problem-solving capacity, and critical thinking through regular sessions and courses. Train them to use customer service phrases that can influence customer conversations. Give proper instructions to your agents to follow the correct customer service etiquette when attending to customers.
Businesses can always try to change the behavior of agents towards their customers. In many ways, your customer agents are your company's brand representative. Ensure empathy in your support agents' customer handling process. Set up some metrics to follow and measure this in your support systems. Feel your customers' pain. They will reward you with their loyalty.
2. No easy way to reach
Great companies make it easy for their users to reach their support team. If you run a business but make it hard for your customers to reach you for their problems, it will be a nightmare. If they can't reach you, they will feel like giving up before connecting with your support agents.
Customers will often share their frustrations over social media, which will catapult them into a big mess. You know how fast these viral stories of bad customer experiences end up in the news!
Here is an example of a Delta Airlines customer sharing his frustration on social media about their encounter with their customer support.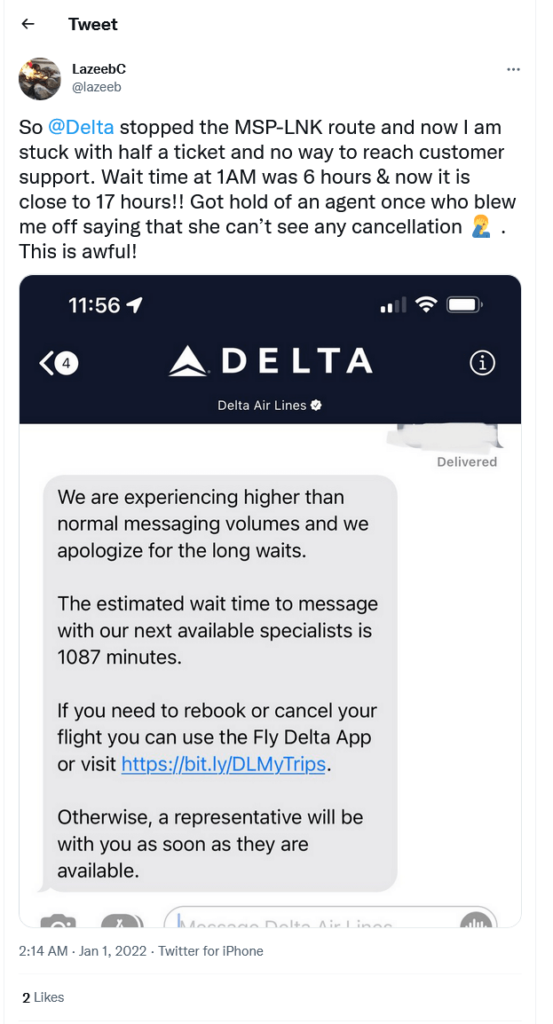 How to make the process easy for customers to reach you?
Your responsibility is to make sure your business has proper channels for your customers to reach you easily. Whether it's email communication, chat support, or support ticket system. Your customer support solution must be user-friendly.
Here are some ways you can make your support solution accessible to users:
Be there where your customers are. Learn where your customers hang out. Every business has its user base. Find out where that user base is most active. Then focus your support energy on that place.
In today's world, most of the new generation now live through social media. When a customer can't reach a business, generally share their frustration over social media (Facebook, and Twitter are the active ones)
Treat your social media team as part of your support system. Train them precisely as your support solution. Make them fast to respond to users anytime they share anything about your service and company. Use communication apps to engage with them. Make your customers believe that you care. You are there for them!
Give the most freedom to customers
Provide your customers with many options to reach you other than direct calls. You can offer a support portal or give your customer the ability to reach you through emails. And your agents can attend those emails as tickets directly from their support dashboard!
You can make self-service resources like Frequently Asked Questions hub and resource pages like documentation. So you can point a customer to their exact problem's solution without them having to attend long waits for support tickets or calls. This will save both you and your customers time & energy.
3. Poor automation
Automation is necessary to do repetitive tasks. It makes your helpdesk system more efficient. But sometimes, poor automation can make your support solution vulnerable to bad customer service.
Most businesses use automated phone prompts. Although it is an excellent option to give better customer service, sometimes lengthy phone calls can irritate customers. Customers contact support to solve their problems fast. They want results from you and they expect a human on the other side of emails or calls.
How to fix bad automation in customer support service?
Improved automation can provide better results, here's how to do it-
Improve automatic phone prompts
Your detailed, lengthy phone prompts will not make your customer happy. Make it short, actionable, and easy to digest. Upgrade to AI to improve your support messages. Remember, most customers are willing to take care of issues by themselves, but you have to provide the right resources. Focus on solving the first touchpoint, then everything will follow smoothly.
Use good chatbots
Chatbots are an easy way to attend to customers. But bad chatbots can turn down customers. Be sure your chatbots are intelligent and have access to specific data. So they can handle simple customer questions fast or direct customers to relevant F.A.Q or resource pages. This will reduce headaches for both you and your customers.
Be as human as possible
For every automated system, there must be some human touch. Your goal to use automation should be to understand your customer's frustrations. If a chatbot's query makes a customer frustrated, support agents should be available before the chat escalates badly. Use automation to make your support team more competent and faster!
Tip: You can use a helpdesk plugin like Fluent Support to automatically assign new tickets to agents who have the least workload.
4. Making customers wait too long
When a customer faces a problem, they want a fast solution. They don't care about how small your support team is or what time it is. It is your responsibility to provide reasonable support solutions to your customers as a business.
Making your customers wait too long is a fast way to frustrate your users. I don't like waiting on the phone for a solution for more than five minutes. Neither do you. Then why should your customers?
Remember the viral story of a man calling Qantas Airways to confirm his flight had to be on hold for 15 hours? That was on the news! Now think about Qantas Airways' reputation after this incident.
How to reduce customer waiting time?
Short waiting times boost customer satisfaction. Follow these to reduce waiting time-
Automated Replies
Automation can play a vital role in this. If you provide helpful phone prompts, you can transfer your user to the right department in 2-3 steps. More steps and instructions can make your customers more frustrated. So use this smartly if you run a small customer support team. The same goes for automated emails or support ticket responses.
Improve Process
Getting your customer's phone calls to suitable agents is tricky. Your process should be fast and straightforward for this. Provide your customer with clear instructions, make them short and valuable. Make your agents available and put them in the right places. Use chatbots wisely to shorten customers' priorities and reply accordingly.
Advanced Sorting
Advanced sorting can easily save lots of time for your support team. Use efficient support ticket systems for your customer service team. Use chatbots or AI to sort your support queries and customer calls digitally. This will make your response time fast and you can assign the right agents on time without making your customer wait too long.
5. Transferring agents to agents
Customers should not wait too long for support and they should not be transferred from agents to agents to get a solution. It is the worst example of customer support service. In general, before calling customer service or opening new tickets, most customers try to find a solution on the internet with a google search or with your website's F.A.Q. Calling you is their last option.
So when they call you, they expect to get a solution in a short time. Users may be waiting but not for long, but making them wait while you transfer them from one agent to another agent will make the situation worse.
How to fix long call transfers in customer service?
There are a few ways to fix this. Here are the solutions-
Train your agents properly
Transferring customers from one agent to another often suggests that your support agents don't know the solution properly. The first thing you can do is give your support team proper training about your customers' repetitive problems. This will help them attend to customers effectively at the first touchpoint.
Use the right support software
Use sound customer support systems to provide support. Always pick the best support solution which enables your support team to view your customer data in one click. It is handy if customer data is available right with their support tickets. So your agents can attend to the customer effectively, knowing who the customer is, what they ordered or bought, and more.
Audit transfer rate
You should constantly audit your customer service team's call transfer rate. If you want to provide good support, you should strive for zero transfer on phone calls. Look for why calls are transferring and try to solve it as soon as possible. Hire suitable agents, deploy a better support system, and place enough resources to make the process seamless.
6. Hostile behavior & bad attitudes
Sometimes poor customer service comes from your rude agents. Agents with bad attitudes are the main reasons for most viral customer service stories you will read online.
We have already covered why you should appoint empathic people to your customer service team. It is the priority to be safe from another negative viral story about customer support.
How to improve customer support agents' efficiency?
Follow these tips to improve your customer support agent's efficiency-
Provide helpful chat
Unhelpful chat will create frustration for your customers. Training your agents to avoid cookie-cutter answers and get to the point. Set up a relevant knowledge base so that agents can direct customers to the correct answer. Customers are happy to solve the issue themselves if the correct information is readily available.
Acknowledge customers problem
Most of the problem starts with agents not acknowledging customers' problems. Sometimes companies do not empower their agents to provide the proper support to their customers. You must empower your agents to take proper steps to ensure customer satisfaction. Provide them flexibility with their training and options. Empower them to make decisions on behalf of customers to solve their problems. Help a customer even if you are doubtful about their honesty.
Measure your agents
Everyone is human and we make mistakes every time. But you should measure your agent's performance from time to time. How are they handling customers? Are they listening to customers first? Are they empathetic while talking or just following a pre-written script like a robot. If your agent has a bad day, give them time to manage themselves first. Talk to your agents from time to time or make sure your supervisor/manager is the right person for your agents to share and talk about their problems with.
7. Not utilizing proper tools
For better customer support, you need to utilize every solution you have in your hands. You can improve your team's productivity and make better customer communications using the right tools. Tools should help you get valuable insight into customers' problems and boost customer satisfaction.
How to use proper tools for customer service?
Here are two ways you can use tools to improve customer service-
Identify your business need
Using everything is not a good fit for your business. First, you have to take a moment and evaluate your customer service team's preference. What are the needs right now?
If your business needs a live chat, use it. If your business needs automated phone calls, make sure you have enough agents to implement that. If you have daily queries coming to your site, you need the best helpdesk solution for customer service. Select support ticket systems based on how fast they can resolve tickets and how responsive they are.
Follow customer feedback
Collect your customer's feedback on the support systems you are using. Follow how the customers react to every tool, and then prioritize the most efficient tool in your support solution. Train every agent on the tools for fast customer responses. Use self-sufficient tools to serve customers in automation.
Provide Fast Support!
Support ticket management got easy. Reply to customers super fast and deliver an amazing experience!
8. No respect for customer's privacy
Respecting customers' privacy is the fastest way to get customers' loyalty. Brands often want to gather as much data as possible about their target customer. It is valuable to know more about your customers, but not all your customers are happy to share everything with you.
Some customers are willing to share more, and some can choose not to. You have to respect that as a business. When a customer's card is denied, or they discuss their health quietly, make sure you do everything to assist them while respecting their privacy.
How to prioritize customer privacy?
Follow strict protocol on sharing customers' information inside your company. Make it visible to your customers what you do with their information and how you intend to protect the information. Don't just say it; implement it in your support team. Train your agents to follow the protocol and respect the user's choices.
Suppose you are in the service industry and never vocalize a customer's card information in front of others. Often businesses in these industries fall for this. These situations will make the customer feel embarrassed and give a negative thoughts about your company.
Your customer representative should ask customers if they have problems with the card and have another card they can use. Do not put your customer in a tricky situation; keep calm and help them figure it out. Do not push them if your customer is reluctant to share personal information in their email, calls, or tickets. Provide necessary context on why the information is necessary to provide the solution they seek. Train your support agents on proper situation handling.
9. Failed to respond in real-time
In this digital time, people are accustomed to instant replies. They are always on social media, and it's all about real-time.
Companies also have to embrace the new way to connect with their customers. Customer support should reply to customers where they are engaging with your business.
According to Hubspot research, 90% of consumers rate immediate response as important when they contact customer support.
How to provide real-time support?
Invest in your customer support team. If you want to build customer loyalty and steady revenue, then you must have enough agents to provide 24/7 hours of live help. Most businesses boost customer satisfaction with real-time support.
But if you have a small team, use chatbots and AI to improve response time. Bots can help you provide customers with answers to simple questions and fulfill the first touchpoint. Use proper tools with an efficient process and reduce the waiting time of your customers. Sync your social media team with the support team and respond to your customers on social media rather than pointing them to open a support ticket. Save their time and your customers will automatically become loyal to your brand.
10. Prioritizing company policy over customers' needs
Every business manages and follows policies to run the company and its people. Sometimes policies are there to ensure a better customer experience. But as the company grows, these policies sometimes hinder customer support to benefit the company.
Your business policies should not be a roadblock to your customer support. Your customer support motto should be – "we are here and we are hearing you!". Rules and protocols are necessary, but you should not follow them blindly while providing customers support. When a customer faces a problem, they contact you for an immediate solution. They don't care about your rules or protocols. You are responsible for their experience and you should solve their problems.
Do not use protocols to run from your responsibility. Shifting blame and sticking to policies is a classic customer failure example. Most of the viral stories of bad customer examples are born from this. You should focus on customer satisfaction and avoid this.
Train your agents on how to apologize and fix the issue fast. This will leave the customer with a positive impact. Sometimes bending the rules for customer satisfaction will increase loyalty in the long term.
11. Ignoring customer's feedback
"Your most unhappy customers are your greatest source of learning."
Ignoring customer feedback is worse than acknowledging it. If you want to build a better brand and service, the first thing you can do is collect customer feedback about your brand, business, products, and services.
Regularly collect customer feedback through the channels available. Develop a long-lasting relationship with your customer through regular conversation. This will help you get a clear idea about what the market needs and wants. You can fill up the gap by fulfilling the market's need with a better service or product.
Always ask for customer feedback after a call or ticket conversation. Find out more about your business from customer viewpoints. Train your agents to ask the right questions. Collect and organize the results in detail for future research. Use the research to build new products and services.
12. Not measuring company customer services
How efficient is your support team? Ever wondered about this? If not, then you are missing out on the big picture. To build a better support solution, a business should always measure its customer service team.
If you are not measuring customer service, you are losing insight into how your business is performing, what the customer's perception is about your products, how you are performing in the market, and more.
Set some Key Performance Indicators (KPI) for your customer service team and measure them regularly. Analyze agent response time, customer waiting time, and the number of touchpoints to measure your customer service perfectly.
These metrics will help you know more about your support team and agent's performances. Review this regularly and improve where needed.
13. Bad refund policy
Every business should have a clear and straightforward refund policy. Bad refund policies can harm your company's growth and brand value in the long term. Always make a refund when a customer demands it and apologize to the customer.
Not refunding and showing your bad policy can destroy your future leads. It is easy for customers to share their frustrations with the world through social media in this era. One negative review about your business can go viral and cost you your reputation.
Here is an example of a bad refund policy-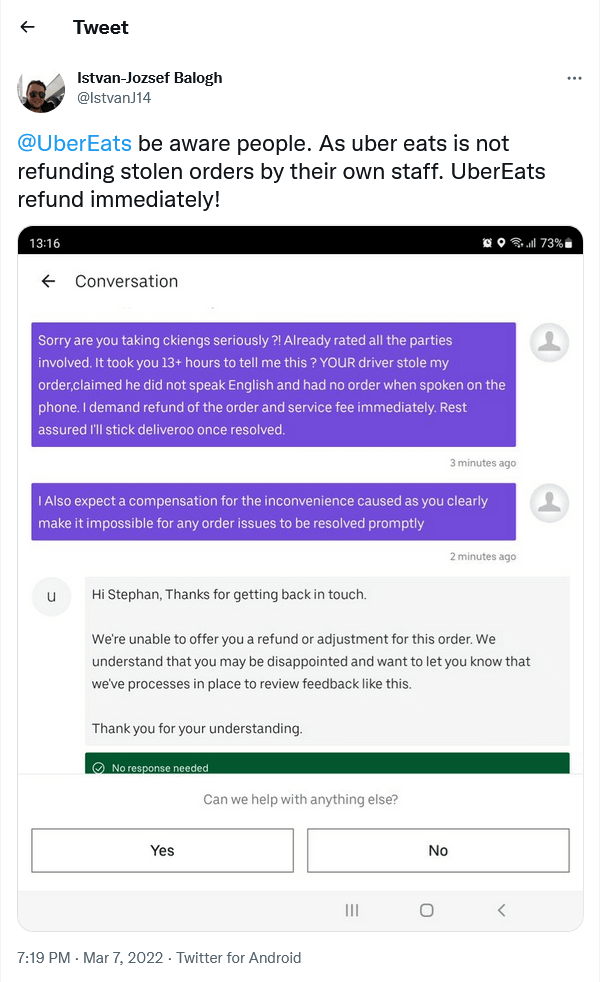 It will be hard to come back after a disaster like this. Not only will it bring negative marketing for your brand, but you will also lose thousands of potential customers who will share or retweet the story. That's why it should be your primary focus to be a customer-centric company. Refunds are unpleasant for a business, but it is essential to keep the customer happy and nurture future sales relationships.
Final Thoughts on Poor Customer Service
Gaining customer loyalty is hard, but it takes one mistake to lose customers' trust. Fighting bad customer service is an ongoing process. Business should invest their time, and money and focus on improving their customer service.
Not all companies are perfect, but managing your customers makes you different from others. By becoming a customer-centric business, you are not only eliminating the adverse effects but building a long-lasting relationship with your customers too!
Try to avoid these bad customer service examples and learn how to tackle bad situations if they appear. Build a customer-friendly support environment, focus on everyday improvements and empower your customer service representatives.
Your own Support Portal in 5 minutes!
Start off with a powerful ticketing system and eliminate bad customer service with efficient customer support.