10 Ways to Measure Customer Service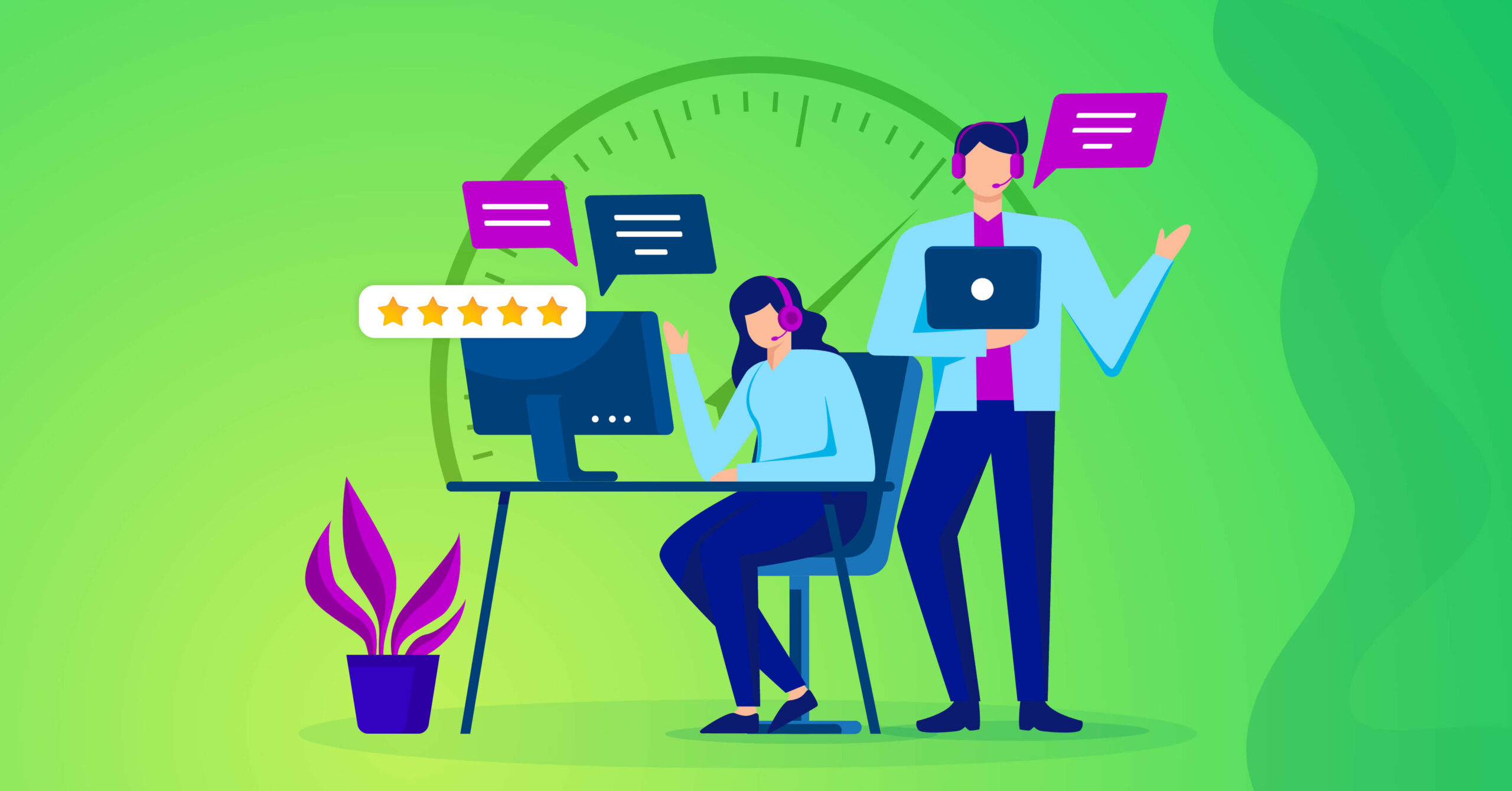 Customer service is essential for businesses to provide their customer with an excellent customer experience (CE). Businesses must ensure good customer service. The quality of customer service is a critical factor in a good customer experience (CX).
How can business measure their customer service? Here comes customer service metrics. A company's customer service metrics indicate how well it meets its customers' needs. You can use metrics to track where you are, what is going well with your customers, and where you need to improve.
If you are wondering what metrics you should follow, take a seat back. This post will cover the benefit of customer service and ten metrics you should follow for positive success.
Why should you measure your customer service?
Business runs marketing funnels, advertise, and can have great sales. But if you are not measuring your efforts, you don't know if it impacts your business or how it impacts. If you don't evaluate your customer service, you can't tell if it is working or not, and what you have to improve or not.
Customer service metrics help you understand overall customer happiness around your brand and answer if they will buy more from you, refer you, and how your support team is performing. It also helps you understand your customer service objectives and make them suitable for your business.
Customer experience data will tell you exactly where you need improvement, how your agents can perform better, and help you make an informed decision. Learning how to measure customer service will help you understand what is working well for you, so you can invest more in those areas to double the results. This will help your business to gain loyal customers in the long run.
10 metrics to measure customer service performance
Here are some top customer service metrics you should implement in your day-to-day work. Collect the data and analyze it as recommended below.
1. Customer Satisfaction Score (CSAT)
Businesses should find out how satisfied their customer is with their customer support. CSAT, customer satisfaction score helps you identify that. On a 1-10 scale, you can directly ask your users how satisfied they are after chatting or resolving a ticket with your customer service agent.
If that is below 5, you should evaluate your customer support team and determine why your customers are not satisfied with your customer service agents. Ask straightforward questions like:
How much are you satisfied with our products/service?
How would you rate your overall satisfaction with the service you received?
How would you rate the agent interaction?
Make the survey process easy to participate in and collect answers to get a good CSAT score.
2. Average Response Time (ART)
The ideal data to collect is between a customer starting a chat or opening a ticket and an agent responding. Customers expect a fast reply when they contact your support team for a solution. It is a vital customer support metric you should continuously monitor. If the average response time is high, there is a problem with how your agents handle users. Get right to the root and solve it.
Use automation and chatbots to answer basic or frequently asked questions in a customer's chat or tickets. Proper use of automation can help you build better customer service. Build a better knowledge base and F.A.Q to point to customers when necessary.
3. First Contact Resolution (FCR)
If you want to measure your customer support agent's efficiency in resolving tickets on the first interaction with your customers, then try to collect data about first contact resolution. It gives you data about how many customer problems are resolved in the first chat, call, or ticket. You can also collect data about how many average replies it takes for a customer to solve their problem.
In other words, it shows how capable your agents are of understanding and resolving an issue at the first contact point. If you follow FCR data, you will know your agent's capacity and knowledge. You can use these service metrics for individual performance in the agent performance report. High FCR also means your support team is performing well above the line. If it is low, your support agents need proper training and resources to resolve customer issues.
Provide Superfast Support!
Assign new tickets immediately to agents using powerful automatic workflows. Don't keep your customers waiting!
4. Number of Touchpoints
While collecting first contact resolution data, it's essential to know how many times a customer had to go through returning interaction to solve the same problem. Users are not happy to get transferred agent to agent for a solution. The issue should be resolved on the first contact.
Find out:
How often have users had to go through various channels for the same problem?
How many agents had to attend to the issue to resolve it?
If your agent-to-agent transfer is high, then there is a problem in your internal support system. Make your support solution easy and ensure your agents follow the required instruction. The low number of touchpoints is a positive indicator of your customer service performance.
5. Customer Effort Score (CES)
This is a new kind of customer support metric you should consider monitoring. It helps you determine how much effort a customer can dedicate to solving their issue with your support team. The more effort users have to spend, the more frustrated they will endure.
Your goal should reduce the effort and make it easy for your customer to do business with you. The easier it is, the more loyal customer you will cultivate in the long term. To calculate customer effort score:
Ask your customers for an answer that can be answered with numerical information.
Find out the average score.
Do not evaluate CES as individual data but combine your data with other metrics for actionable results.
6. Net Promoter Score (NPS)
We already wrote about the Net Promoter Score in our previous blog. It is a high-performing customer service metric you can monitor to find out your loyal customers. You can measure how your customer service performance affects your customers with NPS.
You can ask the question: "How likely are you going to refer this business and our product/service to others?" and gather answers on a 0-10 scale. Put the average answer and find out the NPS of your brand. The higher the answer is, the more likely these customers will become your repeat customers and positively affect your business.
If the answer is low, find out the issues making your customers unhappy. Start working to fix the problems.
7. Customer Service Abandonment Rates
How many times does a customer have to call or get a ticket reply for a solution?
Many times customers will abandon customer service due to frustrating waiting times. Find out the answer from the volume of your daily tickets and waiting time. Divide the number of abandoned tickets from a particular time with that time's total tickets. You will get your abandonment rates. If that is high, you should talk with your support about what is happening.
You should hire agents immediately if there are not enough. If automation or AI chatbots can help you fine-tune your first contact point, then do so. The goal should be to lower your customer service abandonment rates. If customers are unhappy with your services, they won't come back.
8. Customer Churn & Retention Rate
These metrics are opposite to one another, yet both are related. When customers are happy with your customer service team, they are more likely to come back again. This shows how many customers you gain after a certain period.
Customer churn rates tell you how many customers you lost after a while. If your customers are unhappy with your customer support team, more likely they are not going to make a second purchase from your business.
These two metrics are hard to measure because you have to collect data within a considerable time frame. You can calculate the retention rate by subtracting the number of new customers from the total at the end of a period. After that, divide the number of customers you retained by the total number of customers at the beginning of the period. This is your customer retention rate.
To calculate the churn rate, subtract the number of lost customers from the total at the end of a period. Divide the number by the total number of customers at the beginning of the period.
9. Customer Ticket Request Volume
You want your customer to contact you about their problems. But if ticket request volume goes high at a specific time, you should immediately investigate what is happening. Sometimes broken features, bugs, or complicated processes can trigger mass tickets.
Always pay attention after any product release or feature update. Compare support ticket volume by day, week, and month. Optimize your service, product, or website for efficient use. Train your support agents to make them ready to handle mass tickets if the issue arrives.
10. Average ticket handling time
Find out how much time your agents are taking o handle a single ticket. If they are taking a shorter time, they are efficiently doing their job. But do not take these metrics seriously alone; consider a few other metrics because sometimes agents can rush into resolving tickets without thinking about customer satisfaction. Use the data with the overall customer satisfaction score to determine if it is worth it.
Conclusion
Review your customer service and compare it to the above-mentioned customer service metrics. Using various KPIs and metrics, assess your customer service performance and take action when you see poor customer service. Do not follow metrics blindly. Take action to improve your customer service and track metrics to see how you're doing.
Your own Support Portal in 5 minutes!
Start off with a powerful ticketing system that delivers smooth collaboration with powerful integrations.