Customer-centric marketing is a buzzword in today's business world. Modern businesses are coming this way and prioritizing it more than anything else.
But why?
Customer-centric companies are 60% more profitable than companies that don't focus on customers. Businesses realized that business would automatically rise if they focused on customer-centric marketing. So, it's your turn to make a strategy and implement it in your business to be recognized as a customer-centric organization.
In this article, we will show you how to create an effective customer-centric marketing strategy. First, we will learn its definition and importance. After that, we will discuss how you will develop the plan. Let's get started.
What is customer-centric marketing?
Customer-centric marketing is a comprehensive marketing approach that mainly focuses on customer needs and interests. It's all about understanding your customers and prioritizing their needs and interests in every interaction with your business, such as delivery, promotion, advertising, etc.
When you run a successful customer marketing strategy, you need a deep understanding of what your customers need and what your company provides. You need to adjust to them. All you need to do is tailor your marketing efforts, adjust them in one line, or put the two things in the same formula.
Importance of customer-centric marketing
In a customer-centric marketing strategy, everything is customer-oriented. Everything you do is focused on the customer. There is no better way to ensure customer satisfaction than by being customer-centric. And this will lead to repeat business and positive word of mouth.
Customer-centric companies have more loyal customers than others that don't follow the customer-centricity strategy. Loyal customers are the advocates of your business. They will spend more money on your business as well as recommend others.
For this loyalty, your company will gain a reputation as a customer-centric company. This is enough for customer retention and to attract new customers. 
So, it is enough for you to realize why you must create a customer-centric marketing strategy.
Be where your customers are!
Hear your customers wherever they need you.
How to develop a customer-centric marketing strategy
Consider these key steps for the development of the strategy. Take your time, be effective, and make a move toward developing a customer-centric marketing strategy.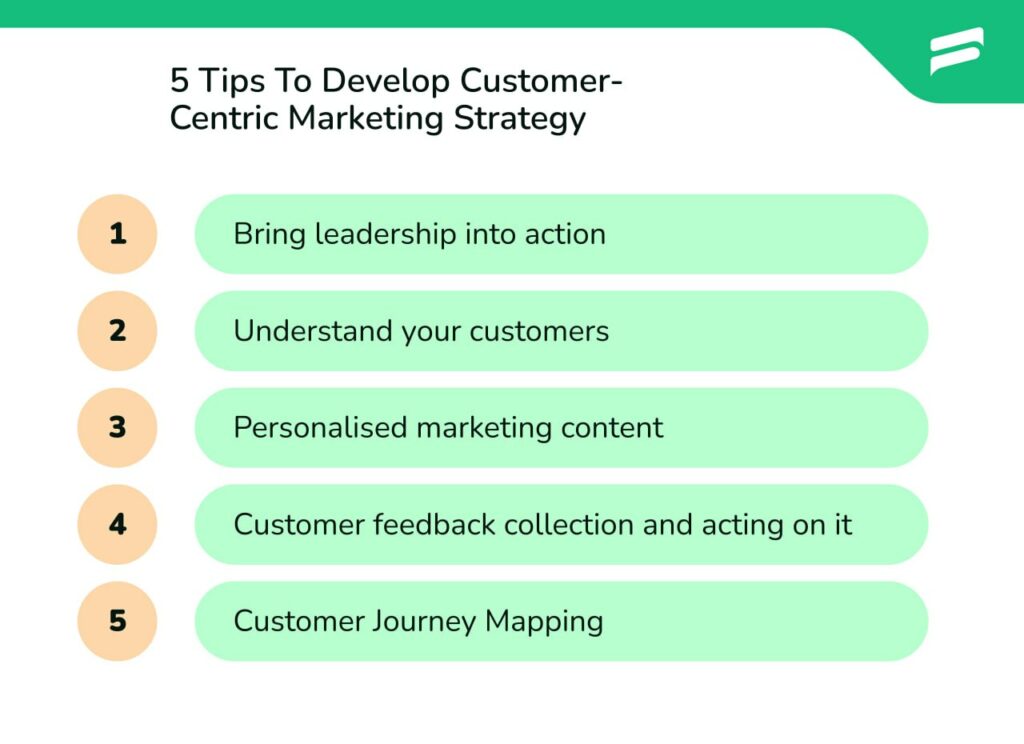 Bring leadership into action
Before everything else, you must bring leadership to your customer-centric marketing strategy. It will ensure a successful implementation and add more effectiveness to the strategy. If you still have doubts about that, you can check out case studies, industry trends, success stories, etc. to clear up your hesitation. By doing this, you will find out the positive impact of leadership and be encouraged to implement it.
That sounds simple enough, but how will it work?
When your company's leadership decides to put the customer first, it sends a clear message to the rest of the employees that customer satisfaction and a good customer experience are top priorities in your business. This will develop a customer-centeric culture in your company.
Moreover, the leadership must hold regular sessions to educate everyone on:
customer-focused marketing
customer-driven marketing strategy
customer-centric approach
and so on.
Understand your customers
In the world of marketing, understanding customers has always been important. But when you are crafting a customer-centric marketing strategy, it is first and foremost.
Remember, your strategy is based on customer needs and wants. That is why whatever needs to be done must be done to better understand your customers.
There are some common questions you should run through your mind while doing this.
Who are your customers?
What are their desires or needs?
How do they engage with your products or services?
What are they looking for in products or services?
Developing insights about those questions will help you better understand them. Thus, you can deliver them according to their needs and interests.
Personalized marketing content
In this marketing strategy, you would create relevant content tailored to the individual customer. It helps you capture and hold customer attention more effectively than generic content, as it is relevant to an individual's needs and interests.
By doing this, you can make customers feel more valued and appreciated. It is what you need for customer-focused marketing.
Furthermore, personalized marketing content resonates with customers and strongly convinces them to take action. This customer-focused action is more likely to lead to conversions. If you are wise enough, you will understand that this strategy is mutually beneficial for your business as well as for your customers.
How?
Here, customers would receive content that meets their needs, and consequently, your business would gain recognition as a customer-centric organization.
Customer feedback collection and acting on it
Who doesn't want to constantly improve their products or services?
Collecting customer feedback and acting on it is more effective than anything else for constant improvement. This strategy is mainly known as the customer feedback loop.
You will find an interesting point when running the strategy. Here, customers are aware that their suggestions or feedback are being acted upon. They feel prioritized and are more likely to continue business with you.
First, collect feedback. You can complete the task by doing surveys, feedback forms, online reviews, social media monitoring, live chat, and more. Tools are available for collecting feedback, like Fluent Forms, SurveyMonkey, Qualtrics, etc.
Then, make a dedicated team to analyze the feedback and start working on it. This strategy has a big impact on customer satisfaction.
Customer Journey Mapping
According to Fluent Support, "A customer journey map is a diagram where you can depict a customer's pathway while interacting with the business at a different touch point."
A customer journey map shows how customers interact with your brand throughout the buying process. So, you can easily identify their needs, interests, and pain points at each stage. Now you know where to improve. Consider all the areas for improvement to create a better customer experience. And guess what? This will lead to customer-centricity.
Sounds good, right? Smartly gather customer data and use it to create a visual representation of the map. This tactic can be incredibly effective if you can execute it perfectly. Moreover, it will assist you with buyer prediction. Buyer prediction is directly related to customer-centric marketing.
Wrapping up
Developing a customer-centric marketing strategy is a win-win for both businesses and customers. Turn on the strategy and make your customers fans of your business. We hope that you achieve better business results with the help of this strategy.
Thank you for your precious time reading this blog.
Your own Support Portal in 5 minutes!
Start off with a powerful ticketing system that delivers smooth collaboration with unlimited room for your customers.