What do customers want from a business? They want the best products or services that will add value and give them the best experience. In fact, 86% of customers will pay more for a better experience.
To ensure a good customer experience, you must work on continuous improvement according to the suggestions of customers. So, here comes the term "customer feedback loop" to look after the matter.
In this blog, you will learn about the stages of the customer feedback loop and why you should implement it in your business.
What is a customer feedback loop?
Customer feedback loop is a process of collecting feedback from users and acting upon it for better service or product improvement. You can implement it in your business for product improvement and to enhance business functionality.
Still have confusion? Let's discuss this briefly for a moment.
The term 'Customer Feedback Loop' refers to a process of responding to customers when they give feedback about your products or services. When a customer finds an issue with your product, they suggest an improvement.
Here, you should immediately make a move for improvement and let him know that you are working on it. For instance, you need to analyze the feedback from your users. When you are doing this, you should keep in mind the trends and pain points of your customers.
Fix the issue and communicate with them. Also, ask for suggestions again and again. As this term is fully based on mutual interactions between business and customer, your client communication should be strong enough.
It is the best way to improve your products or services. So, this improvement could give your competitors a hard time in the market.
Key benefits of customer feedback loop
Let's talk about the key benefits of the customer feedback loop so that we can motivate you to apply it to your business.
Better customer satisfaction
By collecting feedback from your customers, you can easily find out where your users are having trouble or where you need to make improvements for a better experience. After doing so, you can improve products or services, which will lead to better customer satisfaction.
Improve customer loyalty and retention
When you keep your customers in the loop, you are making a deeper connection with them. When customers see their feedback getting implemented, they are more likely to become loyal customers of your business. This will result in a higher customer retention rate. Besides, it will lead to an increase in customer lifetime value.
Improve quality
Who knows more about the issues related to a product or service? Customers or business owners?

The key lies with the customers themselves, as they are the ones who directly utilize the product or service and experience any potential errors or areas in need of improvement. Therefore, customers know where the product or service needs improvement.
Business development and increase sales
By creating a customer feedback loop, you can easily identify areas for improvement. You can develop new features, improve existing ones, and remove features that have no value. As a result, your business will stay ahead of the competition, which will boost your sales.
Build trust
The customer feedback loop helps your business build trust with customers. When customers realize that their suggestions are being taken seriously, they feel more comfortable. Consequently, this will create trustworthiness.
Your own Support Portal in 5 minutes!
Start off with a powerful ticketing system that delivers a smooth customer service experience for your customers.
Stages to create a customer feedback loop
We have mentioned the four best practices for creating a customer feedback loop that works. You must follow the stages when working with a customer feedback loop.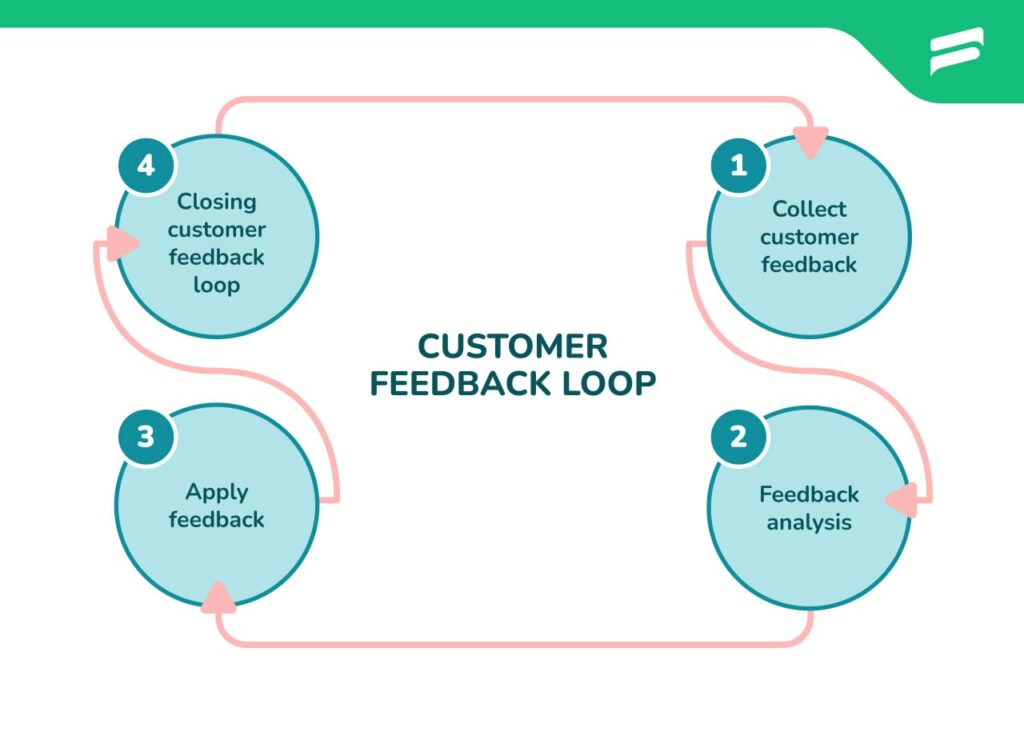 1. Collect customer feedback
When you are creating a customer feedback loop, your first step should be collecting feedback from your users. There are many ways to complete the task including
Surveys
Customer interview
Live chats
Social listening
Email marketing
and so on.
Here, surveys and email marketing are the best methods to get feedback from your clients. Another excellent way of collecting customer feedback is to send notifications for reviews right after a buyer buys your products.
Moreover, taking reviews from clients is also a great method for collecting feedback. Whether it's a brick-and-mortar business, a software company, or an e-commerce business, every one of them heavily relies on reviews to collect customer sentiment and customer satisfaction.
Choosing the best method always depends on what type of business you are running and on which platform your customers are willing to share their feedback. You have to pick the most suitable option based on your client's preferences.
Lastly, if you are thinking of conducting the process with a survey in a more organized way, we would recommend you use tools like
2. Feedback analysis
After collecting a substantial amount of data, the next step is to analyze it. This feedback analysis is the process of organizing and decoding the collected data to identify trends, patterns, and insights.
During the analysis process, data is examined in detail to better understand it. This can be done manually or with the help of software. Also, it involves identifying key themes and patterns in the feedback.
Firstly, you have to find recurring issues. Then you can list them by popularity and importance to your company's growth. Generally, you will notice that customers share almost the same types of pain points or satisfactions over and over again.
Here, you have to be aware of two things-
What betterments do the customers demand
What product or service upgrades do they wish for
Once you have analyzed the feedback, 50% of the customer feedback loop process is done. Because here, you will gain valuable insights into where to work and where to improve.
For analyzing the data, you can use the tools that we suggested for collecting feedback. Moreover, you can also complete the task manually, according to your preference.
3. Apply feedback
We believe that we have educated you enough to conduct an organized analysis of the data. Now, apply fixes to your products or services based on the insights obtained from the analysis. Take action to solve the issues. Always start with the big issues, since they are the most visible and can damage your reputation.
All the feedback is not equal. Prioritize feedback based on how often, how important, and how relevant it is. Sort your issues into categories to hand over them to the right teams like the development team, marketing team, customer service team, etc. By doing this, problems are transferred to competent hands. This will lead to the best solutions for the products or services.
After you have applied your solutions, you can start testing. Before doing that, make sure the solutions you offer can solve your customers' problems. Importantly, your new version should be the winner.
4. Closing the customer feedback loop
Finally, it's time to close the loop. Closing the customer feedback loop means following up with your customers after they leave feedback. When customers give you suggestions through feedback, you should follow up with them directly. Apply the suggestions and fix your products or services to improve the customer experience.
Moreover, you have to inform your customers about the changes you made according to their suggestions. You can send them a personalized email to let them know that you heard them and fixed the issue. Make them realize how important their feedback is to you.
This is the most empowering thing about a feedback loop. Here, customers can see how products or services are shaped according to their suggestions.
The customer feedback loop is a continuous process. Once feedback is implemented, it's time to gather feedback for redevelopment. This continuous process is the key to improving products or services as well as the customer experience.
Wrapping up
Finally, understanding and implementing the customer feedback loop is crucial for business success and improvement. As it is one of the essential components of any successful business, why are you waiting to implement it? Go for it. It's a winning process.
Thank you for your precious time reading this blog. We wish you a good time for your business.
Take it for a spin!
Offer the best support with ZERO costs. Installation is easy and setup is a breeze. Try it NOW!