Every business leader eventually embarks on the quest for the ideal booking solution. You know, to handle the scheduling and manage meetings efficiently. Most seek a tool that not only meets but exceeds scheduling needs, making business growth seamless.
To put things broadly, an ideal booking tool will provide you with a customizable calendar that seamlessly integrates with your website, a mobile-friendly interface for scheduling on the go, and empowers customers to take control of bookings. But is that all?
We at WPManageNinja think there's more to a booking tool than this. And to show that, we've created the ultimate booking plugin that fits neatly in your WordPress dashboard. But first, let's check out the demands we wanted to fulfill with our newest plugin.
What it takes for the ultimate booking plugin
Beyond the basic features, a booking plugin has the potential to create more time for you. How you ask? Well, we've got a good idea! Here's the take,
Customizable Calendar
Customization means the ability to place the calendar anywhere on your site and manage its design to match your website.
Customizable Schedule
Similar to design you'll also want flexibility to tailor your schedule too. Accommodating preferences like removing holidays and setting designated buffer times between appointments.
Email Confirmations and Reminders
Email reminders are probably the defining factor for a good booking plugin. Automatic email confirmations and reminders minimize no-shows and keep everyone in the loop.
Custom Fields and Menus
Easy customization of fields and drop-down menus is just as essential when you want to cater to a range of services or unique offerings.
Mobile-Friendly Interface
In other words it provides an interface with enhanced accessibility for mobile users.
Support for Multiple Agents
For businesses with several staff members or service providers, the ability to manage individual calendars and profiles is crucial.
Customer Self-Service
To make the customer experience rich, you'll also want your customers to be able to manage their booking in self-service options as well.
Booking Management
A filterable and searchable booking management module that functions solely on your WordPress backend, making appointment handling efficient.
Keeping all this in mind, WPManageNinja's developers went into developing the plugin that we are happy to call FluentBooking – The Ultimate WordPress Scheduling Solution.
Introducing a new era in WordPress Booking Plugins: FluentBooking
FluentBooking was developed as an outstanding WordPress booking plugin, promising effortless management no matter how busy your schedule is. When it comes to describing FluentBooking you have to consider speed, user-friendliness, and seamless integrations with other plugins, offering a 0-hassle experience.
FluentBooking offers the freedom to effortlessly customize date formats and time zones, and set up recurring events as you need them. The simplicity in displaying your calendar on your website gives your users a smooth booking experience.
More importantly, it seamlessly syncs with Google Calendar and integrates with popular WordPress plugins like Fluent Forms and FluentCRM for even more advanced control. FluentBooking is a versatile solution, perfect for creating event calendars without the need for coding.
But features only make half the product, unless it fulfills the needs of its users.
Enhancing Efficiency for Secretary's and Founders alike
From a managerial standpoint, FluentBooking offers a game-changing approach to managing tasks and appointments efficiently.
Effortless Task Management
Say goodbye to manual scheduling as FluentBooking allows effortless definition of availability, whether for appointments, webinars, or sales calls.
Responsive Booking Pages
Creating beautiful, responsive booking pages tailored to specific needs, simplifying the scheduling process for individuals or teams.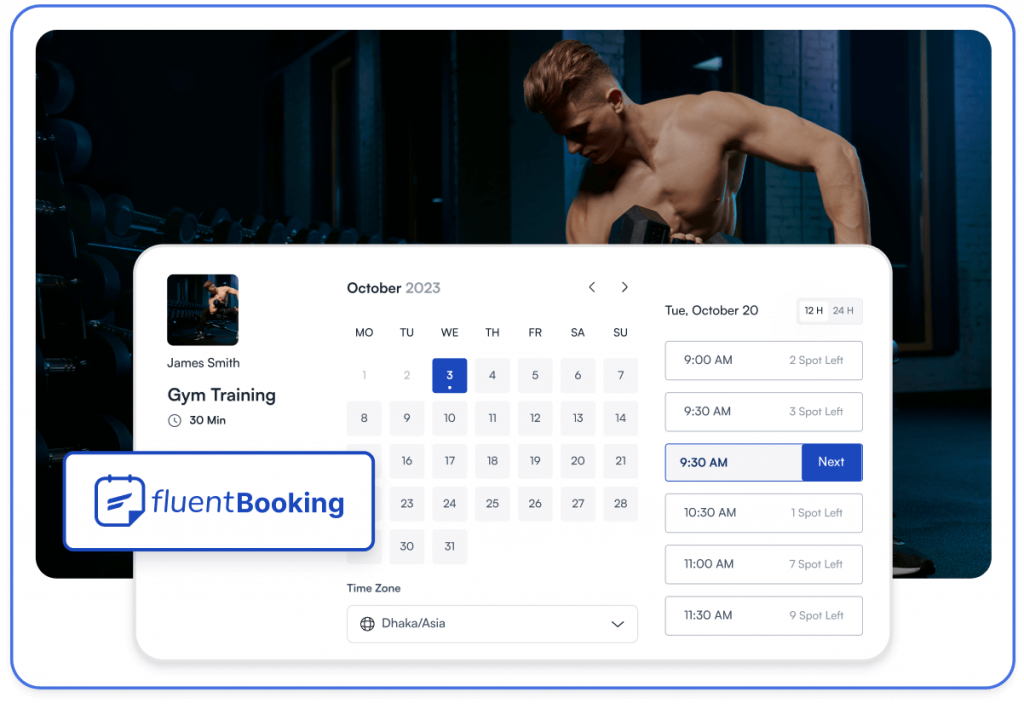 Streamlined Attendee Information Collection
Gathering essential attendee information seamlessly, enhancing personalization and effectiveness of interactions.
Seamless Integration and Collaboration
Integrating with calendars and meeting tools like Google Meet and Zoom, CRM tools like FluentCRM, payment gateways like Stripe ensures seamless collaboration, coordination and management.
Automated Reminders
Automating confirmation, unlimited reminders, and cancellation emails, saving valuable time and reducing administrative work.
Real-Time Availability Updates
Displaying availability in real-time, eliminating the risk of double-bookings and ensuring a seamless scheduling experience. Two-way Sync with Google Calendar means FluentBooking checks both calendars repeatedly — ensuring you can avoid collisions at all costs.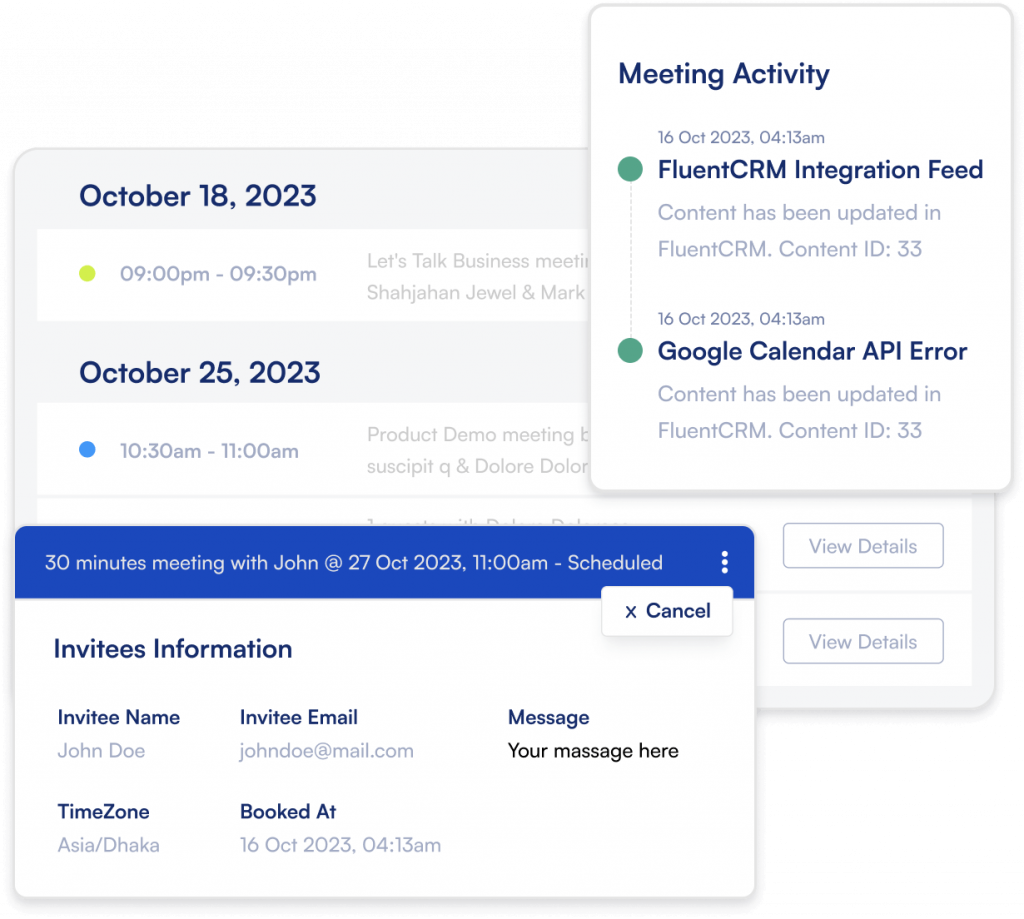 Effortless Data Collection
Collecting attendee information effortlessly with custom fields and seamlessly syncing it with CRM tools, eradicating manual data entry.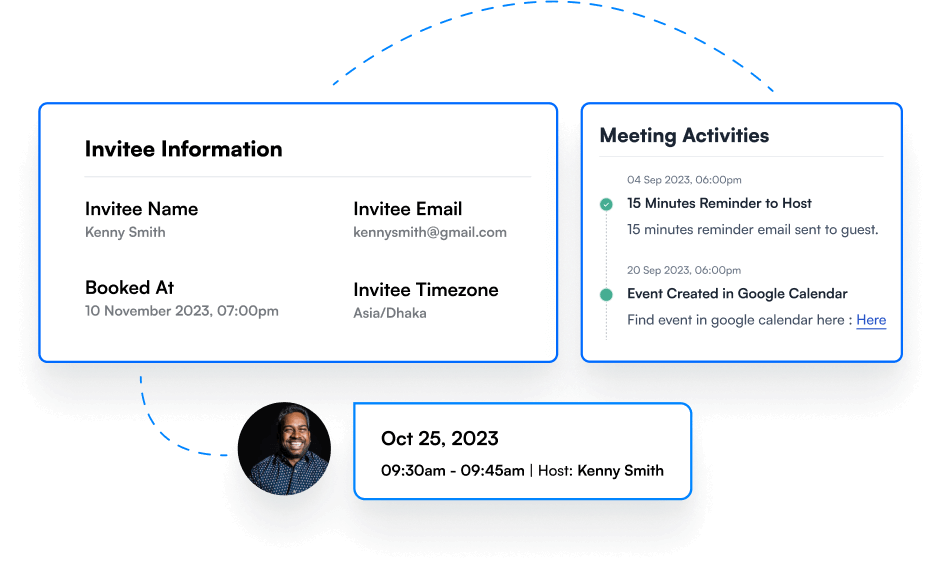 Get started on your path to seamless booking
FluentBooking not only empowers individuals and businesses to take control of their schedules but also provides a host of benefits for a variety of roles within the organization.
Engaging with Your Audience
For marketers, FluentBooking enables you to engage with the audience, collecting valuable attendee info, and syncing it with preferred tools, making audience targeting effortless.
Enhancing eLearning
In the realm of eLearning, managing availability for students is a must-have. When you've got scheduling out of the way, focusing on advising, counseling, and supporting student growth becomes easy as ever.
Supercharging Customer Service
Enhancing customer service by offering personalized experiences and automated follow-ups, boosts customer satisfaction and improves retention.
Efficient Recruitment Process
Streamlining the recruitment process with seamless appointments and automatic schedule updates, attracting top talent and ensuring a positive candidate experience.
Wrapping up
FluentBooking seamlessly integrates with your existing workflows, connecting with everyday tools to streamline workflows, automate tasks, and keep you up-to-date.
Moreover, like all of WPManageNinja products it offers excellent customer support, ensuring a great product experience backed by dedicated support engineers available 24/7. So what's stopping you from reinventing scheduling?