Every business nowadays at least has some sort of tech support requirements. To fulfill the demands, a company might keep an outsourced technical support team or an in-house one. But, the choice varies from business to business.
All businesses are different in terms of their goals, demands, and budgeting. So, it is obvious that there will be no single, feasible option that'll work for everyone. However, if you're having difficulty deciding which one to go with, look no further! We've got your back.
Here, we will closely examine whether it's truly better to keep an outsourced technical support team rather than in-house.
What is Technical Support?
Technical support, aka tech support or IT support, is a type of customer service by companies to help their registered customers with issues regarding the products. The service can be about software, electronic device, templates, and so on. Usually, it focuses on helping users with problems or issues that are niche specific.
Depending on requirements, a company might provide tech support differently. Some of the most commonly used ways are via live chat, phone, email, chatbot, online tutorial, cloud support, etc. Also, they use popular third-party tools for help desk and marketing automation—Fluent Support, FluentCRM, and more.
In a broader sense, you can consider technical support and the help desk/service desk as one. But these are very much different. While a help desk deals with basic problems, technical support focuses on resolving the problems requiring more in-depth training and knowledge of the product.
A company might have a single or no support agent if it's a small business. Or it can have multiple departments and agents when it comes to bigger companies for tech support.
It often contributes to and supports a company's overarching customer philosophy. So, depending on your company's requirements, budget, and convenience, you can 'outsource', go 'in-house', or even build a hybrid IT support team.
Now, without further ado! Let's find out how in-house and outsourced tech support differ from each other.
Outsourced Technical Support vs. In-House Technical Support
Now, without further ado! Let's find out how in-house and outsourced tech support differ from each other.
What is Outsourced Technical Support?
In outsourced technical support, companies hire third-party IT support providers. For this reason, it is also called a third-party technical support. The party handles a portion or the whole tech support service of your company's products or services by the contract, your given prospects, rules, and regulations.
You can cover your customer's pre and post-sales lifecycles by outsourcing the technical support service. Some examples of outsourced technical support can be:
Warranty support
Installation and repair
Account management
Software activations
etc.
Also, you can outsource tech support for custom applications or any major platforms your business integrates with. However, your goal must be to assess whether outsourcing is right for you and, if so, how to do it wisely.
It's not a secret that previously, outsourced technical support had a bad reputation. A lot of the companies did not provide good services. They were slow, scripted, and often seemed so cold. But not all of them are the same.
Though it was once only considered a tactical solution, now it's more than that. It has an exponential growth in demand. A major reason people are moving towards outsourcing tech support is the availability of professional support agents in regions like the Philippines, Malaysia, and India, with lower salary brackets.
At present, IT support provider companies are getting highly competitive, and they're working on enhancing the overall service-providing experience. Here's a Technavio report from 2021 showing the expected growth of the outsourced tech support market by 2026.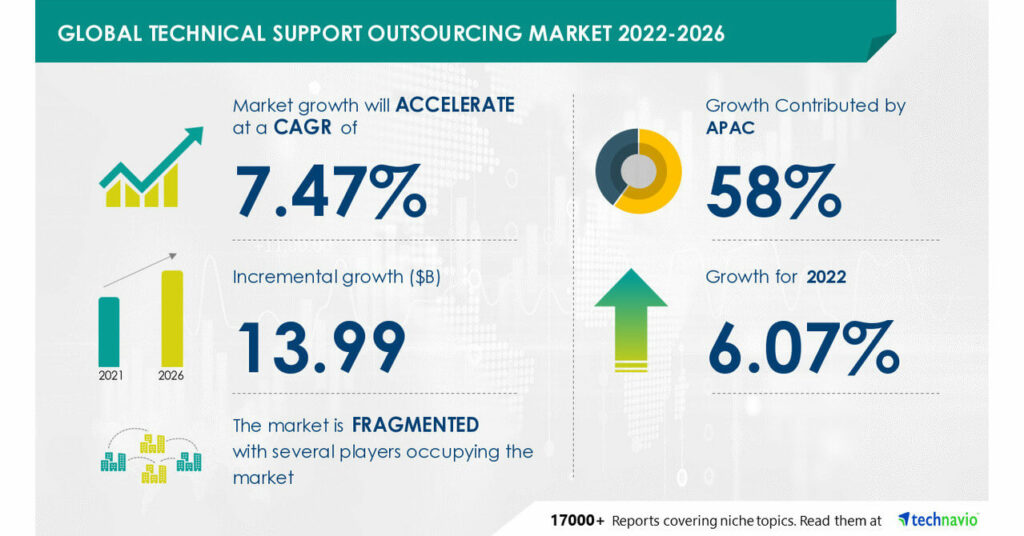 Pros of Outsourced Tech Support
Outsourcing tech support for your products or services has many advantages and disadvantages. Let's take a look at them.
A team of experts – Building a team of experts from scratch, managing, and working on their skills is expensive and time-consuming. On the other hand, IT service providers offer a team of experts who can efficiently work on any task from their offices. The companies have all the necessary devices and equipment. So, you don't have to worry about buying assets that will be outdated in a few years.
24/7 access opportunity – An in-house team might have faster response times, but that's usually only the case during a typical workday. And, even if you are willing to schedule your in-house team for different work shifts, you will still end up spending a lot on that. Right? On the contrary, IT service provider companies offer 24/7 support and emergency services. Thus, even if you experience downtime, you can quickly get back online. You can pay extra for nights, weekends, and holidays.
High-quality service – Your outsourced IT support partner will always try to keep your business running by giving its best simply because your growth ensures their success. Moreover, you can hire a company (with proven expertise & records) that can meet your goals and requirements.
More cost-effective – At first glance, hiring two or three tech support staff in-house may seem cost-effective. But think about the costs of maintaining employees with bonuses, sick & casual leave, hiring process, devices, food, salary raise, training, and so on. You have to spend a fixed monthly budget with an outsourced IT company and no extra maintenance costs. More importantly, you can save a big chunk of money by investing in innovation and business growth.
Multiple language support options – You can easily outsource your technical support crew from another nation. We call this 'offshoring.' It enables your company to provide extensive support to customers who don't speak the language you're providing support from.
Cons of Outsourced Tech Support
Although outsourcing tech support can save you money, time, and stress, there are some drawbacks.
Possibilities of communication gap – As your outsourced team will operate from off-site, there are chances that you might face some communication difficulties. You won't be able to see them often unless you arrange an online meeting. However, if you have full confidence and trust in your outsourced team, this shouldn't be a major issue.
Less control – The way you can watch over and work on each of your tech support staff to bring the best output, set goals and priorities, and schedule frequent meetings, this won't be possible with a managed IT service provider partner.
What is In-house Technical Support?
In-house technical support means having a dedicated support team within your company to provide tech support to your customers. They are fully motivated towards your company's objectives. The team is fully under your control, and all of their actions are governed by your authority.
With an experienced in-house IT support team, you can fulfill any network demands, procurement hurdles, installations, security issues, and so on. Moreover, the support agents will have an intimate, live experience and familiarity with the products.
Many of them might help build or upgrade your company's products & services. Also, a tap on their colleague's shoulder or a sudden discussion in the hallway might easily generate an idea to resolve a complex issue. For some of these reasons, many companies prefer in-house technical support rather than outsourced.
Pros of In-House Tech Support
Hiring a dedicated team or staff for tech support has some advantages.
Intimate familiarity with the business – In-house support agents know your company's infrastructure and how your team members utilize their devices, space, time, and tools. They care about the success of your business. Also, they're friendly with the rest of your employees from other departments. Thus, chances are they will have the right motivation to provide solutions that benefit their customers.
Faster response in difficult times – In difficult times (mishaps, technical issues), an in-house IT support team can respond immediately. As a result, it will minimize downtime and repair potential harm before it continues to deteriorate. RingCentral reports that "41% of customers stop using a product or service after constantly repeating themselves from rep to rep."
More control – When the team is under your surveillance, you have more control over their response times and the way of handling the tasks. By spending a proper budget on that department, you can guarantee that your team figures out the exact solutions customers require while keeping the budget in mind.
Even though an in-house team might operate slower than an outsourced one, it can develop comprehensive solutions supporting the documentation. In contrast, an outsourced team might charge more for additional tasks.
Cons of In-House Tech Support
While there are some advantages to an in-house tech support team, don't miss out on its disadvantages.
Super expensive – You must include in the cost of a support agent's salary, incentives, and onboarding when hiring one. Keep the budget in mind for ongoing training and certification to keep your workforce up-to-date on the latest technologies.
Availability issue on weekends – On the weekends or after work, when your staff might not be available, emergencies may occur. So, if you want to keep them for extra hours or assign them on weekends, you have to pay a lot more than an average work day for any given work during the holidays.
Now, let's have a quick recap on 'In-house vs. outsourced technical support: pros and cons.'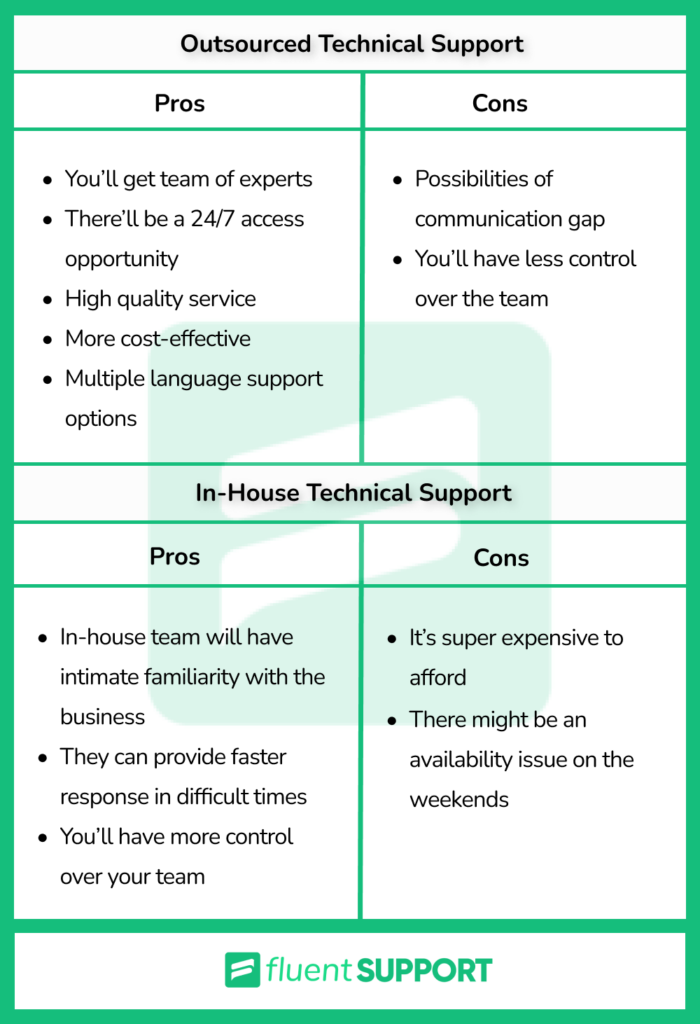 Outsourced or In-house Tech Support: Which one should you choose?
Whether you choose outsourced technical support over in-house depends entirely on your company's circumstances.
"Customers don't expect you to be perfect. They expect you to fix things when they go wrong."

Donald Porter, V.P. British Airways
So, it doesn't matter how you choose to make it work correctly as long as your customers are treated well, and their problems are resolved timely.
Since the Covid-19 pandemic, remote work has become the new normal. Therefore, if you discover that your team is overburdened with the work and you're on a tight budget, consider outsourcing tech support, at least for basic customer services. And, if you have a big company with no space or budget issues, you can try building an in-house team instead.
Thank you for your time. We believe you have everything it takes to be a successful entrepreneur. Best wishes.
Your own Support Portal in 5 minutes!
Start off with a powerful ticketing system that delivers smooth collaboration with unlimited room for your customers.