90% of startups fail. That's the consensus about startup success rates. If you're a startup founder or are aspiring to be one, this fact is demoralizing to say the least. However, success comes to those with will.
A big part of a startup's success (or failure) depends on its ability to attract new customers and make sales. After all, startups are businesses and the bottom line is the primary concern.
That being said, attracting new customers or as marketing teams like to call it, customer acquisition is the biggest challenge fresh startups face. We're here to change that, at least for the splendid people reading this blog.
In this article, we'll look at the definition of customer acquisition, customer acquisition strategies for startups, and how to measure your customer acquisition strategies.
Definition of customer acquisition
Customer acquisition is the process of identifying and attracting potential customers and converting them into paying customers of a business. The whole acquisition process involves multiple steps and each step requires its own strategies to ensure leads convert into buying customers at the end of the process.
Customer Acquisition Strategy for Startups
For startups, the acquisition process is fairly similar to more traditional businesses. However, the strategies can vary depending on the particular requirements of the startup. In short, there's no one size fits all plan for customer acquisitions. So let's get started with bringing more customers for your startup.
Targeting
First step to acquiring new customers is identifying the right people. As the saying goes,
If you're selling to everyone, you're not selling to anyone.
So it's crucial to find the ideal people that have use for your solutions and are willing to commit hard earned dollars to purchase them. Targeting customers involves the following process,
Determine Market size
The market size is the maximum number of people that are looking for the solution you provide. Understanding the market size allows you to project the highest potential number of customers that you can acquire.
No single company owns 100% market share nowadays, so it's safe to assume your startup won't either. But understanding the market size puts you in a position to evaluate your share of the market and whether that portion is enough to sustain your startup.
More importantly, market sizing allows you to estimate the investment (resources, personnel, infrastructure) to support the projected market size. This ultimately has a huge impact on your customer acquisition strategy.
Market sizing is usually done in 2 broad methods.
1. Top down
2. Bottom up
Create Buyers Persona
Once you've identified the market size it's time to define the buyer persona of your target customers. Creating a buyer persona is a broad process on its own, and kind of beyond the scope of this article. However, you can consider creating a buyer persona similar to developing customer profiles.
Fundamentally, a buyer's persona is a set of characteristics that accurately identify your target customers. Most businesses usually require multiple persona's to effectively segment their potential customers. This allows you to customize and personalize your acquisition and retention strategies for each segment for the most efficiency.
Identify effective channels
Once you've identified the target personas, it's time to determine the most effective channels of reaching them. People of different age groups, locations and personality traits are not congregating in one giant market place. Each of them is connected to their own sphere, and they rarely intersect.
For a startup, you'll need to find exactly where your target audience is jiving and what their vibe is. The best way to connect with people is to go where they are and find out what they care about.
Effective channels usually include Social media, Emails, Forums and websites. Each of these fulfills a different purpose in the way of connecting with your target customers. You need to identify which of these channels will be ideal for each buyer persona, and plan your campaign and strategies around that information.
Strategies for acquiring customers
Once you've prepared a buyer persona that fits your customers, now it's time to drive them through the funnel. An acquisition funnel is a progression where prospective buyers begin interacting with your business and become loyal customers by the end of the progression.
The acquisition funnel (sometimes also known as buyers journey) can be divided into 3 broad stages. Potential customers pass these stages sequentially ultimately leading to a purchase. Each step of the acquisition funnel refers to the psychological stage of a prospect. Because of these distinct mindsets, you need to employ different marketing tactics to effectively drive prospects through the process.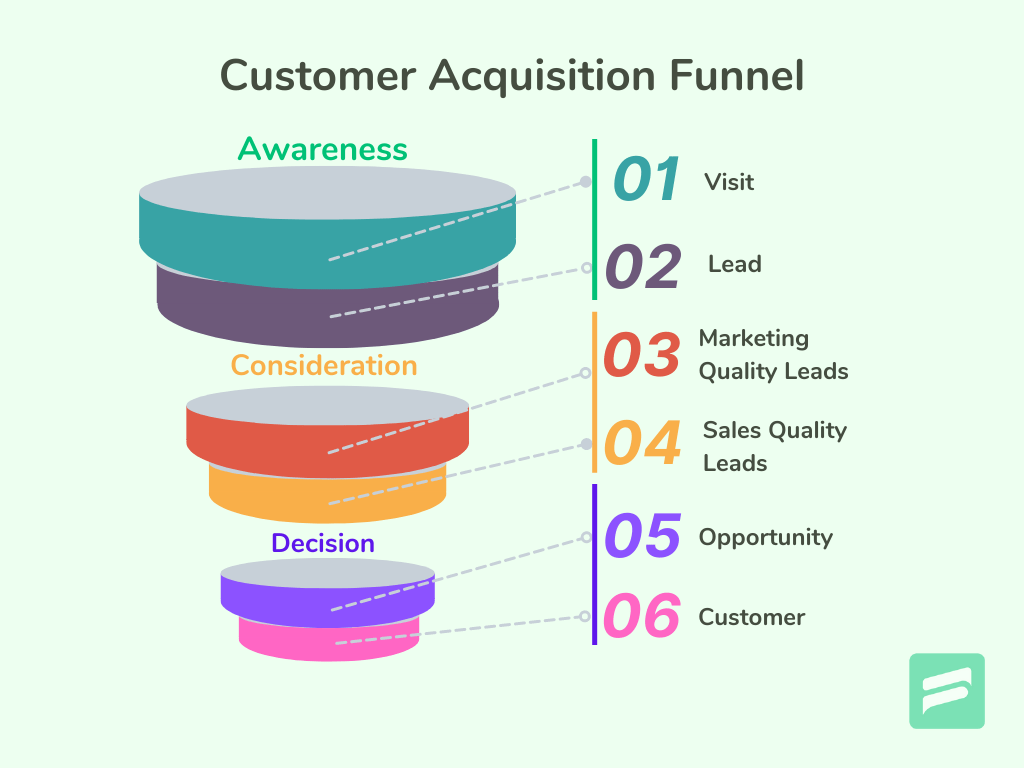 Let's check out the steps and the marketing tactics best suited for them,
Awareness stage
The awareness stage revolves around people that are only beginning to explore your niche, and most likely aren't aware of your startup. The prospects in this stage usually look for information to build "awareness". So that's exactly what you need to offer at this stage.
SEO
Search engine results are the first place people look for things. For startups this is probably the most important factor for success. The unconventional truth is,
If you're not on the first page, you're not a real business
SEO helps your content reach the target audience through SERP's. But ranking is only half the story. You also need to provide content that people are looking for. In other words, the content you put up for search traffic needs to fulfill a purpose for the readers.
This involves keyword research, understanding the buyer persona and developing valuable content. Once you ensure these, you get to a position where you can effectively leverage the traffic that you gain through the SERPs.
Video tutorials
People on average spend 17 hours/week watching online videos. A large portion of this time goes on video tutorials. So educating prospective customers with video tutorials is much more effective. You need to develop videos that are easy to digest and act as a gateway for prospects to become aware of your brand.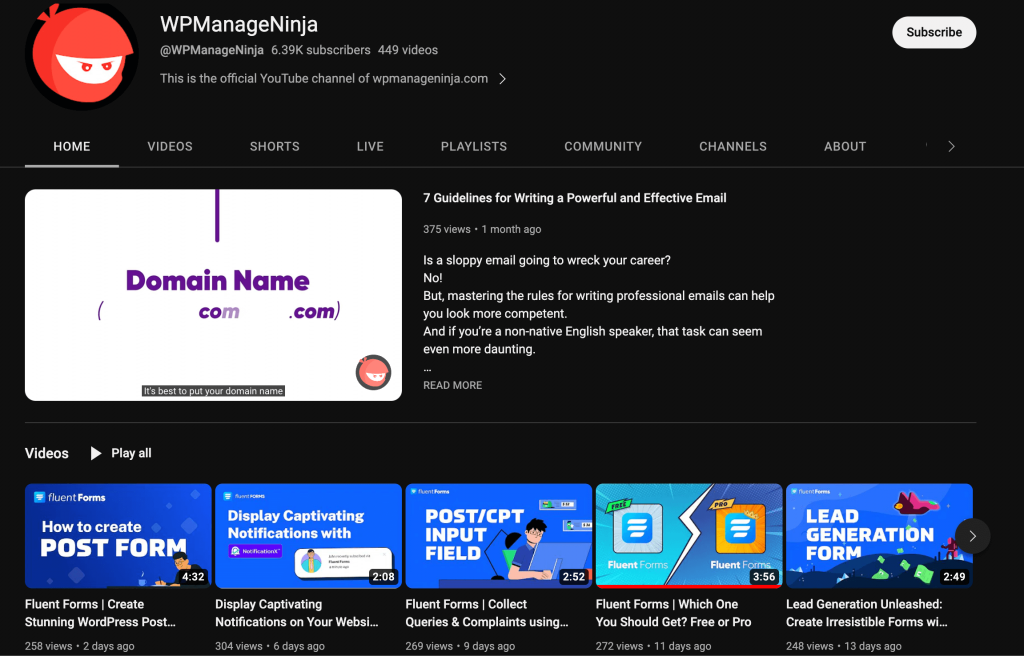 Success with video also depends on the factors like SEO and content targeting. Your videos need to be focused on topics that resonate with the awareness stage. This means educational and how-to videos on topics that act as a gateway into your startup niche.
Social
Social media acts as a digital billboard for your brand. Your social media strategy needs to accommodate the stages of the acquisition funnel. Ideally, you'd want content that resonates with prospects and positions your brand where they can find it.
Social presence is an essential part of brand recognition nowadays. So creating a data driven social media strategy can outperform other traditional forms of acquisition. This "ideal strategy" needs to encompass a variety of practices such as,
Focusing on value; Your social content needs to be relevant for your audience.
Engaging with the audience; Social is less about content and more about people so connect with your audience.
Building a community; To build on top of engaged audience, you can foster communities to create a forum of like minded customers
Using targeted advertising and promotions; Social ads and boosting can increase your reach if done properly.
Lastly, partnering with influencers; Influencers in your niche already have the attention of your audience. No harm in borrowing their "influence" to boost your presence along with it.
Referrals
Referral is basically rewarding the process of inviting new customers to your business. That is an existing customer referring your service to your friends and family, usually to cash in on an incentive.
The incentives are the crucial part of any referral program. As in what will the customer gain by recommending your product or service to people? Usually, SaaS companies offer free subscriptions and discounts in exchange for referrals.
However, it can be a double edged sword if your plans aren't well thought out. I remember a food delivery app struggling with referrals because their system wasn't idiot-proofed. They ended up paying customers after delivering items, because the referral system was abused beyond repair. To avoid such a conundrum keep these things in mind,
Offer an incentive that is an incentive, not a post-it "thank you" note.
Verify the referrals for authenticity.
Cap the amount of redeemable incentives.
Free tools
Free tools are a great way to both generate leads and identify their awareness stage. You can be pretty sure that an absolute beginner will not be using specific tools unless developing some understanding and experience with your niche.
So when you get a lead from a free tool, you can be fairly sure the user is at the consideration stage rather than the awareness stage. That being said, it's actually effective to upgrade awareness stage prospects to consideration stage by providing a simplified tool for a niche-specific problem.
Consideration stage
Leads in the consideration phase are aware of both their problem and the possible solutions that are available. The challenge here is to shorten the consideration phase and enable them to make a decision. For this goal you can adopt the following channels,
Content
Content for the consideration phase is quite different from the content designed to build awareness. Your goal here is to provide all the necessary information a prospect needs to make a fast decision. This includes,
Listicles; Compilations of products in your niche that showcase the pros and cons of both your products and your competitors. Check out our listicles on WordPress knowledge base and help desk solutions for a better understanding.
Webinars; Webinars help draw in prospects that are trying to understand the industry standards and in turn the solutions widely accepted by the community.
Case studies; Case studies help showcase the practical utility and benefits of your service or product in a real-world scenario.
Usually an acquisition strategy deploys a combination of these content to nurture leads towards the decision making phase.
Email Newsletters
Email newsletters are the ultimate method of nurturing leads. It provides a channel completely in your control and your audience accepts this content willingly. So you can target your email content specifically for each lead, according to their buyer stage. Not only that, it allows you to retarget to existing customers as well for upsell and cross-sell campaigns.
The best part of using newsletters is it allows you to control your communications in your own private channel. Exposure isn't dependent on complex search and social algorithms. Making it easier to track and monitor your strategies as well as improving targeting.
Reviews
Your customer reviews are another great way to nudge prospects to make a decision. People have an innate trust in other people's opinions. Especially, in the B2B space where 92% customers make a faster purchasing decision after reading a trustworthy review.
Good reviews from reliable sources have a big impact on people considering a service or product. When someone is checking out what your company offers, they'll look at what others have said to figure out if your product is right for them.
They'll consider whether your product fits their needs, if your sign-up process and customer support is on point, and if spending the money is worth it. So, reviews really matter from start to finish in the buyer's journey.
Be where your customers are!
Hear your customers wherever they need you.
Decision stage
Once you've guided you to the "purchase" page it's all a matter of making the action as lucrative and easy as possible. Even though you've provided all the necessary information to help in the decision making, you need to bridge the gap of making the decision and taking an action based on it.
This is where the following techniques help in marketing methods.
Consultations
Consultations help seal the deal by helping customers understand the product fit. Ideally, you'll need to showcase the learning curve, supporting resources and onboarding cost of your product or service. It's a great way to demonstrate the utility of your product/service.
Discounts
Discounts are the final incentive to lock in the customer. Maybe they like your product or have been considering it for a while. A small onboarding discount can go a long way to reinforce all the techniques you've utilized in your acquisition funnel.
People love to feel special. A custom discount price just for one customer can provide just the right push to make the decision and stop considering other options.
Customer Acquisition Metrics For Startups
So we've covered the basics of acquiring new customers for startups. Now you need to understand how to measure your efforts.
Customer acquisition costs
Customer Acquisition Cost (CAC) is the expense spent on attracting new customers to your business. It covers advertising, marketing, and sales costs, excluding production expenses. To calculate CAC, divide the total sales and marketing costs by the number of new customers gained.
The formula: CAC = (Sales cost + Marketing cost) / No. of new customers
Key components of CAC include ad spending, employee salaries (for marketing and sales teams), creative and technical expenses, publishing costs (varies by platform), and production costs (e.g., content creation tools, equipment).
The more successful your advertising is at bringing in customers, the lower the CAC. Similarly, effective sales and marketing teams can reduce the cost per customer acquired.
CAC:LTV
LTV or Life time value represents the total revenue a customer generates during their entire engagement with your business. This includes repeat purchases, upsells, cross-sells, and any other revenue streams resulting from the customer's ongoing relationship with your products or services.
The CAC:LTV ratio is the relationship between the cost of acquiring a customer and the potential return on that investment over the customer's lifetime. It's calculated by dividing the CAC by the LTV.
A ratio below 1 indicates that the LTV of a customer exceeds the cost of acquiring them. This is generally a positive scenario, suggesting that your acquisition efforts are effective and profitable.
A ratio around 1 suggests a balance between acquisition cost and customer value. It's important to closely monitor this ratio to ensure it doesn't tip unfavorably over time.
Conversely, if the ratio is significantly higher than 1, it may signal that your customer acquisition costs are outpacing the potential value those customers bring. This could indicate an issue with your acquisition strategy, retention efforts, or pricing.
Activation Rate
Activation rates are a great way to measure acquisition success rates for SaaS companies. In most cases, companies determine activation rates by measuring engagement with a certain feature, completing a certain action, or achieving a specific outcome. Compared to CAC and LTV, this makes activation rates a more flexible metric.
Nonetheless, it is an accurate marker of how effectively a startup's product or service is being adopted and utilized by its user base. The activation point and rates can vary across industries and the goals of your company.
Trial Conversion rate
Trial Conversion Rate is a pivotal metric for startups trying to assess the effectiveness of their customer acquisition strategies. It signifies the percentage of trial users who convert into paying customers after experiencing the startup's product or service.
This rate provides valuable insights into the startup's ability to engage, captivate, and demonstrate value to potential customers.
Formula: Trial Conversion Rate = (Number of Trial Users Who Convert / Total Number of Trial Users) * 100
A higher trial conversion rate suggests successful user engagement, compelling value proposition, and an effective trial experience. Conversely, a lower rate could indicate room for improvement in onboarding, product communication, or trial duration.
Your own Support Portal in 5 minutes!
Start off with a powerful ticketing system that delivers smooth collaboration with unlimited room for your customers.
Wrapping Up
Acquiring customers is the life-blood of a startup's success. But it's not enough on its own. Bringing in new customers is only half the story. Retaining the customers you bring in is just as important to sustain the growth you're working relentlessly for.
At the end it all comes down to delivering the value you promise, and making people aware of what you offer as frequently as possible. The rest will work out well, at least that's what we wish for your startup.
Until next time, happy serving.