The next big update is here for Fluent Support. Strap into your seats cause we've got lots of new features to dive into. Like the last update, this one is also a lot of what our users were asking for.
Alongside the basic features, we've added some urgent bug fixes to make the plugin more reliable. So without wasting any more time, let's get started with v1.5.4.
Fluent Support 1.5.4 update in details
Here's an overview of what the new update has to offer. You can experience all the features as soon as you update.
Incoming Web Hook
Now you can connect any third-party plugin (outgoing webhook enabled) to Fluent Support. This is especially effective if you're using multiple sites for your business but need all support queries to be logged into one Fluent Support installation on your primary site.
No need to have separate installations of Fluent Support on multiple sites. Manage all tickets on one dashboard. No hassle, no delay.
Rich Filtering
Rich filtering is one of the coolest features we've added to this release. Instead of working with predefined filtering terms, you can now search for specific operators. Moreover, you can customize your own conditions to get the most relevant results.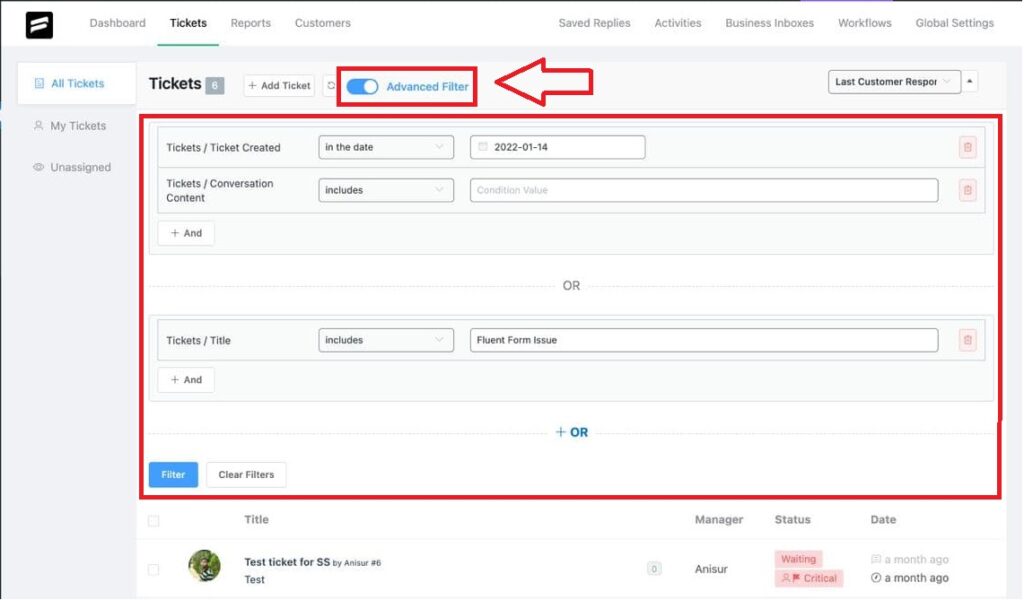 Notification on ticket allocation from Fluent Support
Now, support agents will get notification emails whenever a ticket is assigned to them. No more losing tickets between the cracks.
Unless you have automatic agent assignment enabled, you will have to assign tickets to agents manually. In that case, it is essential to notify agents of any new tickets that are assigned to them.
Full details in Email Notification Documentation
REST-API enabled
The most awaited feature REST API has been implemented in this release. REST API let's you connect Fluent Support with virtually any plugin to get data. This is especially useful if you're using third-party form plugins for ticket submissions and email marketing plugins.
You will find the details of each endpoint and its documentation in the API URL.
Custom Fields added to Telegram notification
Fluent Support allows Telegram notifications and replies. Now you can view custom fields added to the tickets through the notifications messages. No need to open or view tickets to get the custom field information, ensuring faster response times.
More on setting up Telegram Notifications.

Priority field from Fluent forms
Aside from Fluent Support's default forms, you can get ticket submissions from Fluent Forms. With this update, you can add priority fields in Fluent Forms for your support portal. The priority field will be updated to your tickets in Fluent Support.
User registration and Customer creation on ticket creation page
Fluent Support lets your agents create support tickets on behalf of your customers. With this update, you can add user profiles to Fluent Support right from the ticket creation page. You won't have to create WordPress user profiles from the WordPress users page.
Profile picture upload option for customers
Up until now, Fluent Support functioned using Gravatar from WordPress. Now support admins can upload their custom profile pictures for customers. Don't worry, the Gravatar feature is still available and will be used if a custom profile picture isn't added.
Bug Fixes
Email footer in ticket notifications
Email footers not showing on confirmation emails fixed for all platforms.
Zip Attachment Not Sending Issue Fixed
Issues with zip files and other attachments not showing/being sent with ticket submission fixed.
Email notification isn't sent to customer on agent response
Customers do not receive email notifications when agents submit responses on WordPress.
What's Next
We understand Fluent Support is an important part of your business. We're always working on improving and trying to make it into a more stable product with every update. Make sure to stay in touch for more Fluent Support update news and feel free to let us know what else you'd need in your support system. For any issues contact our support.
That wraps up this release note! Until next time, happy serving.