Every month, we ask ourselves a question– how can we become the best helpdesk solution for WordPress?
The answer is —- Keep making Fluent Support better and bigger.
And here it is, a new update with lots of features. Fluent support 1.6.1 is here! Our main goal with Fluent Support is to make it the best support ticketing solution for small businesses. That's why most of your updates focus on important features, which will provide more benefits to our customers.
You liked our previous month's update; I hope you'll like this too.
Let's jump in——
Added shortcode support in workflow
We added the ability to add shortcodes in workflows. You can add shortcodes in workflow actions such as – 'Add Response' & 'Add Internal Note.'
Here, for the "Add Response" workflow action: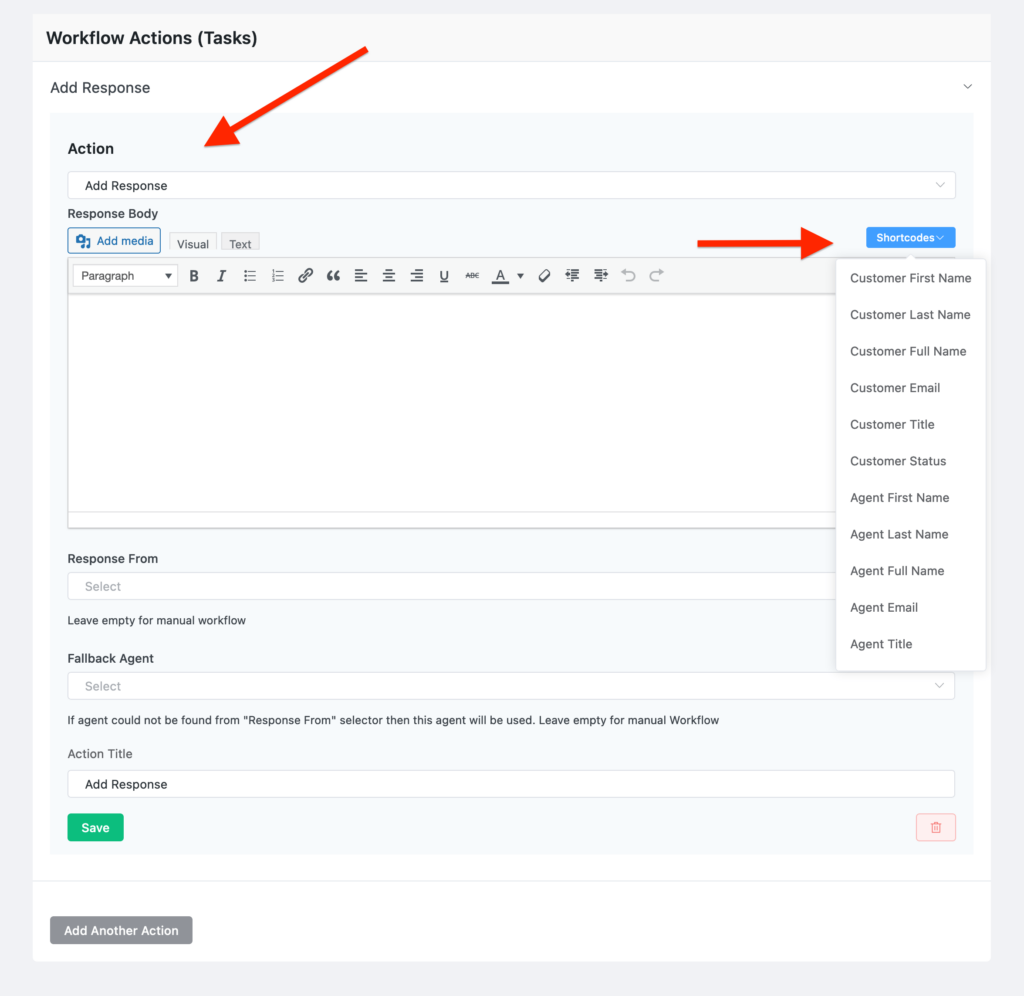 Here, for the "Add Internal Note" workflow action: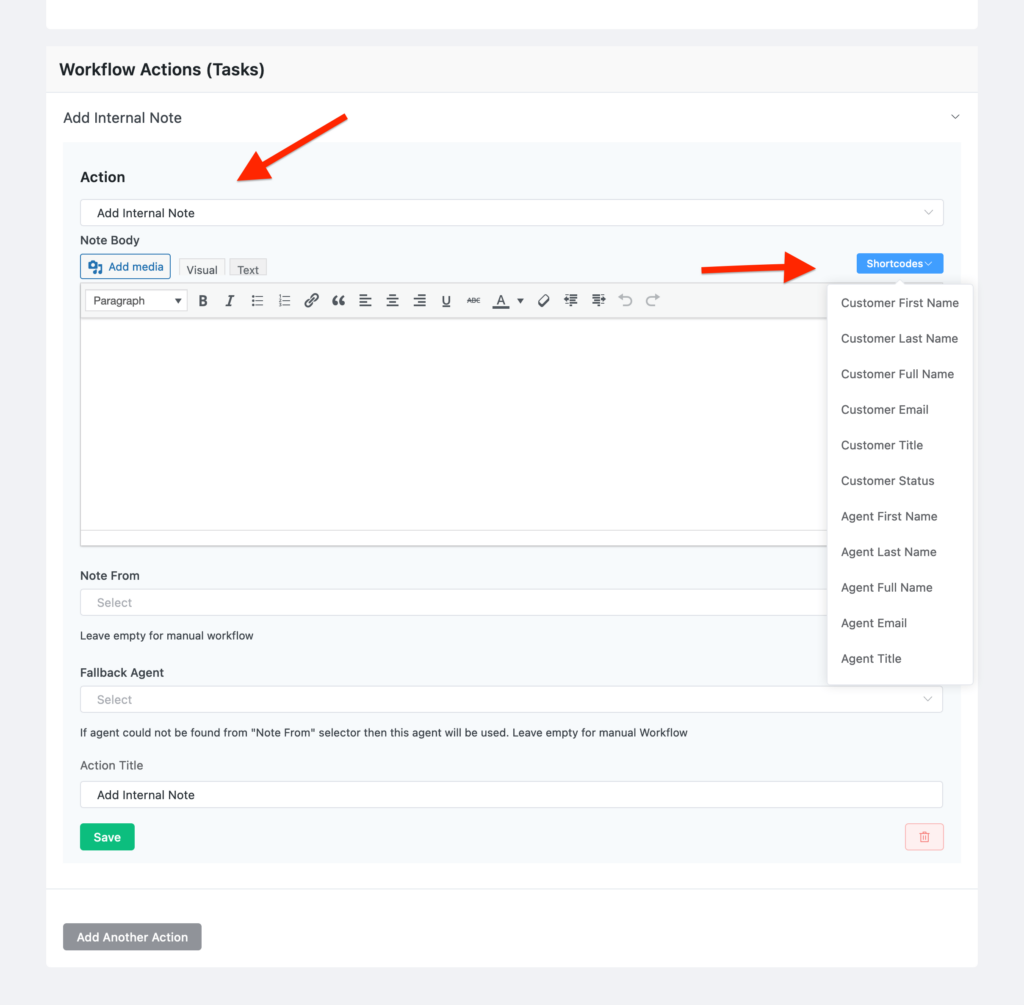 LearnPress Integration
We already have integrations with some leading WordPress LMS plugins like – LearnDash, TutorLMS & LifterLMS.
Now — LearnPress is here!
It is one of the new fastest growing WordPress course builders with over 100K+ active users. You don't have to do anything to integrate LearnPress with Fluent Support. Install it alongside Fluent Support; the user's information will be shown automatically when they open a support ticket.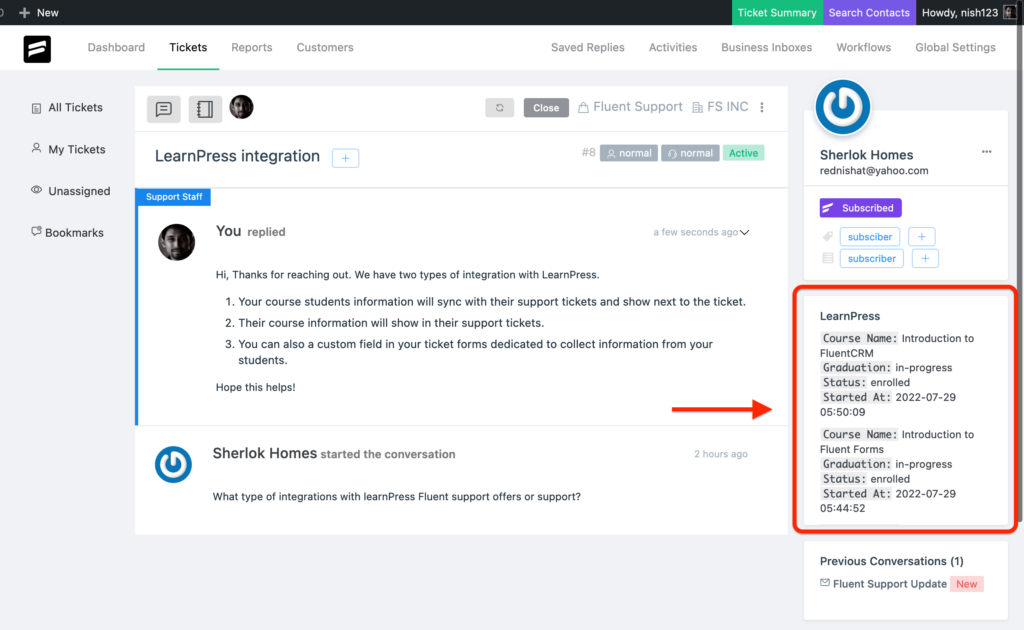 Split a reply into a new ticket
In our previous update, we introduce the merge tickets feature. In this latest update, we are giving you more freedom. Now you can split a reply into a new ticket.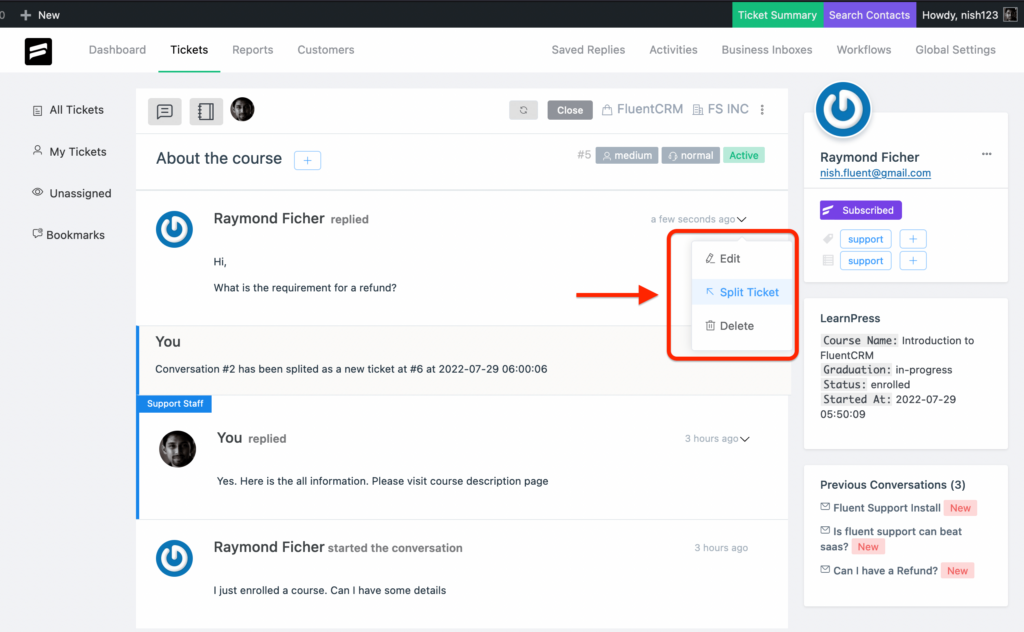 Whenever a customer starts a new topic or issue in an ongoing ticket, you can disconnect the conversion and move it to a new ticket.
Both new tickets will show up on the customer & support end as a separate new tickets.
Add bookmark to automation
Now you can add a bookmark to specific tickets or all tickets when the tickets first get submitted. You add a bookmark for a specific agent to a ticket from workflow actions.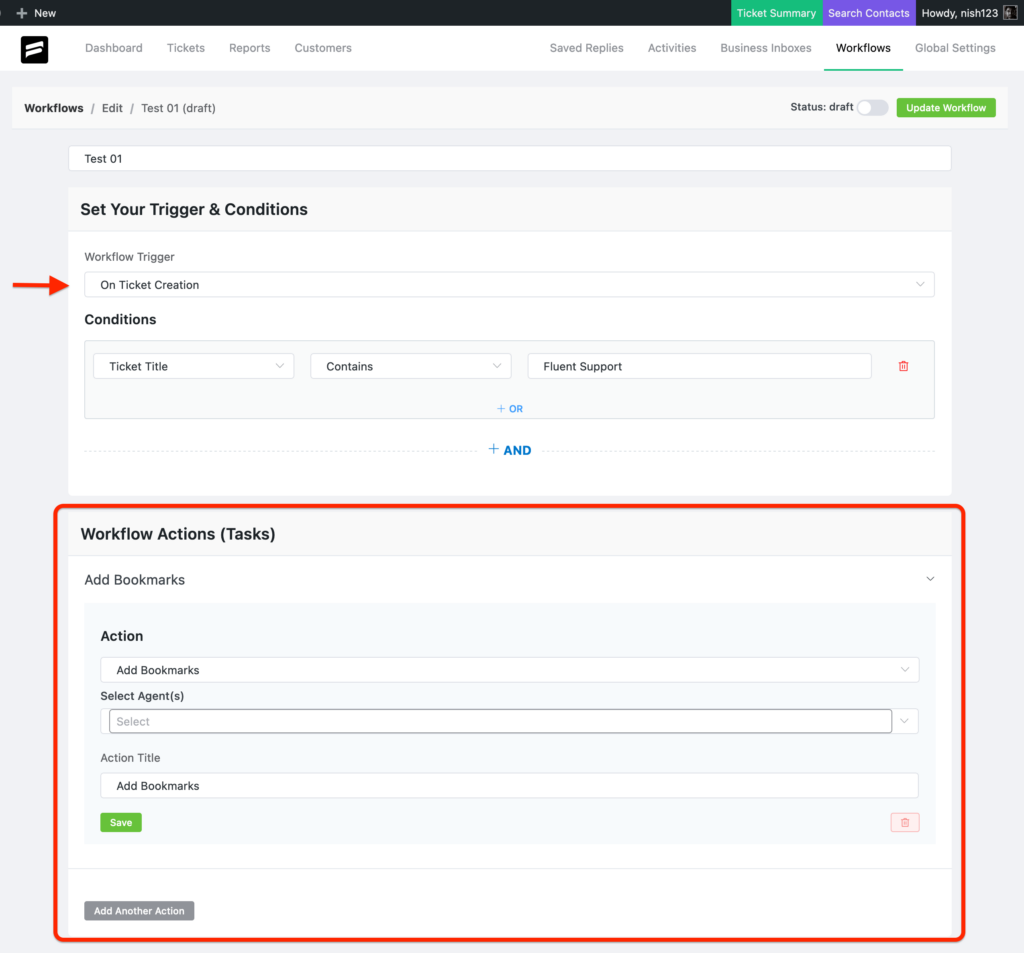 Also, you can trigger workflows on customer response by adding bookmark conditions. Then you can add any action from workflow actions.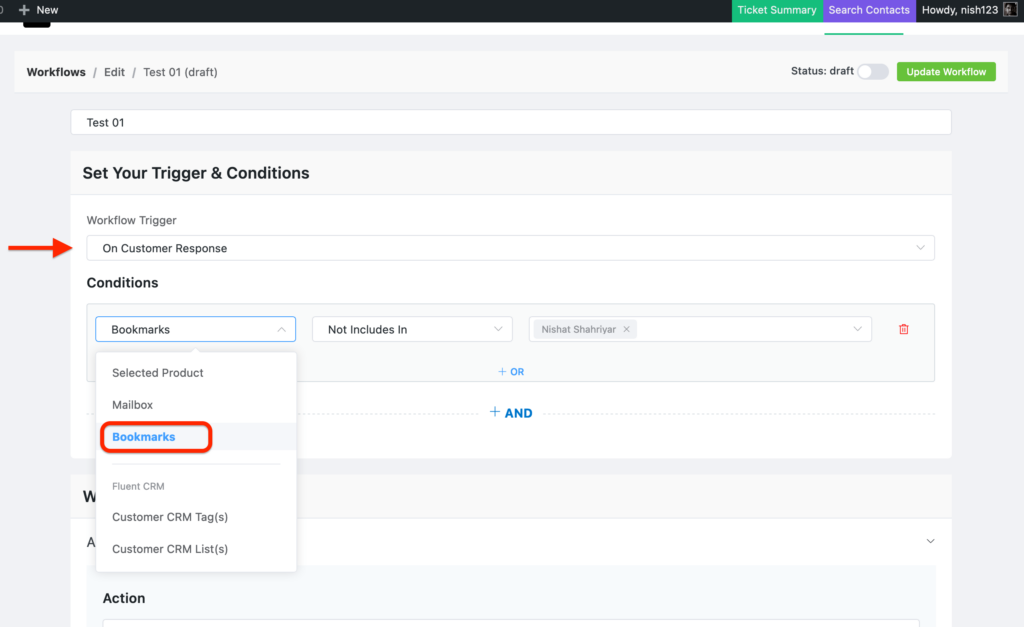 Fluent Support WP Dashbar Widget
We added a WP dash bar widget for Fluent Support. You can quickly glance over your support tickets summary when you log in to your WordPress dashboard.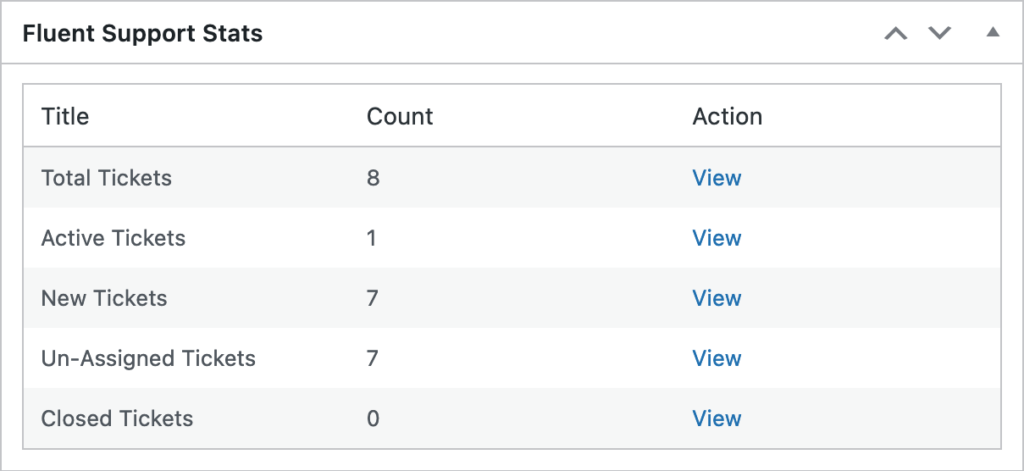 Fluent Support Ticket Summary Bar
We also added a ticket summary bar. It will show a quick summary of recent ticket data.

All you have to do is enable it from the "Global Setting".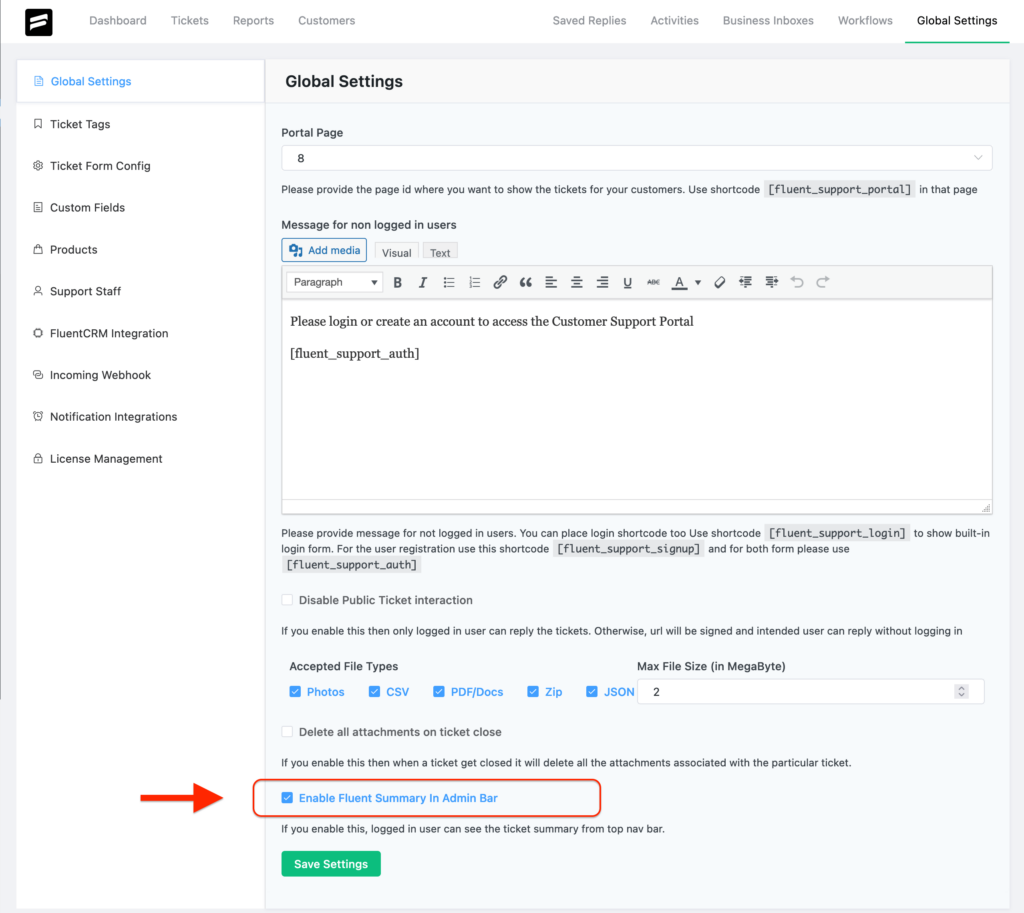 Added FluentCRM lists on the ticket sidebar
Previously FluentCRM tags information was available under the user's CRM profile. You can add users to FluentCRM lists and view relevant list information from the ticket sidebar.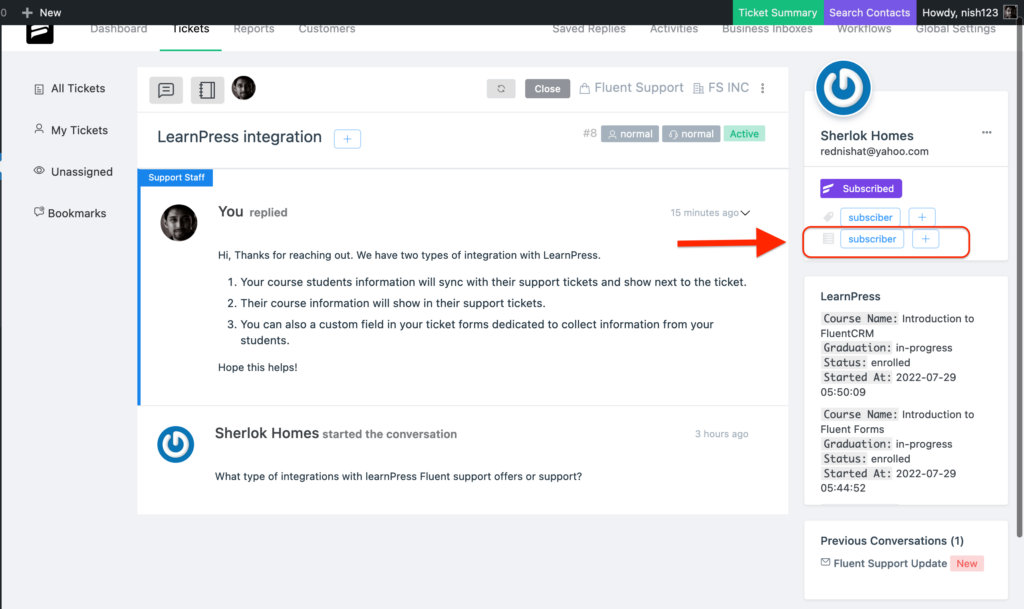 Added support ticket action block in FluentCRM automation
In this update, we added a new action block in FluentCRM automation.
"Fluent Support – Create Support Ticket"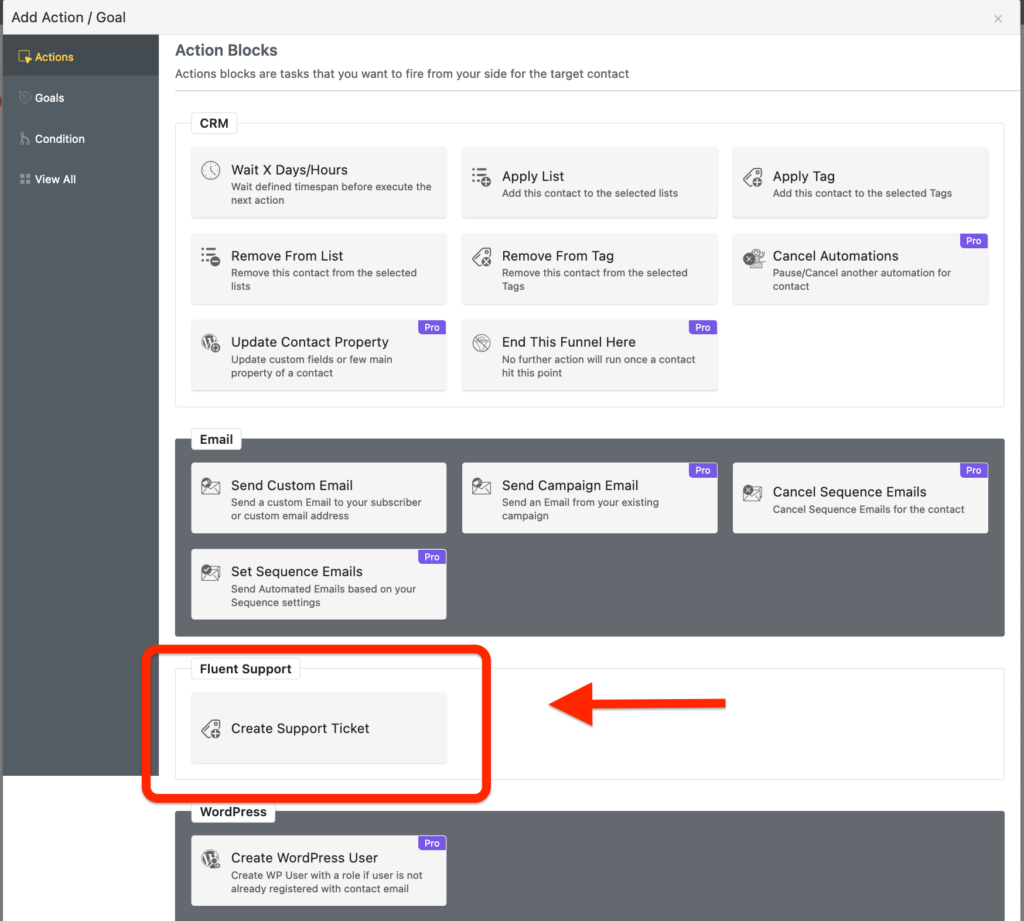 Now you can run Fluent Support action inside any FluentCRM automation. You can use this "create support ticket" action block to use any contact's action to trigger and open a support ticket from FluentCRM.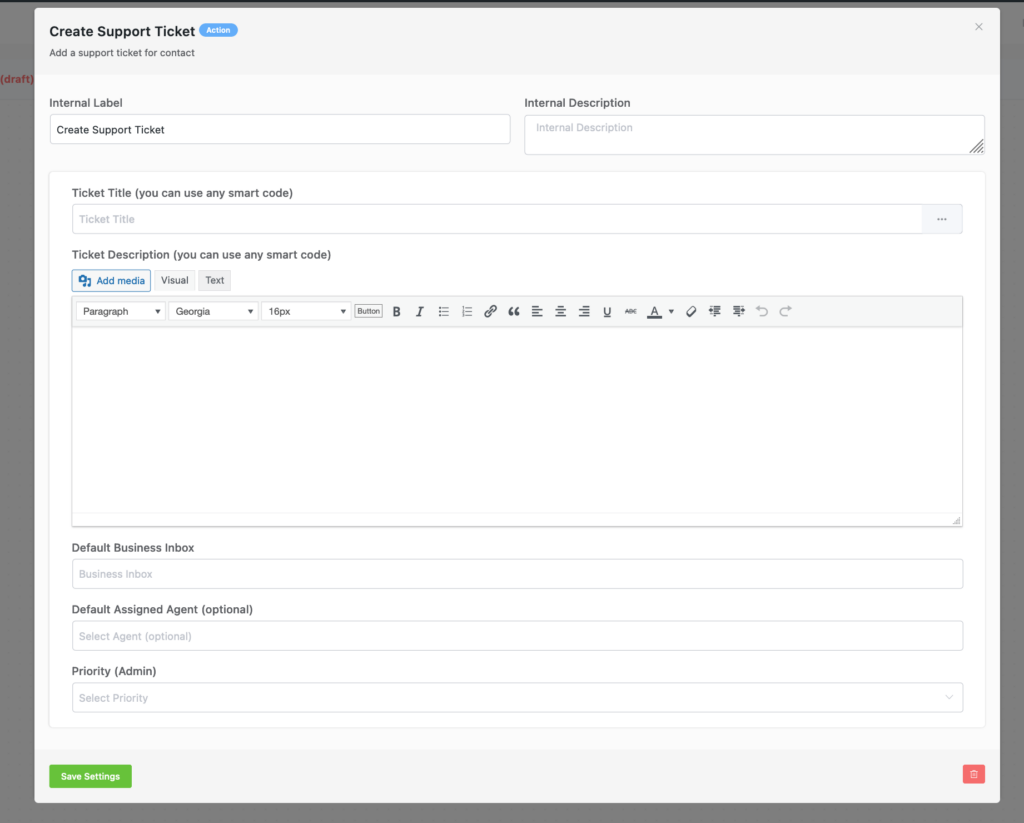 You can add pre-ready text to create a template here. You can assign a default business inbox and also choose the default assigned agent.
Frontend agent support portal
Another exciting and long-awaited feature is now available in Fluent Support Pro v1.6.1. The agent support portal can now be added to the front-end. The documentation is available here.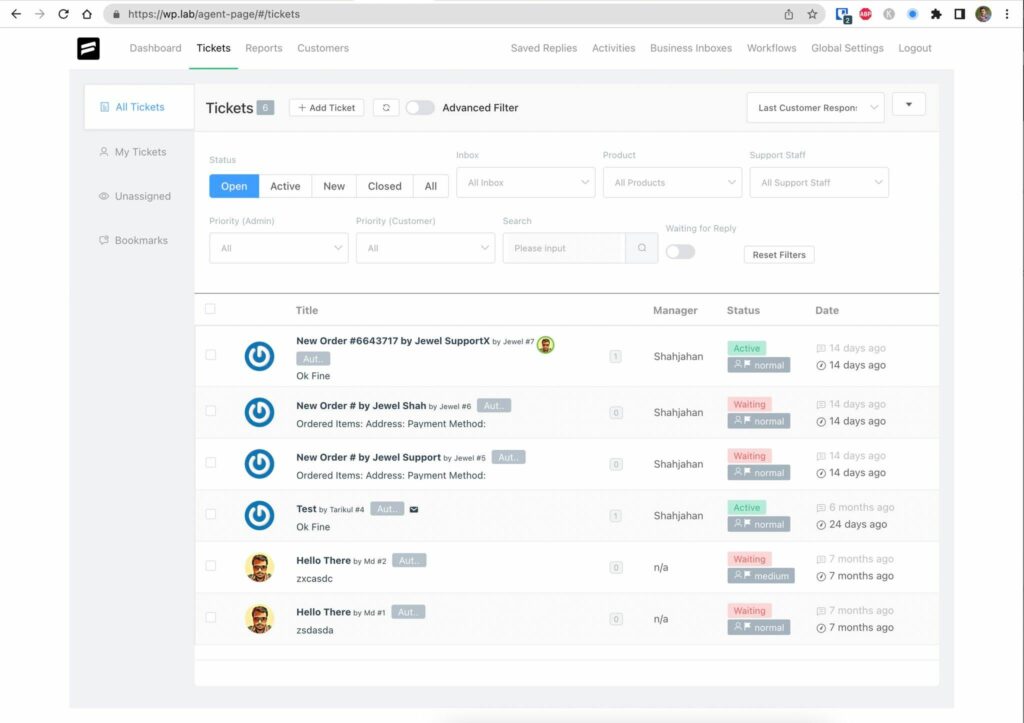 Email box setup issue fixed
When setting up an email-based inbox on different language websites, email piping options disappeared from settings for some site admins. We fixed the issue in this update.
Now you can seamlessly add email-based inboxes on non-English websites.
License status in EDD integration
We improve the easy digital download integration with Fluent Support. Now EDD license status is shown in customers' support tickets.
WooCommerce guest purchase status
Before this update, WooCommerce integration only showed registered customers' purchase status in their support tickets. If non-registered customers opened a support ticket, their purchase history was not shown.
We fixed this issue in this update. Now WooCommerce integration will show guest customers purchase information in their support tickets. Note that guest customers must use the same email address they used for purchase to open a support ticket.
Only then their purchase status will show up in their support tickets.
Customer ticket page issue fixed
Some customers faced this issue while creating new tickets. When creating tickets, after reloading ticket page disappeared. We fixed this!
What's Next?
We want to add more and more features to Fluent Support with one goal — "help you serve your customers fast, with quality support."
And you can help us with it. Shoot us your suggestions, feature requests, or ideas! Join our Facebook community. Share your thoughts about this update. You can send us your ideas or issues using our support channel too. Our support team will immediately look into it.
See you next month!
Read previous release notes here.