Every now and then, we all might have talked with a support agent. If you think about it, support agents are an integral part of your business system. That's why it's vital to improve agent productivity.
Various tools can actually help support agents to be more productive. We will talk about it in a minute. But before that, let's start with the basics.
What is a customer support tool?
These are tools to assist a customer support agent during work. That includes, but is not limited to, organizing various things to find the solution they need easily and deliver it to the customer in a clear and concise way.
Over time, a lot of great tools have developed to make customer support agents more efficient. But are all of these tools good? We have to consider a few things to make a tool truly productive.
What makes a good customer service software tool?
Well, we can generalize some factors to say that the tool is productive or not. Because, practically speaking, not all tools are as effective for support agents.
So, here are three questions you can ask to justify:
Effectiveness: Is that tool really serving the purpose of the agent?
Usability: Is it easy to use for a support agent on a busy day?
Value: Finally, does it really bring value to the support system? In simple words, is it saving money?
If all these questions answer yes, then you can say with confidence that the tool is productive.
Enough chit-chatting. Now let's dive into the tool list. And keep reading; we have a bonus one at the end.
7 tools to improve agent productivity
We talked with our own support team at WPManageNinja. And we found out that a support agent needs these 7 types of tools during work. Don't worry, we will not just discuss the type of tool; we also have recommendations.
1. Help Desk Software
This is a tool that helps support agents centrally receive tickets directly from customers and centrally manage and solve those as a team.
Fluent Support

If you use WordPress, which is almost 50% likely, you'll love Fluent Support. This is a fully integrated help desk system with WordPress. And it's a powerhouse for support agents.
It has everything a support agent can ask for. To begin with, it has an extremely powerful ticket-filtering system. Besides simple filtering and searching, it has an advanced conditional filter to find the ticket faster.
It would have been nice if someone else could do the boring job for you, and you could focus on the good staff. Well, Fluent Support can do that. It's automation, and a custom auto-workflow can make your life easy.
Automated Agent Assigning
Collision detection
Unlimited tickets
Customizable ticket submission portal
Fast-loading Support Portal
Auto reply
Private note-taking for agents
Automated workflow
20+ integrations
Email piping
Email CC
Advanced conditional filtering
Priority support
Custom field
2. Knowledge Base Software
This is a tool to manage, organize, and easily share information and technical documentation. It is not just vital for support agents but also essential for customers to resolve issues by themselves.
Better Doc

BetterDocs has a great reputation for making documentation easy. Not just that, it made it easy for users to find particular documents with powerful search and category-wise organization.
On top of that, it doesn't matter which page builder you are using on WordPress. Because, besides Gutenberg, it also supports the Elementor page builder. And here is the twist: it also allows you to create documentation for Shopify.
Feature list:
Ready Templates
Email Reporting
Advanced Live Search Bar
Scrollable Table of Contents
Internal Knowledgebase
Multilingual Documentation
3. Live Chat and Chatbot Tools
Customers love to chat. It's also helpful for support agents because it allows them to collect more data on the go. Because sometimes emails can create a bottleneck.
And efficient use of chatbots can reduce agent jobs for repetitive issues and initial engagements with a customer.
LiveChat

LiveChat is a system that allows your customers to directly chat with an agent. Not just direct chat but also can link with other messaging apps.
It also has an AI-powered chatbot. But here is the interesting thing: It can create a balance between AI and human agents to provide a smoother, smarter chat experience for your customers.
Feature list:
Message sneak-peek
Canned responses
File sharing
Chat ratings
Chat widget customization
Notifications
Chat transfer
4. Bug Reporting Tool
This tool helps tech support agents create issues for developers. It's a powerful tool to manage bug reports for any software system as a team or company.
JIRA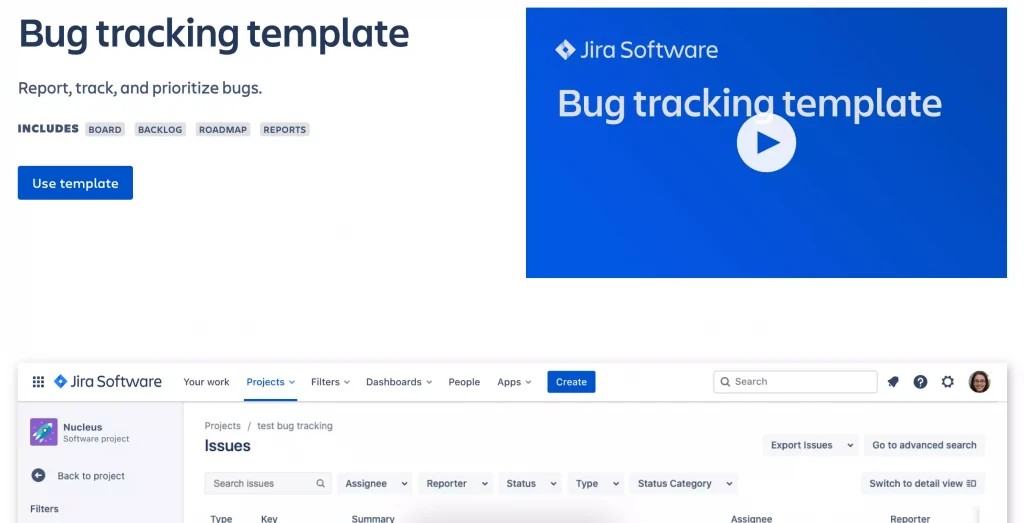 JIRA is a tool for managing projects much more efficiently as a team. And under projects, you can create bug reports. It has templates for creating and tracking bug reports efficiently from any end.
You can set priority to a bug and assign a developer or team automatically. It's curated workflow can be optimized just for debugging. It will not interfere with the roadmap for feature development.
Feature list:
Centralize bug report creation, management, and solving.
Set priority to fixing bugs rather than feature development.
Create a separate workflow for debugging.
5. Communication and Collaboration Tools
Support agents are always in touch with clients. And sometimes tickets and live chat aren't enough, especially for tech support specialists. They might need visual communication.
Google Meet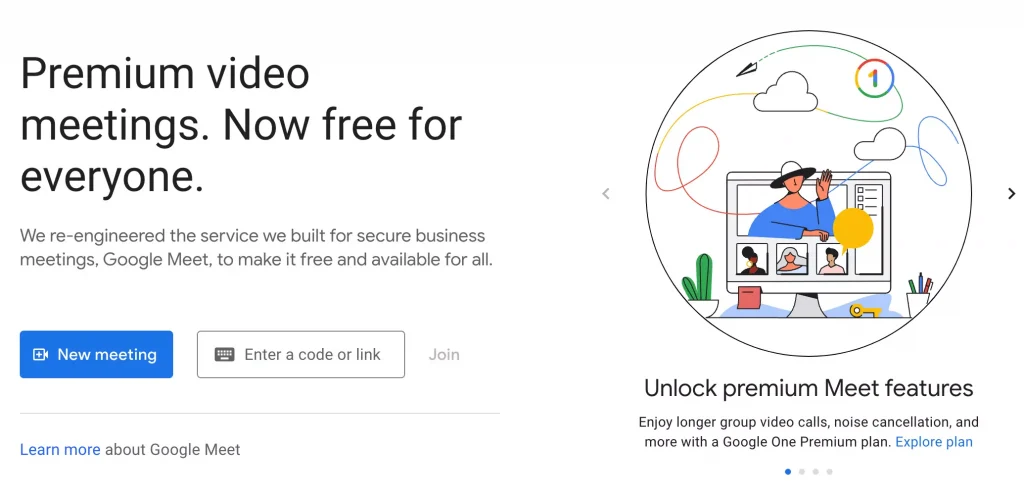 Google Meet is a simple and easy-to-use tool for video conferencing. You just need to have a Gmail account to use this.
It's screen-sharing feature enables support agents to share their own screen to show any instructions, and vice versa.
Feature list:
Add up to 100 participant
24-hour call duration
Adjectable layout for better interaction
Live captioning
Breakout room
6. Personal note-taking and task management
Note that support agents have to manage a lot of things every day. Dealing with different customers can really be a hectic job. And on top of that, you have to keep learning new things.
So, keeping everything in mind seems impossible at some point. Note-taking and management applications help agents free up some information from their minds.
Notion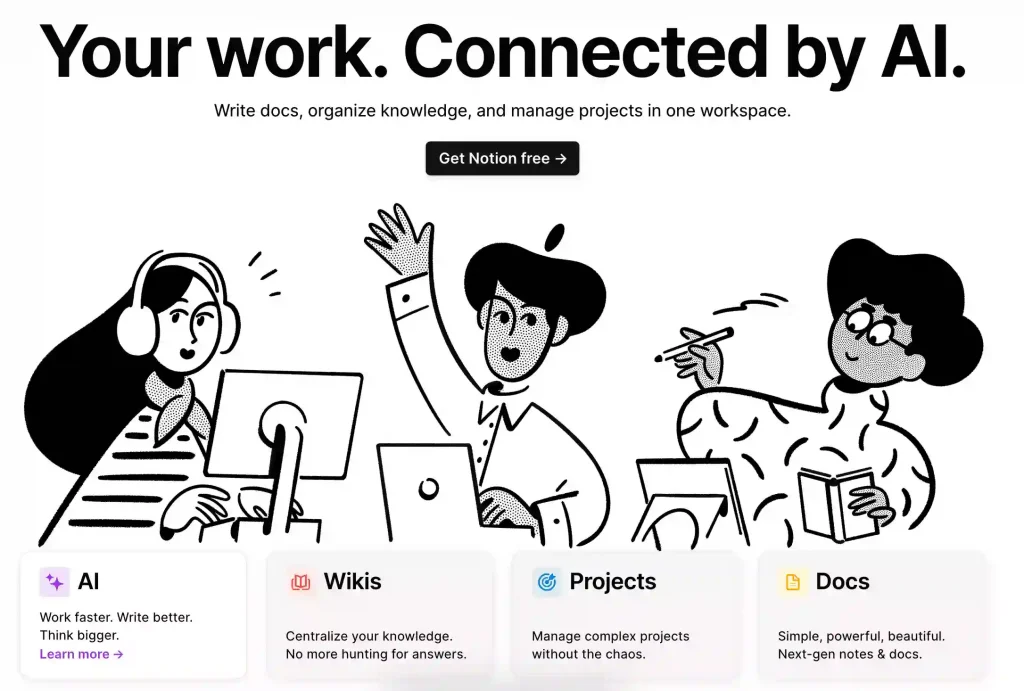 Notion is not just a note-taking app; it's your second brain. It's highly dynamic interface allows agents to create effective notes, todos, or documentation. You can create pages and even collaborate with others on the team.
With the help of AI, you can easily summarize any elaborate note using a simple prompt. It's dynamic data table and Kanban feature help agents organize large amounts of data efficiently.
Feature list:
Create unlimited blocks and pages with clounms
Live collaboration with teams
Create subpages with dynamic blocks
Notion's ready templates for managing almost anything
7. Internal communication tools
Agents need to communicate internally. Within a team or with another team, they need a simple communication tool to talk to each other.
Slack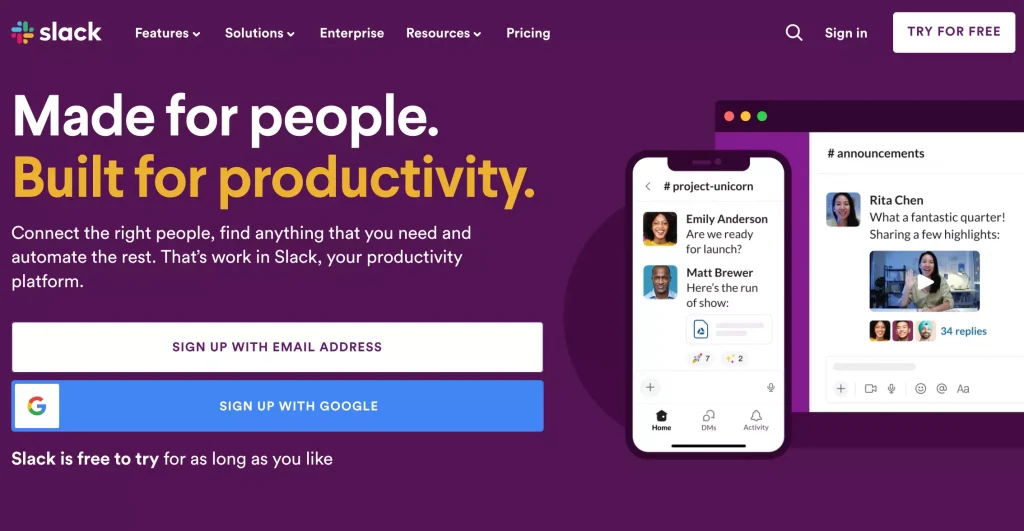 Slack is a powerful tool designed for internal communication. You can create groups, or in this case, channels, to keep conversations separate. It also has integration and app installation options with other productivity apps like JIRA or Google Meet.
Slack does not just limit your communication to chat. It has a huddle feature for video calling with screensharing. Besides that, it's got automation features for various workflow setups, such as reminders.
Feature list:
You can create a conversation thread
It has multiple integration option and apps to install
You can share any type of file, even from cloud storage.
It has video conferencing options.
8. Community management
Now, this is the bonus one. It's a tool that helps you create, organize, and manage your own community. It provides the basics of communication methods for you and your customer to interact with each other.
Agents can communicate on a general level to inform and announce updates to users in the community.
BuddyBoss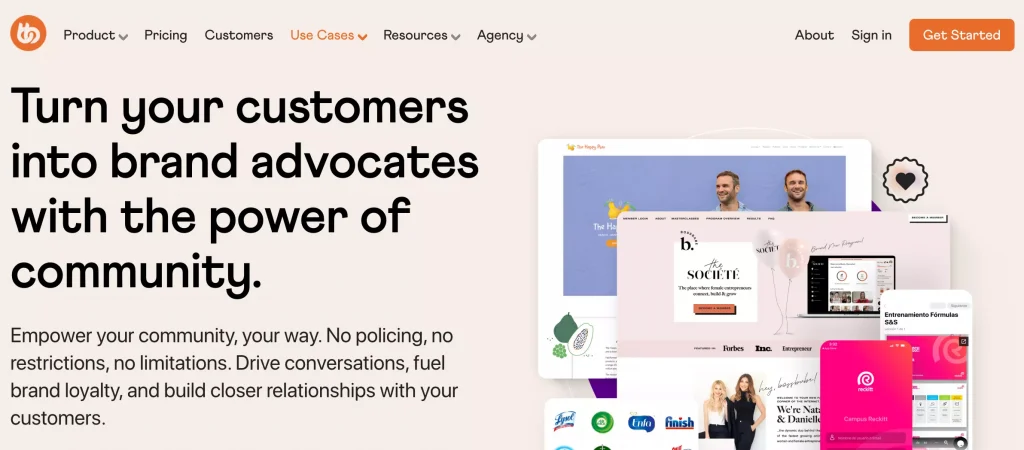 BuddyBoss enables you to create a community for your customers to communicate easily in a user-friendly setup. This is not limited to websites. BuddyBoss has a mobile app, so customers can interact from anywhere easily.
Feature List:
You can add unlimited users and user groups
It enables you to create a seamless experience for e-learners.
Both a website and mobile app are available
Most importantly, it has dedicated support
Final thoughts
Support agents ensure your business's stability. Because better support can create loyal customers. These customers can bring in new customers as brand advocates.
So, to maintain smoother support for your customers, you need to empower your support team via training or tools.
As discussed above, these tools can improve agent productivity at higher levels. As a result, it will increase the ROI of your business.