Customer support isn't something you can consider not having, at least not in this day and age. Businesses rely heavily on ticket management systems to manage customer queries. So it's obvious companies do a ton of research before choosing the right help desk for themselves.
To make that research simpler we've published a series of comparisons between the best help desks out there. This time we're going to put Fluent Support against Freshdesk.
Why Freshdesk vs. Fluent Support?
Well for starters, we at Fluent Support believe self-hosting is the best way to get a support system for your business. Freshdesk is a contrasting product that works on a SaaS model. So it only makes sense to compare them to see if WordPress-hosted help desk can beat SaaS tools at their own game.
We've also compared WordPress plugins like JS Help Desk, Awesome Support, Help Scout, and Support Candy. Make sure you check them out before finalizing your customer support desk.
Freshdesk vs. Fluent Support: In-depth Comparison
Like our comparison with Help Scout, this article is also going to rate the top 5 aspects of the help desk systems with a max score of 5 for each aspect. The system with the highest total score is the best product among the two. So let's get started.
Ease of use
First off, we'll look at the ease of use for each help desk. This will include the setup process, product usability, and similar aspects. This section compares the learning curve needed to start off with either product.
Fluent Support 4.5/5
To start off, it takes just 5 minutes to set up a business inbox and get started with Fluent Support. The setup process is pretty straightforward needing very little information. Similarly, it takes less than 10 minutes to set up email piping and adding agents for the first time. Overall it takes anywhere between 10-20 minutes to get a support portal up and running on your site.
Fluent Support has an effective ticketing interface that takes no time to get the hang of. The learning curve for advanced functions like sorting and filtering is pretty flat. A support agent can become a pro in less than a day's worth of fiddling.

The recent updates even made migrating from an existing help desk simple by adding a migrator module. Not to mention it's ready to be used on any WordPress site without any hassle.
Freshdesk 3/5
Now for Freshdesk. The setup process is a bit complex compared to Fluent Support. According to Freshdesks own documentation, it can take up to 48 hours to get the support desk up and running. In this aspect, this is the clearest drawback for Freshdesk.
Other than that, Freshdesk scores pretty well. Mostly because of the fact that their user interface is top-notch. Another effective part of Freshdesk is they allow customer filtering for support tickets which is definitely a good feature to have. To fit your branding, you can also personalize the user interface, ticket submission page, and agent dashboard.
However, the most problematic issue is the fact Freshdesk has no direct compatibility with WordPress. So if your website is on WordPress you'll need an additional plugin to use the portal with your website.
Reports
Next, we'll look at the reporting capabilities. Customer support data is crucial for businesses. To actually help a brand improve customer experience it's crucial to have this data readily available.
Fluent Support 4/5
When it comes to reports, Fluent Support performs exceptionally well. It provides you with all the necessary data such as Response time, Closing rate, and response rates for both individual agents and for the whole team. It also provides real-time hourly data for better performance tracking.
You can export the reports in multiple formats for evaluation in third-party systems too. It takes less than a minute to get the bigger picture of your support team so reporting is definitely a strong suit for Fluent Support.
Freshdesk 3.5/5
Freshdesk reports come in tiers like most SaaS features. You'll have to at least get the Growth plan to get reporting for your support desk. If you upgrade to the Pro plan it provides customization for the reports which is a great feature. However, the data available to users is very limited compared to Fluent Support.
The only good bit about the reports is you can schedule reporting for agents and admins. But other than that, the reporting module is a bit underwhelming.
Support Features
In this section, we look at the individual feature list for each support desk. The aim is to evaluate the products based on efficiency and the effectiveness of the features included in different pricing plans.
Fluent Support 4/5
To start off with support functionalities we have to consider Fluent Support's automation. It allows multiple triggers including manual and automated workflows. These can be used for segmentation, agent assignment, ticket closing, etc.
Along with that Fluent Support comes with email piping enabled. This allows you to check tickets directly from your support email. Not to mention you can organize the tickets based on multiple business inboxes, individual products, and query types as well.
For team efficiency Fluent Support also has built-in collision detection with live activity logs. This prevents agents from overlapping on the same tickets. To make collaboration smoother and save time you can save canned responses and leave internal notes for agents.
Last but not least Fluent Support allows custom privileges for agent management. This allows customer support managers to manage access to the support desk. Along with all this, you get a customizable dashboard and WordPress widgets for more accessibility.
Freshdesk 3.5/5
The first drawback for Freshdesk in this aspect is that they don't allow product-based ticket sorting. On the basic plans, it's not possible to customize the dashboard so that limits some of the functionality.
However, Freshdesk more than makes up for that with its automation. Their time-based triggers are exceptionally effective and allow you to automate almost any action within the support desk. A great fact worth mentioning is their automation is powered by AI. This allows the automation module to scan and evaluate support tickets every hour to provide notifications where needed.
Along with that, they've included SLA management inside Freshdesk so no need to use third-party SLA managers.
Lastly, they allow custom agent roles for agents to manage privileges and access to certain parts of the help desk which is a basic but essential feature.
Integrations
A support desk is only as good as the tools it can connect to. Most businesses rely heavily on multiple third-party apps and tools. A proper support desk needs to be able to connect with these tools to improve efficiency.
Fluent Support 3/5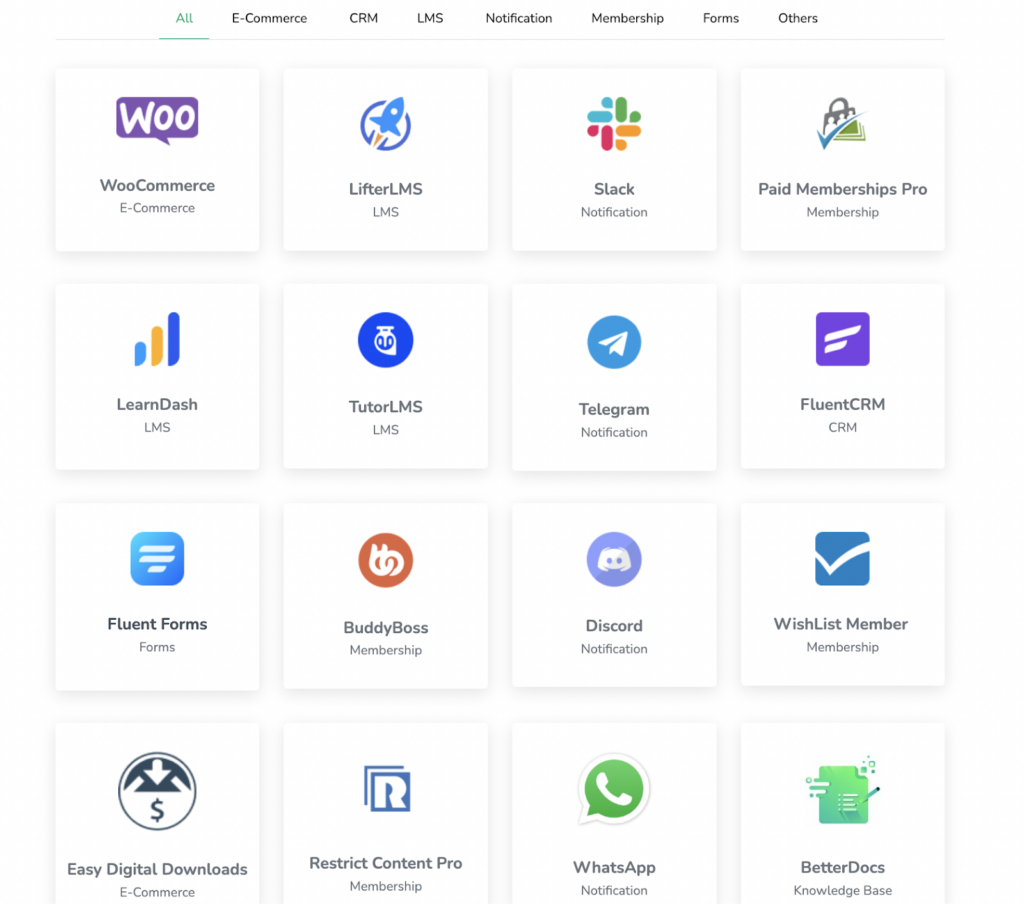 Fluent Support currently has 30+ integrations with popular WordPress plugins and some external tools. These tools include eCommerce platforms (WooCommerce, EDD), LMS builders(LifterLMS, TutorLMS, LearnPress, etc.), and communication apps (Slack, Telegram, Discord, and WhatsApp).
However, the best integration is the CRM and helpdesk integration with FluentCRM. With this integration, you can automate marketing automation directly from Fluent Support. On top of that, Fluent Support allows incoming and outgoing webhooks along with REST-API support. So even if a tool is not available for direct integration you can still connect it to Fluent Support.
All integrations are available for every pricing tier so you won't have to upgrade to use the integrations to the fullest.
Freshdesk 3.5/5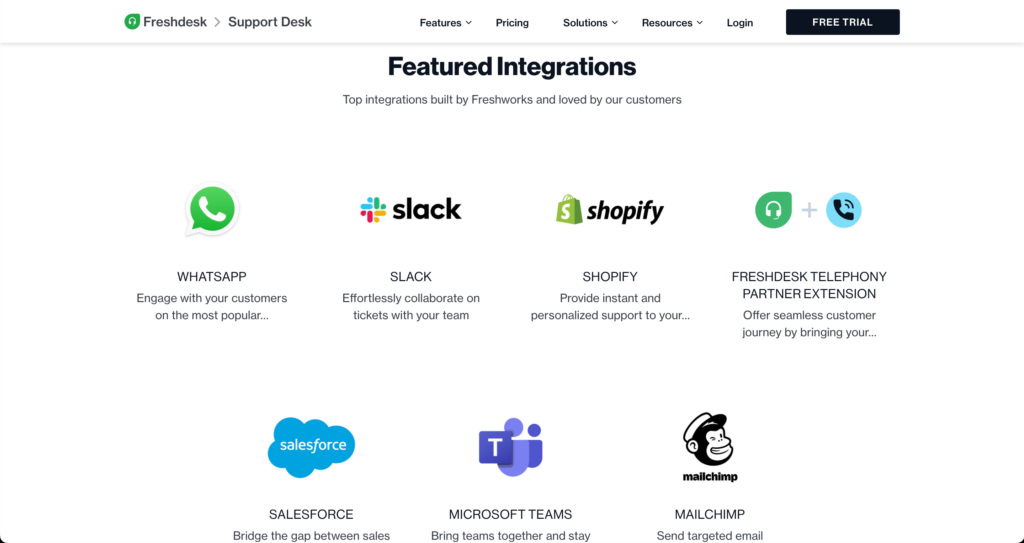 Freshdesk follows the paywall method when it comes to integrations called addons. Freshdesk has a whooping 500+ add-ons that are free for use while also having 48 paid add-ons. These add-ons are not included with the basic pricing and need to be purchased separately. Sadly enough, it doesn't allow REST-API or Webhooks to connect apps not included in their list of add-ons.
Pricing
Lastly, we'll look at the pricing to see which tool gives you the biggest bang for the buck.
Fluent Support 4.5/5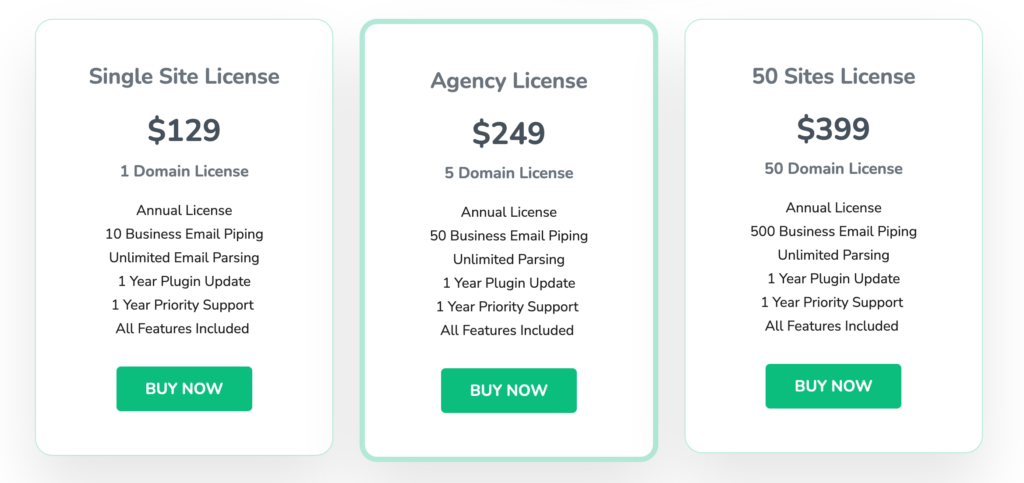 Fluent Support has a simple pricing model that becomes more expensive for the number of sites you can use the plugin on. It's possible to use Fluent Support on up to 50 sites with a single purchase. There's no per-agent cost or any paywalls for integrations.
You get the whole plugin with all features at every price point. The only thing limited in pricing plans is the number of email piping inboxes. So to increase email piping capabilities you might have to upgrade but that is rarely necessary for small and medium enterprises.
Starting at just $129 for single sites/month, Fluent Support is the most reasonably priced support desk you can find.
Freshdesk 2.5/5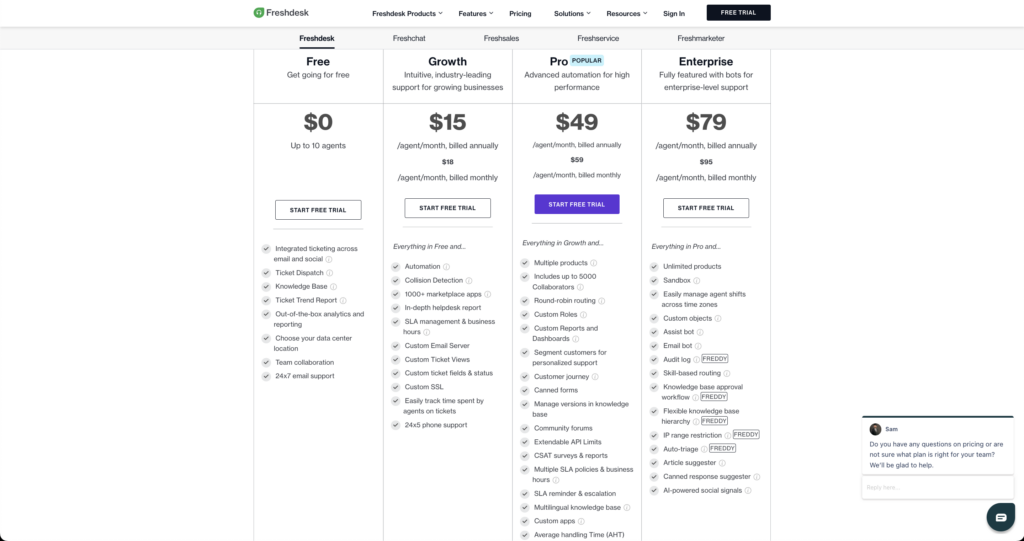 Off the bat, the first issue with Freshdesk is it's based on the per-agent model. Costs upwards of $15 dollars/agent in the starting plan. So for 10 agents, it'll cost $150 without any add-ons.
This brings us to the second drawback which is paid addons. If you've read our previous comparisons, you'll know if there's one thing we don't like that's paywalls. Freshdesk scores poorly simply because the per-agent model and paid addons can inflate the cost that the estimates you make.
Not to mention it adds more cost if you want to expand your support team. This is a direct blow for fast-growing businesses that need to expand teams on the fly.
Verdict: Fluent Support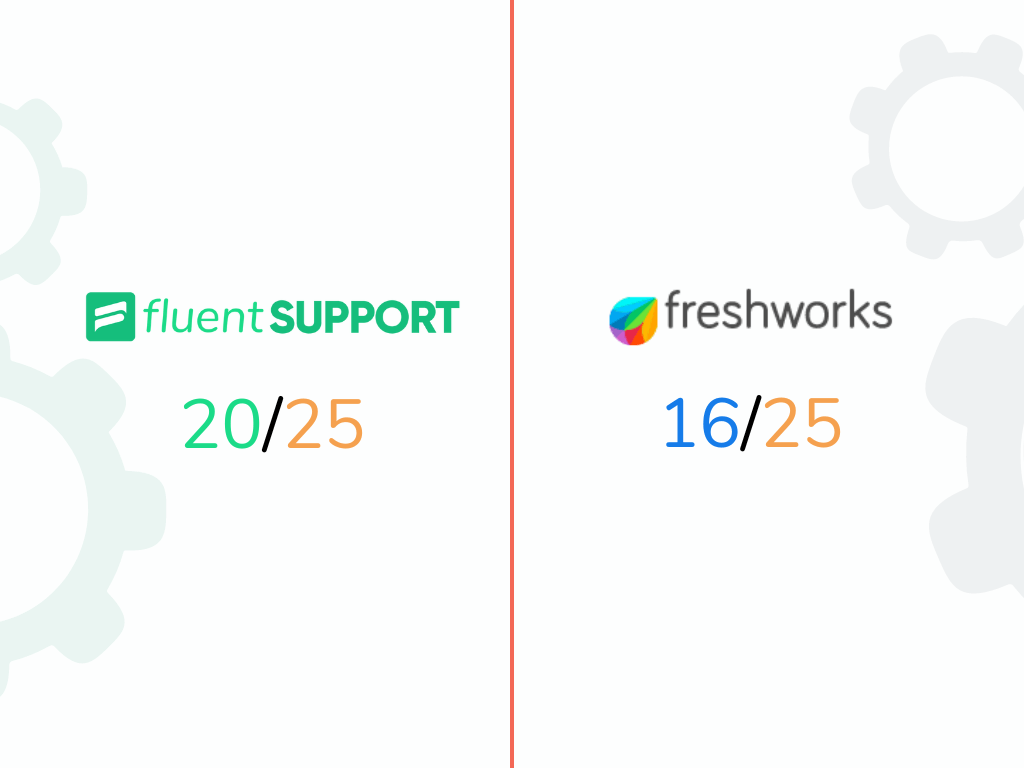 The results are in and there isn't much of a surprise in it. We considered the most crucial aspect of customer support and evaluated each plugin individually.
So from the scores, it's obvious which is the better help desk. Now the thing worth mentioning here is that Freshdesk being the SaaS is better suited for large enterprises that don't have much need for expansion and have used for advanced enterprise functionalities.
On the other side, Fluent Support is a product that suits best fast-growing businesses that need room to grow rapidly and don't need complex features to improve customer experience. So if you're looking for an effective customer support desk with reasonable pricing Fluent Support is the option to go for.
Until next time, happy serving.
Your own Support Portal in 5 minutes!
Start off with a powerful ticketing system that delivers smooth collaboration with unlimited room for your customers.