Are you looking for the best alternatives to Awesome Support to enhance customer support performance? Then you're in the right place. Here, we will show you some of the most popular alternative helpdesk plugins to Awesome Support currently available online.
A helpdesk plugin is dedicated to providing support to your customers. It can be used to support a variety of your company's products and services. Thus, it's a crucial tool for any online business or organization's customer service and support operations.
Each of the helpdesk plugins you'll find here has something unique to offer you. Therefore, you must be the judge and evaluate those differences and limitations before deciding to switch to an alternative.
What is a helpdesk plugin?
A helpdesk plugin is a type of software that adds customer support and ticketing capabilities to a website or application. A Helpdesk plugin typically allows users to submit support requests, track the status of their tickets, and receive assistance from customer service representatives through various channels, such as email, chat, or phone.
Businesses commonly use these tools to manage customer interactions and provide timely, efficient client support. The helpdesk plugin allows your support team to receive, manage and respond directly to customer questions, offering more personalized support.
Top 7 Awesome Support alternatives
Without further ado! Let's find out the best alternative to Awesome Support.
1. Fluent Support
Fluent Support is arguably the most powerful helpdesk on the list. It offers everything that you would ever need for better ticket management. This is your tool if you need product-based support, user information to automate responses, or to track team performance. There will be no learning curve to adapt to the plugin.

It is fully designed to make life simpler for support agents. You can easily download it for free. It is available in both free and premium versions. Fluent Support contains advanced features such as email piping, automatic assignment, collision detection, customizable support automation, etc.
Furthermore, the time spent on each ticket is significantly decreased by its automated workflows and saved replies option. The collaboration between your teams is effective thanks to internal notes and personalized priorities.
No product is without limitations, and so does Fluent Support. Although, this helpdesk plugin is way ahead of its competitors. However, its creators are working day and night to fulfill what they still desire to offer their customers in future updates. So, buckle up for a Fluent ride!
Fluent Support key features
Here's a list of the key features that Fluent Support is offering at the moment.
Unlimited support agents
Unlimited tickets
Customize email notification
Collision detection
16 integrations (more on the line)
Product-based agents
Custom fields
Advanced filtering
User-friendly interface
Knowledge base
CRM and e-commerce integrations
Reporting and analytics
Robust security and data protection
Reply via Slack and Telegram
Create ticket with email
Workflow automation
Reply templates
Guest ticket without login
Sorting tickets
Agent can open support ticket for customer
Bulk ticket reply
Agent tagging
On-the-go response
Priority management
See activity logs
Performance report
Internal notes
and a lot more.
Verdict: Highly recommended
Free Version: Available
Pro Version: Available (Pricing plans start from $129/Site/Year)
2. JS Help Desk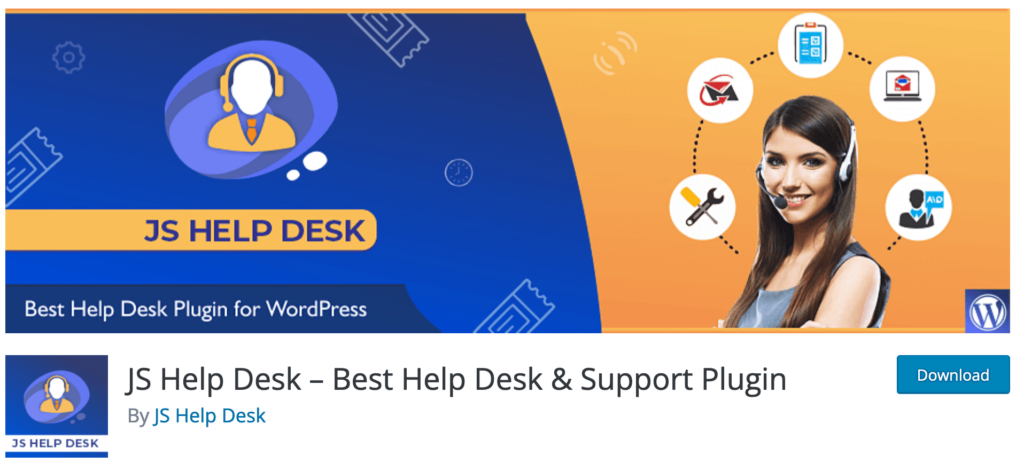 JS Help Desk is a self-hosted help desk plugin & customer support plugin. It helps businesses manage and resolve customer inquiries and issues. This allows you to create separate teams, multiple products, and store documentation. Here, you'll find features like ticket management, live chat, and a knowledge base to help businesses provide efficient and personalized customer support.
One of the main advantages of this is its user-friendly interface, which makes it easy for businesses to set up and manage their support operations. It also integrates seamlessly with popular customer relationship management (CRM) and e-commerce platforms, allowing businesses to track and manage customer interactions across different channels.
Another advantage of this plugin is its robust reporting and analytics capabilities, which provide businesses with insights into their customer support operations and help them identify areas for improvement. Moreover, it provides email notifications, multiple file attachments to a ticket, customer frontend widgets, Envato validation, and more.
On the downside, some users have reported that JS Help Desk can be slow and unresponsive sometimes, which is frustrating for businesses and customers. And the pricing model can also be somewhat complex, but the range is moderate.
Note: The free version of this plugin in wordpress.org has been closed since December 12, 2022, and is unavailable for download. This closure might be temporary; however, it's still available at premium price ranges.
Key features of JS Help Desk
Currently, JS Help Desk provides the following features.
Ticket options
Powerful search
Sorting options
Ticket list
Visitors can add tickets
User add tickets
Select user option
Multi-ticket options
250+ configurations
Editable & customizable email templates
Unlimited custom fields like check box, text, input, etc.
Responsive & easy to translate
HTML editor
Bootstrap base designs
etc.
Verdict: Recommended
Free Version: Currently unavailable
Pro Version: Available (Pricing plans start from $69/Site/Year)
3. SupportCandy

The SupportCandy plugin for WordPress offers a complete helpdesk ticket system with various features. This plugin is one of WordPress's oldest support ticket systems and is designed to be simple, secure, and feature-rich. Besides the core features, the plugin offers email notifications, integration with Google reCaptcha, GDPR compliance, and macros for ticket fields.

Premium add-ons are also available, including email piping, WooCommerce integration, canned replies, assign agent rules, SLA calculation, satisfaction surveys, and automatic ticket closing. The plugin is available in multiple languages and can be used for various applications, such as technical support, customer relations, and service request management.
Though, the pricing plan is much more affordable than Awesome Support. But, they charge extra for necessary integrations like WooCommerce and features such as Email piping. This can significantly increase the overall cost of the basic package, which is a major disadvantage of SupportCandy.
Key features of SupportCandy
Unlimited number of tickets
Unlimited number of agents
Advanced custom filter and search functionality
Saved filters for customers and agents
Private notes for internal communication of agents
Agents can create a ticket on the customer's behalf
16+ Custom field types
Ticket fields for additional information about the ticket
Agent-only fields to keep internal data of the ticket
Customer fields to store information about the customer across the tickets
Guest tickets (disabled by default)
Guest can also see their ticket list using OTP Login (One Time Password)
Rich-text editor (customizable)
Email notifications
Working hours
Google reCaptcha integration
GDPR Compatible
Terms & Conditions checkbox in the ticket form
Macros or placeholders for ticket fields
and more.
Verdict: Not recommended
Free Version: Available
Pro Version: Available (Pricing plans start from $59/Site/Year)
4. KB Support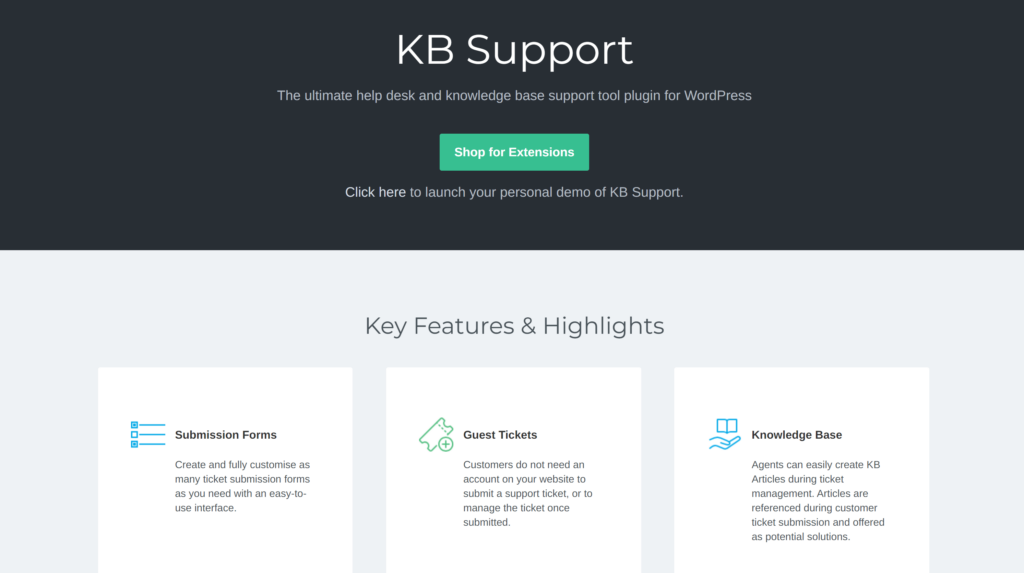 KB Support is a user-friendly helpdesk and customer support platform. It offers seamless integrations with popular WordPress plugins such as Easy Digital Downloads and WooCommerce. The plugin also has its own built-in knowledge base for support resources.
However, the basic plan does not include integrations with Easy Digital Downloads and WooCommerce. This can be a disadvantage for WordPress eCommerce sites that want to use these integrations.
Another potential downside of KB Support is its pricing. The basic plan may not offer enough features for some businesses, while the enterprise plan may be too expensive for small to medium size businesses. Thus, it can make it difficult for businesses to find a plan that suits their needs and budget.
Key features of KB Support
Unlimited Tickets
Unlimited Agents
Guest Submissions
Ticket Participants
Configurable Submission Forms
Real-Time Reply Notifications
Target SLA's
Integrated Knowledge Base
Solution Suggestions During Submissions
Create Restricted Articles
Customer Management Interface
Auto Ticket Assignment
Fully Customisable Emails
Responsive Customer Pages
Templated
Private Notes
Restrict Agent Access
Restrict Admin Access
etc.
Verdict: Not recommended
Free Version: Available
Pro Version: Available (Pricing plans start from $74/Site/Year)
5. Freshdesk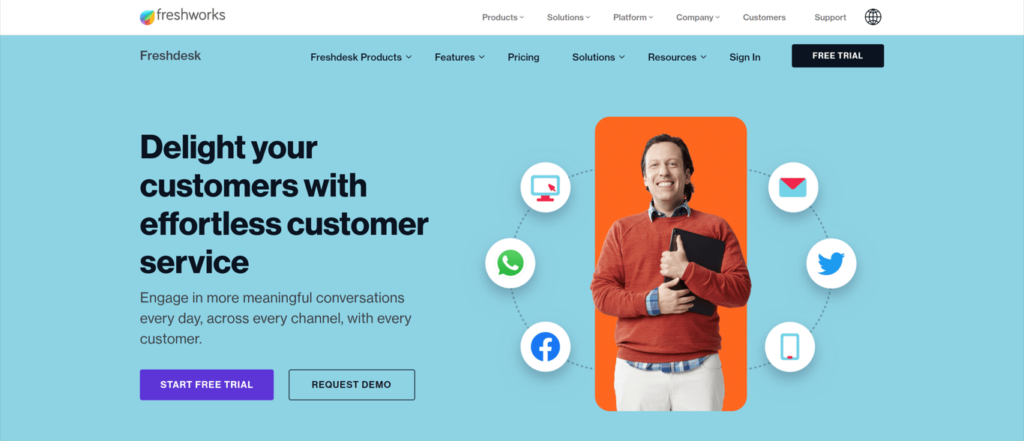 Freshdesk is a customer service and support software that is also available as a WordPress integration. It helps businesses manage and resolve customer inquiries and issues. Also, it offers a range of features, such as a customizable helpdesk, a self-service customer support portal, and integration with popular communication channels such as email, phone, and social media.
There are many integrations with other business tools and platforms, allowing users to streamline their workflow and improve efficiency. An advantage of Freshdesk is its robust reporting and analytics capabilities, which provide users with valuable insights into their customer support operations. It allows businesses to identify trends, track performance, and make data-driven decisions to improve customer service.
Despite these strengths, there are some potential drawbacks to using Freshdesk. For example, some users may find the pricing to be on the higher end compared to other customer support software/WP plugins. Additionally, some users may experience difficulty navigating the platform and accessing certain features, particularly if unfamiliar with customer service software.
Overall, Freshdesk is a powerful SaaS product that can help businesses improve customer interactions and resolve customer issues more effectively. It offers a range of useful features, integrations (including the WP Helpdesk Plugin), and robust reporting and analytics capabilities.
Key features of Freshdesk
Team inbox
Agent collision detection
SLA management
Ticket field suggester
Thank you detector
Customer ticket status
Scenario automation
Canned responses
Team huddle
Shared ownership
Linked tickets
Parent-child ticketing
Support Across channels
Manage end-end field service operations
Ticket dispatch
Intelligent ticket assignment
Time-triggered automation
Even-triggered automation
Automatic email notification
Chatbot powered by Freddy AI
Help widget
Automatically suggest solutions
Measure and improve efficiency
Dashboards, Customer reports, schedule reports,
Customizable capabilities
State-of-the-art data security
etc.
Verdict: Recommended
Free Version: Free trial available only
Pro Version: Available (Pricing plans start from $15/Agent/Site/Month)
6. Help Scout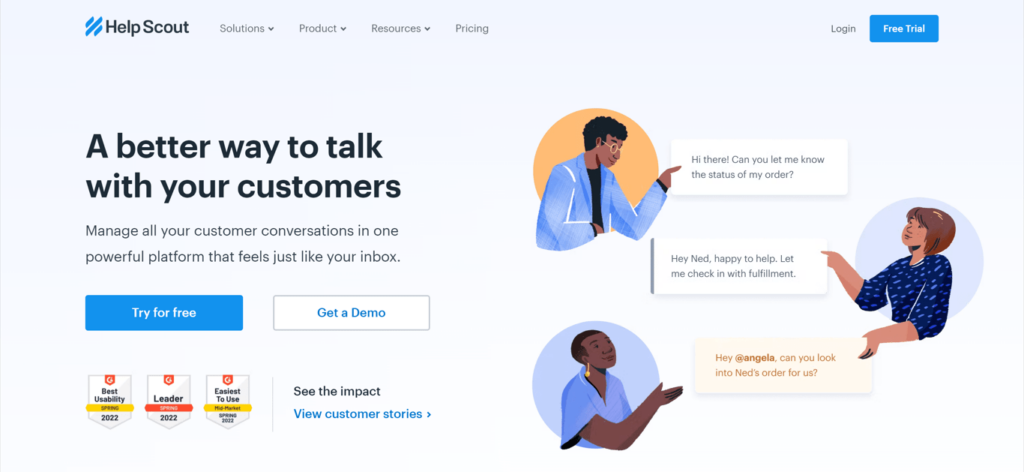 Help Scout is a customer support platform that offers a suite of tools for growing teams to provide top-notch customer service. It is a SaaS product that has integration for WordPress. Its shared inbox includes features like private notes, @mentions for better team collaboration, and collision detection.
Automating routine tasks with workflows and gaining additional context through customer profiles is also possible with the platform. One of its standout features is Docs, which allows users to create a comprehensive customer knowledge base.
Moreover, it offers live chat capabilities and proactive support options through its Beacon widget, which can be easily embedded on your website. This allows customers to search your help documentation or submit questions to your support team directly from the widget, ensuring they get answers quickly and easily.
Performance dashboards are also included with Help Scout, providing individual and team performance report. Also, there are custom views to see the metrics most important to you.

One major Help Scout drawback will be its high price range to get the bare minimum features.
And, as it is SaaS and not self-hosted, they'll have all your support data. For WordPress, the free version has only a few features available.
Key features of Help Scout
Shared inbox
Customer service CRM
Advanced formatting
Chat
Bulk actions
75+ keyboard shortcuts
CSV export
Email Signature
Email forwarding
Collision detection
Merge conversations
Live chat
Helpdesk reporting
Knowledge base
Advanced filters
Conversion drill-downs
User-specific reporting
Data comparison
Translations
Data security
Mobile friendly
90+ apps and integrations
and a ton more.
Verdict: Recommended
Free Version: Available
Pro Version: Available (Pricing plans start from $20/Agent/Site/Month)
7. Zendesk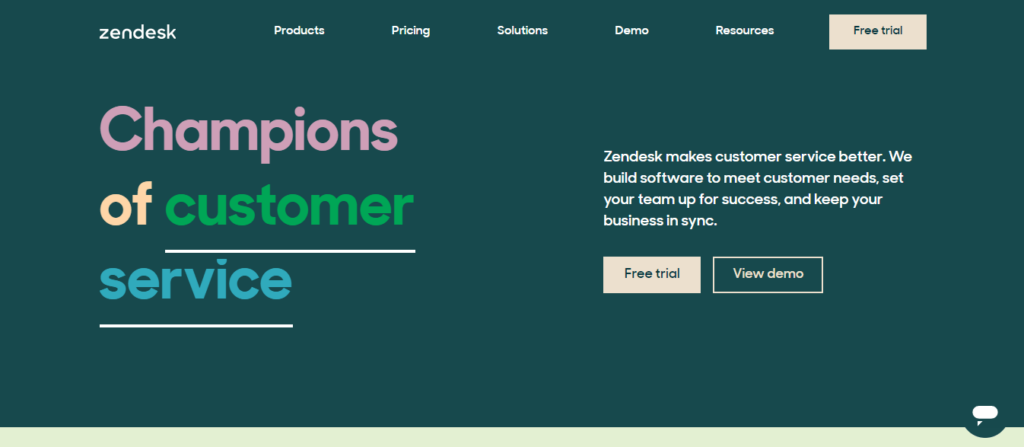 Zendesk is a helpdesk management solution (cloud-based) that offers customizable tools to build a customer service portal, knowledge base, and online communities. You can integrate your helpdesk, powered by Zendesk, into your wordpress site as a plugin by using Zendesk WordPress integration.
It has features such as a customizable front-end portal, live chat, and integration with popular applications. The solution allows businesses to brand their support pages with their logo, themes, and other brand images.
The Zendesk Suite includes various products, such as ticketing systems, a help center, a community forum, and messaging tools. Moreover, it includes Zendesk Talk, Zendesk Explore, and Zendesk Sunshine Conversations. One major drawback of Zendesk is its too much expensive.
Key features of Zendesk
Customizable email notification
Automatic agent assignment
Customer fields
Premium add-ons
Customer support
SMS & push bullets notification
Real-time email notification
GDPR Compliance
Mobile responsive
Email Piping
Customer priorities
Advanced reports
Admin dashboard
Detailed user dashboard
Frontend agent dashboard
Detailed user overview
Smart replies with AI integrations
Quick reply templates
Internal notes
Custom status & labels
Automatic ticket close
Automation
Agent live activity
Ticket bulk reply, close, and delete
Company profiles
SLAs
Translation
and a lot more.
Verdict: Not recommended
Free Version: Currently unavailable
Pro Version: Available (Pricing plans start from $49/Agent/Site/Month)
Wrapping Up
Lastly, the helpdesk plugins that we've mentioned above offer a wide range of features and capabilities. Choosing one wisely can be a valuable asset for your businesses and organizations if you want to improve customer service and support operations.
However, we would suggest you test the free help desk plugins for yourself before moving to the premium Awesome Support alternatives for your business. Thank you so much for taking the time to read this blog. We hope that you found it helpful and informative. Have a great day!
Your own Support Portal in 5 minutes!
Start off with a powerful ticketing system that delivers smooth collaboration with unlimited room for your customers.