Wow! How fast time flies!
Last November 2021, we launched Fluent Support, a WordPress helpdesk plugin for small business owners. And after one year, it is now powering 4000+ small businesses' customer support!
After the initial launch, our main goal was to improve the plugin with continuous updates. As we always do, we listen to our customers. We took every suggestion and feature request, analyzed them and shipped them accordingly. Take a look at our anniversary blog; we recapped our whole journey and showcased important features we added.
Now it's time for a new update. In our last update Fluent Support 1.6.6, we introduced a new feature of Fluent Support – 'Ticket Importer.' Using this, you can migrate your customer support tickets from other plugins. Ticket importing was only available for Awesome Support & Support Candy. Now we added two new options!
Migrate from JS Helpdesk & Help Scout
Our 'Ticket Importer' feature only had options to migrate from Awesome Support and Support Candy. Now we are adding two new support platforms – JS Help Desk & Help Scout!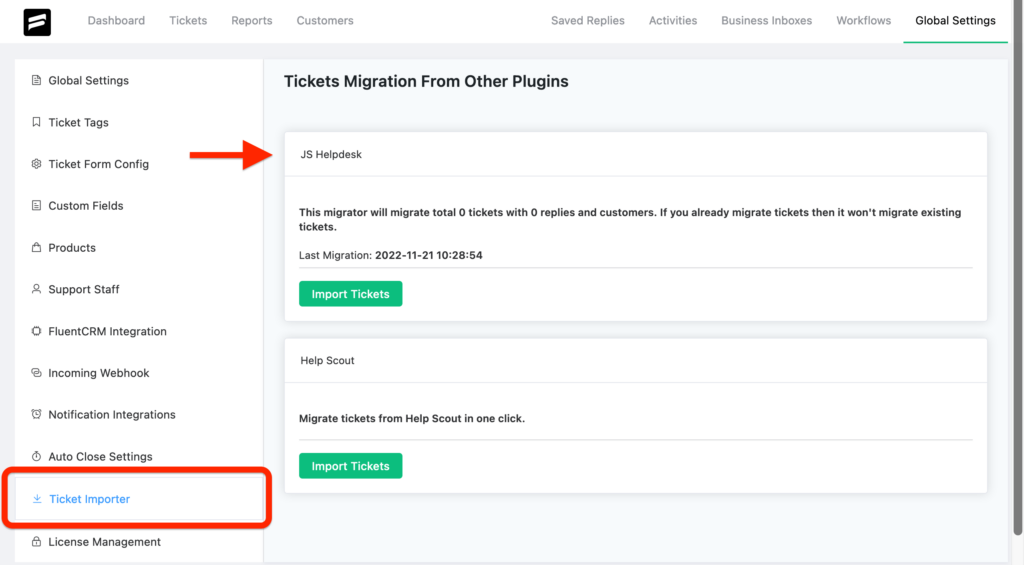 If your customer support system runs by the JS HelpDesk WordPress plugin, it's easy to migrate to Fluent Support with one click. Like Awesome Support & Support Candy, you must install Fluent Support Pro in your WordPress site running JS Help Desk. Then after setting up Fluent Support, you'll see the JS Help Desk option in the 'Ticket Importer' setting.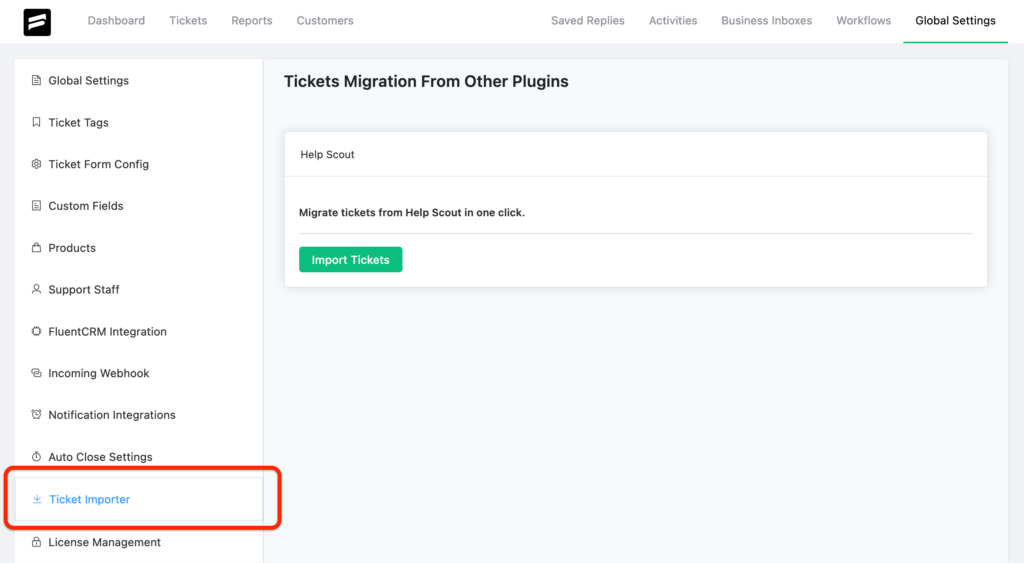 Migrating tickets from Help Scout needs some work. Help Scout is a Saas tool that only offers API that can be used to transfer data from their system to your WordPress system. Check out our detailed documentation on migrating customer ticket data from Help Scout to Fluent Support.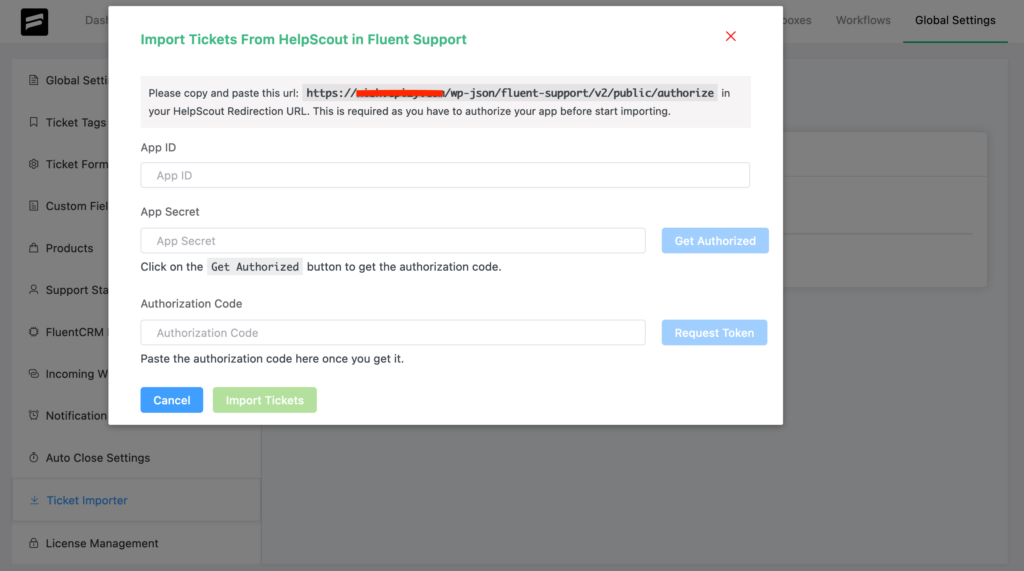 Dynamic dashboard
Not happy to see the information shown on the Fluent Support dashboard? Now you can customize it! Easily add or hide information from your dashboard with the new "Dynamic Dashboard."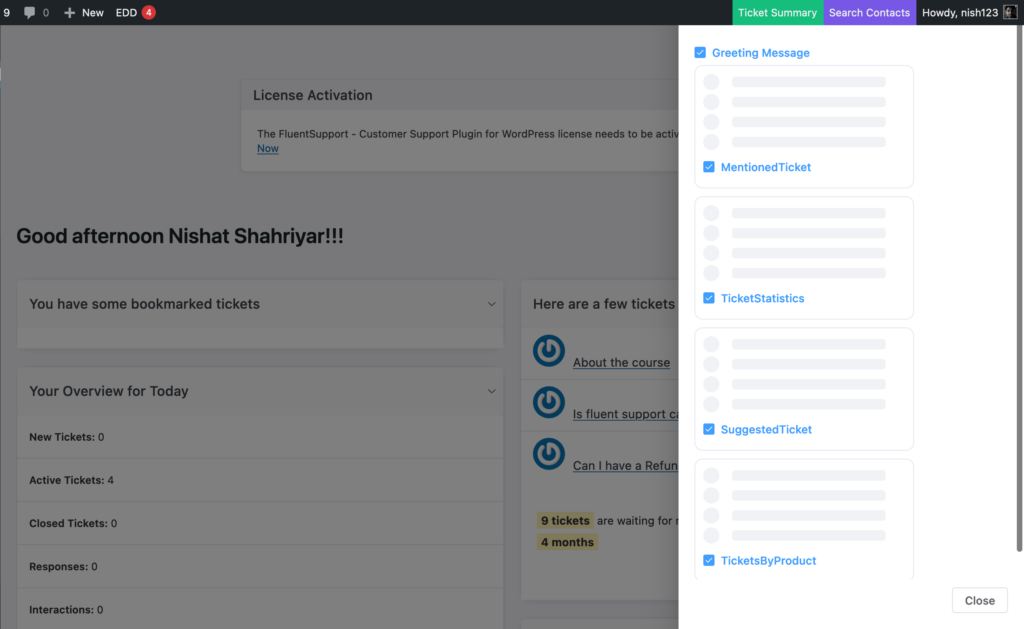 Read our full documentation here on how to use the dynamic dashboard.
Agent summary export
Fluent Support "Report" features show both team and individual reports exclusively. What about exporting the data for other use?
We hear you! Now you can export the agent's report summary from the 'Report' tab.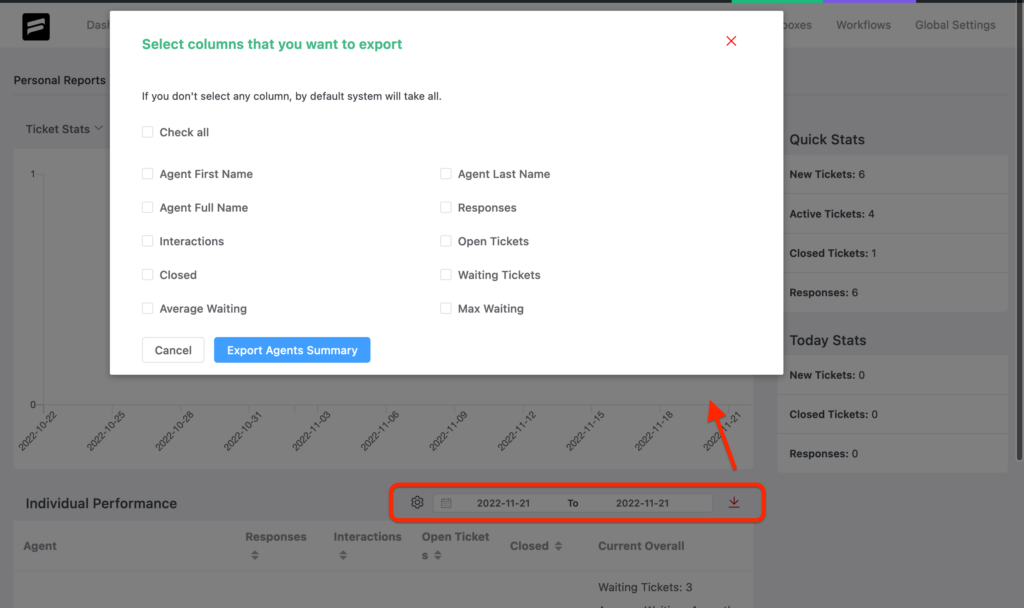 You can export individual reports too if you want. Check out our documentation on agent summary export.
Agent assign action added to activity log
Activity log is an important feature for knowing what is happening to your customer support team real-time. It shows all types of activity. But previously, it had not shown when an agent assigned a ticket. Now we added this to the activity log.

When a new agent is assigned to a new ticket, it will be visible on the activity log and show which agent was assigned by whom.
New WooCommerce integration improvement
We tweaked the design of Fluent Support WooCommerce integration a little bit. Now customers' WooCommerce purchase history will show clearly in their tickets.
Here is the previous version: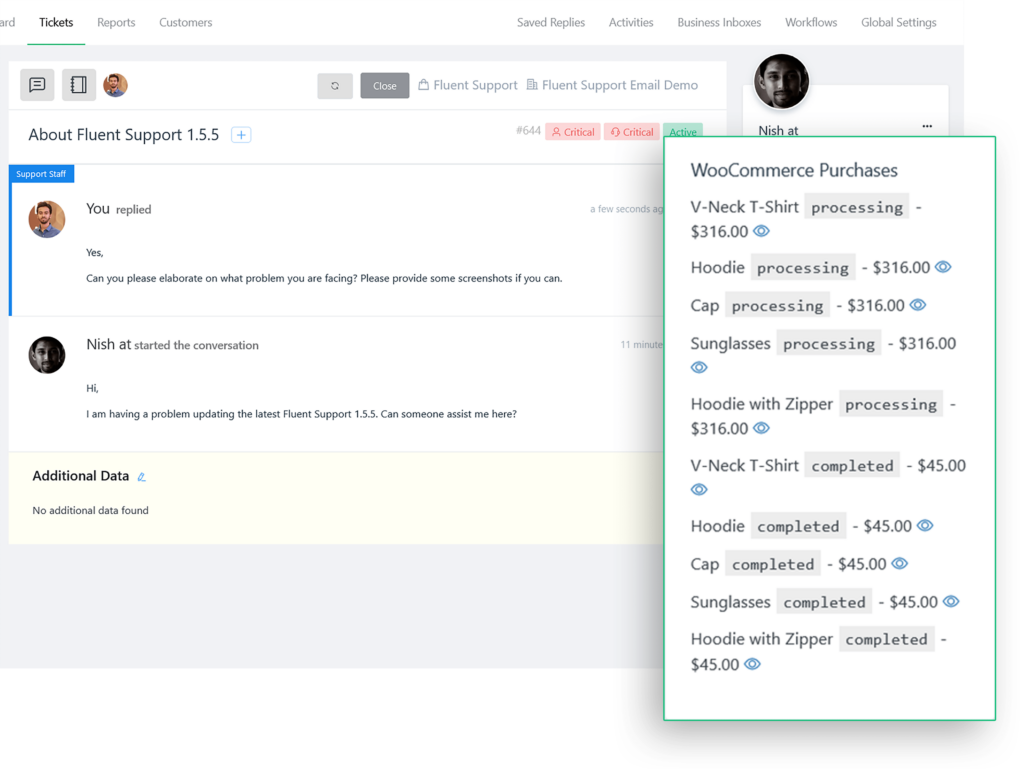 Now your agents will see the WooCommerce order id and order status in the sidebar under "WooCommerce Purchase."
Here is the new version: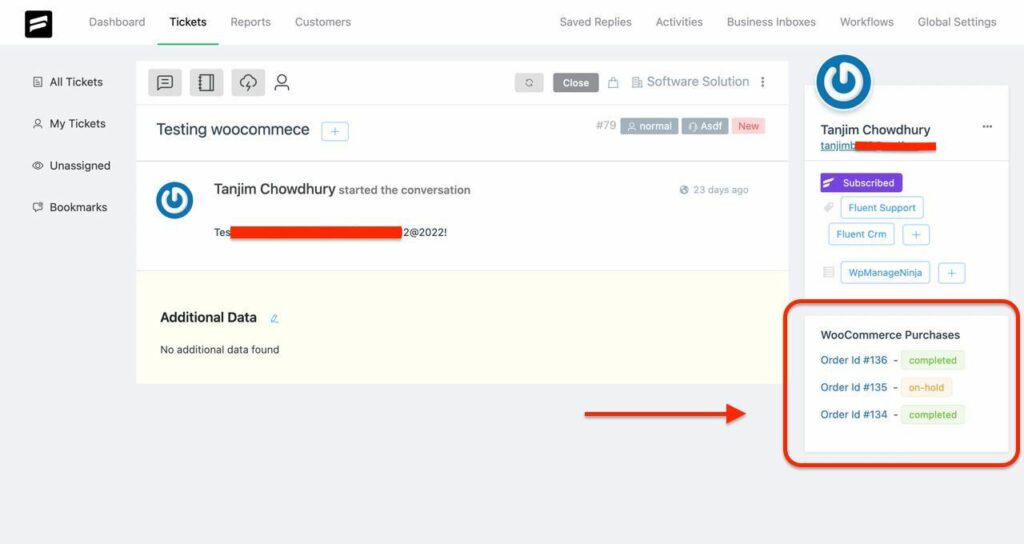 And when you click individual order, a new window pop-up with order details, including billing, shopping, and product details.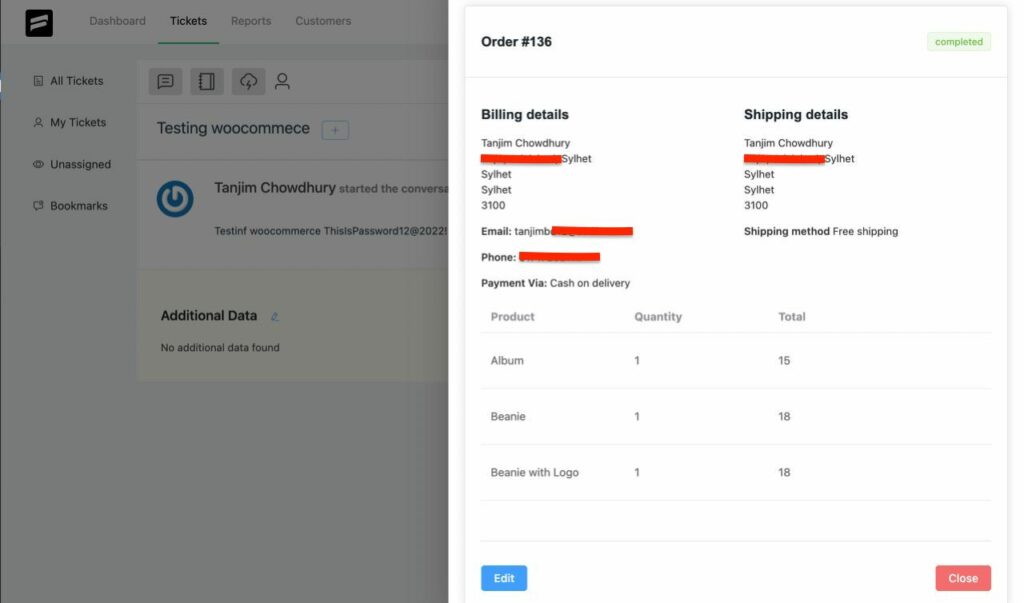 You can edit these details right from here by clicking the edit button.
Bug Fixes
We worked on some bug fixes that were requested by our users in this update. Have a look.
Actions are not showing on the manual workflow
Previously, when creating or editing manual workflows, there were no actions shown. We fixed this in this update.
Attachments are not sent on the first response
There were issues with attachments in tickets. They were not sent on a ticket's first response. Our developers fixed the issue.
Block user's ticket isn't blocking in the Fluent Form Integration
When a blocked user submits a ticket through the Fluent Form integration, the ticket is still created in the support portal. But it should not be created. We looked into the issue and fixed the loophole.
Filters reversed after opening a new window
Filter doesn't remain in place after getting out of a ticket. Filter reverted to the default mode even though it was changed before loading a ticket. We solved this glitch.
What's next for Fluent Support
Updated your plugin yet? Update it now! We are always looking for ways to improve Fluent Support. Our highest focus is to make Fluent Support the best customer support help desk for WordPress. Please let us know if you encounter any bugs after updating the plugin.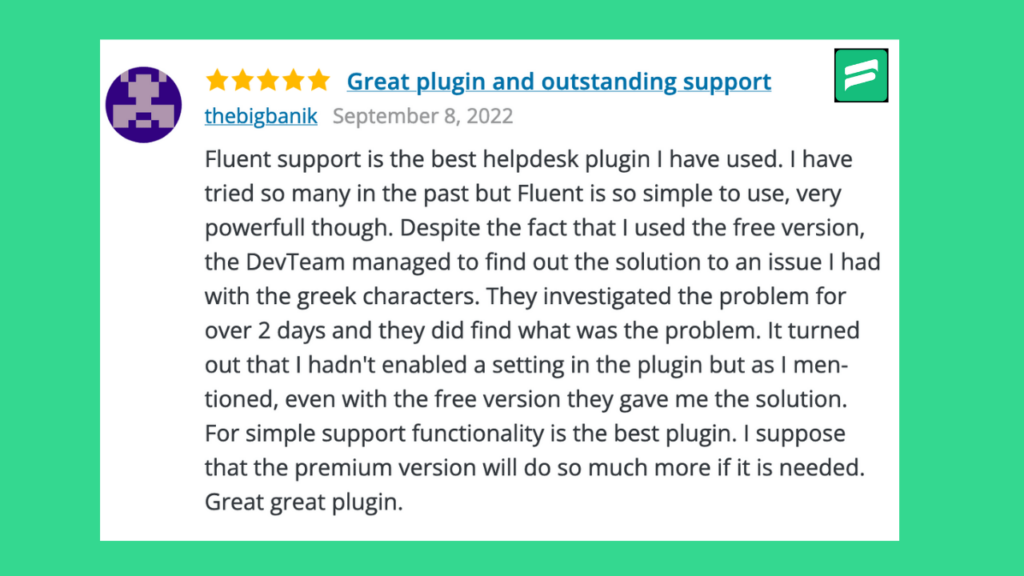 We hear our users. If you think Fluent Support lacks any feature, suggest new features here in our Facebook community. Share your use cases with other users, brainstorm and help fellow WordPressians!
See you, next update soon!
Your own Support Portal in 5 minutes!
Start off with a powerful ticketing system that delivers smooth collaboration with unlimited room for your customers.