Introducing Fluent Support v. 1.7.0! This time again we're back with a bang, packed with some major features and some minor bug fixes.
This release is a testament to our commitment to delivering an exceptional customer support experience. Huge shout out to our customers for some amazing feature requests. We appreciate your continued support and feedback that have helped us shape this release.
Experience a smoother workflow, enhanced security, seamless user experience, and a ton more. And, get ready to take your customer support to new heights.
We are thrilled to unveil them to you today!
New Features in Fluent Support v. 1.7.0
With a steadfast focus on efficiency, and experience, we have introduced 12 new features in this new release. For example, Zendesk Migrator, supporting Email CC, multiple ticket merging, convenient ticket files storage option in Google Drive and Dropbox, and much more.
Supporting Email CC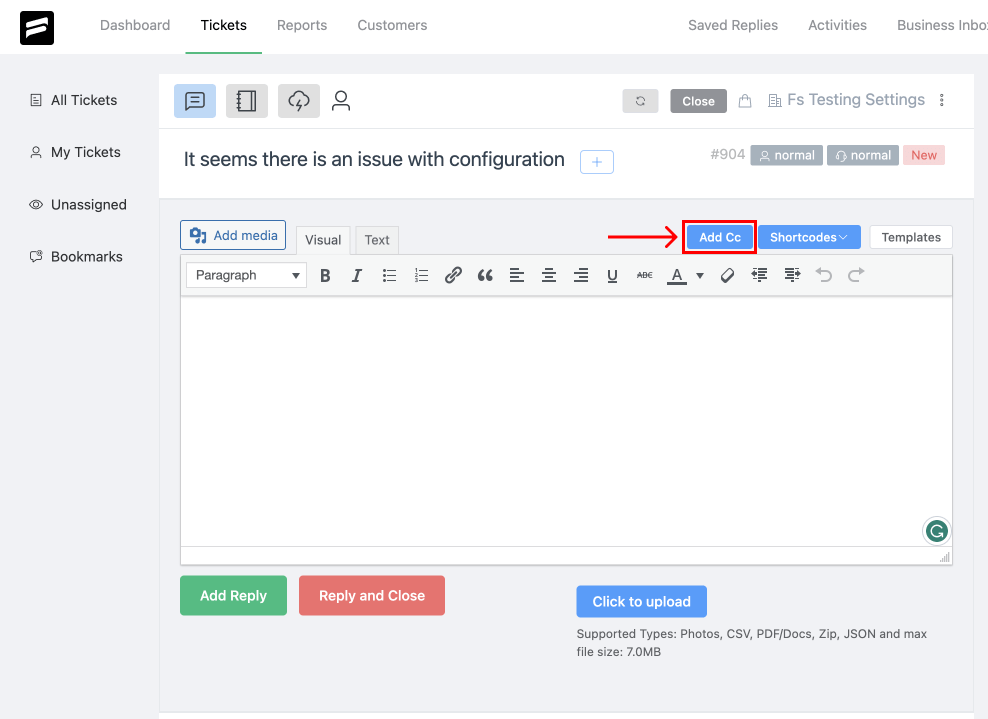 This is one of our most requested features! With the email CC feature, you can effortlessly collaborate with others.
Now, customers can easily include CC recipients in their support emails. When a customer sends an email to your business inbox, the system considers the sender as the main customer. It then creates a ticket for that customer.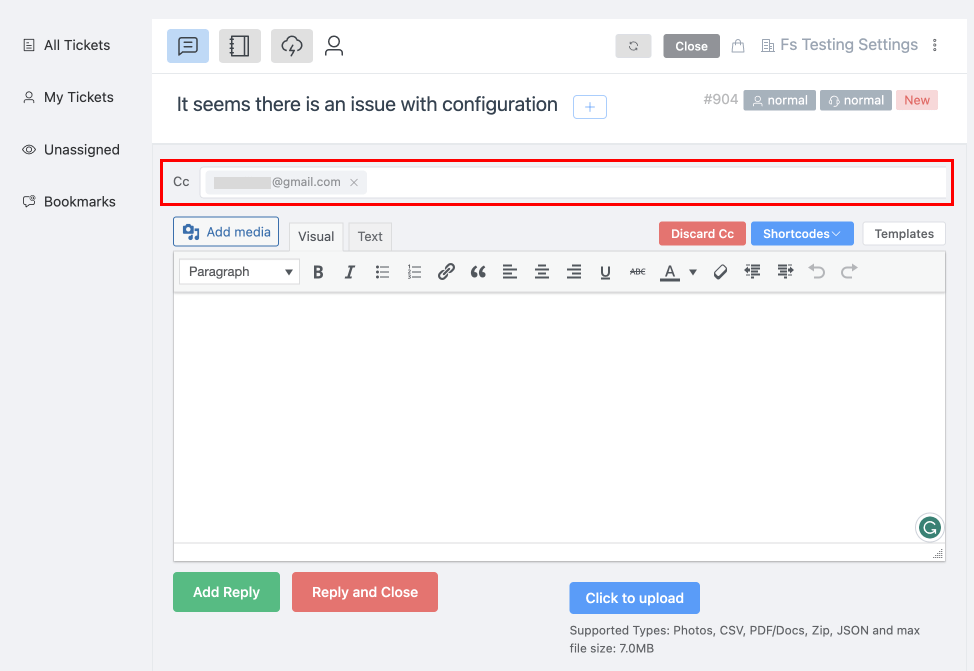 When that sender includes other CC users in the next reply emails, our intelligent system automatically makes the CC users sub-customers for that ticket. And, then if the CC user replies to the thread, our system treats it as a customer's response.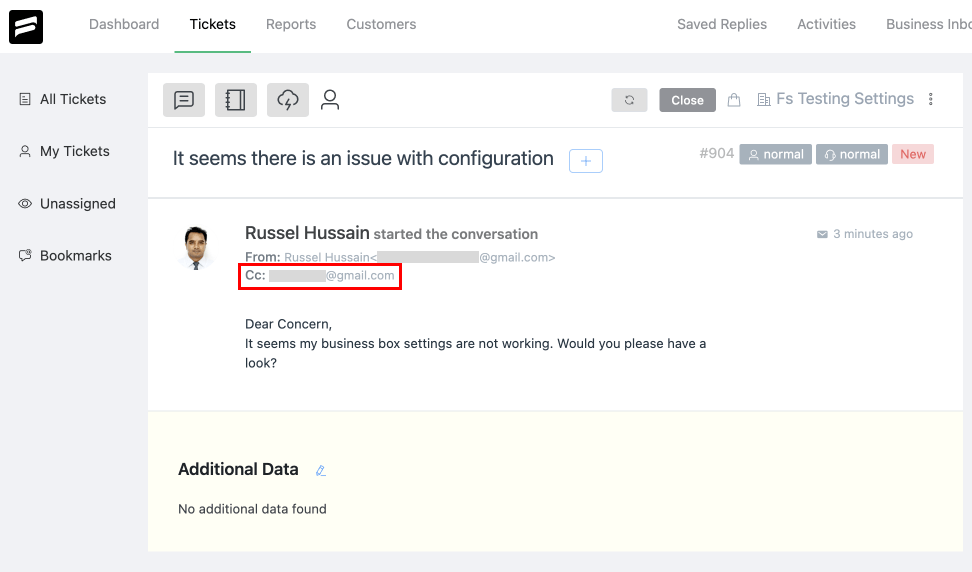 Moreover, if you enable sending emails to the customer, the sender receives a notification email while other CC users stay in that conversation thread.
File attachment in third-party (Google Drive & Dropbox)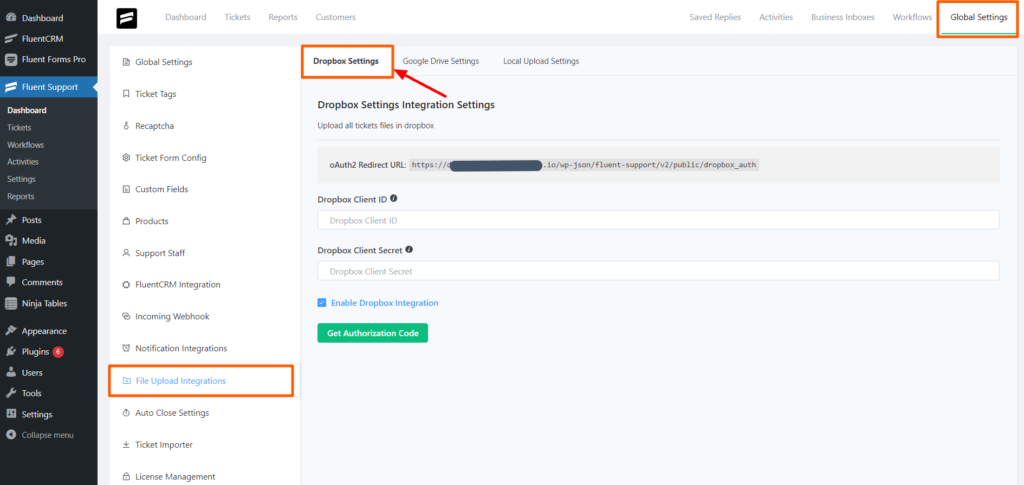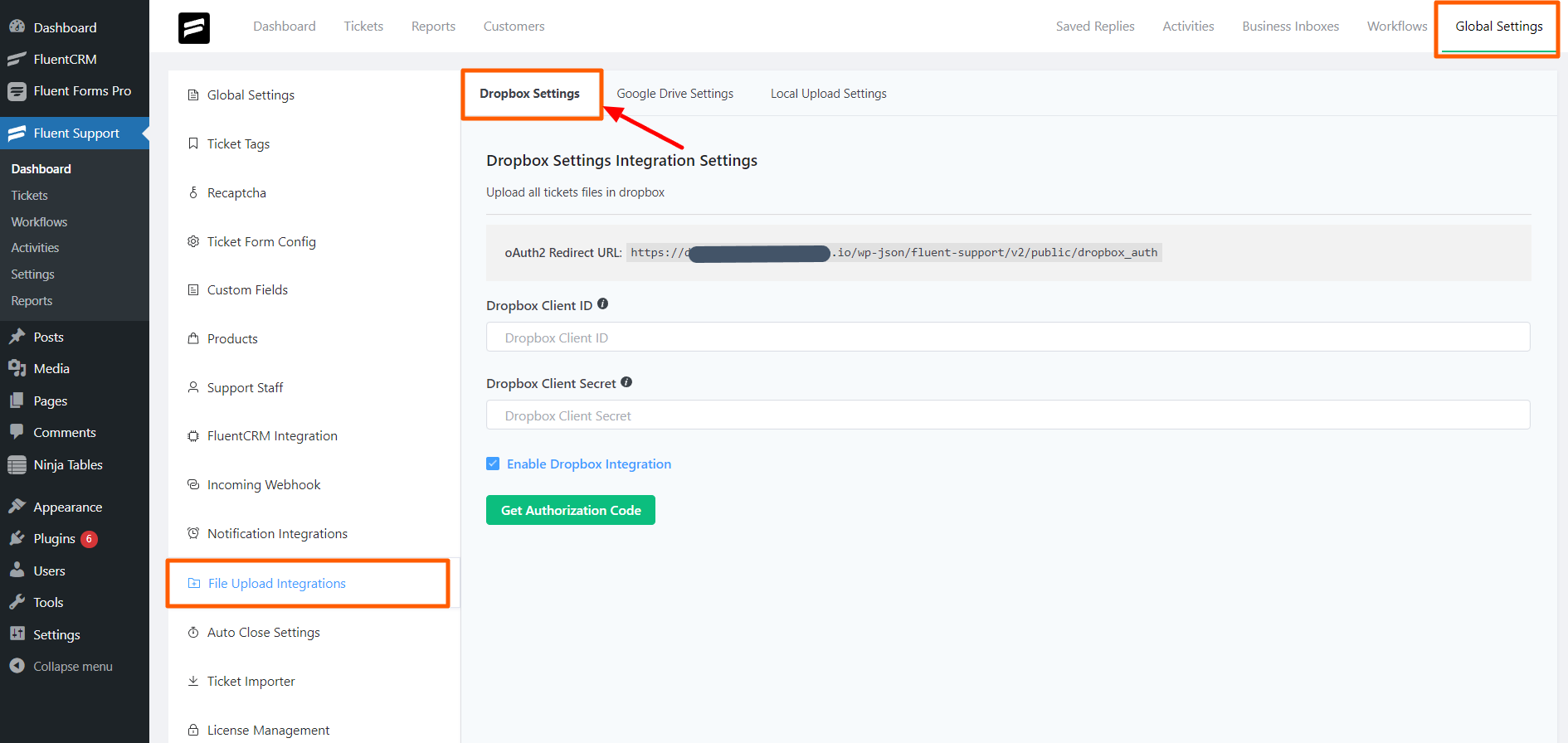 Say goodbye to file storage limitations with our new file attachment in third-party feature!
Under the global settings, you'll find a brand new option called "File Upload Integrations." Within this menu, you'll discover three sub-menus: Dropbox Settings, Google Drive Settings, and Local Upload Settings. By default, files are uploaded to the local environment.
However, if you prefer to leverage Dropbox for file storage, simply navigate to Dropbox Settings. Here, you'll find a user-friendly form to configure the integration. Fill in the required fields, including Dropbox Client ID and Dropbox Client Secret, and enable the Dropbox integration with a simple checkbox.
Once you submit the changes, all attachments will seamlessly upload to Dropbox. Follow the same process for Google Drive as well.
Zendesk migrator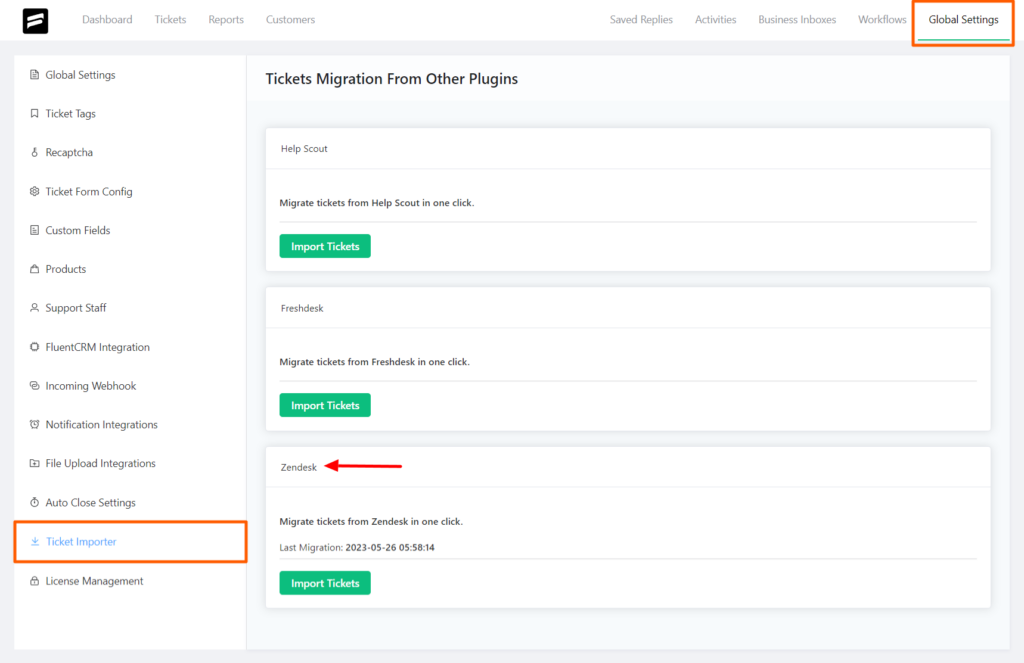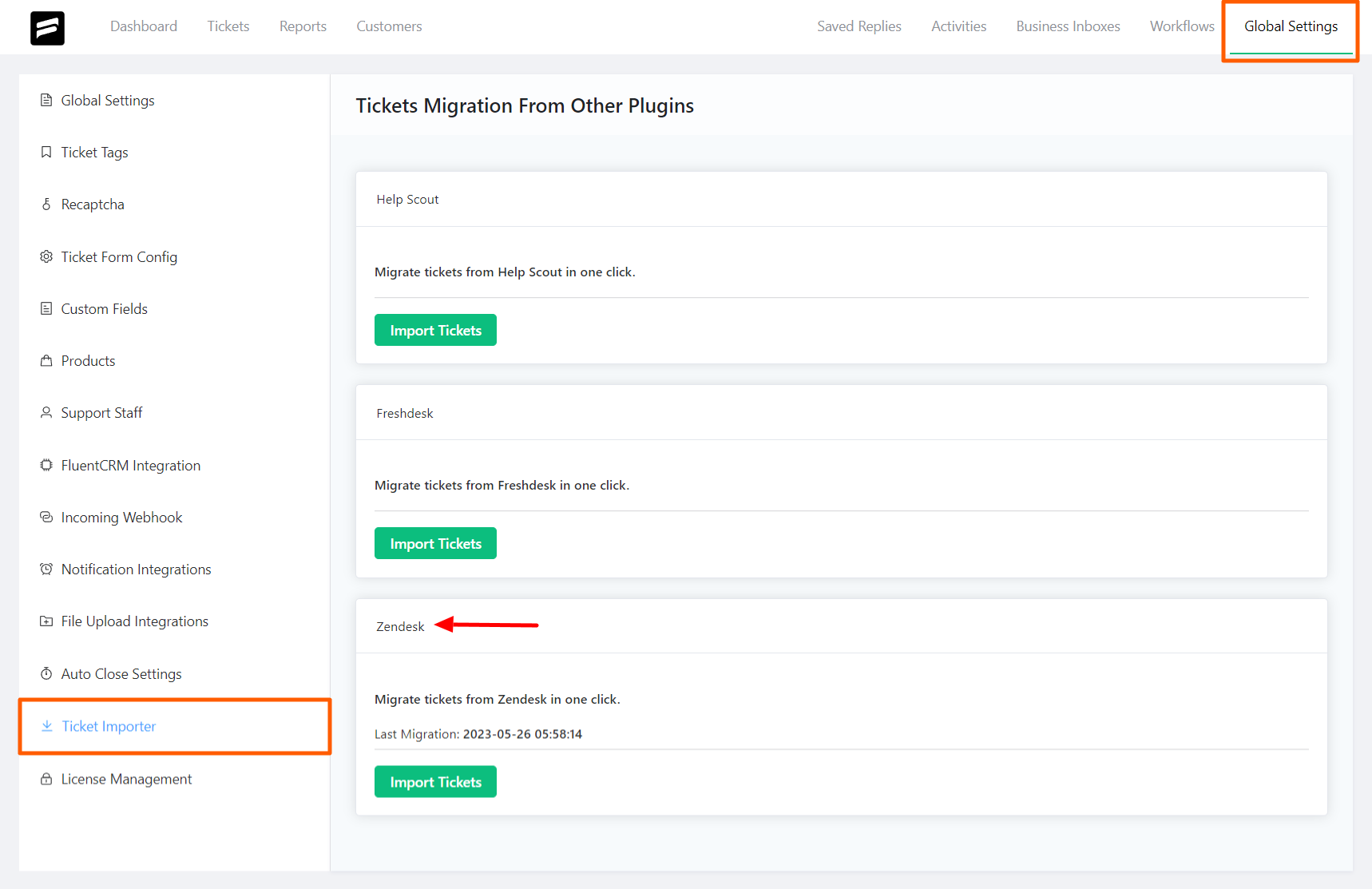 Experience hassle-free ticket migration with our remarkable Zendesk migrator feature!

Implementing the Zendesk migration process, being a SaaS product, involves a more complex process compared to WordPress-based helpdesk plugins. However, we've done it, and now admins can effortlessly transfer tickets from their Zendesk account to Fluent Support in just a few simple steps.
By providing the Zendesk domain, email address, and API key, you can seamlessly import your valuable ticket data. Enjoy a smooth transition without losing any crucial information, ensuring a seamless support experience for your team and customers.
Add option to maximum file upload limit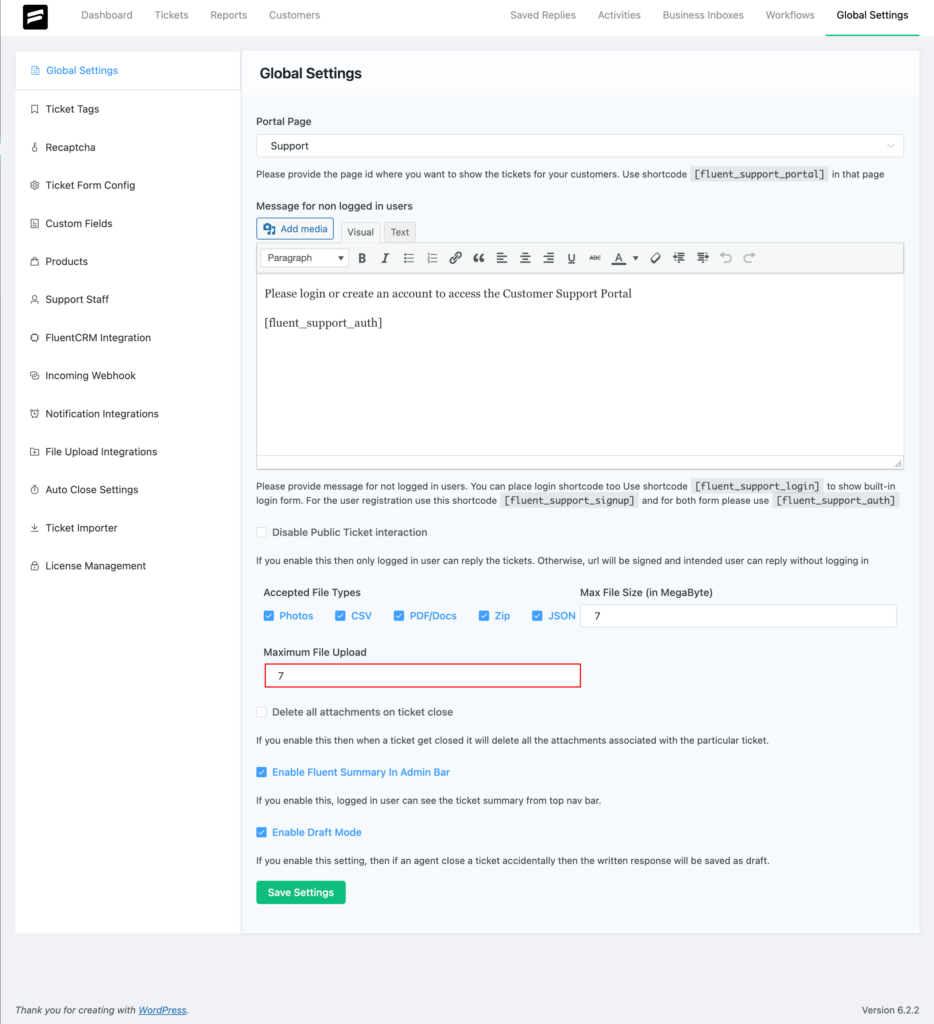 This is a small but pretty essential feature – the ability to set a maximum file limit. With this addition, admins can possess the ultimate power to define the precise number of files that can be uploaded within a ticket reply.
Effortless draft mode and auto-save functionality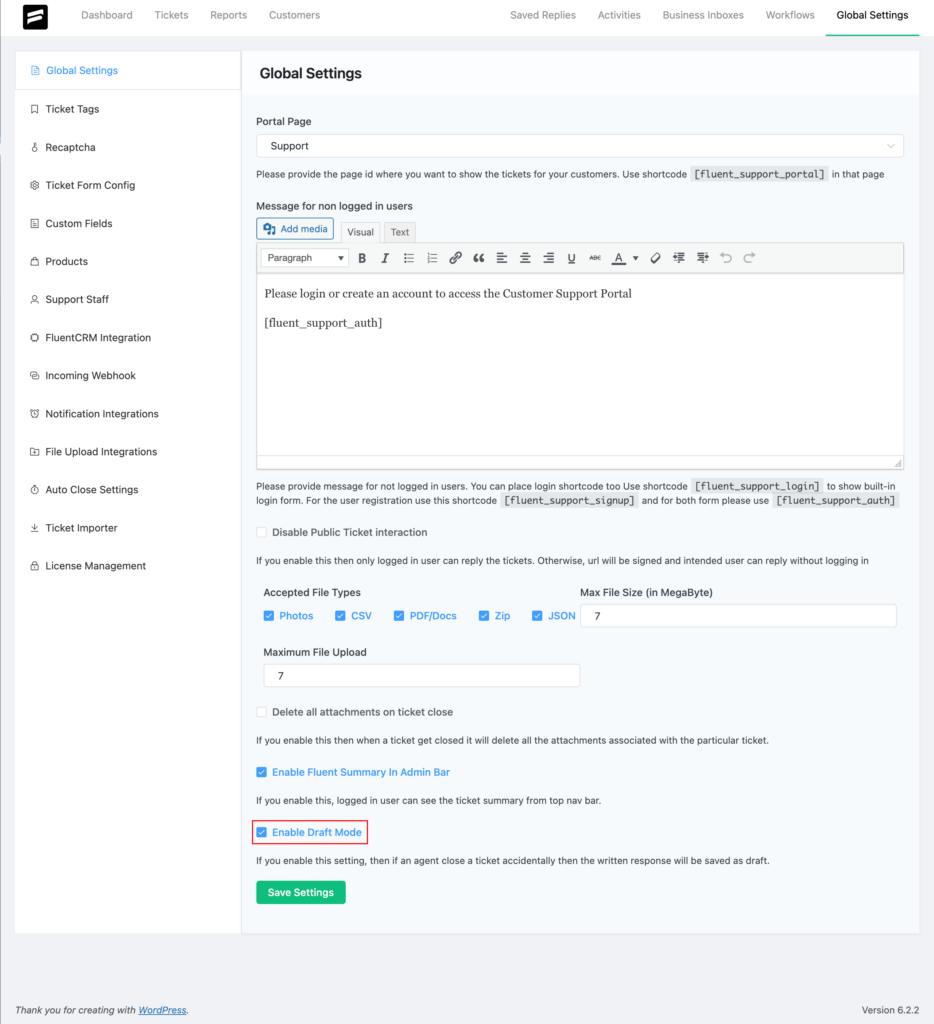 In the admin panel under global settings, you have the option to enable or disable the draft mode. Once the draft mode is enabled, every individual ticket reply content will be automatically saved until it's ready to be sent.
No more worrying about losing your progress or accidental disruptions. Enjoy peace of mind knowing that your work is continuously saved. This will allow you to effortlessly pick up where you left off.
Option to set any business inbox as default

Easily choose a default business inbox from the drop-down menu. By selecting "Set as Default," incoming messages are automatically directed to the designated business box. This streamlines the workflow, prevents oversight, and enhances productivity.
Set dedicated mailbox for webhook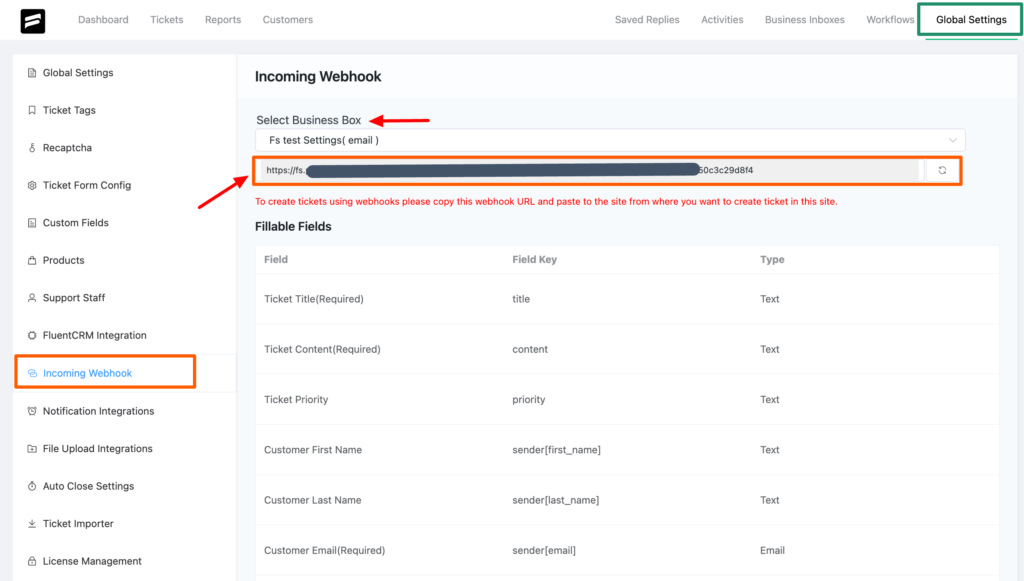 To streamline your webhook integration, our plugin has come up with the ability to set a dedicated mailbox. Simply select the desired business box from the drop-down menu and copy the provided webhook link.
This incoming webhook specifically accepts a FORM-type request format, ensuring seamless integration with your desired applications or services.
Set mailbox in the customer portal shortcode

With FluentSupport, setting up a dedicated mailbox for your customer portal is a breeze now. Copy and paste the Fluent Support ticketing system shortcode into your portal. To ensure a dedicated mailbox, include the desired business box's ID number in the shortcode.
Simply retrieve the ID number from the settings of your business inbox URL and insert it in the shortcode. This enables you to seamlessly connect your chosen mailbox to your specific portal, enhancing the efficiency of your customer support operations.
Upload file in the ticket create form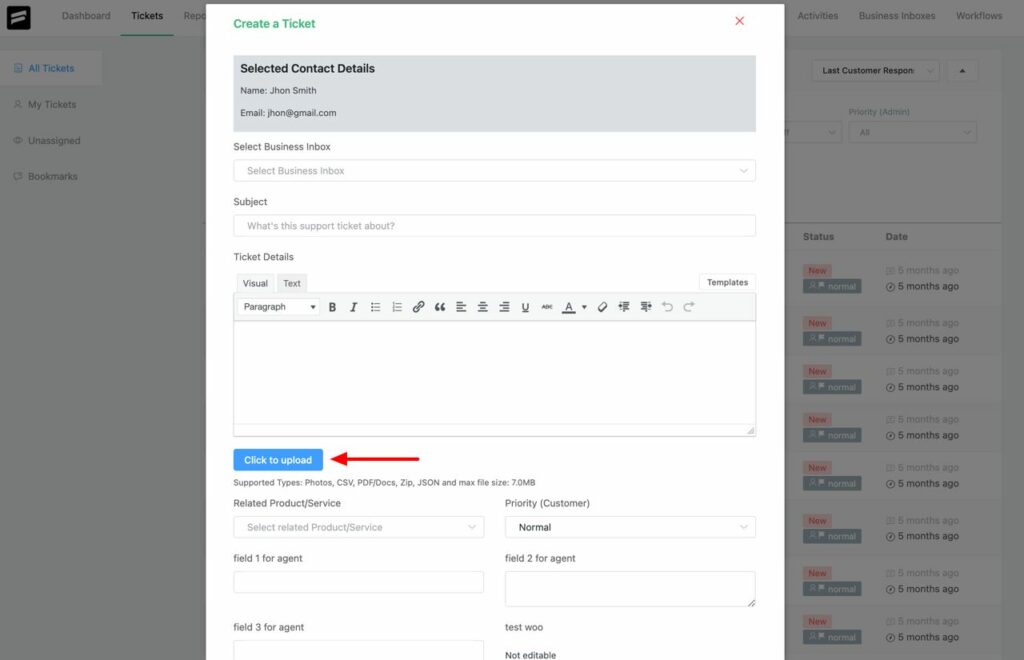 Now we have the option to allow agents to easily upload files when creating a ticket for you directly. By simply clicking the button "Click to Upload", you gain the ability to attach various file types such as photos, CSV files, PDF/docs, zip archives, and JSON files.
This feature enables to provide relevant documentation or additional information to support the ticket request.
'Change Mailbox' in workflow action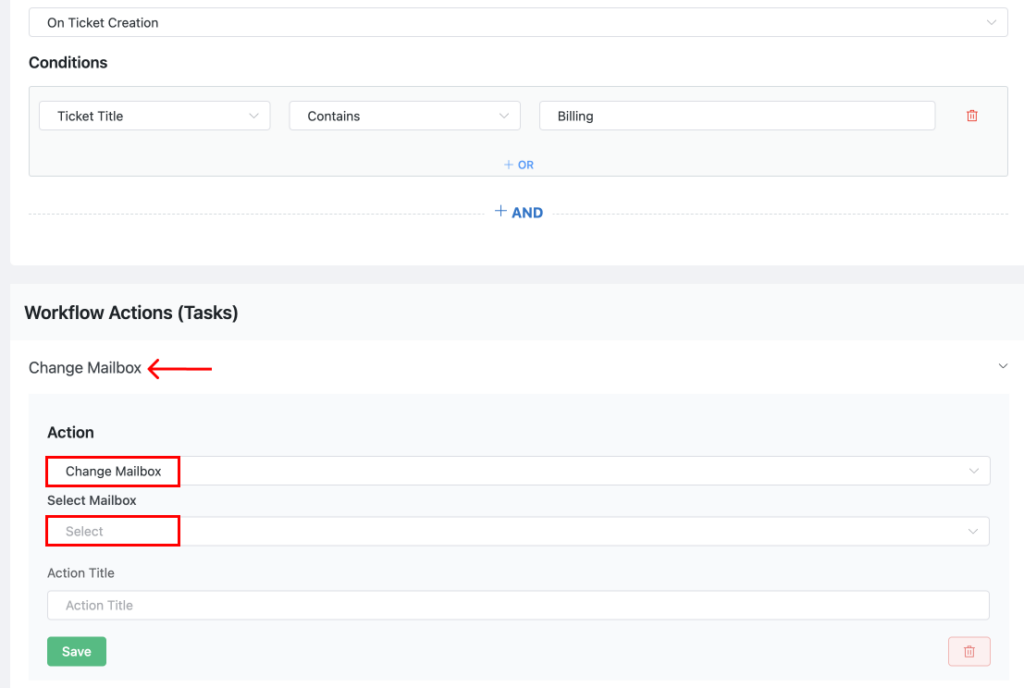 An exciting addition to the Fluent Support workflow system is the inclusion of mailboxes in the action list. When creating an Automatic Workflow, you now have the option to select the "Mailbox" action from the dropdown menu. This enables you to assign a specific mailbox as an action within the workflow.
By incorporating the mailbox action, you can streamline your support operations by automatically routing tickets to designated mailboxes based on specific conditions or triggers.
This feature enhances efficiency and ensures that tickets are appropriately directed for efficient handling and resolution.
Another inclusion to the workflow is the 'mailbox' option in the condition list.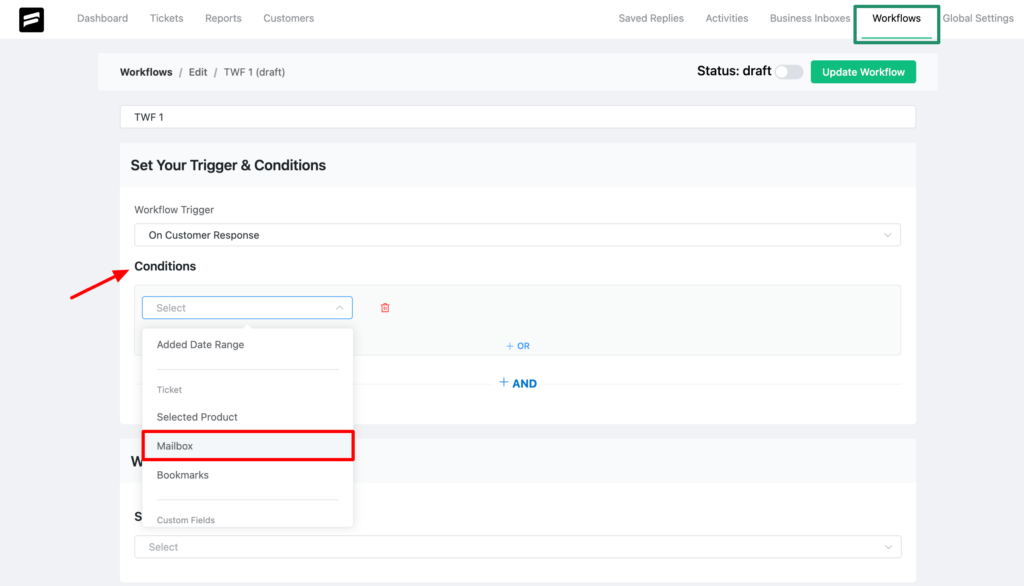 Merge multiple tickets at the same time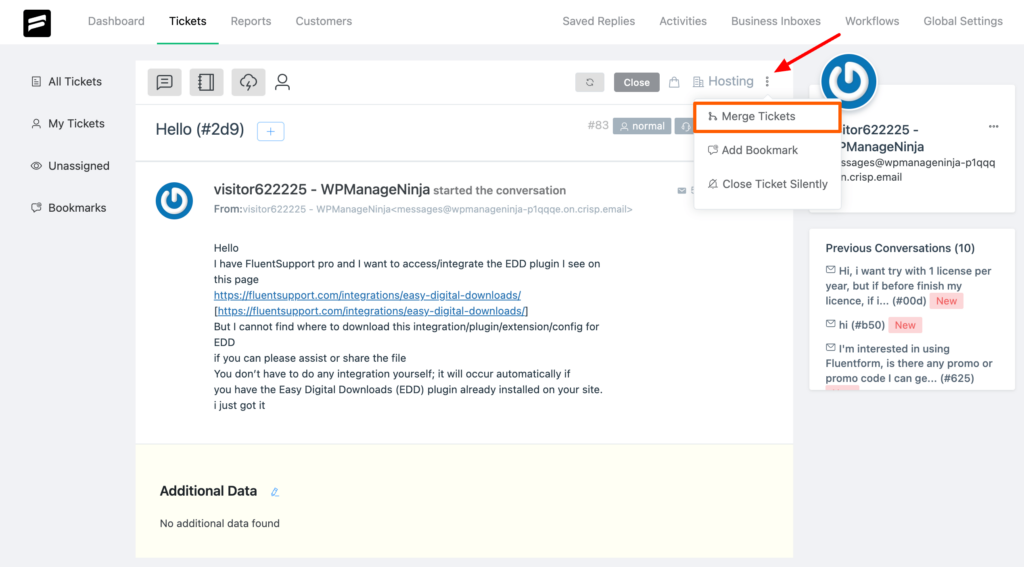 You can now conveniently merge multiple tickets into a single ticket, for every individual customer (if the tickets are from the same email address). This eliminates the need for separate replies to every ticket opened by a customer, providing a streamlined and efficient support experience.
To merge tickets, navigate to the Fluent Support Dashboard and locate the specific ticket you wish to merge. Click on the Three-dot Icon next to the mailbox option and select the "Merge Tickets" option. A popup will appear, displaying the ID, Title, and Status options of the ticket.
In the popup, you can select either a single ticket or multiple tickets for merging. This feature empowers you to combine related tickets, ensuring a cohesive and comprehensive view of customer interactions.
Summary by agent report on the dashboard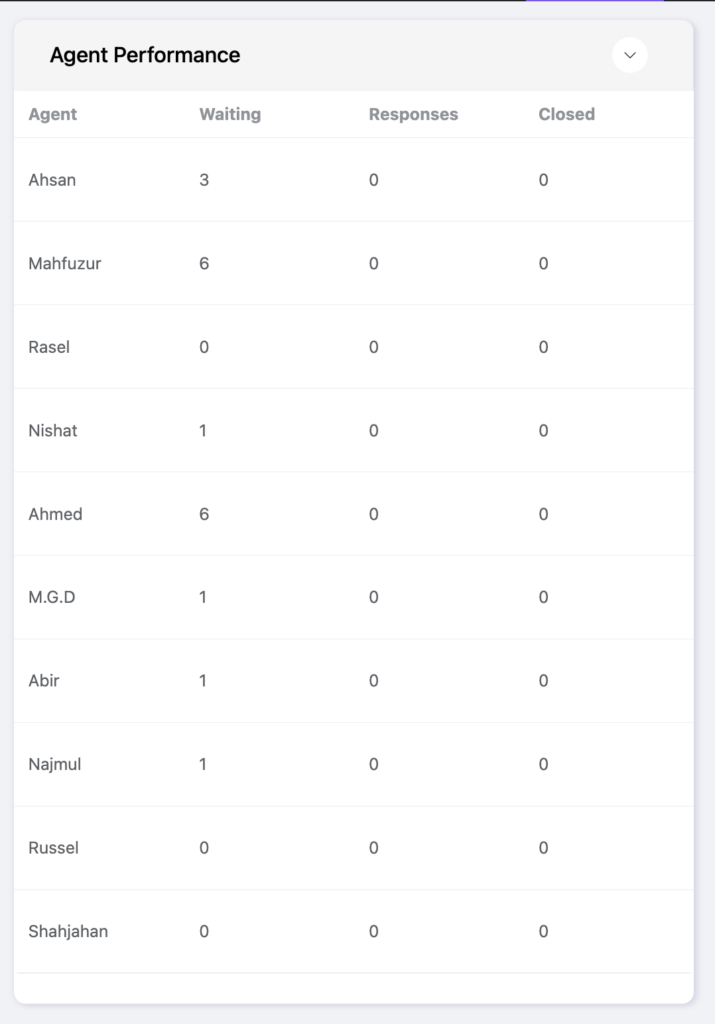 You can now view summary by agent report in the dashboard. This offers a comprehensive overview of an agent's performance. The report includes key metrics such as the number of tickets on an agent's waiting list, and the number of responses they have provided. Also, it includes the number of tickets they have successfully closed.
With this summary report, administrators and team leaders can easily assess an agent's productivity, responsiveness, and effectiveness in resolving customer issues.
Bug Fixes in 1.7.0
In this version, we fixed 7 bugs. Here's a brief description of the issues and fixes.
Workflow action issue
We have resolved a bug that was affecting the functionality of workflow actions. Before, in both manual and automated workflows, if multiple actions were selected randomly, they would not work in proper order causing a workflow issue.
For instance, if I add three actions to my workflow: deleting a ticket, changing the ticket status to closed, and blocking the customer. Selecting the deletion action first would prevent the execution of the rest of the actions.
To address this issue, we have introduced a behind-the-scenes rearranging system. Now, when selecting such actions, they will automatically be ordered correctly, such as blocking the customer first, changing the ticket status to closed, and then finally deleting the ticket.
Exception in route
When a target link (e.g., #setting_page) existed on a page where the Fluent Support shortcode was also present, clicking on the target link caused the Fluent Support content to become blank.
We have successfully resolved this condition. So, you can now seamlessly navigate through the Fluent Support dashboard without encountering any disruptions.
Custom field required in conditional form
Also, we've fixed the issue regarding enforcing required custom fields in conditional forms. For example, before the fields "is_pregnant" and "pregnancy_age" were not properly enforced based on specific conditions.
However, now we've ensured that custom field requirements are correctly enforced in conditional forms. When users select "male" or "female" as the gender and submit the form, the ticket creation process works flawlessly.
Conditional form rendering issue
We're happy to announce that we have fixed the bug related to conditional form rendering in this version. Previously, when certain conditions were checked or changed, such as selecting a specific gender and pregnancy status, the corresponding fields were not properly hidden.
However, we have now fixed this issue. Now, you can accurately hide or display fields based on the selected conditions.
Issue in edit reply
There was a minor bug related to the "Edit Reply" functionality. Some of our customers have experienced an issue while attempting to edit their replies within tickets. And, now it's resolved.
Ticket create issue using API from Paymattic
Previously, users encountered difficulties while attempting to create tickets using API from Paymattic. However, we have diligently worked to fix this issue, ensuring smooth ticket creation and seamless compatibility and interaction with Paymattic.
Freshdesk migrator
The issue regarding Freshdesk ticket migrations is now fixed. Admins can now migrate tickets from FreshDesk without any errors, even if the tickets contain attachments in their replies.
Empowering Fluent Support for customer needs
At WPManageNinja, our commitment is to deliver a compact and efficient product. It is to meet the needs of our customers. With this in mind, we will continue to enhance Fluent Support, making it an even more powerful helpdesk solution.
We value the feedback and input of our users, as it helps us shape Fluent Support to meet your specific requirements. So, please stay connected with us through our Facebook community, LinkedIn and Twitter to stay informed about the latest updates, features, and discussions.
Thank you for being a part of our journey as we strive to provide you with the best possible support experience.